With a good amount of DIY knowledge and skill behind you, installing a cooker hood isn't too difficult. We have an article detailing installing a cooker hood in your kitchen if you feel that you have the skill to do it.
However, we know that some people don't have the tools or time to install their own cooker hood. So, today, we're looking at installation costs for cooker hoods in the UK.
Price of Installing a Cooker Hood in the UK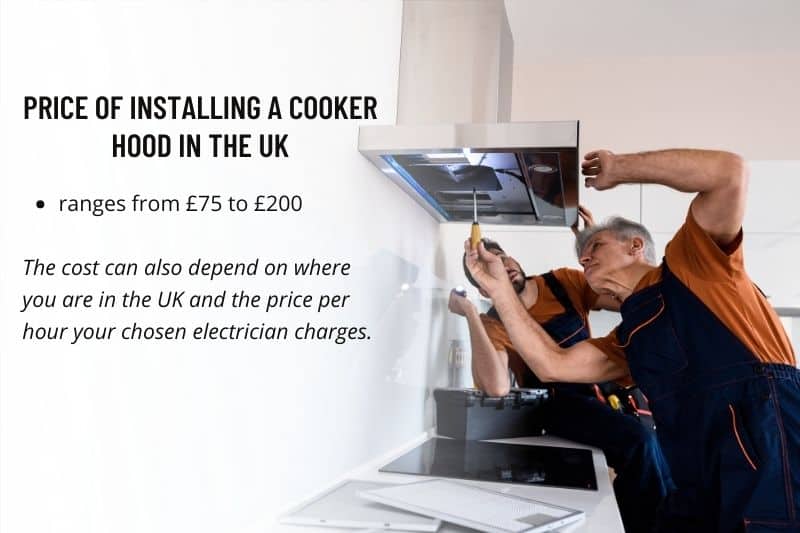 The price of installing a cooker hood varies depending on the model and the challenges that the electrician may face during the install.
However, during the research for this cooker hood article, we've found prices ranging from £75 to £200.
The cost can also depend on where you are in the UK and, of course, the price per hour your chosen electrician charges. So, look for good quality electricians in your area that are reasonably priced.
Do Retailers Install Cooker Hoods?
Retailers like AO and Currys offer installation on a lot of their kitchen appliances, like cookers, for example. So, you might be thinking that ordering your cooker hood from one of these large retailers means that they will install it too, for an additional price, of course.
Sadly, this isn't the case. Most larger retailers that we've looked at (Currys, AO and Appliances Direct) do not offer installation on cooker hoods. This is likely because installing a cooker hood can take a lot longer than installing a cooker, for example.
When you know what you're doing and have the right qualifications, installing a cooker is as simple as connecting a few wires. Installing a cooker hood, on the other hand, means drilling a hole through the wall of your home, running ducting and wires.
So, if you'd like your cooker hood installed by a professional, you will need to find a local electrician who will do the work for you.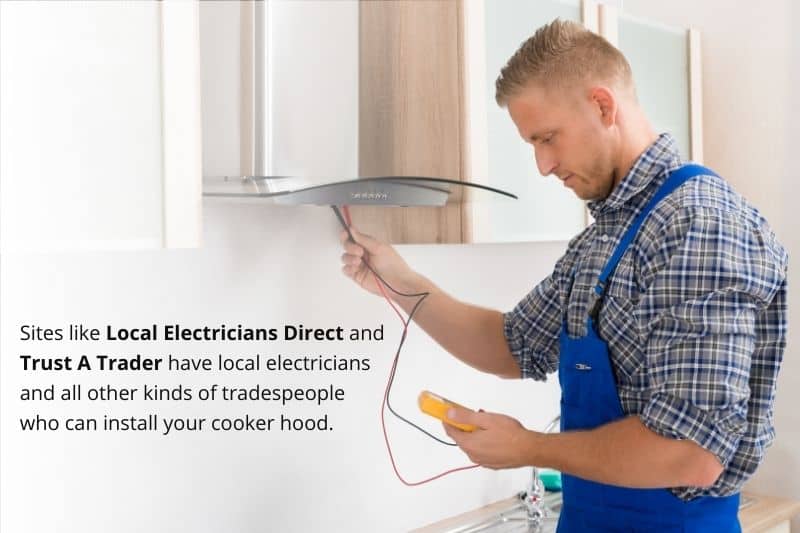 Sites like Local Electricians Direct and Trust A Trader are great places to start. They have local electricians and all other kinds of tradespeople. Every tradesperson on these sites have been reviewed by their customers, so you can see how good they are.
You can also receive lots of quotes for your cooker hood installation from the electricians and make the best choice for your needs.
Installing a cooker hood isn't too expensive, but it must be done correctly. There are guidelines to follow when installing cooker hoods.
These guidelines keep you safe and mean that your hood will function perfectly for many years to come. So, if you don't feel confident installing your hood, find a good quality electrician with plenty of experience to do it for you.
We hope this look at installation costs of cooker hoods has been helpful. To find out more about cooker hoods, please explore Chef's Pick further.
We have the very best cooker hoods available in the UK right now and plenty of info about choosing the right cooker hood for your kitchen.

Scott is a writer and a passionate home chef. His passion for cooking began when he was 10 years old. Scott has been writing professionally for over five years now and loves to combine his passion for cooking with his day job.