To cook the perfect steak you need the right equipment. To be more specific, you need a high-quality pan that can cope with the high temperatures needed to sear steak correctly.
In this guide, we'll cover some of the best steak pans available in the UK and also answer some FAQs about choosing the right pan for cooking steak.
Best Pans for Steak
1. Le Creuset Toughened Non-Stick Rib Square Grill
This 28cm grill pan from Le Creuset is a high-quality square steak pan made from hard-anodised aluminium and stainless steel.
Le Creuset are known for their quality cookware items that last a lifetime and look gorgeous too. This grill pan lives up to Le Creuset's reputation and performs superbly when cooking steak, other meat and fish, burgers, sausages and so on.
This pan isn't cheap, but it offers good value for money in the long run. It's a heavy-duty pan that's built to last—you can even pass it down to the next generation of steak lovers.
2. ProCook Cast Iron Griddle Pan
This cast iron griddle pan from ProCook releases heat evenly and steadily thanks to its heavy construction. It is great for all grilling tasks because of this. Thanks to the deep ridges, you can also get lovely grill marks and ensure that any fat drains away from the meat for a healthy, yet tasty steak.
This cast iron pan looks excellent too. The handle and the outside of the pan are coated with enamel giving a lovely look. However, the inside of the pan is also coated with tough enamel. This means that the pan is protected from rust and is easy to clean.
Plus, the coating also means that this cast iron pan doesn't need to be seasoned. So, you can enjoy the excellent heat distribution of cast iron without the headache of maintaining the seasoning. Plus, this pan is perfect for any hob type, it is oven safe and can be used on the BBQ too.
Add in the two pouring spouts and the comfortable handles, and you have a very versatile cast iron pan perfect for meats and veg.
3. Uno Casa Cast Iron Skillet Set 2 Piece Set
Here is a slight curveball for your steak cooking, two cast iron skillets. Now, you may be thinking that getting two cast iron skillets is a little extreme. However, these pre-seasoned cast iron pans are perfect when you want to cook different meats at the same time.
Or if you cook a lot of meat, you can keep one these pans for steak and the other for chicken or fish. These cast iron pans are fantastic for any families with different dietary requirements.
These cast iron pans also come with handle holders for the tilted main handle and the steadying handle too. Plus, as these handle holders are made from silicone, they can be used even if you intended to put the pan in the oven.
In this cast iron set, you get a 10-inch and a 12-inch pan that are extremely well built and will hold heat perfectly. Plus, Uno throws in a recipe book with each purchase so you can get creative with your new pans.
4. Le Creuset Cast Iron Skillet Pan
This cast iron frying pan can be heated to a very hot heat, essential for getting the right kind of sear when cooking steakx.
The skillet has a 23cm surface, which is just about the perfect size for cooking steak. Of course you can use the pan for all kinds of things besides cooking steak, including sautéing vegetables and frying eggs.
Like all Le Creuset products, this pan is built to last a lifetime. It even comes with a lifetime guarantee, which makes the high price a bit more palatable.
This kind of pan is perfect if you're looking for the perfect sear on your steaks.
5. Lodge 26.67cm Pre-seasoned Cast Iron Square Grill Pan

If seasoning a cast iron pan seems like a challenge that you aren't comfortable with, no worries. This Lodge cast iron pan comes pre-seasoned and is ready to use. This heavy pan allows you to cook steak, chicken and veg and seal in the flavour perfectly. The ridges on the bottom of the pan provide the lovely sears marks that add some flavour and a lot of style to your dishes too.
A great thing about this Lodge cast iron pan, and a big reason that it made our list of the best pans for steak is because of the pre-seasoning. This is done at Lodge's foundry.
The pre-seasoning means that this cast iron pan can be used the moment it arrives and it will get better as you use it too.
Plus, Lodge includes instructions with their pans to help maintain the seasoning too. Also, you can purchase this cast iron pan with a handle holder too meaning that you can continue to control the pan no matter how hot it gets.
What to Look For in a Steak Pan
The best steak pan combines several distinct qualities to give awesome results when cooking steak. These qualities are:
Good heat conduction: The quicker the pan heats up, the better.
Heat retention: The pan should stay hot and not cool down the moment you put a fridge-cooled steak in.
Weight: Heavy steak pans are generally better, but you want to find something that you can actually lift!
Non-stick properties: Getting a pan with good non-stick properties will make cooking steak easier and less stressful.
Grill Pan vs. Skillet for Steak
The first thing to decide when choosing a pan for cooking steak is whether to go for a grill pan (a.k.a. griddle pan) or a skillet (a.k.a. frying pan).
As the name suggests, a grill pan aims to mimic the effect of grilling. This means your steak will be less greasy and fatty, and will normally have grill-style marks from the raised parts of the pan.
One disadvantage of using grill pans though is that they normally don't heat up to the same temperature skillets do. Furthermore, grill pans don't cook meat evenly as the parts in contact with the pan's ridges cook much quicker than the parts in between.
To summarise, grill pans are good for reducing the amount of fat on your steak and giving it nice grill markings, but skillets have better heat distribution and are generally more effective at searing meat.
Here are some of the advantages of using a grill pan over a regular frying pan for cooking steak:
Chargrilled finish with aesthetically pleasing grill marks
Heat is retained well thanks to the pan's heavy base
Liquids can be collected for making gravy or sauces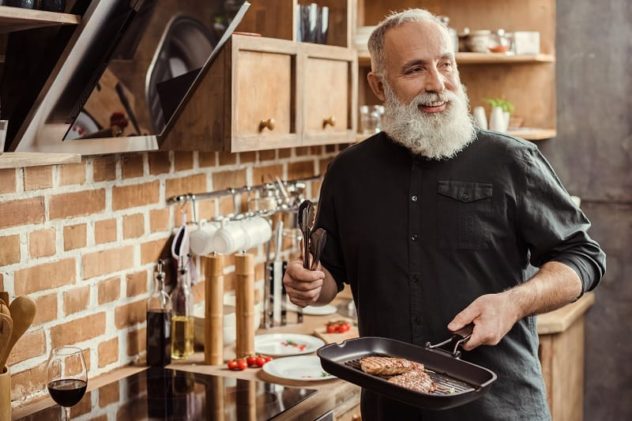 Steak Pan FAQs
What is the best pan for searing meat?
As you have probably guessed, the best pan for searing meat is a debate all across the internet. Every home chef seems to have their preferred pan for searing meat, and so this meaty debate may never meet a conclusion. If you're looking for an absolute answer as to what's the best pan for searing meat, you may be out of luck.
For example, if you prefer to use stainless steel pans for all of your cooking, you can use a stainless steel pan for searing meat. If, however, you prefer a well-seasoned cast iron pan to fry your steak, you can use that too.
Basically, the best pan for searing meat is one that can reach a very high heat and stay there. This ensures that your meat is seared evenly.
So, pretty much any good quality pan will provide all of the searing power you need. In fact, you can even use a Dutch oven or enamel-lined pan for searing meat. Sorry that we couldn't settle this searing debate once and for all!
Is cast iron best for steak?
Cast iron pans are fantastic for steak. A cast iron skillet is perfect for the job. When you are searing a steak, you need a pan that will hold a lot of heat, and cast iron holds heat really well.
Of course, cast iron pans must be seasoned correctly to ensure that you get the best results, but seasoning a cast iron pan isn't too tricky.
However, is a cast iron pan the best for cooking steak? Honestly, that depends. If seasoning a cast iron pan seems like a bit of pain, or you would prefer a pan that is a bit more versatile, perhaps not.
However, if you love meat and want a pan that is pretty much dedicated to your love of meat, cast iron is a great choice. Having said that, although cast iron pans are superb for cooking steak, they certainly aren't the only option.
Can you cook a steak in a regular pan?
Yes, you can cook a steak in just about any pan. In fact, you can cook a steak on a piece of metal if it is heated correctly.
Cooking steak is pretty simple. All you need is a pan that will hold heat.
This means that any frying pan that is made from thick material will work nicely. Thinner frying pans may heat up quickly, but they lose heat quickly too.
The reason that may chefs use cast iron pans is that they are thick, so the heat stays in the pan for longer. However, any good quality stainless steel, aluminium and some other pans will work well too.
You can use any pan to cook a steak, but you do want the pan to be good-quality. You don't need to spend your whole pan budget to get a great quality pan for steak, though.
Conclusion
If we had to pick just one steak pan to recommend, it would be the Le Creuset Toughened Non-Stick Rib Square Grill. You can heat this pan up to a very high temperature which is evenly distributed throughout the pan, and the design gives nice char lines in your steak.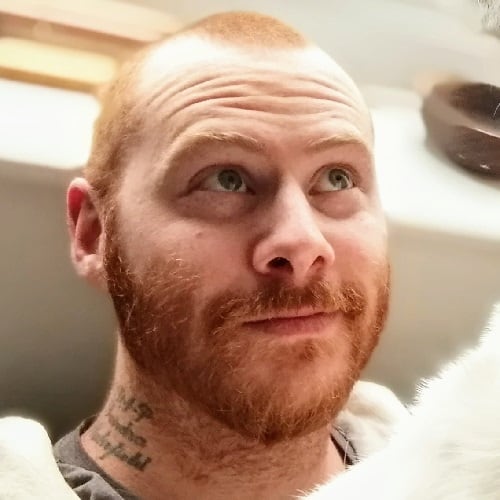 Scott is a writer and a passionate home chef. His passion for cooking began when he was 10 years old. Scott has been writing professionally for over five years now and loves to combine his passion for cooking with his day job.