Today we're looking at the best 55 cm gas cookers available in the UK. During our research, only one gas cooker in this width could be found.
Thankfully, it seems to be an exceptional cooker and will be great if you're looking for a suitable replacement for a 55 cm gas stove.
Let's look at the cooker, and then have a look at some other options to explore too.
Zanussi ZCG43250BA 55cm Gas Cooker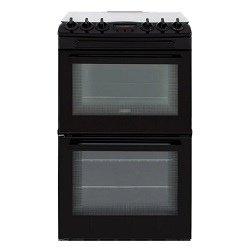 Main oven capacity: 79 litres
Dimensions: H90 x W55 x D60.9
Energy rating: A/A
This gas cooker from Zanussi features a very impressively sized oven for the size of the cooker. With a 79-litre main oven capacity, it is big enough to cook a large meal for the largest of families.
As the oven is gas, it also heats up nice and fast too. The four hob rings can also be dialled in to the perfect temperature for boiling, frying and making sauces.
There is also a glass cover for the hob, which can act as a worktop when the hob isn't in use.
The cooker is available in stainless, black and white colours, so there are plenty of options to match your kitchen nicely. We really like the control layout of this cooker.
The control knobs are angled, which allows you to see them easily without bending down. There is lots to love about this cooker, but the ease of use is one of the best features.
Why Are 55 cm Gas Cookers So Rare?
During our research, the Zanussi ZCG43250BA was the only 55 cm wide gas cooker that we could find. And, while this is a great cooker, it isn't the cheapest by any means.
The reason that gas cookers are rare in this width is likely because people simply weren't ordering them in this size anymore.
Electric cookers are the more popular nowadays anyway, so manufacturers are likely leaning towards making electric cookers at 55 cm rather than gas cookers. There isn't a huge choice of 55 cm electric cookers, but more models available than 55 cm gas cookers.
What Alternatives Are Available?
If you do need a cooker that is 55 cm in width, then you may be wondering what your options are or if you have many options. You could, of course, go for the gas cooker above; it is a great cooker.
However, we know that this cooker does have quite the steep price tag for those on a budget. So, here are some alternatives to think about.
1. Try electric
We know that many homes are not set up to have electric cookers installed easily. However, if manufacturers are veering away from making gas cookers at 55 cm, and you can't get a different size cooker, it might be time to take the plunge and get an electrical circuit installed for an electric cooker.
That way, you can freely choose a brilliant electric cooker within your budget. Plus, the next time you need to find a cooker, it will be a lot easier. Having an electrical cooker circuit installed into your home isn't massively expensive.
In fact, you could probably have one installed and get a good quality new electric cooker and still have a few hundred pounds left over for new cookware.
Here are a few 55 cm electric cookers you could consider:
2. Look for Refurbished Cookers
We aren't shy about our love for refurbished cookers. You can get a fantastic cooker for the price. We would have included a refurbished 55 cm gas cooker or two if we could find some.
However, you may find a refurbished cooker in your area that is just perfect for your needs. Just remember to ensure the cooker comes with a warranty of at least a year!
3. Can you go for a different size?
The more popular sizes of gas cookers are 50 cm and 60 cm. If you only have a 55 cm gap to work with, a 50 cm model could be a good choice.
If you're getting your kitchen redone, it could be time to get a larger sized gas cooker. That way, you can expand your choice of cooker and get one that is just right for you. We know this isn't always possible. However, if you're already designing a new kitchen, it is worth considering.
Conclusion
Unfortunately, the Zanussi ZCG43250BA is the only 55 cm gas cooker we could find on the market in the UK. However, it's a great cooker that looks wonderful in black and could add a lot of style to just about any kitchen.
If you like the idea of our alternatives, please explore Chef's Pick further. We have some of the best cookers available in the UK right here, so you'll be sure to find the best cooking option for you.

Scott is a writer and a passionate home chef. His passion for cooking began when he was 10 years old. Scott has been writing professionally for over five years now and loves to combine his passion for cooking with his day job.