Stand mixers are fantastic. They are one of the best kitchen appliances for a baker.
Even if you're just getting started in baking, a stand mixer is a real asset to your kitchen arsenal.
Of course, when you're just starting a hobby like baking, you don't want to spend the earth to get started. This is why we created this list.
There are some excellent stand mixers out there for under £100. These mixers should last you a good few years.
They will allow you to push your baking to new heights and they will grow with you as you learn how to bake even more goodies.
Just before we get to our list of stand mixers, let's first explore some of the things to look for in a mixer and whether you need one at all!
Stand Mixer FAQs
Do you need a stand mixer?
No, a stand mixer isn't essential. Like many kitchen appliances, a stand mixer simply speeds up a process.
For example, if you're baking a large batch of cookies, a stand mixer can be used to mix all of the ingredients for you. This will save time and a lot of elbow grease.
Once the stand mixer is finished, you can roll out your cookie dough, cut it into fancy shapes and throw it in the oven.
A stand mixer can also help you make bread and a host of other baked goods. So, while a stand mixer isn't a vital piece of kitchen equipment, it sure is handy in baking.
Most home bakers swear by stand mixers because of the time they save, but if you are already trying your handy at baking, you'll know that one isn't necessary.
They do, of course, take a lot of work out whisking and mixing doughs, though.
If you have a growing passion for baking, a stand mixer is a great tool to have. They make mixing very quick and easy and ensure that all of your ingredients are mixed properly.
So, now we know what a stand mixer does and that they are really handy, let's look at what to look for in a stand mixer, shall we?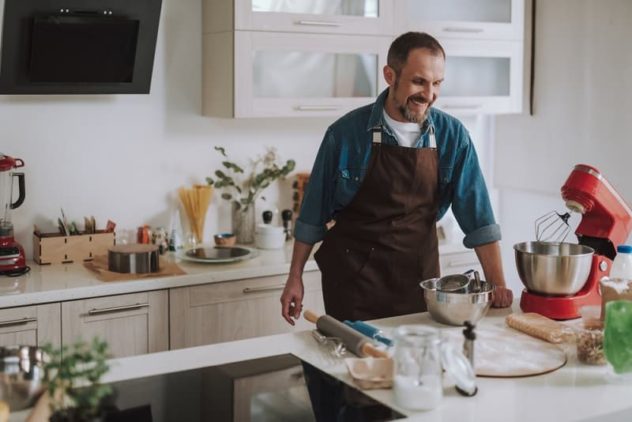 What should you look for in a stand mixer?
It's important to know that a stand mixer under £100 will have some drawbacks over a stand mixer that costs £1,000. But you can still find a tool that is perfect for the job.
Of course, we have done the hard work for you with our list of stand mixers below. Still, we thought we'd tell you how we arrived at the stand mixers on our list.
This is what to look for in a stand mixer to ensure you're getting the best one for your money.
1. A Powerful motor
The bigger the motor in a stand mixer, the better. The reason for this is simple. Most stand mixers out there have speed settings.
However, the motor works hard on all of these settings. If you've made bread before, you'll know how difficult it is to knead it.
So, an underpowered motor needs to work its socks off to mix all of these ingredients.
However, a stand mixer with a powerful motor will have plenty of power and torque to power through the ingredients at any speed.
2. A Big bowl
The bowl on a stand mixer can be made from glass, but most models in this price range have a stainless-steel bowl.
A stainless-steel bowl is perfectly acceptable and will work very well. Stainless steel is, of course, non-stick and nice and robust.
However, some stand mixers in this price bracket come with really small bowls. A bowl on a stand mixer needs to be able to hold all of your ingredients easily.
If not, your kitchen will get a fresh coat of paint each time you use it! We wouldn't recommend a stand mixer with a bowl smaller than 3 litres, and 3 litres is slightly small for some tasks.
3. Plenty of attachments
A stand mixer is only as versatile as the attachments it comes with. To maximise the use of your stand mixer, it needs to have a bunch of cool tools for you to use to further your baking.
A stand mixer should at least come with a whisk, kneaders and beaters. With these attachments, your stand mixer will be able to take a lot of the hard work out of baking for you.
This is just some of the criteria that we used to create our list of the best stand mixers in the UK under £100 and what you should look for in your stand mixer. So, let's take a look at these stand mixers, shall we?
Best Stand Mixers in the UK for Under £100
1. Morphy Richards 400023 Stand Mixer
This Morphy Richards stand mixer is very impressive for the price. It has an 800w motor, six speed settings, a 4-litre stainless steel bowl and orbital mixing.
All of this adds up to this stand mixer being a very viable option for any home baker. Plus, it comes with all of the attachments you need to get into a baking groove.
What's more, the added features like a splash guard and a dust cover mean that your ingredients won't go spraying all over your kitchen walls if you forget to turn the speed down.
And nothing will get into your mix either. For our money, this Morphy Richards stand mixer is really hard to beat, because it beats and whisks very well indeed.
Pros
Nice and sturdy
Simple to use
Can buy extra attachments like pasta rollers and more
Cons
2. Kenwood HM680 Hand Mixer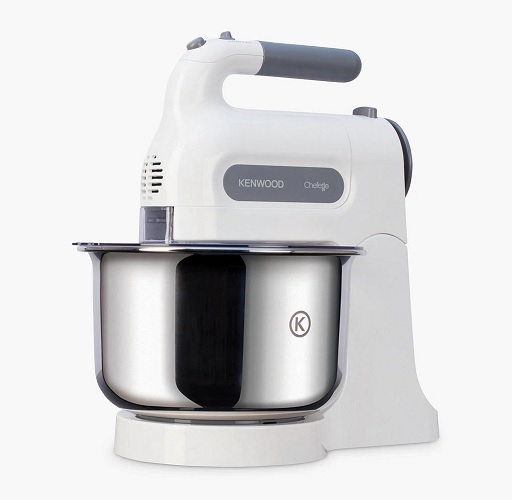 You may be wondering why a hand mixer made it onto a list for stand mixers. Well, that is because Kenwood has combined the two.
So, this mixer can be used by hand, but also comes with a stand and a bowl, meaning that it can be quickly converted to a stand mixer as well.
The reason that this mixer made our list is because we think it is perfect for small kitchens. A hand mixer is really versatile, but so is a stand mixer.
In small kitchens, you often have to choose one appliance over the other, but not with this mixer. It isn't as powerful as the other mixers on this list, but it is still a good bit of kit.
Pros
Easy to clean and use
Good speed controls
Handy and quick to switch from a hand mixer to stand
Cons
A bit underpowered so the unit may get hot with extended use
Unfortunately, these are the best stand mixers that we managed to find under £100. We aren't saying that the other stand mixers below £100 are awful, but they didn't make the cut. Instead, here are a few stand mixers under £150 for you to consider.
The Best Stand Mixers in the UK for under £150
1. Neo 6 Speed Stand Mixer
This 6-speed stand mixer has an 800w motor, so it can really stir up a storm in the kitchen. It also has a 5-litre stainless steel bowl.
This means that you can mix up a lot of cake batter, bread dough and anything else you wish with this stand mixer and the motor can handle everything you throw at it.
It also comes with three attachments for all of your baking needs. Plus, this mixer has very easy to use controls and splash guards too.
You can also get this stand mixer in a variety of colours too, which is always nice. Overall, this mixer is excellent for a beginner baker. It does a great job of making cakes and helps you enjoy your passion.
Pros
Easy to use
Nice and robust machine
The machine is light but remains sturdy during use
Cons
The motor seems a bit weak on certain settings
2. Tower T12033RG 6 Speed Stainless Steel Stand Mixer
The Tower mixer is a great bit of kit. It has a 1000w motor meaning it has all the juice you need to ensure that you get an excellent mix on all your ingredients.
It also has six speeds and a 5-litre stainless steel bowl. The bowl also has a splash guard and a handy handle too.
The rubber feet will stop this mixer walking all over your kitchen counter. Plus, the orbital mixing action (combined with the powerful motor) will ensure all your ingredients are mixed up thoroughly.
You also get three attachments and can use this mixer on large or small mixtures. This is a really versatile mixer that is well built and will help you grow as a baker.
Pros
Easy controls
Nice build quality
Powerful motor and plenty of space for bigger recipes
Cons
Some parts are not dishwasher safe
No paper manual
3. John Lewis JLSM618 Stand Mixer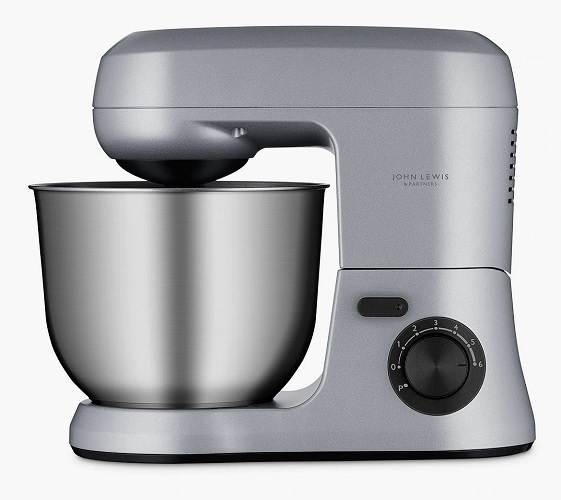 This stand mixer from John Lewis would've made this list on looks alone. Have you seen it? It's clean design and wonderfully sleek look make it a fantastic appliance to have in your home.
However, this stand mixer is also really good for the price as well as looking like the supercar of stand mixers.
It has 6 speed settings. It comes with three Teflon coated attachments. It has a 5-litre stainless steel bowl and a huge 1300w motor.
So, it has the space and power to make just about any dough, batter or anything else for that matter. For a stand mixer that could get by on its beautiful looks alone, this packs one impressively big baking punch too!
Pros
Solid build quality
Powerful but easy to use
Excellent at mixing: large angled bowl means less splashback too
Cons
We couldn't find any real cons to this stand mixer—it's a fantastic bit of kit that bakers love! Many say that it is like far more expensive models. Built to last and mixes ingredients extremely well.
Conclusion
We hope this look at stand mixers for under £100 and £150 has been helpful.
Stand mixers are fantastic bits of kit. They can really push your baking to a new level. They allow you to experiment with ingredients and have loads of fun!
For more kitchen appliances that can add more versatility and fun into your cooking, check out the rest of our website. We have loads of awesome kitchen appliances on here that can take your cooking to the next level.

Scott is a writer and a passionate home chef. His passion for cooking began when he was 10 years old. Scott has been writing professionally for over five years now and loves to combine his passion for cooking with his day job.