Stand mixers are fantastic. They are one of the best kitchen appliances for a baker.
Even if you're just getting started in baking, a stand mixer is a real asset to your kitchen arsenal.
Of course, when you're just starting a hobby like baking, you don't want to spend the earth to get started. This is why we created this list.
There are some excellent stand mixers out there for under £100. These mixers should last you a good few years.
They will allow you to push your baking to new heights and they will grow with you as you learn how to bake even more goodies.
Just before we get to our list of stand mixers, let's first explore some of the things to look for in a mixer and whether you need one at all!
Best Budget Stand Mixers Under £100
1. Heska 1500W Food Stand Mixer

Power: 1500 watts
Capacity: 5.5 litres
This stand mixer is a fantastic price and comes with all the attachments you need. You can make a dough, whisk and beat anything. It also comes with a flexy edge beater that is gentle on your ingredients but ensures they are mixed perfectly.
The mixer also has six speed settings, so you can dial in the right speed for the baking you are doing.
This is a really impressive stand mixer, not just for the price, either. It works great and has a nice design that will compliment a modern kitchen nicely.
It has a 5.5-litre mixing bowl included. This isn't the biggest mixing bowl on the market, but it should do for most breads and cakes.
2. VonShef Black Food Mixer

Power: 1000 watts
Capacity: 4.5 litres
This food mixer has a really nice design. It is black and stainless steel, offering a lovely look for any modern kitchen. It also comes with all of the attachments a baker could need, including a dough hook, beater and a balloon whisk.
It has eight speeds to choose from, making it nice and versatile for lots of different tasks.
The mixing bowl on this stand mixer is only 4.5 litres. This does mean it is a smaller machine. So, for larger cakes and bread, you may struggle a bit.
It also only has a 1000-watt motor. This can get bogged down with larger amounts of ingredients. Still, for those wanting to bake smaller batches of things, this is a great option.
3. Vospeed Food Stand Mixer Dough Blender
Power: 1000 watts
Capacity: 5 quarts (4.73 litres)
This stand mixer is much the same as the one above. It has a 1000-watt motor but has a larger mixing bowl of 5 quarts, which is about 5 litres.
The mixing bowl features a very solid locking mechanism to ensure it doesn't move throughout the mixing process. And, once again, you get all the attachments you need to bake up a storm.
This one also has eight speeds, but it also comes with a pulse feature. This is ideal for a quick mix or to slowly creep up on the right consistency.
It also has 4 silicone suction cups that lock it down to the counter, so even when you're mixing something heavy like bread dough, it won't walk around on you.
4. Tower T12033RG 3-in-1 Stand Mixer

Power: 1000 watts
Capacity: 5 litres
If the style of your stand mixer is really important to you, this black and rose gold mixer from Tower could be ideal for you.
Along with a lovely design, it also has a 1000-watt motor and six speeds, as well as a pulse feature. It also has a planetary mixing action for a smooth action when mixing anything.
Every single attachment (including the splash guard) is easily removable for easy cleanup. You can pop everything in the dishwasher, including the 5-litre mixing bowl, and give the machine a good wipe down.
This isn't the quietest stand mixer on the market, but it gets the job done nicely.
5. Sensio Home 2-in-1 Food Processor Blender & Stand Mixer
Power: 1300 watts
Capacity: 4.5 litres
Finally, we have a stand mixer and blender combo that is sure to be popular with anyone who loves baking and smoothies! The stand mixer is set up as you'd expect.
The attachment arm can be tilted and moved out of the way of the bowl for easy access. The blender can then be attached to the top of the machine.
Again, this comes with all of the mixing attachments you need for baking, along with a 1.5-litre glass jug for blending as well.
We love the idea of combining a blender and a stand mixer into one machine.
It takes advantage of the powerful 1300-watt motor and offers you more space, as you only need one machine for two jobs. And it does both jobs incredibly well. So, if you're a baker who loves a smoothie, this is an ideal option.
Do You Need a Stand Mixer?
My partner loves to bake. Having watched her struggle to get good mixtures for years, the thought of a stand mixer crossed my mind. We got one, and she loves it.
We have a basic, budget one just like the stand mixers above, but it does everything she needs it to. I can't say that you need a stand mixer, but if you do any sort of baking, it sure can help.
My partner doesn't have the time to bake every day. In fact, she only bakes every month or so. Still, having the stand mixer makes baking so much easier. If you're an avid baker, you'll likely use a stand mixer all the time. If you like to occasionally bake, you may not use it all the time.
However, it is a tool that sure speeds up baking. If your kitchen has limited space, a stand mixer will take up some valuable space. You need to decide whether it's worth sacrificing that space in your kitchen for the time you'll save.
For us, we store our stand mixer up on top of a cupboard, and it comes out when we need it. If you have storage space for a stand mixer, then they are a brilliant tool to have as a baker.
They speed up mixing ingredients tenfold and make baking a really enjoyable process. Allowing you to focus on the taste of what you're making without breaking a sweat mixing it together.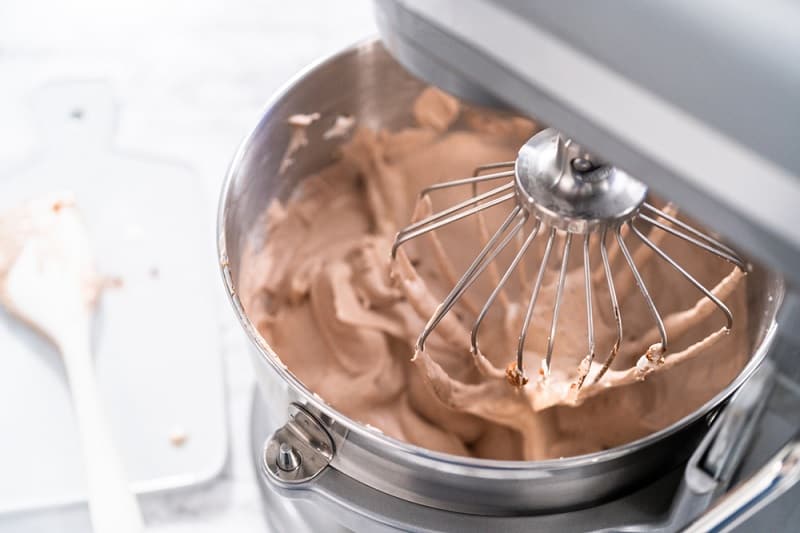 What to Look in a Stand Mixer
If my passionate speech about stand mixers has convinced you to buy a stand mixer, here are some things to consider when buying one. Buying a stand mixer is awesome, but you need to choose the right mixer for your needs.
Power and speeds
The bigger the motor in a stand mixer, the better. The reason for this is simple. Most stand mixers out there have speed settings.
However, the motor works hard on all of these settings. If you've made bread before, you'll know how difficult it is to knead it.
So, an underpowered motor needs to work its socks off to mix all of these ingredients.
However, a stand mixer with a powerful motor will have plenty of power and torque to power through the ingredients at any speed.
The power of a stand mixer is really important.
If the motor isn't very powerful, it will bog down if you mix lots of ingredients at once. Less powerful mixers make it nearly impossible to make bread dough. So, find a mixer in your budget that has a powerful motor that can tackle any baking tasks you throw at it.
Also, all stand mixers have power settings. Some of the above have six, others have eight. We wouldn't recommend a stand mixer without at least six power settings. These make a huge difference when mixing delicate ingredients.
Versatility
The more versatile your mixer, the more you'll use it. The mixer with the blender above is a brilliant idea. We don't have much worktop space in our kitchen, so that mixer/blender combo would come in really handy for us. My partner likes to bake, and I love smoothies.
Try and find a mixer that has attachments that will help you grow as a baker. After all, that's why you're buying a stand mixer in the first place. If you want to grow your passion for baking, you should have a mixer that will be able to grow with you.
Size
Size is a real consideration when buying a stand mixer, more so than just about any kitchen appliance. Most of the time, stand mixers are used for baking, so if you don't have time to bake every day, it is just a big machine on your counter taking up space.
The mixers above come in different sizes. Choose the size carefully. Find a mixer that will comfortably fit all your ingredients into the bowl, but not one so big that it will leave you with nowhere to prepare food.
The bowl on a stand mixer can be made from glass, but most models in this price range have a stainless-steel bowl.
A stainless-steel bowl is perfectly acceptable and will work very well. Stainless steel is, of course, non-stick and nice and robust.
However, some stand mixers in this price bracket come with really small bowls. A bowl on a stand mixer needs to be able to hold all of your ingredients easily.
If not, your kitchen will get a fresh coat of paint each time you use it! We wouldn't recommend a stand mixer with a bowl smaller than 3 litres, and 3 litres is slightly small for some tasks.
Plenty of attachments
A stand mixer is only as versatile as the attachments it comes with. To maximise the use of your stand mixer, it needs to have a bunch of cool tools for you to use to further your baking.
A stand mixer should at least come with a whisk, kneaders and beaters. With these attachments, your stand mixer will be able to take a lot of the hard work out of baking for you.
Ease of cleaning
Some stand mixers come with mixing bowls and attachments that are not suitable for the dishwasher. This can make cleaning them a bit frustrating unless you're used to washing up like me.
I can say with experience, though, washing the attachments of a stand mixer is difficult. Never leave them overnight! If you have a dishwasher, finding a stand mixer that has attachments and bowls that can go in there is a lifesaver.
Also, all of the mixers above come with a splash guard, and we feel this is a must. You only need to ramp up the speed on a stand mixer and get cream all over your walls once to learn that using a splash guard is a must.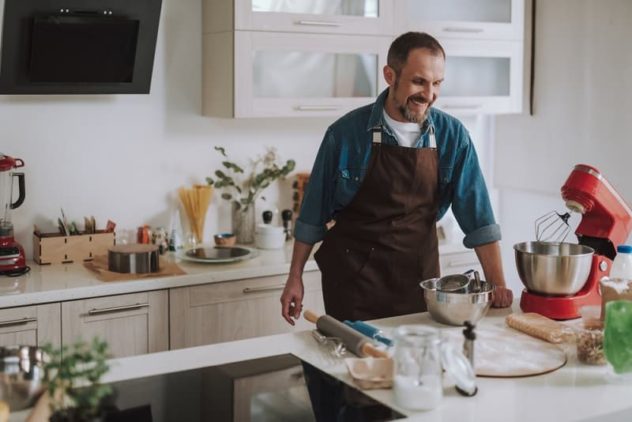 Conclusion
We hope this look at the best budget stand mixers in the UK right now has been helpful. We love the 1500-watt mixer from Heska. It has great quality attachments, a good-sized bowl and a powerful motor that can tackle lots of baking tasks.
We have loads of articles geared towards bakers on Chef's Pick, so check out those while you're here. From the best kitchen appliances to cookware, we have it all.

Scott is a writer and a passionate home chef. His passion for cooking began when he was 10 years old. Scott has been writing professionally for over five years now and loves to combine his passion for cooking with his day job.