After a long day, nothing beats a perfectly cooked steak pie from the butchers. Unlike the pies you can buy from your local supermarket, you know that a pie from the butchers is freshly made from the best ingredients.
Paired with creamy mashed potatoes and your choice of veg, this easy meal will leave you feeling full and content.
The problem is that these pies don't come with cooking instructions. And if you forget to ask your butcher, you'll find yourself at home with a pie you don't know how to cook!
When you're uncertain how much time it takes to cook a small pie, it is easy to accidentally over or undercook it and leave yourself with a less-than-satisfactory meal.
To help you overcome this issue, we have put together a step-by-step guide for how long to cook a small steak pie from the butchers.
Read on for all you need to know, including some essential tips and tricks to ensure that you cook the perfect pie every time.
How Long Should You Cook a Small Steak Pie from the Butchers For?
Most steak pies from the butchers need to be oven-baked for around 30 minutes. This will leave you with a beautifully golden pastry and a piping-hot filling. However, cooking times may vary slightly depending on your oven and the size of the pie.
Once you've got your small steak pie, grab a baking tray to get started:
Preheat your oven to 180 degrees Celsius.
Place the steak pie onto a baking tray.
Put the pie in the preheated oven for approximately 25-30 minutes.
Once the time is up, check that the filling is piping hot by poking it with a small knife.
Return the pie to the oven for five more minutes if needed.
Remove the pie from the oven and allow it to cool for a few minutes.
Take the pie out of its foil tray (if applicable) and serve.
Most pies purchased from the butchers come pre-cooked and only need to be reheated once you get home. However, the rise in energy bills means some shops have started to sell unbaked pies that you have to bake at home.
Whether your pie needs to be cooked or reheated, the instructions above should give you good results.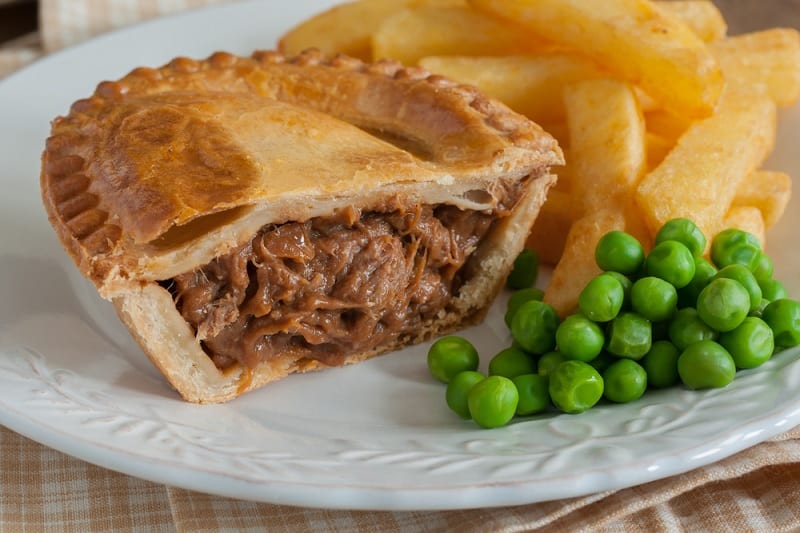 Top Tips for Cooking the Perfect Pie
As long as you cook your steak pie according to the instructions above, you should be left with a delicious meal. However, there are some things you can do to ensure that you cook the perfect pie every time:
Serve your pie fresh from the oven: Pies always taste their best when they are served warm, so try to time your cooking so that your pie can be served straight away. If it does start to cool down, you can reheat it in the oven for a few minutes before serving.
Use a meat thermometer: Although it is not necessary, you can use a meat thermometer to check the internal temperature of your pie at the end of the cooking time to ensure the inside has been thoroughly cooked. Insert the thermometer into the centre of the pie and check to see if the temperature is at least 63 degrees.
Watch out for browning pastry: When baking a pie, it is easy to overcook the top layer of pastry. Cover the pie in foil for the remainder of the cooking time if the top of your pie does start to go too brown. This will stop your pie from burning as the insides heat up.
Thoroughly defrost your pie: It is not uncommon to buy a pie from the butchers and freeze it for a later date. Although it is possible to cook a small steak pie from frozen (provided you increase the cooking time), it is always best to thoroughly defrost it in the fridge overnight before cooking.
Brush the pastry with a beaten egg: If your pie needs to be cooked rather than reheated, we suggest you brush the pastry with a beaten egg before baking it in the oven. While this is not necessary for a well-cooked pie, it will give the top a nice golden finish, like those that are pre-cooked at the butchers.

Hannah is a freelance content writer and self-proclaimed foodie. When Hannah isn't sitting tapping at her laptop, you'll probably find her in the kitchen. As an ex-chalet host, she's used to cooking four-course meals for 10+ people and loves feeding friends and family whenever possible.