Sauté pans are a wonderful addition to a home kitchen. Me and partner have had a sauté pan for several years now, and we use it every day.
It's amazing what a sauté pan can cook up; they are so versatile. We've researched the market and picked out the top sauté available in the UK. There is something here to suit all budgets and all cooking styles!
So, which are the best sauté pans in the UK? Well, I am glad you asked. Here they are!
Best Sauté Pans in the UK
1. Carote Non Stick Sauté Pan
Diameter: 24, 28, or 32 cm
Materials: Aluminium, granite non-stick coating
This Carote sauté pan has five layers of PFOA-free non-stick granite coating. It is extremely durable and means you can cook with less oil and still get brilliant results.
The base material of this pan is forged aluminium. This offers excellent heat retention and distribution. It also makes the pan nice and heavy, which offers lovely control as you cook.
Carote has cleverly designed this sauté pan with additional height. Unlike other frying pans and sauté pans, the extra height allows you to cook a lot more in this pan.
You can use this as a saucepan if you're already using all of your pans. Plus, it works as a wok and a frying pan too.
And the fantastic non-stick coating makes it a dream to clean, too, with most of the oil and food taking a single wipe with a damp cloth to remove.
2. Tower T800033 Sauté Pan
Diameter: 28 cm
Materials: Stone-infused titanium, aluminium, steel, non-stick coating
This 4.5 litre sauté pan has a very robust construction. The pan is made from drop-forged aluminium to provide a very strong and stable base.
It then has a piece of high-quality steel in the bottom to ensure it works with all hob types, including induction. Then it has two reinforcement layers made of granite on the interior and exterior.
Finally, there are five stone infused layers for one of the strongest non-stick coatings available in the UK right now.
All of this means that this pan will outperform most on the market right now. It is finished off nicely with a stainless-steel handle and a lovely glass lid which also has a stainless-steel handle.
If you want a sauté pan that you can throw everything at (including metal utensils), this is an ideal option.
3. Blue Diamond 28cm Sauté Pan
Diameter: 28 cm
Materials: Aluminium, non-stick coating
This sauté pan has some fantastic reviews and an excellent price. The reason we choose this sauté pan for this article is that it looks very similar to the sauté pan that my partner got for our home.
The two handles on this sauté pan make transferring it from the hob to the oven or to the counter really easy. Plus, this Blue Diamond sauté pan has an excellent non-stick coating that is diamond infused. It's five times tougher than most non-stick coatings and lasts for 10 times as long too.
Once again, this sauté pan can be used in the oven as both handles are metal. The handle on the toughened glass lid is also metal.
This sauté pan is suitable for induction hobs and all other hob types. The forged, heavy base spreads heat evenly but doesn't warp at all. For the price, this sauté pan is remarkable. Also, the colour is great too!
4. Tefal Comfort Max Stainless Steel Non-stick Sauté Pan

Diameter: 26 cm
Materials: Stainless steel, non-stick coating
Tefal makes some brilliant cookware, and its Comfort Max range is some of the most popular for a variety of reasons.
Many people love the comfortable handles, which have been cleverly designed to make controlling the pans while handling it much easier.
Others love the extremely tough non-stick coating that outperforms most other non-stick coatings on the market.
And others love the stainless steel. It feels great to cook with and looks excellent in any modern kitchen.
This sauté pan looks and performs incredibly well and will certainly suit a home kitchen that uses pots and pans a lot.
The whole Comfort Max range has a fit and finish that is unparalleled by most other reasonably priced cookware companies, and the entire range is a joy to use.
5. GreenPan Rio Ceramic Non-Stick Sauté Pan with Lid
Diameter: 30 cm
Materials: Aluminium, non-stick coating
If you'd love a splash of colour in your kitchen, this sauté pan from GreenPan is a great option for you.
The turquoise exterior and cream interior offer a lovely splash of colour to your hob. But this coating is much more than just a pop of colour.
The coating is actually ceramic, which is a good quality, hard-wearing non-stick coating that performs perfectly for a bunch of different cooking tasks. Which is ideal because this sauté pan can perform plenty of different tasks.
The sides of this pan are almost vertical and much taller than a typical frying pan. So, this sauté pan is a bit like a cross between a saucepan and a frying pan, meaning its uses are nearly limitless.
We love the look of this pan; the coating is excellent, it can be used on all hob types, and it is also available in another lovely colour as well.
6. Jamie Oliver Tefal Titanium Ultra-Resistant Non-stick Sauté Pan
Diameter: 24 cm
Materials: Titanium, non-stick coating
The Jamie Oliver range from Tefal is geared toward home cooks that want to start taking cooking seriously. This one has one of the toughest non-stick coatings available on the market right now.
It is a non-stick titanium coating. Titanium is extremely robust and very light but also ultra-smooth, so nothing can really stick to this plan.
We love the look of this sauté pan. It is slightly more reserved than the other pans on this list, but we feel this gives this pan a professional look. A classy look that wouldn't look out of place in a restaurant kitchen.
While this is one of the smaller sauté pans on this list, you can still do plenty with it, and it will be a workhorse for you.
7. Le Creuset 3-Ply Stainless Steel Sauté Pan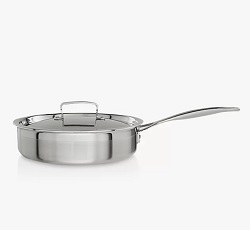 Diameter: 24 cm
Materials: Stainless steel, aluminium
Le Creuset is one of the biggest names in cookware, and when you look at this sauté pan, it isn't difficult to see why.
Firstly, this sauté pan looks incredible, but it offers way more to your kitchen than a nice design. It is a three-ply stainless steel pan. The layers of stainless-steel sandwich a layer of aluminium. This means that heat spreads nice and evenly while the cooking surface is non-stick and robust.
Once again, this sauté pan is oven safe, it is also dishwasher safe. Le Creuset cookware is the choice of many professional chefs.
This is because they make some of the finest cookware in the world and most of their products (including this sauté pan) are covered by a lifetime guarantee.
So, while this stainless-steel sauté pan will look amazing in your kitchen for years, it will also be an invaluable tool too.
The Advantages of Sauté Pans
Think of a sauté pan as a frying pan that offers more. In fact, a sauté pan is a bit like a frying pan and saucepan rolled into one.
So, you can use a sauté pan for everything that you normally use a frying pan for. However, you can also use it for meals that have a bit more liquid too. So, you can use a sauté pan for steaming, poaching, deep-frying and searing.
Sauté pans are certainly one of the most versatile pans in the kitchen. So, if you're just starting to collect your cookware, if you've just moved in your first house, for example.
Or you want a really versatile piece of cookware that you can use for a host of cooking tasks, a sauté pan is a great choice. You can fry steak, cook amazing, one-pot meals and if you really don't fancy washing up a saucepan, boil some veg too!
Sauté pans are fantastic on the hob. Of course, most sauté pans nowadays are suitable for use with induction hobs too.
However, some sauté pans can also be used in the oven as well. This adds even more to this already incredibly versatile piece of cookware.
You can create very complex dishes with a sauté pan that your family will love. Oh, and sauté pans also come with a lid (most do anyway). This adds even more versatility too.
Sauté Pan or Frying Pan?
We have an article explaining the difference between frying pans and sauté pans here. However, many people want to know whether they should have a frying pan or a sauté pan in the kitchen, or both.
As I stated in that other article, I have both. My partner and I had one frying pan for years, and then one day, she bought home a sauté pan because she had always wanted one. This begun our obsession with sauté pans, but we still use our frying pan all the time too.
I don't think that choosing between a frying pan and a sauté pan is the right way to look at this. I think that having both pans in your kitchen is ideal.
Having a sauté pan is awesome, and I certainly wouldn't be without one. However, frying pans are just as useful, and we use both when we cook often enough that I can't recommend one over the other.
To me, there is no choice between a frying pan and a sauté pan. We use ours independently and together, and both are must-haves in our kitchen.
If you're thinking about buying a sauté pan rather than a frying pan as you have a small kitchen or don't really need two similar pans, I understand. My partner and I don't really need two similar pans either, but both are a joy to use and allow you to make some complex meals.
However, if you can really only have either a frying pan or a sauté pan, I would choose a sauté pan. They are the most versatile piece of cookware (probably) that you can buy and will be a real asset in a small kitchen.
What Sauté Pans Do Professional Chefs Use?
Professional chefs often use cookware made from carbon steel. This goes for sauté pans, frying pans, baking trays, and even saucepans. The reason they use carbon steel cookware over anything else is rather interesting.
Carbon steel cookware is really thin, so it is nice and lightweight. This means that chefs can use it all night without getting tired.
It being thin also means that it heats up very quickly. It doesn't hold heat that well, but this actually helps chefs.
They can use a higher heat to flash fry things but can remove the pan from the heat to quickly cool things down.
Carbon steel pans also have a carbon steel handle that is riveted securely to the pan. This offers plenty of control and means the pan can go directly into the oven to finish off the food. This saves the chef time, rather than having to transfer something to a baking tray.
Carbon steel cookware doesn't have a non-stick either. This means that chefs can use it at higher temperatures on the stove and in the oven.
This cookware can also be seasoned like cast iron, though. So, chefs can achieve a good quality non-stick coating just by using the cookware.
Chefs use carbon steel cookware because it is quick to heat up, very versatile as it can be used on the hob and the oven, and is well made, so it stands up nicely in a busy kitchen. Carbon steel is used because it's perfect for the speed needed in a professional kitchen.
What to Look for When Buying a Sauté Pan
Here are some things to look for in a sauté pan to get the most out of it.
Heavy material
When choosing a sauté pan, one of the most important things to look for is that it's made from a heavy gauge material, like forged aluminium, for example.
If a sauté pan is too thin, it can cause hotspots and uneven heating during the cooking process. While this is great for some cookware, sauté pans ideally want to hold heat inside the metal, this offers the most versatility for this type of cookware.
Lids
Occasionally you'll see a sauté pan without a lid; these should be avoided. One of the best things about sauté pans is that they come with a lid.
This allows you to use these pans as a saucepan as well as a frying pan. We use our sauté pan for just about everything.
When our saucepans are being used, we use our sauté pan for boiling veg, for example. We also use it for stir-fries, frying steak, making sauces, and so much more.
A lid allows you to use a sauté pan for much more, so it's well worth buying a pan with one.
Non-stick options
Some sauté pans don't have a non-stick coating at all. Instead, they rely on the base material for its non-stick properties. Like the stainless-steel sauté pan from Le Creuset, for example.
Other pans will come with a granite, PFOA-free non-stick coating, or something similar. You need to decide which coating is right for you.
If you are really used to non-stick coatings and all your other pans have it then, then maybe you'll be better off buying a good quality sauté pan with a durable non-stick coating.
If you love using stainless steel, then your mind is likely already made up.
Sizes
Sauté pans come in a few sizes, and choosing the right size for your needs isn't always easy. My sauté pan is 28cm, and it is plenty big enough for what we need it for.
We can make a lovely pasta sauce in the sauté pan and throw in some fresh pasta to mix it together without it spilling over the sides.
We've used this method with food for four before, and it worked great.
So, a sauté pan of 28cm or bigger is usually a good place to start. Anything smaller, and you may be restricted in what you can use it for.
Conclusion
Well, there is our list of the best sauté pans in the UK right now. We love the Carote Non Stick Sauté Pan. It's durable, with a forged aluminium base, and is versatile enough to use as a frying pan or wok. It has a great PFOA-free non-stick coating, which is very easy to clean.
There is a sauté pan on this list for everyone. Please check out our other cookware articles for more information about all the best cookware in the UK.

Scott is a writer and a passionate home chef. His passion for cooking began when he was 10 years old. Scott has been writing professionally for over five years now and loves to combine his passion for cooking with his day job.