If you're in the market for a frying pan, a saucepan or any other cooking pot that you want to transfer from your hob to your oven, then you're in the right place.
We've listed some of the best hob-to-oven pans on the market right now just below.
Best Hob-to-Oven Pans in the UK
1. Circulon Saute Pan with Lid
Diameter: 28 cm
Materials: Hard anodised aluminium
This saute pan with lid from Circulon is suitable for use on any hob type and can even then be moved directly to the oven up to 180­°C. The base of this saute pan has circular grooves that offer an exceptional non-stick surface that requires little to no cooking oil.
The handles are comfortable and secure, even when used in the oven. For ultimate ease of use, this saute pan is even dishwasher safe.
The Circulon saute pans are made from heavy gauge anodized materials that are stronger and more durable than stainless steel.
Whether you're making risotto, curry or pasta, you'll be able to nail the recipe and clean up easily afterwards.
2. MasterClass Cast Aluminium Induction-Safe Shallow Casserole Dish
Diameter: 28 cm
Materials: Cast aluminium
This aluminium casserole dish that is also induction safe is perfect for any dishes that you want to prepare that need a bit of time on the hob and in the oven too.
This casserole dish is shallow, so it heats up quickly and ensures that your food cooks evenly. It's finished with two non-stick layers, and is safe to temperatures up to 200 degrees Celsius.
The MasterClass cast aluminium casserole dish is robust and comes with sturdy handles and a lid that locks in the flavours and ensures that your food won't dry out during the cooking process. This casserole dish is excellent at slow cooking, either on the hob or in the oven.
3. Eaziglide Neverstick2 Non-Stick Open Frying Pan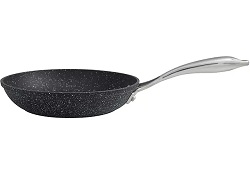 Diameter: 20 cm
Materials: Cast aluminium
This non-stick frying pan is made from forged aluminium, making it extremely tough. It provides a surface that heats very evenly to ensure that you have the perfect heat distribution for any cooking tasks.
As the cooking surface also features the very fancy and extremely awesome Neverstick2 coating, you can also use this frying pan without any butter or oil too, so it's great for making very healthy dishes.
This frying pan also features a stainless-steel base, so it's great for use on induction hobs and any other hob. Plus, the handle is stainless steel too and is held in place with some robust rivets. So, this aluminium frying pan is brilliant for oven-use too.
Oh, and just to top the awesomeness off, it is also dishwasher-safe and has a lifetime guarantee.
4. Savisto 28 cm Premium Cast Aluminium Non-Stick Griddle Pan

Diameter: 28 cm
Materials: Cast aluminium
This cast aluminium non-stick griddle is the perfect addition to anyone who wants all of the cooking power that a griddle can provide, plus the ability to finish dishes in the oven.
With the detachable handle, this cast aluminium griddle can easily go from the hob, straight into the oven.
Now you can enjoy a BBQ in any weather and keep your sausages warm in the oven while you wait for your partner to finish the potato salad!
This griddle also features a fantastic two-layer non-stick coating. Plus, it can also be used on an induction hob, and the detachable handle makes for really easy cleaning.
5. Uno Casa Cast Iron Skillet 2-Piece Set
Diameter: 10 inches, 12 inches (25.4 cm, 30.5 cm)
Materials: Cast iron

Uno Casa's 2-piece skillet set is made completely from cast iron material, making it ideal for a variety of heat sources. This includes frying on the stove, baking in the oven, or even camping out in the woods.
With equal heat distribution, your food cooks thoroughly and stays warm whilst you add any finishing touches. The set also offers bonus accessories such as the silicone handle covers to protect your hands up to 230 degrees Celsius.
What Pans Can Go from the Hob to the Oven?
You might be wondering what makes a pan suitable for transferring to an oven. Certain characteristics make a pan perfect for using on the hob and then being transferred to the oven safely.
We've written an in-depth article on what kinds of frying pans can be put in the oven here. If you want to understand what makes a pan oven-safe, be sure to read that article. It goes into loads of detail about the best materials that pans should be made from to ensure they are perfectly safe in the oven and will provide the results you like.
The following cookware materials are oven safe:
Stainless-steel
Copper
Cast iron
You need to be careful with the following:
Pots and pans with plastic handles
Non-stick pans
Can non-stick pans go in the oven?
Non-stick coatings like Teflon are typically rated to a temperature of 260°C (500 degrees Fahrenheit). This means that most non-stick coatings are perfectly useable in traditional ovens at typical cooking temperatures.
Also, most pans made from stainless steel, copper, cast iron and even most aluminium pans can also be transferred to the oven. As long as these pans don't have plastic handles, they can be transferred without any issues at all.
But even plastic handled pans can be used in the oven with the magical hack of wrapping the handles in paper towels and foil, discussed in another article here.
FAQs on Hob-to-Oven Cookware
How do I know if cookware is oven safe?
Fortunately, a lot of modern cookware is oven safe. If you're unsure, look out for the oven-safe symbol on the packaging or the bottom of the pan, and if you can't find it, check with the manufacturer.
Whilst a lot of modern cookware is oven safe, pots and pans are not all made equal. The difference tends to be found in the maximum temperature an item can withstand. Factors such as what the pans are made of will have a major impact.
As an example, pans that are entirely metal and have metal handles are often safe to use in the oven at higher temperatures than pans with special coatings or plastic handles.
Can you put a non-stick pan in the oven?
Most metal and ceramic pans are oven-safe, and many that have a non-stick coating are too. Beyond this, it depends on what the non-stick coating is made from as some non-stick is oven-safe, and others aren't.
The easiest way to confirm whether or not a pan is oven-proof is to look for an oven-safe symbol or text on the bottom of the pan or packaging.
What's the oven-safe symbol on cookware in the UK?
There are multiple variations of the oven-safe symbol used in the UK. You will find that some manufacturers don't even use one, and instead choose to use photos of an oven on the packaging, or write it in words!
That being said, oven-safe symbols are usually easy to recognise.
The typical oven-safe symbol is a small square icon showing an appliance with controls along the top. Sometimes, this symbol will include the maximum temperature that the cookware is rated for.
Conclusion
Well, that's our list of the best pans that can go from the hob straight into the oven. Which pan will you buy from this list?
If we had to pick just one to recommend it would be the Circulon Saute Pan with Lid. It's robustly built and is suitable for all hob types, as well as being oven safe up to 180­°C.
We hope you have found this hob to oven article helpful. If you want to find out more about fantastic kitchen equipment, then please explore our website further. We have tonnes of info on here that can help you turn your kitchen in the true heart of your home!

Scott is a writer and a passionate home chef. His passion for cooking began when he was 10 years old. Scott has been writing professionally for over five years now and loves to combine his passion for cooking with his day job.