A lot of cooker hoods produce a noise that makes it sound like there's a jumbo jet in your kitchen.
This is hardly ideal when you want to have a quiet evening!
We put up with this noise because it's better than letting the smell of fried mackerel make our home uninhabitable.
Cooker hoods are necessary as they take the bad smells and damp air out of our kitchens and either take it outside or filter it back into our kitchens.
However, surely there is a quiet cooker hood that does this job just as well as the loud cooker hoods on the market?
Yes, there is. In fact, there are five amazing cooker hoods below that do a great job of removing smells and damp air from your kitchen and all of them are quieter than a normal conversation (60 dB).
Let's take a look at these amazing cooker hoods, shall we?
Quietest Cooker Hoods in the UK
1. Miele DA2450 Built-In Cooker Hood
Noise level: 47 dB
Type: Canopy
Size: 50 cm
This canopy hood from Miele is the quietest we could find on the market, at just 47 decibels.
This makes it quieter than the noise of the average conversation, so you can have a chat while you're cooking or leave the fan on while eating.
Not only is it quiet, it also has an A energy rating, so you'll save money on your electricity bills.
The Miele DA2450 cooker hood has LED lighting and two grease filters.
You can control the extraction power with a rotary dial. There are two power levels for normal cooking, as well as a Booster setting.
2. Elica BLOOM-LUX-DEK 85 cm Chimney Cooker Hood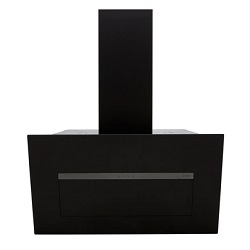 Noise level: 50 dB
Type: Chimney
Extraction rate: 750 m³ per hour
Size: 85 cm
Elica's cooker hood has a sleek finish that will add a quality, stylish finish to your kitchen.
Depending on the styling and decor of your kitchen, you can choose between a bold Dekton finish, and a sleek, modern White Glass finish.
This cooker hood is suitable for use over a standard-sized hob, and the extraction rate of up to 750 m³ per hour will quickly clear the air in even a large kitchen once you've finished cooking.
For those incredibly strong smells, the Boost Mode can get rid of those unwanted scents even quicker, leaving your kitchen delightfully fresh.
This cooker hood also has a rotating flap that gives you access to extra suction for thick or heavy fumes.
Cleaning this Elica cooker hood is a breeze too. The grease filters can be easily removed and then simply washed under a tap with no elbow grease or special chemicals required.
This cooker hood might be on the more expensive side, however it does offer great performance, a huge range of features and will look right at home in just about any kitchen.
3. Bosch Serie 6 DWK97JQ60B 89 cm Angled Chimney Cooker Hood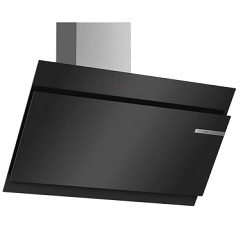 Noise level: 53 dB
Type: Chimney
Extraction rate: 460 m³ per hour
Size: 89 cm
The Bosch Serie 6 cooker hood will make a great addition to any modern home.
At 460 m³ per hour, the extraction rate is not as high as others on this list, but it is more than enough for most medium-sized kitchens.
Despite this, the cooker hood is 89 cm wide which is more than enough to cover large hobs or range cookers.
Bosch's PerfectAir sensor system can automatically detect the level of odour in the kitchen, and automatically adjust the fan speed and settings to suit.
You can simply focus on creating the perfect meal without needing to worry about strong smells lingering around your home.
If you're waiting for guests to arrive or have burned something, the boost button will give you an extra burst of power to tackle lingering or strong smells.
This cooker hood might be one of the more expensive ones, but users love that it is energy efficient, powerful, and easy to clean.
4. Bosch DFS067A51B 60 cm Telescopic Cooker Hood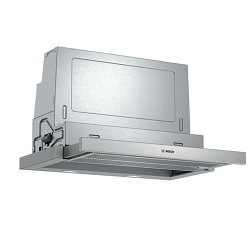 Noise level: 53 dB
Type: Telescopic
Size: 60 cm
This telescopic cooker hood features Bosch's brushless motor EcoSilence drive technology, which helps keep noise to a minimum.
At 60 cm wide, this hood is the right size for a standard 60 cm hob. It features useful LED lights to light up the area while you're cooking.
This cooker hood is quite pricey, but it looks great and is so quiet you'll barely notice it's on. It's also well made and straightforward to install.
This hood won't just help extract moisture and smells from the air, it will also remove grease. According to Bosch, the filters will remove at least 85% of the grease from the air in your kitchen.
The Bosch DFS067A51B's maximum extraction rate is 399³/hr, making it a good choice for smaller kitchens.
5. Bosch Series 4 DFS097A51B Telescopic Cooker Hood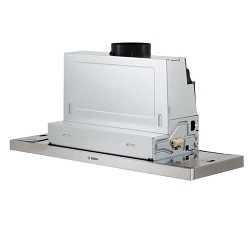 Noise level: 53 dB
Type: Telescopic
Size: 90 cm
Here's another ultra-quiet cooker hood from Bosch. It's essentially the 90 cm version of the Bosch DFS067A51B reviewed above.
If you have a large 90 cm cooker hood and want something exceptionally quiet, the Bosch Series 4 DFS097A51B is a great choice.
Like the other Bosch products reviewed here, it also features Bosch's EcoSilence drive technology, which refers to a brushless motor that makes as little noise as possible.
Not only is this telescopic cooker hood very quiet, with a maximum noise level of 53 decibels, it also looks very stylish.
This cooker hood has an extraction rate of 397m³/hour, so it's a good choice for smaller kitchens.
6. NEFF N90 I96BMV5N5B 90 cm Island Cooker Hood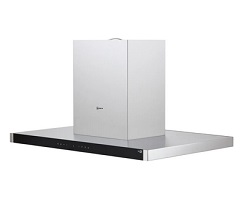 Noise level: 54 dB
Type: Chimney
Extraction rate: 445 m³ per hour
Size: 90 cm
Neff's cooker hood can be used over a large hob or range cooker, and is ideal for use in small to medium kitchens.
This modern cooker hood features a WiFi-enabled Hob-Hood Control that lets you adjust the fan's speed and operate the light from the cooking surface. No stretching to reach the fan needed!
This particular Neff cooker hood even has a setting that automatically switches the appliance on once an hour to remove smoke and odours from your kitchen throughout the entire evening.
If you use Amazon Alexa at home with smart speakers, you will be able to control this cooker hood with your voice too.
Users love that this cooker hood has a stylish finish that looks right at home in just about any kitchen and home.
7. Smeg KBT1200XE Chimney Cooker Hood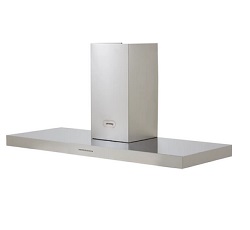 Noise level: 54 dB
Type: Chimney
Extraction rate: 713 m³ per hour
Size: 120 cm
With a low price and high extraction rate, this Smeg cooker hood proves to be the best of both worlds.
The extraction rate of 713 m³ per hour means it can quickly clear the air in large kitchens, even if you have multiple dishes on the go at once.
The push button controls are easy to use and the cooker hood is incredibly easy to maintain too.
The grease filters can simply be rinsed under a tap and replaced; no replacements needed.
This Smeg cooker hood has a sleek stainless-steel finish that is a perfect fit for both modern and traditional households.
For total peace of mind, this cooker hood even comes with a 2-year manufacturer's warranty.
8. AEG DKB5660HM 60 cm Chimney Cooker Hood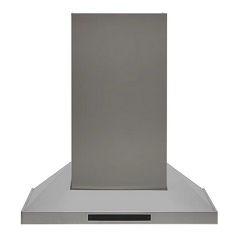 Noise level: 55 dB
Type: Chimney
Extraction rate: 352 m³ per hour
Size: 60 cm
This AEG cooker hood is an affordable choice that, at 60 cm wide, is ideal for use over standard sized hobs.
If you have a compatible AEG hob, you can make use of AEG's Hob2Hood technology that can automatically adjust the fan and lighting, leaving you free to focus on your cooking.
The bright LED lights offer perfect task lighting too, making it even easier to monitor your food.
This cooker hood is the smallest on this list, and offers more than enough performance for a small kitchen.
At a minimum of 55 dB, this cooker hood might be fairly quiet, but some users do find that it is quite loud on the highest setting.
9. TopStrong Cooker Hood 60 cm
Noise level: 55 dB
Type: Angled
Size: 60 cm
This cooker hood from TopStrong will serve as a sleek addition to your kitchen. It easily eliminates smoke, steam, and odours, at a max noise level of 55 decibels.
Not only does the sloping-inward design create more space in your kitchen, but it also reduces the chance of head injuries for the taller members in your household.
Energy efficient LED lighting is useful for both brightening your food, as well as creating a warm feeling of ambience in the evenings.
The tempered glass surface is extremely easy to clean, but you will need to do it regularly to prevent it from greasing up.
10. CIARRA CBCB9506B Cooker Hood 90 cm
Noise level: 56 dB
Type: Chimney
Size: 90 cm
With a total width of 90 cm, this cooker hood from Ciarra will serve as the perfect centrepiece to complete your kitchen.
Combined with a jet-black main body and a stylish glass hood finish, it flawlessly compliments a modern housing design.
The extractor itself offers excellent suction power to ventilate odours quickly yet quietly, and the LED lighting helps to create a very professional aesthetic in your kitchen.
Whilst the installation is easy for someone with experience, for those less experienced it might be a good idea to pay somebody else to do it, as the instructions are not particularly clear.
Cooker Hood FAQs
How loud is the average cooker hood?
Cooker hoods usually produce between about 60 and 75 decibels (dB) of noise on their highest settings.
60 dB is roughly the noise of a normal conversation. Anything at this level or below can be considered 'quiet' for a cooker hood.
Cooker hoods that produce 70 dB or more of noise will sound quite loud. To give you an idea, 75 dB is about as loud as a vacuum cleaner.
Can you get a silent cooker hood?
Unfortunately, it's not possible to get a completely silent cooker hood. The quietest cooker hood we could find still has a maximum noise level of 47 decibels, which is a bit quieter than the hum of a refrigerator.
It's impossible to manufacture a cooker hood or extraction fan that is completely silent, but some models are quiet enough that you'll barely notice them.
The quietest models use brushless motors, which are quieter than the standard motors in more old-fashioned cooker hoods, as well as being much more energy efficient.
What size cooker hood do I need?
The size of a cooker hood is usually given by its width.
Popular sizes include 60 cm, 70 cm and 90 cm. Often the exact width is slightly less, for example 59.8 cm rather than 60 cm.
In general, a cooker hood should be about the same size as the hob that it is covering. If you have more space, you may prefer to choose a larger hood.
Are all cooker hoods noisy?
Not all cooker hoods offer the same speed, power and performance. This difference means that there can be a great difference in noise level between different models and brands.
Most cooker hoods available have a noise level of between 60 and 70 decibels, which for most people, is a comfortable noise level.
If you are sensitive to noise, try to stick to a cooker hood that produces less than 70 dB.
It is worth remembering that a cooker hood with a maximum noise level of 70 dB will only operate at this level when on the highest possible settings.
This means that the cooker hood will be considerably quieter most of the time, unless you need the maximum amount of power.
There are cooker hoods that are much quieter than 60 to 70 decibels, with the quietest on this list being the Designair ART28216 Alize at just 36 dB.
How Can I Make My Kitchen Extractor Quieter?
As mentioned above, not all cooker hoods have the same operating noise level. No matter how quiet your cooker hood should be, there are always steps that you can take to keep the noise level to its absolute minimum.
1. Run at the lowest speed
One of the easiest ways to keep a cooker hood as quiet as possible is to run it at the lowest speed for your needs.
The majority of modern cooker hoods have variable speeds and power settings that you can choose from depending on your needs.
Whilst it is nice to have a very powerful cooker hood that can deal with the smell of burning food and strong vapours easily, you don't need to use the highest setting each and every time you cook a meal.
2. Keep the filters clean
Grease filters can end up clogged up very quickly. If the filters are not clean, you'll find that you need to use increasingly higher settings to get the same level of performance out of your cooker hood.
The grease filters in most modern cooker hoods are now very easy to clean, and can generally just be rinsed out with hot water.
By rinsing the grease filters a couple of times a week, you'll be able to keep your cooker hood operating at its very best.
3. Make sure everything is tight
Loose bolts and components are one of the leading causes of loud noises in appliances. Over time, screws and bolts can work loose, leading to annoying rattling noises.
If you have noticed annoying rattling noises, turn the cooker hood off completely, and check over it thoroughly to make sure that all of the screws, bolts and panels are installed correctly. If they're loose, tighten them up before using the appliance again.
4. Check the ducting
There are a range of issues with ducting that can lead to increased noise levels, these include the type of pipe and the size.
Size of the ducting
This issue is more common in kitchens where the cooker hood is being upgraded. If the ducting is too small for the cooker hood, it will over-extend. This will lead to louder noises and can cause increased energy usage too.
Type of ducting
The type of ducting that you are using can have a major impact on the noise level too. Rigid piping is much more likely to vibrate than flexible pipes, dramatically increasing the noise level. If you can, swap to flexible ducting instead of rigid metal ducting.
Ducting blockages
If there is a blockage from a damaged component or a build-up of grime in the ducting itself, you'll also notice an increase in noise level as the air has to work harder to move through the piping.
Consider installing a duct damper
If the excess noise seems to be coming from your ducting but it is a suitable size and you are using flexible ducting, consider installing a duct damper.
A duct damper is an optional device that can be installed at the end of the ducting to reduce the noise caused by turbulent air. Some of these devices need a power supply, but not all.
Choosing the Right Cooker Hood
Cooker hoods are designed to remove smoke, smells and airborne grease from your kitchen to keep it fresh. They all have different features; some are more efficient and certain ones will also remove steam, so it's important you make the right choice. Here's how.
If you're designing a new kitchen, you can adapt your design to accommodate a particular type of cooker hood. Otherwise, for an existing kitchen, the choice may depend on the current layout.
The main styles are:
Visor — A traditional design that takes up little space and is often the cheapest and most basic
Canopy — Generally concealed beneath an overhead cupboard or in a canopy housing and so is hardly noticeable
Chimney — Fits against a wall and has a large canopy and chimney above so it's generally installed as a feature but requires plenty of space. Some newer models have a vertical format that angles out from the wall and so protrudes less.
Integrated — Concealed behind a cupboard door and so is completely unobtrusive and pulled out to activate.
Island — Applies when you have a cooking island and is attached to the ceiling directly above it. It creates a stylish feature but tends to be the most expensive.
Ceiling — Fits flush to the ceiling and so is unobtrusive but requires a remote control to operate.
Telescopic — Similar to a visor hood but is extended when in use and has a flat profile at other times.
Downdraft — Hidden in the worktop when not in use and rises when needed with air channelled down towards it.
The hood you choose should generally be as wide as your hob and can be wider if you have the space available. It should be positioned about 75 cm above the hob although ceiling-mounted ones will inevitably be higher.
Where the air goes — extracted or recirculating
All cooker hoods work in a similar manner up to a point, in that a fan draws air into the hood and then passes it through a filter that traps the grease.
However, extracting hoods remove the air outside through ducts while recycling hoods pass it through a charcoal filter to absorb the cooking smells before re-introducing the air into the kitchen.
Recirculating hoods are therefore easiest to install but have a reduced extraction rate due to the level of processing. Extracting hoods are most suitable for a cooker installed against an external wall since the duct can go straight out.
For island and ceiling hoods, the ducting has to run in the direction of the joists while ducting is generally through the floor for downdraft hoods, which makes installation more complex.
When buying an extracting hood, you will need to also buy the necessary ducting. However, this type has the added benefit of also removing steam and so reduces the level of condensation in your kitchen.
Getting the performance required
Since the purpose of the cooker hood is to remove smoke and smells, you want one that will do this efficiently. The recommendation is that a cooker hood should be capable of changing the air in a kitchen about ten times an hour.
To determine the required extraction rate for your kitchen, calculate the room's volume (height x width x depth) in cubic metres and multiply by ten.
Compare this to the published extraction rate for each cooker hood and choose one with at least this rate. For island and ceiling cooker hoods, go for a higher rate (at least 800 cubic metres per hour) since the hood will be positioned further away from the hob.
If your chosen cooker hood can either recycle the air or duct it out, you should normally add 30% to the required extraction rate for recycling. Similarly, extraction may be reduced for a ducted hood if the ducting is long and has several bends.
Cooker hoods are generally relatively quiet in operation but some are noisier than others, typically the larger and more powerful ones. Check the noise rating if this is important and also check the energy efficiency rating if you're looking for cheap operation.
Other things to consider
Though most cooker hoods have similarities and the main considerations are price, performance, size and type, they do have other features that may affect your decision:
Most hoods have one or more lights to illuminate the hob and you may want LED versions for energy efficiency.
Consider the accessibility and simplicity of the controls and if a remote is provided or necessary to make operation easier.
Choose a style that fits in with your kitchen or get a concealed version.
Determine if the grease filter is easy to remove and clean, and if replaceable filters are needed and their cost.
If you regularly cook smelly food, consider a cooker hood with a high-power boost option for quick removal.
For recycling hoods, check the costs and frequency of replacement for the charcoal filters.
Aside from this, your budget will be an obvious factor and you'll generally be swayed towards a model that will look really nice in your kitchen. However, make sure it will do the job.
Conclusion
The quietest cooker hood we could find when researching this article was the Miele DA2450, which is a 50 cm canopy hood that produces just 47 decibels of noise.
We hope this look at the quietest cooker hoods in the UK has been helpful in improving the level of noise in your home. For even more kitchen products that can help you make your kitchen the heart of your home, please explore our website further.

Scott is a writer and a passionate home chef. His passion for cooking began when he was 10 years old. Scott has been writing professionally for over five years now and loves to combine his passion for cooking with his day job.