A lot of cooker hoods produce a noise that makes it sound like there's a jumbo jet in your kitchen.
This is hardly ideal when you want to have a quiet evening!
We put up with this noise because it's better than letting the smell of fried mackerel make our home uninhabitable.
Cooker hoods are necessary as they take the bad smells and damp air out of our kitchens and either take it outside or filter it back into our kitchens.
However, surely there is a quiet cooker hood that does this job just as well as the loud cooker hoods on the market?
Yes, there is. In fact, there are five amazing cooker hoods below that do a great job of removing smells and damp air from your kitchen and all of them are quieter than a normal conversation (60 dB).
Let's take a look at these amazing cooker hoods, shall we?
Quietest Cooker Hoods in the UK
1. Designair ART28216 Alize 90cm Curved Glass Cooker Hood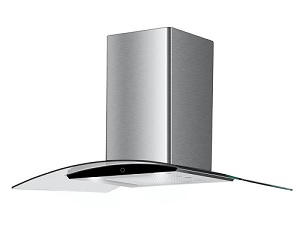 Noise level: 36 dB (minimum)
Type: Chimney
Size: 90 cm
Designair's curved glass cooker hood adds a subtle yet elegant touch to your kitchen for those who want a top-quality extractor.
Using brushless motor technology, the fan can quickly and efficiently clear your kitchen without causing a loud uproar.
A minimalistic design means that the nine fan speeds can be controlled by the touch panel at the front, to eliminate any clunky buttons taking up space! Not only that but you can also switch on the LED downlights to effectively illuminate your food whilst cooking.
It even comes with an aluminium grease filter which can be easily removed for cleaning.
Whilst this is a sophisticated cooker hood, the price tag can be unappealing. But for those with the money to spend, it offers great value for money.
2. Miele DA2450 Built-In Cooker Hood
Noise level: 47 dB
Type: Canopy
Size: 50 cm
This canopy hood from Miele is the quietest we could find on the market, at just 47 decibels.
This makes it quieter than the noise of the average conversation, so you can have a chat while you're cooking or leave the fan on while eating.
Not only is it quiet, it also has an A energy rating, so you'll save money on your electricity bills.
The Miele DA2450 cooker hood has LED lighting and two grease filters.
You can control the extraction power with a rotary dial. There are two power levels for normal cooking, as well as a Booster setting.
3. Belling Unbranded 700CGH 70 cm
Noise level: 50 dB
Dimensions: 70 cm
Type: Chimney
This eye-catching stainless-steel cooker hood from Belling is one of the quietest on the market.
It's able to extract up to 380 cubic metres of air per hour, making it well suited to smaller kitchens.
It's great at getting rid of strong cooking smells, and offers good value for money.
4. TopStrong Cooker Hood 60 cm
Noise level: 55 dB
Type: Angled
Size: 60 cm
This cooker hood from TopStrong will serve as a sleek addition to your kitchen. It easily eliminates smoke, steam, and odours, at a max noise level of 55 decibels.
Not only does the sloping-inward design create more space in your kitchen, but it also reduces the chance of head injuries for the taller members in your household.
Energy efficient LED lighting is useful for both brightening your food, as well as creating a warm feeling of ambience in the evenings.
The tempered glass surface is extremely easy to clean, but you will need to do it regularly to prevent it from greasing up.
5. CIARRA CBCB9506B Cooker Hood 90 cm
Noise level: 56 dB
Type: Chimey
Size: 90 cm
With a total width of 90 cm, this cooker hood from Ciarra will serve as the perfect centrepiece to complete your kitchen. Combined with a jet-black main body and a stylish glass hood finish, it flawlessly compliments a modern housing design.
The extractor itself offers excellent suction power to ventilate odours quickly yet quietly, and the LED lighting helps to create a very professional aesthetic in your kitchen.
Whilst the installation is easy for someone with experience, for those less experienced it might be a good idea to pay somebody else to do it, as the instructions are not particularly clear.
Quietest Cooker Hoods Compared
| | | | | |
| --- | --- | --- | --- | --- |
| Name | Noise level | Type | Size | Check Price |
| Miele DA2450 | 47 dB | Canopy | 50 cm | |
| Beko HNS61110X | 48 dB | Visor | 60 cm | Currently unavailable |
| Belling Unbranded 700CGH | 51 dB | Telescopic | 60 cm | |
| Zanussi ZHB62670XA | 51 dB | Chimney | 70 cm | |
| Belling Unbranded CHIM90BK | 52 dB | Chimney | 90 cm | |
| Belling Unbranded UH100B | 52 dB | Chimney | 100 cm | |
| Britannia Latour 95 TPBTHC1150 | 52 dB | Canopy | 115 cm | |
| Britannia Latour 95 TPBTH120S | 52 dB | Canopy | 120 cm | |
| Bosch DWK98PR60B | 54 dB | Chimney | 90 cm | |
| Neff D99L20N0GB | 54 dB | Chimney | 100 cm | |
Cooker Hood FAQs
How loud is the average cooker hood?
Cooker hoods usually produce between about 60 and 75 decibels (dB) of noise on their highest settings.
60 dB is roughly the noise of a normal conversation. Anything at this level or below can be considered 'quiet' for a cooker hood.
Cooker hoods that produce 70 dB or more of noise will sound quite loud. To give you an idea, 75 dB is about as loud as a vacuum cleaner.
What size cooker hood do I need?
The size of a cooker hood is usually given by its width.
Popular sizes include 60 cm, 70 cm and 90 cm. Often the exact width is slightly less, for example 59.8 cm rather than 60 cm.
In general, a cooker hood should be about the same size as the hob that it is covering. If you have more space, you may prefer to choose a larger hood.
Conclusion
The quietest cooker hood we could find when researching this article was the Designair ART28216, which is chimney-style design and produces just 36 decibels of noise. You can buy it at MyAppliances.co.uk here.
We hope this look at the quietest cooker hoods in the UK has been helpful in improving the level of noise in your home. For even more kitchen products that can help you make your kitchen the heart of your home, please explore our website further.

Scott is a writer and a passionate home chef. His passion for cooking began when he was 10 years old. Scott has been writing professionally for over five years now and loves to combine his passion for cooking with his day job.