By choosing a hob with an integrated extractor, you won't be limited by having to position a hob over it. Instead, you'll have complete freedom over how you design your kitchen.
These hobs are ideal for kitchen islands where you wouldn't want a hood getting in the way. You'll have to pay a bit more for this new and innovative technology, but it could be worth it if you're designing a luxury kitchen.
Many of these hobs come with advanced features such as sensors that sense how much extraction power is required and adjust it accordingly.
Some of the advantages of induction hobs with a built-in extractor are:
No cooker hood required – This is great for kitchen islands, open-plan kitchens and countertops where there isn't enough space above for a cooker hood. It means you won't accidentally bang your head on the cooker hood, and if you're cooking on a kitchen island you can talk to people elsewhere in the kitchen without a hood getting in the way.
No rising steam – This makes them safer and prevents moisture from accumulating on the wall/kitchen cabinet etc.
Steam & smells tackled at source – It's less likely that cooking odours will spread into the room.
However, there are a few drawbacks:
Vent takes up room on and under the cooktop – You'll need more space on your kitchen countertop than you would with a regular induction hob. You'll also need space underneath for the extractor itself and any ducting.
Expensive – Hobs with an integrated extractor are uniformly expensive. There don't seem to be any budget models on the market.
Best Induction Hobs with an Integrated Extractor (2019 UK)
We've researched the market and picked out some of the best induction hobs with a built-in extractor currently available in the UK.
1. AEG IDE84242IB ComboHob
Dimensions: 83 cm wide x 51 cm deep x 21 cm high
This hob has four heat zones and a stylish circular extractor grid in the middle. It looks very modern and would be a nice addition to a high-end kitchen.
The extractor has a circular grid that looks a bit like a plane turbine. You can easily remove it to clean the grease filter and change the odour filter.
You have the choice of either manually controlling the extraction rate or using the handy Hob2Hood feature, which automatically adjusts the extraction speed using sensors.
This hob uses touch controls, which aren't as responsive as they could be. It's also quite slow to change the heat levels or turn the heat off completely as you have to press the controls multiple times.
Overall, this is a great hob that looks stunning and has a powerful built-in extractor. While it is pricey, it's not the most expensive product in this category.
2. Neff T58TS6BN0 Venting Induction Hob
Dimensions: 82.6 cm wide x 54.6 cm deep x 19.7 cm high
The Neff T58TS6BN0 is one of the most technologically advanced hobs on the market. The extractor has nine speed settings and features sensors to control the extraction automatically.
The hob has four induction zones divided into two "flex zones". The flex zones allow you to place a pan anywhere in the zone, and it will heat up exactly where it is. This means you don't need to position it exactly on the heat zone, and is great for pans that don't quite fit regular hob zones.
This hob offers a lot of smart temperature controls, including a FryingSensor mode that keeps the temperature steady. This means you don't need to keep adjusting the temperature manually as you add new ingredients to the pan.
There's also a useful PanBoost function that puts the hob on high power for 30 seconds, then switches it off.
This hob gives you a lot of control over your cooking, though you don't need to use all the advanced features. It looks stunning and will impress any friends who come over!
3. Elica NikolaTesla Prime Venting Induction Hob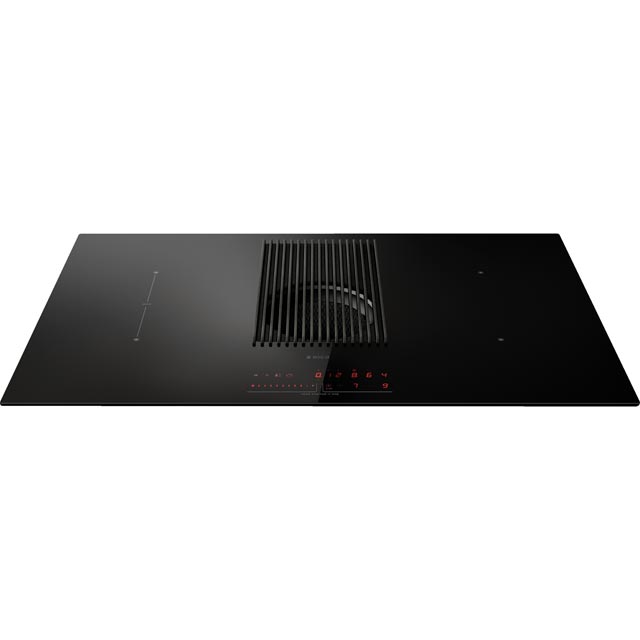 Dimensions: 83 cm wide x 51.5 cm deep x 21.1 cm high
This is one of the cheapest induction hobs with an integrated extractor currently available in the UK. It's made by Italian brand Elica, a manufacturer of hobs and cooker hoods with a good reputation.
This hob has four induction zones, and ventilation starts automatically when the sensors detect steam. It has an AutoCapture feature which detects how much extraction power is needed and adjusts the extractor accordingly.
There's also a Stop & Go feature that lets you pause cooking, saving the settings for when you're ready to start again.
How Do Induction Hobs with Integrated Extractors Work?
The hob itself works like any other induction hob. It heats pans directly, using a magnetic field. Induction hobs offer more speed, responsiveness and energy efficiency than regular electric hobs (read more about induction hobs here).
The built-in extractor is what makes these products special. Instead of drawing the air up, they draw it down, like in a separate downdraft extractor.
Although you might assume that downdraft extraction wouldn't work as well as an extractor hood positioned over the hob, this isn't the case. Integrated extractors are designed and tested to make sure they actually do draw the steam down very effectively, as you can see in this video:
The integrated extractor can be either ducted or use recirculation. If it's ducted, this means it will be connected to outside. If it uses a recirculation system, it will filter and clean the air using a carbon filter and then release it back into the kitchen.
It's important to remember that you will need space (usually at least 20 cm) underneath your kitchen countertop for the extractor itself and any ducting.
Will Spilt Liquid Damage the Extractor?
One thing you might worry about with venting hobs is what happens when a pan boils over. Will it damage the extractor?
Most venting hobs are designed to be able to handle water and other spilt liquids, so this won't be a problem. It will be held within a container, which can then be emptied.
Conclusion
If we had to pick just one of these induction hobs to recommend, it would be the AEG IDE84242IB ComboHob as the built-in extractor works very well and the hob looks exceptionally stylish.