By choosing a hob with an integrated extractor, you won't be limited by having to position an extractor over it. Instead, you'll have complete freedom over how you design your kitchen.
These hobs are ideal for kitchen islands where you wouldn't want a hood getting in the way. You'll have to pay a bit more for this new and innovative technology, but it could be worth it if you're designing a luxury kitchen.
Many of these hobs come with advanced features such as sensors that sense how much extraction power is required and adjust it accordingly.
Best Induction Hobs with an Integrated Extractor in the UK
We've researched the market and picked out some of the best induction hobs with a built-in extractor currently available in the UK.
1. Elica NikolaTesla Prime Venting Induction Hob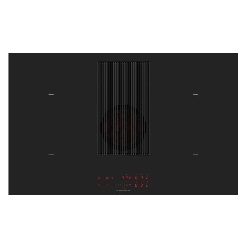 Dimensions: 83 cm wide x 51.5 cm deep x 21.1 cm high
The Elica NikolaTesla Prime, also known as the Elica NT-PRIME-DO is one of the most popular induction hobs with an integrated extractor currently available in the UK.
It's made by Italian brand Elica, a manufacturer of hobs and cooker hoods with a good reputation.
This hob has four induction zones, and ventilation starts automatically when the sensors detect steam. It has an AutoCapture feature which detects how much extraction power is needed and adjusts the extractor accordingly.
There's also a Stop & Go feature that lets you pause cooking, saving the settings for when you're ready to start again.
This hob looks impressive and stylish, and is sure to get some attention when you have visitors! It's also pretty quiet at 66 decibels considering the extraction fan is built in.
Where to buy it:
2. Elica NT-SWITCH BG RC 83cm Venting Induction Hob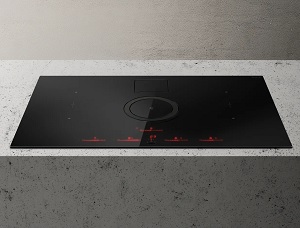 Dimensions: 83 cm wide x 51.5 cm deep x 21.1 cm high
This 83 cm induction hob may be pricey than most, but it's incredibly stylish and high tech. The Elica NT-SWITCH features four induction zones which can be merged to accommodate bigger pans.
The hob has sensors that automatically detect how much venting is required, making it energy efficient and effortless to use. If you want to manually adjust the settings you can choose from eight speeds as well as two booster settings.
The hob features reusable ceramic filters, adding to its eco credentials.
As well as being slick and full of features, the Elica NT-SWITCH is also easy to install and comes with a full duct kit.
It's very quiet at just 59 decibels, so you can enjoy cooking without the noise of a regular extractor fan.
Where to buy it:
3. Smeg HOBD482D 83cm Venting Induction Hob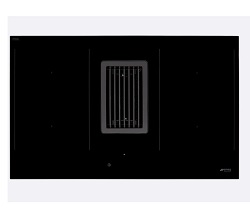 Dimensions: 83 cm wide x 52 cm deep x 23 cm high
The Smeg HOBD482D is an 83 cm wide venting induction hob with four induction cooking zones.
You can combine two cooking zones in to a single, bigger cooking zone using the helpful Extendable Cooking Zone feature. This is great if you have large pans that go over the rings.
All venting hobs are expensive, but Smeg HOBD482D is especially expensive.
This hob is very easy to use thanks to the clever technology. For example, the venting function works automatically as soon as you start heating a pan.
Cleaning the vent is very straightforward too, since it's easy to take apart when you need to clean the filters. If you spill something into the vent, you can just remove it and give it a quick wipe.
Another great thing about the vent is that it's flush with the rest of the hob, so it doesn't get in the way at all.
This hob heats up instantly and looks very modern and stylish. It's pricey, but very well made.
Where to buy it:
4. electriQ Eiq70indd 70cm Induction Hob with Built In Extractor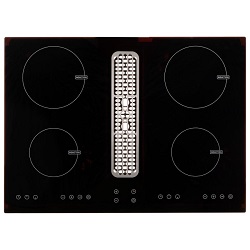 Dimensions: 70cm wide, 51cm deep.
This 70 cm induction hob with built-in extraction is an ideal choice for a larger kitchen.
The built-in extraction unit can extract a large amount of air per hour, so even if you're cooking fish and other smelly things, this hob has the power to push the smells out of your home.
The extraction unit also features interchangeable covers, so you can customise it to suit the style of your kitchen. This is a brilliant touch that really allows you to match this hob to any décor.
The four cooking zones feel endlessly controllable, too, with simple-to-use controls and a digital timer.
The extraction on this hob is just as powerful as the four hob zones and ensures that you can boil, fry, steam and more without the smells, steam and smoke entering the rest of your home.
Where to buy it:
5. Elica NikolaTesla Fit 60 60cm Venting Induction Hob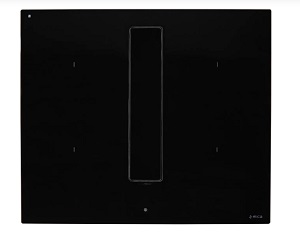 Dimensions: 60 cm wide x 51.5 cm deep x 24.6 cm high
The Elica NikolaTesla Fit is relatively cheap for a hob with an integrated extractor, but bear in mind that it doesn't come with a ducting kit, which will cost you extra.
This hob features four induction zones, with bridge zones that allow you to combine two zones into one large zone for bigger pans.
The Elica NikolaTesla Fit offers five speeds which need to be adjusted manually since unlike other Elica models, it doesn't have sensors to automatically change the speed.
Where to buy it:
About Integrated Extractors
Pros and cons of integrated extractors
Some of the advantages of induction hobs with a built-in extractor are:
No cooker hood required – This is great for kitchen islands, open-plan kitchens and countertops where there isn't enough space above for a cooker hood. It means you won't accidentally bang your head on the cooker hood, and if you're cooking on a kitchen island you can talk to people elsewhere in the kitchen without a hood getting in the way.
No rising steam – This makes them safer and prevents moisture from accumulating on the wall/kitchen cabinet etc.
Steam & smells tackled at source – It's less likely that cooking odours will spread into the room.
However, there are a few drawbacks:
Vent takes up room on and under the cooktop – You'll need more space on your kitchen countertop than you would with a regular induction hob. You'll also need space underneath for the extractor itself and any ducting.
Expensive – Hobs with an integrated extractor are uniformly expensive. There don't seem to be any budget models on the market.
How well do built-in extractors work?
The short answer is yes, built-in extractors do work, and a good one will work just as well as a regular extractor. In this video, Steve from Roots Kitchens Bedrooms Bathrooms uses a humidistat sensor to test the effectiveness of a built-in extractor. The video shows that the humidity around the hob returns to normal after the built-in extractor is turned on.
The integrated extractor can be either ducted or use recirculation. If it's ducted, this means it will be connected to outside. If it uses a recirculation system, it will filter and clean the air using a carbon filter and then release it back into the kitchen.
It's important to remember that you will need space (usually at least 20 cm) underneath your kitchen countertop for the extractor itself and any ducting.
Integrated extractor vs. downdraft extractor
One alternative to buying an induction hob with a built-in extractor is to buy a separate downdraft extractor. This is installed behind your hob and sucks the air horizontally and then down rather than up, making it a good option if you can't or don't want to install a cooker hood over your hob.
Downdraft extractors usually rise up around 40 cm from the hob, so aesthetically the effect is quite different to an integrated extractor that is flush with the hob surface.
Buying a regular induction hob and installing a separate downdraft extractor could be cheaper than buying one of the hobs listed above, though it depends on exactly which products you choose.
Will spilt liquid damage the extractor?
One thing you might worry about with venting hobs is what happens when a pan boils over. Will it damage the extractor?
Most venting hobs are designed to be able to handle water and other spilt liquids, so this won't be a problem. It will be held within a container, which can then be emptied.
Can you buy a 5-ring induction hob with a built-in extractor?
As far as we are aware, there aren't any five-ring induction hobs on the market that come with a built-in extractor. The biggest hobs with this feature have four rings.
Conclusion
If we had to pick just one of these induction hobs to recommend, it would be the Elica NikolaTesla as the built-in extractor works very well and the hob looks exceptionally stylish. It's slightly cheaper than some of the alternatives, while still adding a classy touch to your kitchen. It's also one of the most popular venting hobs in the UK, with plenty of positive reviews.

Chef's Pick is your guide to the best kitchen equipment and appliances in the UK.
We help you understand the confusing world of cookers, ovens and cookware so you can get the most out of your kitchen.