If you have been looking for a wok that will work on your induction hob, then you're probably already aware of the minefield that is this topic.
Finding a wok that can be used on an induction hob can be tricky. So much so, that there are induction hob adapters on the market made purposively for woks (more on those later).
Are you ready to see the best woks for induction hobs on the market right now? Let's delve deep into this list of fantastic woks then, shall we?
Best Woks for Induction Hobs in the UK
1. Tefal C6451942 Titanium Excel Wok Pan
This wok from Tefal has a fantastic titanium non-stick coating that is extremely tough. So much so, this wok comes with a lifetime warranty. It is said that this non-stick coating is 24 times tougher than a regular non-stick coating.
While there isn't really a way of testing whether this titanium coating can stand up to 24 times the abuse of a normal non-stick coating, at least, we can't test that, the coating is fantastic and works a treat for all your stir-frying needs.
To make this wok even more versatile, we recommend getting it with the all-in-one pan set. This includes a glass lid, stainless steel steamer and skimmer. Okay, this bundle isn't available with the wok, but the frying pan it comes with is awesome.
The wok that is available in this range from Tefal is also a great addition to any kitchen.
Pros
Oven and dishwasher safe
Great for families
Easy to clean
Cons
Takes a while to heat up on regular hobs
Heat distribution isn't as good as cast iron
Non-stick coating can scratch
2. Le Creuset Toughened Non-Stick Wok
This wok is a great size, coming in at 28 cm, but for the larger families or the people that love to batch out meals, there's also a 32 cm wok (available on John Lewis here). It is exactly the same as the 28 cm one but gives you a bit more cooking space.
Now, this wok is one of the most expensive on this list, but it is built to last a lot of wokking, so it is well worth the money!
This wok has cast stainless steel handles, deep sides walls which are perfect for stir-frying and it is completely oven-safe too.
There is also an excellent non-stick coating on this wok, so there is no seasoning required. Plus, there is a glass lid available for this wok (sold separately) to add even more versatility.
Pros
Very even heat
Non-stick coating is excellent
Built to last
Cons
Some brushes can damage the coating
Some have experienced non-stick coating peeling after extensive use
3. Eaziglide Neverstick2 Non-Stick Open Wok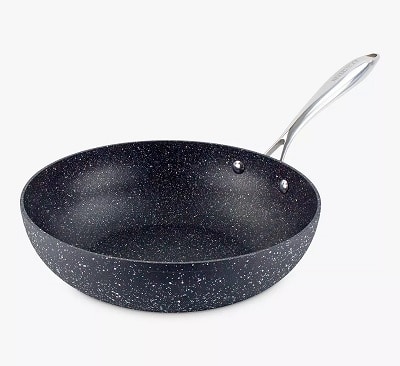 This wok is perhaps the best on this list if you are looking for a way of cooking healthy meals. You see, with the amazing non-stick coating on this wok, you don't need any oil or butter to cook with. So, you can create really tasty stir-fried dishes in this wok that are as healthy as they are delicious.
This wok is made from aluminium, but it has a magnetic base, so it's perfect for use on an induction hob. The bottom heats up quickly and the deep aluminium sides hold the heat extremely well.
The non-stick coating on this wok is so good that you can simply wipe the surface clean, but the wok is also dishwasher safe too.
Pros
Dishwasher and oven-safe
Perfect for healthy meals
Great size for cooking and storing
Cons
After a lot of use, the non-stick does begin to fail
The lid is sold separately
4. Tefal Comfort Max Stainless Steel Non-stick Wok
This Tefal wok has the classic Thermospot technology that we have all come to know and love about Tefal products over the years. This tells you when this stainless-steel wok is up to the perfect temperature to start stir-frying, and the non-sticking coating keeps this wok working for you for a long time.
The wok is dishwasher safe, but unlike most of the woks on this list, it isn't oven-safe. However, this wok is one of the most affordable on this list. So sacrificing using a wok in the oven seems perfectly acceptable when the wok performs this well and looks this good.
This wok has to be one of the nicest looking woks on this list and performs really nicely too.
Pros
Good size for up to four people
Nice styling perfect for modern kitchens
Sturdy, but not too heavy
Cons
The body is thin which can result in food burning
The handle can loosen over time
5. GreenPan Venice Pro Extra Ceramic Non-Stick Wok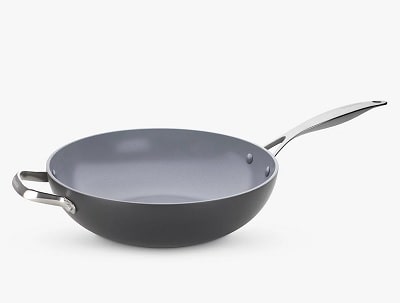 I must say that this wok has to be one of the nicest looking on this list. I know that looks, when it comes to woks, aren't important, but if you have a modern kitchen, this wok will fit in perfectly with that type of styling. However, this wok will also work great for you too.
This wok has an excellent ceramic non-stick coating. It's made from heavy-gauge material and has the fantastic Magneto induction technology, so it heats up nice and quickly on most hobs. Most importantly for you, it works amazingly well on induction hobs.
If you want a wok that has the looks and delivers the goods too, this is the best one on this list for you.
Pros
Quality materials and construction
Oven and dishwasher safe
Non-stick coating lasts
6. Vogue Hancock 13″ Commercial Quality Carbon Steel Flat Base Wok
The wok is another awesome mix of traditional styling and modern functionality. However, instead of being made from iron like the last wok, this wok is made from carbon steel. That is pretty much the only difference between these woks.
This carbon steel wok is pretty thin, but that doesn't seem to bother most. This means that it heats up quickly and holds heat pretty well too.
Now, this is a commercial-type wok, and many restaurants around the UK will use woks like this. This can mean that woks like these are almost created to be disposable, but for a typical household kitchen, this product will last many years.
This is the cheapest wok on this list (at the time of writing) and will need seasoning as it doesn't have a non-stick coating. However, it's a fantastic wok for those wanting a traditional style wok that works great on their induction hob.
Pros
Traditional styling
Very inexpensive
Light but well made
Cons
Needs seasoning
Not oven or dishwasher safe
Do All Woks Work on Induction Hobs?
You can get woks that work great on induction hobs. How well the wok will work depends on which wok you buy, and can even depend on the type of induction hob you have.
Firstly, any wok with a tradition round bottom won't perform too well on a normal induction hob. Induction hobs need good contact with the metal of any saucepan or wok, so if your wok has a rounded bottom, a traditional induction hob can struggle to heat it up.
Now, you can buy induction hobs that have a specialised ring for woks with rounded bases. These are a shallow basin, rather than the traditional flat ring. If you want to use a wok for most of your cooking, this is a great way of ensuring pretty much any wok made from a magnetic material will work perfectly on your hob.
However, many of us only use a wok on the odd occasion. It may even sound a little silly to most of us to choose a particular induction hob that is designed for woks. So, what can you do if you fancy using a wok occasionally?
Induction Hob Adapters for Woks
You can buy adapters for induction hobs that allow you to use any saucepan that you may own on your new induction hob. See the Salsk Induction Hob Converter on Amazon here.
If you have loads of saucepans, a frying pan, a flat-bottomed wok and so on, they will work on your induction hob with this adapter.
This adapter takes the place of the magnetic bottom that a lot of flat-bottomed woks and other saucepans have that work with induction hobs.
There are also adapters for induction hobs that are designed to work solely with woks. These create a shallow basin and are magnetic.
So, you can put this adapter on your induction hob each time you want to use your wok and it will heat up any type of wok.
These adapters for induction hobs aren't too expensive and are certainly worth exploring if you already have a nice wok or saucepan set that you would like to use with your induction hob.
Do Carbon Steel Woks Work on Induction Hobs?
Yes, carbon steel woks work great on induction hobs.
Basically, any wok that is created from a magnetic material will work perfectly on these hobs because induction hobs use a magnetic field to create the heat.
So, you can either choose to buy a wok with a magnetic base, or the whole wok can be made from this material.
The materials that will work for woks on induction hobs include:
Carbon steel
Cast iron
Stainless steel
Copper
Aluminium (with one of the magnetic materials above on the base, or with the use of the wok adapters mentioned above).
Can I Stir Fry on an Induction Hob?
You can stir fry on an induction hob, but most people who use woks on an induction hob do have to make certain sacrifices when it comes to traditional stir-frying techniques.
For example, unless you have a wok adapter or an induction hob with the shallow basin I mentioned earlier, a wok with a flat bottom is your best chance at stir-frying on an induction hob. However, this isn't considered true stir-frying by the purest.
Now, most people aren't too worried about stir-frying in the traditional sense. Still, if you are, then it may be worth exploring these options. You won't be able to enjoy stir-frying the traditional way without one of these basin hobs or a good adapter.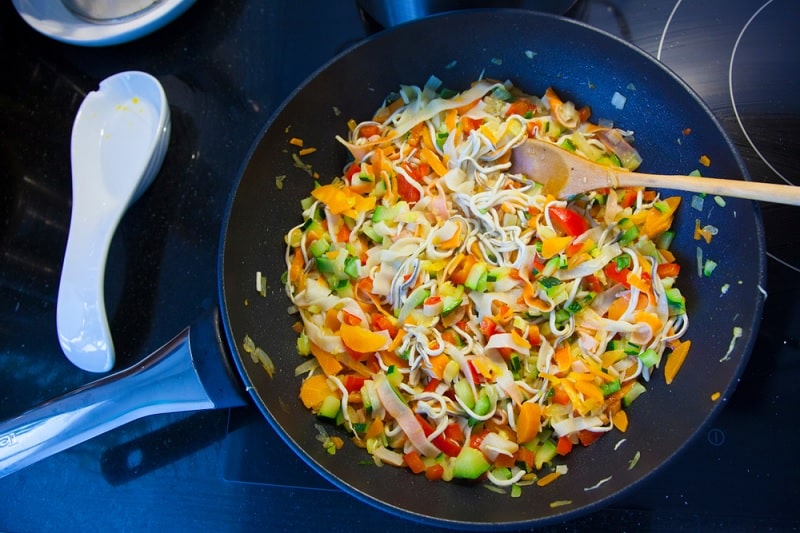 Why Use a Wok Instead of a Frying Pan?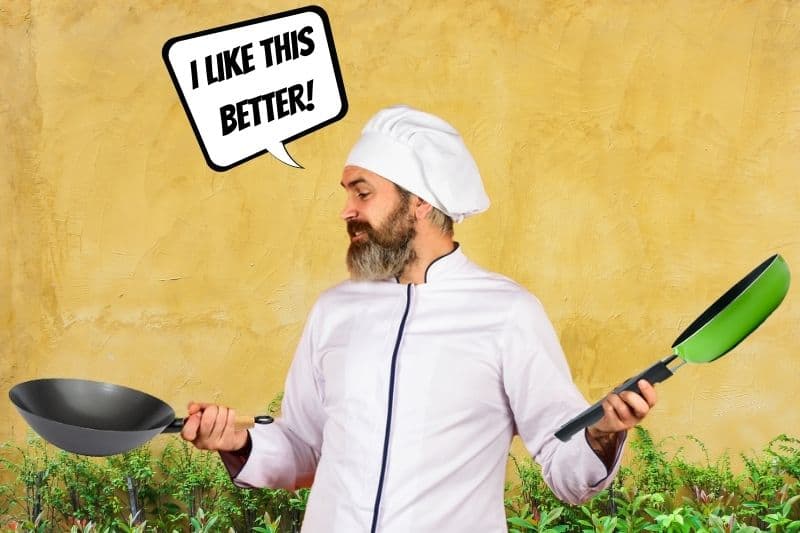 Lots of home cooks grab the frying pan for most cooking tasks on the hob. If something needs to be shallow fried or seared, chances are, we will all grab a frying pan, particularly in the UK.
However, many homes in the UK also have a wok just sitting in the cupboard, minding its own business. A wok is a brilliant cooking tool when used for the right tasks, but when is the right time to bring out the wok?
When to use a frying pan and a wok
A frying pan is the best choice if you are searing a steak, for example. The frying pan heats up nice and evenly and is a nice flat surface to get a good sear on your meat.
However, if you're cooking lots of veg along with your steak (in a stir fry, for example), a frying pan isn't the best option. You see, the reason that steak cooks so well in a frying pan is that the bottom is flat. This allows the steak to sit in a pool of oil and get nice and seared and beautiful.
However, a wok's rounded shape means that less of the food is sitting in the oil. So, as you cook, the heat is transferred throughout the dish, but it isn't all sitting in the oil getting seared and brown.
So, in the case above, the frying pan can be used to cook the perfect steak; you can then use a wok to cook the veg, create a lovely sauce and then add strips of the steak into the pan to coat it in the sauce and serve.
Differences between a frying pan and a wok
1. Woks are healthier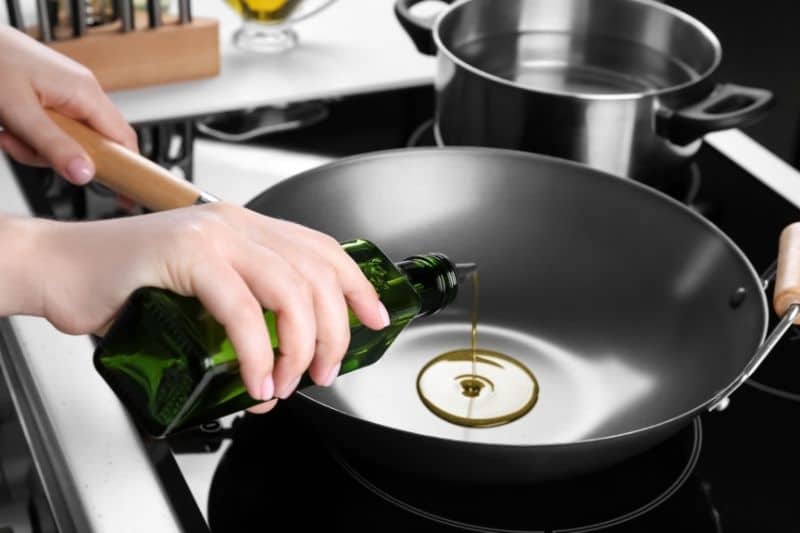 You need hardly any oil in a wok, especially if you have seasoned the wok prior to cooking.
Traditionally, you run a small amount of oil around the rim of the wok when you are ready to start cooking, and this is enough to coat the entire wok with oil but not enough to make your food oily.
Throughout the cooking process, the oil will settle into the bottom of the wok. So, you can remove most of the food without much oil on it at all.
Of course, the oil traditionally makes up part of the sauce that is added during the cooking process. Still, if you want to be really healthy, you can skip this step and remove the food without coating it in the oil at the end.
2. Woks heat up quickly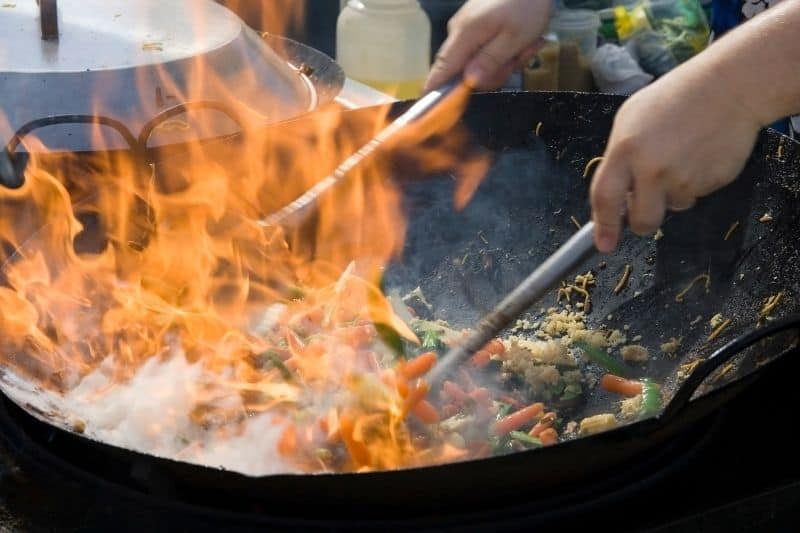 Most works are made from thin carbon steel; at least, traditional woks are. This thin steel heats up very quickly and evenly, so you can start cooking very quickly. However, it also means that the entire surface of the wok is extremely hot throughout the cooking process.
This means that the stuff you are cooking doesn't need to be in the bottom of the wok to cook. So, you can really pile in the veg and meat in the wok and know that it will thoroughly cook everything.
3. Not frying, but stir-frying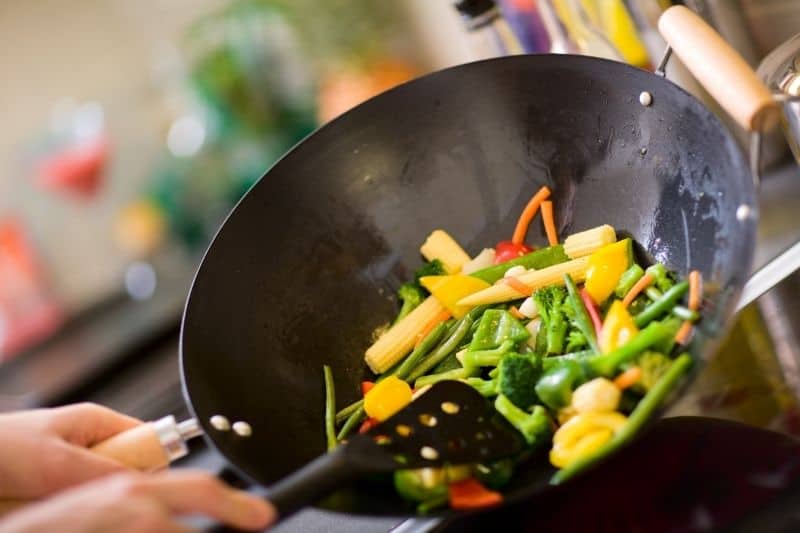 A common misconception about woks and frying pans is that they do the same job. However, a wok stir-fries, it doesn't fry.
Frying is intended to make meat and veg crispy and seared nicely, and this involves a lot of oil. Stir-frying, on the other hand, is intended to cook food very quickly while stirring it quickly.
Stir-frying is a very old Chinese cooking technique that is more like sautéing than frying. It uses extremely hot oil (but a very small amount), in a very hot wok, to cook veg and meat in minutes in a very healthy way.
Why use a wok instead of a frying pan?
As you can see, woks are awesome and shouldn't be left in the cupboard gathering dust. Here are some tasty dishes that you should be using a wok for if you have one:
Warming tortillas
Smoking meats
Quick and tasty side veggies
Popcorn
Mussels
Deep frying
Steaming fish and veg
Soup
and more!
So, when should you use a wok instead of a frying pan? Well, woks are perfect for really quick meals and are a one-pot wonder that is very healthy for you.
Woks allow you to stir fry veg and meat in minutes and introduce sauces directly into the pan, coating all of the food nicely. They are very fast, healthy and a lot of fun to cook with.
Woks were designed for cooking stir-fries, but not the basic stir-fries that we cook in the UK. Check out this wok recipe book. It has 400 amazing recipes perfect for woks. It will add loads of incredible dishes to your arsenal that are easy and healthy.
Conclusion
Well, that is our list of woks that are great for induction hobs. There are some great woks available for induction hobs, and you have a wide choice of modern woks and traditional ones too.
If we had to pick just one to recommend, it would be the Tefal C6451942 Titanium Excel Wok Pan since it's tough, has a great non-stick coating and is easy to clean.
We hope this look at woks for induction hobs has been helpful. Please explore our website for more cooking equipment that is perfectly suited for use on your induction hob.

Scott is a writer and a passionate home chef. His passion for cooking began when he was 10 years old. Scott has been writing professionally for over five years now and loves to combine his passion for cooking with his day job.