During the Black Friday period, most of the biggest oven and cooker retailers offer attractive deals on appliances.
This can be a great time to pick up a bargain, but the deals aren't always as good as they look.
In this guide, we will pick out the top Black Friday and Cyber Monday oven, cooker and hob deals available in the UK, and share some tips to help you find a good deal.
When Is Black Friday 2024?
Black Friday 2024 falls on 29 November, which is the day after Thanksgiving in the US.
The following Monday, is known as Cyber Monday. Cyber Monday is a newer phenomenon, introduced in 2005 as the online equivalent of Black Friday.
These days, Black Friday is more of a period than just a day, since most retailers run sales for several days or weeks, not just one day.
"Cyber Monday" has also lost its meaning a bit, since online retailers run sales on Black Friday as well rather than waiting until the Monday.
All of the biggest cooking appliance retailers are planning to run Black Friday and Cyber Monday sales in 2024. Each retailer will start and end their sales at slightly different times, as you can see below.
Where to Buy Ovens, Cookers & Hobs on Black Friday
AO
AO.com is one of the UK's biggest appliance retailers. It's an online-only retailer, with no physical stores.
AO has a very large choice of ovens, cookers and hobs from top brands such as NEFF, Bosch, Hotpoint, Smeg and Beko.
Check their Black Friday page for updates.
Currys
Currys is a large home appliance and electronics retailers with 830 stores in the UK and Europe.
They have a good choice of cooking appliances including several budget models from their own brands LOGIK and Currys Essentials.
Check their Black Friday page for updates.
John Lewis
John Lewis & Partners is one of Britain's most respected retailers, known for their selection of quality products and good customer service.
As well as homewares and clothing, John Lewis also sell cooking appliances including cookers, ovens and hobs.
John Lewis is a good choice for more premium brands, though they also have their own range of John Lewis appliances which are reasonably priced.
You can see the deals on their Black Friday page.
Amazon
According to Statista, Amazon.co.uk is by far the biggest online retailer in the UK, with net UK sales of over $15 billion dollars (about £12.5 billion pounds) in 2022.
Amazon were largely responsible for popularising Black Friday in the UK when they introduced it on their UK site in 2010.
Unsurprisingly, Amazon is one of the top destinations for British shoppers looking for Black Friday deals.
They have quite a big choice of ovens, cookers and hobs, though many people prefer to buy their appliances from more specialist retailers such as Currys and AO.
See Amazon's Black Friday page for the latest deals.
Appliances Direct
Appliances Direct is a large online appliances retailer that is part of the Buy it Direct Group, who also own a few other specialist retail websites in the UK.
Appliances Direct have a huge choice of ovens, cookers and hobs, as well as other cooking appliances such as cooker hoods.
Appliances Direct are offering lots of deals on their Black Friday page.
Argos
Argos is a British shopping icon, famous for its catalogues and little pens! In recent years, the retailer has been selling more and more online, with 80% of its sales now coming from its website.
Argos's huge product catalogue includes several electric and gas cookers, ovens and hobs. Their products can usually be either delivered or picked up from a local Argos store or Sainsburys.
You can see some Black Friday deals on their Black Friday page.
Appliance City
Appliance City is a lesser-known retailer, but they have a large choice of ovens, hobs and cookers, so their website is worth checking if you're looking to buy a kitchen appliance on Black Friday.
Their Black Friday page has lots of deals.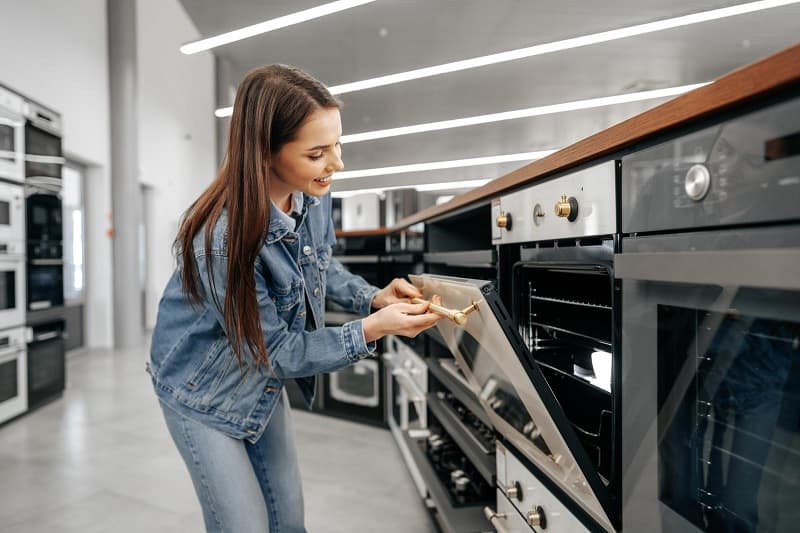 How to Get a Good Deal on Black Friday
Black Friday deals aren't always what they seem. According to research by Which? in 2020, 85% of products discounted on Black Friday 2019 were available for the same price or less before the day itself.
Check the price on other websites
Just because a product is heavily discounted on one website, that doesn't mean it won't be available cheaper elsewhere.
Search for the product on other retailer websites to check if they offer it cheaper. You can also use a tool like PriceSpy to see the price on different sites without having to manually check them all yourself.
Check price history
There are a few websites and apps that track the prices of products throughout the year, so you can see whether or not they are really cheaper on Black Friday.
PriceSpy and PriceRunner have this feature to track the lowest price for products across several retailer websites.
For Amazon products, you can use the camelcamelcamel price tracker by searching for the Amazon product URL to see the price history.
Don't pay too much attention to 'Was' prices or the percentage discount
Sometimes retailers use the original recommended retail price (RRP) as the 'Was' price when showing deals. This can be misleading, as the standard market price of the product might be substantially lower, especially if the product was launched a few years ago.
The percentage discount might therefore not represent the true amount you would be saving compared to the regular price before or after Black Friday.
It's better to compare the Black Friday price with the price history or competitor prices to see if it's really a good deal.
Check for extra costs such as shipping and installation
Shipping and installation can add a lot to the price of some products, in particular large appliances. A product might be cheaper on one website but have higher shipping and installation costs, so make sure you check this first.
Don't panic buy
The fact that you have a time limit to take advantage of deals before the sale ends can make it feel like you need to rush to buy before the sale is over, to avoid missing out.
"Time pressure" is a common marketing strategy known to increase sales by making buyers feel pressured. If you're making a big purchase like buying an expensive cooker, you don't want to be rushed into making a decision you might regret.
Before you hit the 'Buy' button, take a few minutes to breathe and make sure you're really buying the product you want at a fair price!
How to Choose the Right Appliance
We've published a lot of articles on cookers, ovens and hobs, so take a look around if you have any questions about choosing the right appliance.
Here are some articles that might help you:
Cookers
Ovens
Hobs

Chef's Pick is your guide to the best kitchen equipment and appliances in the UK.
We help you understand the confusing world of cookers, ovens and cookware so you can get the most out of your kitchen.