If you're interested in countertop ovens but aren't sure if this oven is right for your kitchen, you're in luck. Today, we're exploring countertop ovens and all they have to offer.
We're sure you Are familiar with regular ovens, so we won't be covering them too much below. Instead, we'll be comparing countertop overs to a normal oven to see how they stack up and whether you should buy one.
First though, we're going to quickly look at what a countertop oven really is.
What Is a Countertop Oven?
A countertop oven is a small oven that sits on your worktop. It usually comes with a standard UK plug and will run on a 13amp circuit.
So, unlike many other ovens, there is no need to hardwire it in. this saves money on installation costs, and the savings don't stop there, as we'll see.
Countertop ovens are great for smaller cooking tasks. As they have a smaller cavity, they take less time to heat up, so they are energy efficient and save you time in the kitchen.
Many countertop ovens boost that you can cook whole chickens in them at once. So, for their size, countertop ovens are impressive.
However, what are they like to cook with in reality? Well, here are some pros and cons of countertop ovens.
The Downsides of Countertop Ovens
1. Space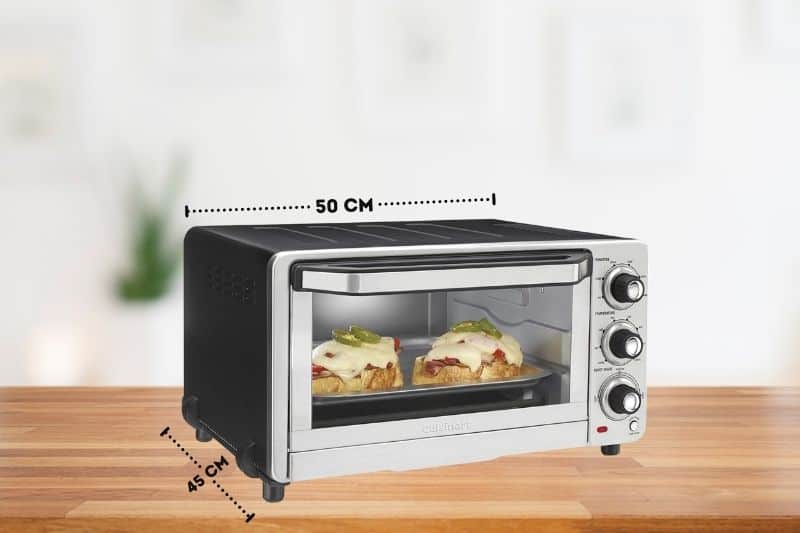 Most countertop ovens are about 50 cm wide and 45 cm deep. So, they do take up a lot of space on the counter.
If you are already limited in space, having such a big cooking appliance on the counter is going to restrict your prep area even more.
The internal space of a worktop oven is also a bit restrictive. A regular oven has a cavity space of around 70 litres. A countertop oven has a cavity of about 32 litres. This is about the size of a typical top oven on most double ovens.
Depending on the oven you buy you can, in a pinch, cook a whole chicken and roast some veg at the same time. But the cavity is very small. So, you'll need to constantly check that you aren't burning the chicken or the veg.
Some smaller ovens may even struggle to cook a pizza and chips. If you have a larger family and opt for a larger worktop oven, you will restrict your counter space even more.
2. Price
A good quality worktop oven costs around the same money as a good quality single built-in or built-under oven. So, you won't save much money on the initial cost of the oven.
However, you will save on installation costs (toaster ovens don't need to be installed by a qualified electrician). And because the cavity is smaller, it takes less time to heat up and consumes less energy than a typical oven during use.
So, on the front end, you aren't saving any money, but you may see small improvements in your energy bill.
3. Power
As countertop ovens are not hardwired into a cooker circuit (instead, they run on a 13amp circuit), you can plug them in and get to cooking.
However, if you have other appliances on this circuit, you can run the risk of tripping a fuse if you use them both at the same time.
This also means a countertop oven isn't going to be as powerful as a hardwired oven. It'll get the job done, but you may need to restrict what else you use while you are using the oven to keep the power as high as possible.
The Upsides of Countertop Oven
1. Plug and play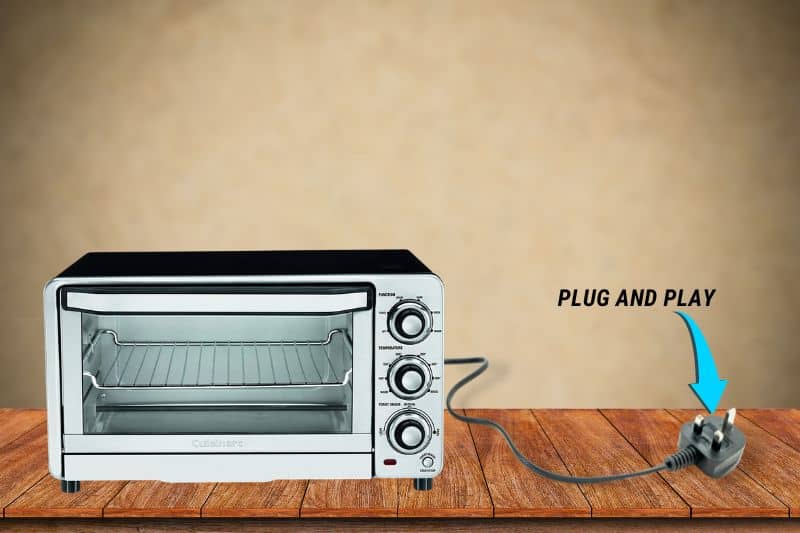 Typical installation costs for a single built-in oven are around £50. With a countertop oven, this additional cost is eliminated.
While there are some restrictions to using an oven that is on a 13amp circuit, it is the fastest way of getting up and cooking.
So, if your oven breaks down, for example, you can get a countertop oven delivered quickly and keep cooking until your oven is repaired.
2. Save energy and time
The cavity of a worktop oven is smaller than most ovens. This means that it takes barely no time at all to heat up (some models even boost a 90-second preheat time). So, you can start cooking straight away.
Plus, it is much easier for the heating elements to keep the oven at a consistent temperature. So, cooking with a countertop oven is quick and can save you energy.
3. Functions
A lot of countertop ovens have loads of different functions to help make cooking easier. Some of them double as air fryers, dehydrators, toasters, grills and more.
This means buying a countertop oven can keep more appliances off of your work surface and actually save you some space. It's worth bearing in mind that regular ovens do offer some of these functions too.
Should I Buy a Countertop Oven Instead of a Regular Oven?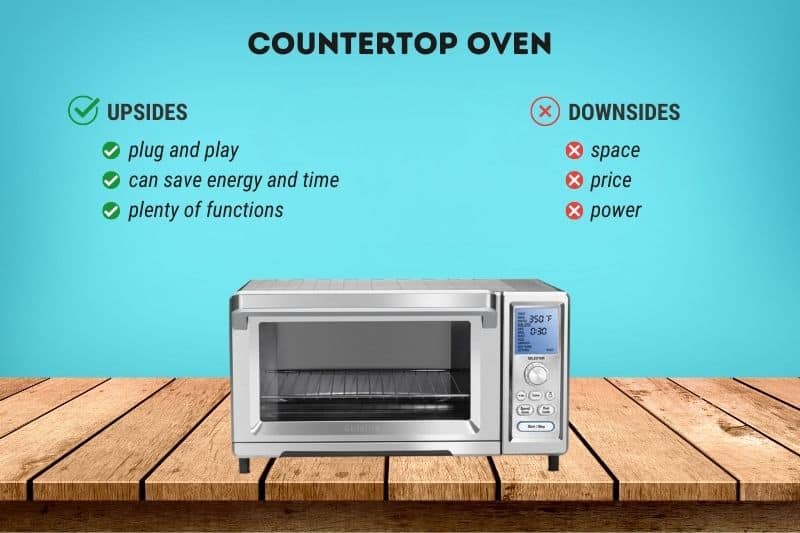 If you very rarely need the cavity space of a regular oven and have plenty of counter space to sacrifice, then a countertop oven is a good option.
They heat up really quickly and are really simple to use. Also, if you are constantly struggling for room in your regular oven, then having one of these on the counter can be a meal saver.
We also think that people waiting for their ovens to be repaired or people having a kitchen fitted could benefit from using a countertop oven while they wait.
You can use the oven to keep your family fed while the work is being carried out, and once you have your kitchen or oven back, you may find some uses for the worktop oven, like toasting bagels in the morning, for example.
There is certainly a place in the kitchen for countertop ovens. We don't believe that they can be a direct replacement for a regular oven in every household in the UK, but some homes could use one of these ovens all the time and never miss their other oven.
Whether a countertop oven is right for your kitchen greatly depends on what you intend to use it for and the space you have.
We hope this look at countertop ovens and regular ovens has helped you decide which oven is right for you. We have other articles about countertop ovens if you feel this is the right oven for you.
We also have articles about the best regular ovens in the UK too. So, please check out Chef's Pick for the best kitchen appliances available in the UK right now.

Scott is a writer and a passionate home chef. His passion for cooking began when he was 10 years old. Scott has been writing professionally for over five years now and loves to combine his passion for cooking with his day job.