In your quest for a new oven, you may have come across single ovens. A built-in single oven can provide a lot of cooking power and be a fantastic asset in a home.
We've researched the market and picked out what we consider to be the best built-in single ovens available in the UK.
Read on to discover these great ovens and understand the benefits, pros and cons of choosing a single oven.
Best Built-In Single Ovens in the UK
1. Bosch Serie 2 HHF113BR0B Built In Electric Single Oven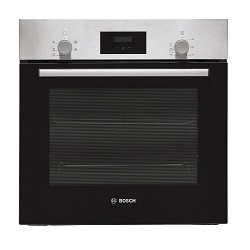 Energy rating: A
Dimensions: 59.5 cm high x 59.4 cm wide x 54.8 cm deep
Capacity: 66 litres
This Bosch oven is certainly extraordinarily stylish and perfect for any modern kitchen. However, this single oven packs a punch in the cooking department too.
The unique fan system allows this oven to cook evenly over all of the shelves. You can also use the handy features like getting the oven to turn off at set times, to ensure you never overcook your food again.
Of course, this Bosch oven also has a grill feature and an enamel interior to make cleaning easy.
Not only is this Bosch oven very stylish and will suit a beautifully modern kitchen perfectly, but it is nice and versatile too.
So, if you love cooking, want to save some space and fancy having some brilliant features on your oven, this could be the perfect single oven for you.
One downside is that the controls feel a bit plasticky, and it can be difficult to see them when the oven is installed below a counter.
2. Hotpoint Class 2 SA2844HIX Built In Electric Single Oven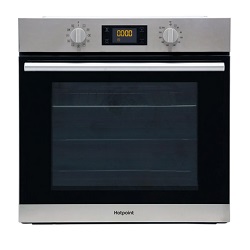 Energy rating: A+
Dimensions: 59.5 cm high x 59.5 cm wide x 57 cm deep
Capacity: 71 litres
This Hotpoint single oven is perfect for a busy family home. It has a self-cleaning function that uses steam to loosen baked-on food. This feature alone makes this single oven a real asset to any family kitchen, but this oven gets even better.
It is another very stylish oven so great for a modern kitchen. It also has a range of cooking settings and plenty of space too.
This oven also features Hotpoint's Multi Flow technology which means that cooking temperatures around the oven are maintained and controlled easily.
So, if you want a single oven that is very versatile, easy to clean and will give you just as much cooking control as a double oven (and a little more than most), this Hotpoint single oven is one of the finest examples on the market right now.
3. Bosch Serie 4 HBS534BS0B Built In Electric Single Oven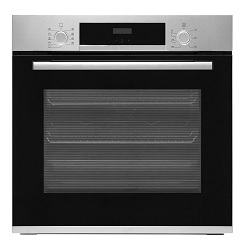 Energy rating: A
Dimensions: 59.5 cm high x 59.4 cm wide x 54.8 cm deep
Capacity: 71 litres
Another Bosch single oven to add to the list. This Bosch oven comes with ceramic interiors, making it a dream to clean.
Any food can be wiped off the interior walls of this oven very quickly. This single oven also has the Unique Fan System that the Bosch above had. So, cooking and maintaining cooking temperatures in this oven is easy.
A great feature of this Bosch single oven is the two compact baking trays that come with it. These allow you to cook two dishes on the same shelf of the oven. So, even though this is a single oven, you can still have a fantastic meal when cooking with this one!
There's a useful timer alarm, but it's a bit quiet so you'll need to keep your ears open or it.
Overall, this Bosch single oven is very sleek, modern, versatile and deserves its spot on our list.
4. electriQ EQOVENM4 65 Litre Electric Single Oven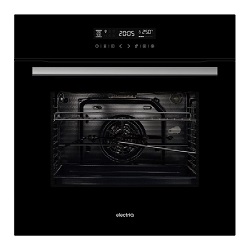 Energy rating: A
Dimensions: 59.5 cm high x 59.5 cm wide x 57.5 cm deep
Capacity: 65 litres
This single oven is perhaps the most stylish on our list. It has lovely touch controls that mean no control knobs are sticking out. So, it is excellent for a modern kitchen.
However, this oven also delivers in the cooking department too. There are nine functions on this oven, including a grill function.
It's also a fan oven so heats up quickly and distributes heat evenly around the entire oven. Plus, it has a variable grill (single, double and double with fan).
This single oven gets better too. It has a large capacity of 65 litres, so even a roast on a Sunday isn't out of the question. Plus, it has an A-class energy rating as well.
All of this in a very sleek and beautiful design! Your kitchen will be complete with this excellent oven.
One downside is that while the controls are nice and modern, they're also a bit small and can be difficult to see.
5. LOGIK LBFANX16 Electric Oven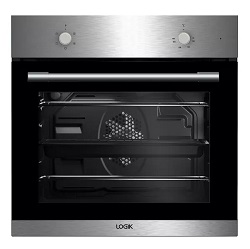 Energy rating: A
Dimensions: 59.5 cm high x 59.4 cm wide x 56.7 cm deep
Capacity: 66 litres
This single oven is one of the best one this list if you want a large oven in a compact surround. This oven has a 66-litre capacity. This means it is perfect for making large meals.
It comes with two trays, and there is plenty of room inside to cook even for the largest of families. Every part of the cooking elements in this oven are designed for speed. The oven heats up quickly because it is fan assisted.
The grill too heats up quickly and covers the entire width of the oven, so plenty of cheese and toast for everyone.
Also, this oven has an enamel coating, so cleaning is just as easy as cooking. Plus, the cooking settings and temperature settings are nice and visible with very easy to use dials.
So, you have a sleek and extremely functional single oven here that is perfect for a family kitchen.
It's worth noting that this oven is relatively basic and doesn't have many features. For example, there's no timer alarm.
Single Oven FAQs
What is a single oven?
A single oven has one oven to do all of the work. So, in this oven, you can bake, roast and grill (if it has a grill feature). However, despite having just one oven, there is typically plenty of space inside to cook for even a large family.
The great thing about single ovens is that they can provide a lot of cooking functionality but don't take up too much space. This means that single ovens are great for smaller kitchens. You can also fit a single oven just about anywhere in your kitchen too.
A single oven will work great under the counter or at eye level. So, if you are redesigning your kitchen and want to save space, but don't want to sacrifice on the amount you can cook, a single oven is a great way of getting all of this.
Are single ovens a standard size?
Yes, most single ovens are around 60 cm tall. These ovens are typically the width of a double oven too. So, a single oven will range in width from 55-60 cm. However, all single ovens fit into a framework that projects the cabinets of your kitchen.
So, if you are replacing a single oven and aren't sure if the oven you are looking at will work in the space, you can rest assured that it will.
Are double ovens better than single?
Whether a double oven is better than a single oven is really personal preference. Some people may not like the idea of having only one oven, particularly if they wish to bake and grill, for example, at the same time.
However, a single oven is a fantastic way of saving some space in your kitchen and not being limited at all. In fact, you'll find that there are more models of single ovens on the market right now than any other type of oven.
This can make choosing a single oven difficult, but stick around, we've got that covered!
Which oven brand is best?
Again, which oven brand is best is another hotly debated topic. Of course, you want to know that the oven you choose is going to last as long as possible. You want to know that an oven is built well, it has some great features and will be a fantastic addition to your kitchen.
We won't be covering the best brands of ovens in the article today. We would be here all day talking about oven brands, and then it will only be personal opinion anyway. Instead, here are the best single ovens on the market right now.
We have chosen these fantastic single ovens because owners of them love them and cannot do without them.
Conclusion
We hope this list of single ovens has helped you choose your next oven for your kitchen. If we had to pick just one to recommend it would be the Bosch Serie 2 HHF113BR0B. It's a very popular and highly rated oven that is loved by home chefs all around the country.
Buying an oven for a newly designed kitchen is very exciting. Buying a replacement oven for your kitchen is a bit stressful, but it can be fun too.
We hope you found your perfect single oven for your kitchen above. Please explore the rest of our oven articles while you are here. We can help you turn kitchen into the heart of your home.

Scott is a writer and a passionate home chef. His passion for cooking began when he was 10 years old. Scott has been writing professionally for over five years now and loves to combine his passion for cooking with his day job.