We love a bargain for the kitchen as much as the next home chef. However, we need to be careful when buying cheap kitchen appliances as they can cause more hassle than they are worth.
So, today, we're looking at the cheapest single ovens in the UK.
Let's take a look, shall we?
Cheapest Single Ovens in the UK
1. Refurbished electriQ EQOVENM2 60cm Single Built In Electric Oven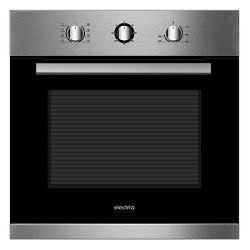 Oven capacity: 65 litres
Dimensions: 60 cm wide x 60 cm high x 58 cm deep
Energy rating: A
This is a really impressive oven for the price. It features eight cooking modes to make cooking nice and simple.
It has a double grill, fan-assisted and conventional cooking modes, upper and lower heating elements and even a defrost mode.
So, you can really control this oven depending on what you are cooking. It also has a forced cooling mode, so once you stop cooking, the oven cools down nice and fast.
It also has easy installation (it has a UK plug, so it is plug and play, you don't need to pay for installation) and enamel liners for easy cleaning.
To finish this oven off nicely, it also has a lovely brushed-metal finish, perfect for a modern kitchen. This oven is incredibly hard to beat.
2. Refurbished Indesit IFW6330IX 60cm Single Built In Electric Oven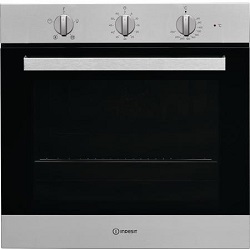 Oven capacity: 66 Litres
Dimensions: 60 cm wide x 60 cm high x 56 cm deep
Energy rating: A
This 60 cm built-in oven has loads of features to make cooking and cleaning easy.
It has a tilting grill that pulls out and downwards, which offers good access while cooking, but also makes cleaning the top of the oven really simple too.
It also has great lighting, so you can see inside the oven and keep an eye on anything you are cooking. The grill also covers 95% of the cooking surface, plenty of room for bacon, cheese on toast and a great deal more.
This single oven is really cleverly designed. Lots of single ovens feel as though they were designed as an afterthought, but not this one.
The great cooking features make this oven a solid choice for most households, and the large capacity means that larger meals are easy to tackle.
3. Logik LBFANB16 Electric Oven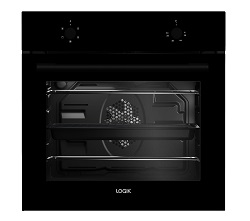 Oven capacity: 66 litres
Dimensions: 59.4 cm wide x 59.5 cm high x 56.7 cm deep
Energy rating: A
If the cooking modes on the other ovens seemed a bit too much for you, this oven might be more suitable. While this is a powerful oven, it is much simpler to use. It has a grill and a fan-assisted oven mode, and that is it.
We know that many home cooks just want a simple to use oven that looks good and makes cooking easy. So, this is an excellent oven for you if you want easy but powerful cooking.
This oven does have enamel linings, so clean up is simple. And it is a very stylish looking cooker with a black finish that will work perfectly in a modern home.
This is a very basic cooker, so it doesn't come with a timer. However, the price reflects how basic it is, so you can grab a really good cooker for a small price here.
If the timer is a big issue for you, you can buy a separate timer and still be under budget.
4. Electra BIS72SS Built-In Electric Single Oven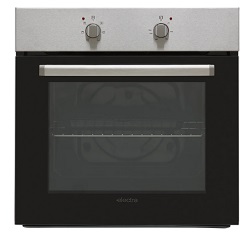 Oven capacity: 72 litres
Dimensions: 59.5 cm wide x 59.6 cm high x 57.5 cm deep
Energy rating: A
This has the largest capacity of all the ovens we have featured so far. This 72-litre oven allows you to cook up a storm, and it is ideal for a larger household or anyone that loves to throw dinner parties.
There are also six functions to choose from to make cooking even easier. While the cooking modes may put a few folks off, the clear analogue display does make choosing the mode you'd like very simple.
One of the cooking modes that we love on this oven is the variable grill. You can really dial in the heat you need with this model. We also love the brushed metal and dark finish.
This one would look lovely in a modern home. The large capacity, though, is the best feature. For this price, you won't find a cooker that is larger, looks as good, or that has these features.
5. Logik LBMFMX21 Electric Oven
Oven capacity: 65 litres
Dimensions: 59.5 cm wide x 59.5 cm high x 57.5 cm deep
Energy rating: A
One thing that a few of the cookers on this list have lacked is a timer. This oven, though, does have a built-in timer, but the features don't stop there. It also has a 65-litre capacity and plenty of cooking modes to make the most of the space.
You can set this oven to use both heating elements, one of them (top or bottom), use it as a grill, double grill, or double grill and a fan, plus it has a defrost mode and even more.
This oven even heats up quickly too. It can reach 180 degrees Celsius in just 8 minutes! So, it is quick, has loads of cooking modes and it is spacious. It also has an A energy rating, so your wallet will love this oven.
Your wallet will love this oven even more when you see the price of it too! This is a solid oven with really no drawbacks.
Sure, it doesn't have some features that more expensive ovens have, but it has plenty that you'll love using.
Should You Buy a Single Oven?
You may be weighing up whether a built-in double oven or single oven is better for your kitchen. Well, this depends on the way you cook, of course.
It also depends on whether your built-in oven will be underneath your worktop or set into cabinets above the counter.
If you are going to have an under-counter oven, a single oven is usually the better option. As these units need to be smaller to fit under the worktop, having a double oven can mean that both cavities are a lot smaller.
Of course, only having one oven may be a bit restrictive for cooking. If you enjoy cooking lots of different things at different temperatures, then you may find a single oven restricts the way you like to cook.
Still, if you cook components at the same temperature all the time, a single oven is an ideal choice. You still get all of the features of a double oven, but you can only use them one at a time.
For larger meals, a single oven can still be used, as they offer a lot of space. Sometimes more space than a smaller double oven.
Of course, you don't have the advantage of a second oven to keep things warm, which is something to consider.
I have lived in homes with double ovens and single ovens before, and I can say that I enjoyed using both and didn't notice too many restrictions of having a single oven. Of course, much of the time, I was cooking for two people and not a big family.
When choosing an oven for your home, have a think about what features you like about your current oven and what you would change about it.
If you love having two ovens and couldn't imagine cooking another way, then a double oven is the better choice.
However, if your kitchen is small or aren't worried about cooking at different temperatures at once, a single oven is great. They are usually much cheaper than double ovens too, so they are ideal for saving space and money.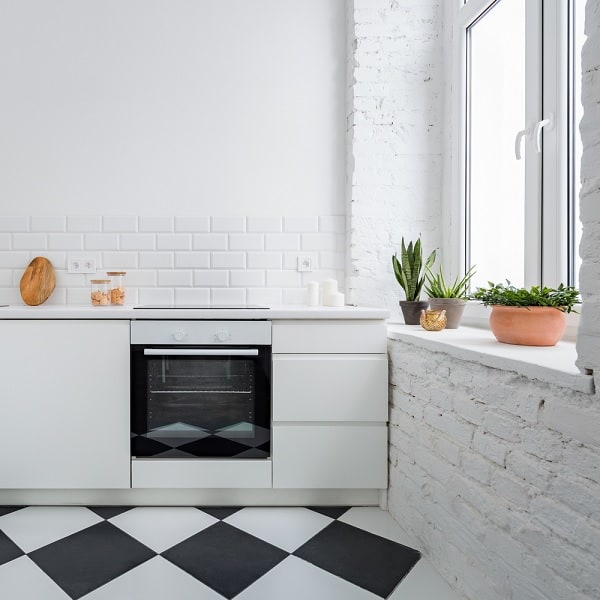 Is Buying a Refurbished Oven a Good Idea?
Some of the ovens above are refurbished, and this may have put you off a bit. Buying a refurbished oven, though, is a brilliant way of getting a very powerful oven with loads of features within your budget.
If you love to cook and want as many features as you can in your oven but must stay within your budget, refurbished ovens are the way to go.
A refurbished oven still has a good warranty. It will be tested and repaired prior to sale, too, so the oven will perform really well. Appliances Direct (where we found the refurbished ovens above), test and repair all of the ovens they refurbish.
They also give them grades and provide photos of any cosmetic marks so you can clearly see what the oven you're going to buy looks like.
More often than not, the oven may have a few scuff marks, but other than that, it is in perfect working order.
There is a stigma about buying refurbished cooking appliances, but there shouldn't be. Buying a refurbished cooker allows you to get all of the features you want in a stylish unit that will last a really long time.
So, if you want to save big but still get lots of cooking power, consider buying a refurbished cooker; you'll be really glad you did.
Conclusion
The cheapest oven on the list (at the time of writing) is the refurbished electriQ EQOVENM2. It has a brilliant capacity, looks great, and has plenty of functions. Plus, it is really powerful but comes with a standard UK plug, so installation is easy; you can do it yourself.
While you're on Chef's Pick, check out the rest of our oven articles. We have the best electric double ovens in the UK right now, as well as loads of other kitchen appliance articles.

Scott is a writer and a passionate home chef. His passion for cooking began when he was 10 years old. Scott has been writing professionally for over five years now and loves to combine his passion for cooking with his day job.