An electric double oven is an obvious choice for both large households and adventurous cooks alike. Its unique selling point is that it will provide you with a flexibility over your cooking that a single oven will not.
So, if you're thinking of investing in one, and would like some guidance on the best electric double ovens available in the UK, read on…
Best Electric Double Ovens in the UK
1. Belling BI702FP Built-Under Electric Double Oven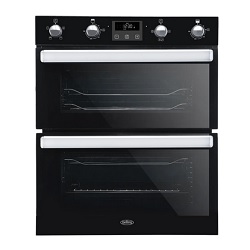 Dimensions: 72 x 59.5 x 57.5 cm
Main oven capacity: 54 litres
Energy rating: A/A
This ultra-modern-looking Belling BI702FP is a great choice for those with a chic, contemporary-style kitchen design. And to top it off, it's very reasonably-priced.
The top compartment is a fan oven, which is great for temperature distribution, and the second oven comes with a handy grill setting.
This cooker was built using Equiflow technology, meaning the hot air inside distributes with full evenness. And its enamel coating makes it easy to keep clean and shiny.
It doesn't come with a grill handle, which is a source of annoyance for many users, but overall, this oven is a very well-liked, popular choice.
2. NEFF N50 U1ACE5HN0B Built-In Electric Double Oven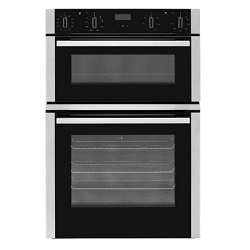 Dimensions: 88.8 x 59.4 x 55 cm
Main oven capacity: 71 litres
Energy rating: A/B
The NEFF N50 U1ACE5HN0B built-in electric double oven has a spacious lower oven with three shelves, and an upper grill section. Both oven cavities are roomy, and would suit those with multiple mouths to feed.
It also features an LCD touch display, making it perfect for modern tech lovers.
Monitoring your handiwork while cooking is also easy, as it comes with telescopic shelf runners, which glide in and out smoothly.
If cleaning your oven isn't your idea of a good time, this may be a good option, as it comes with catalytic liners that absorb greasy splatters and spillages, and then oxidises them when the oven is in use.
Reviews praise it for heating quickly, which isn't always the case with electric ovens. As with the Belling, a consistent gripe from users is the lack of grill handle.
3. Hotpoint Class 2 DD2544CIX Built-In Electric Double Oven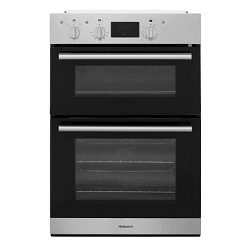 Dimensions: 88.2 x 59.7 x 57.7 cm
Main oven capacity: 74 litres
Energy rating: A/A
This Hotpoint oven features a conventional oven on the bottom compartment, meaning the heat rises inside while in use, making it particularly ideal for baking.
With its black and stainless-steel design, this oven will look perfectly at home in a modern style of kitchen.
This double oven is on the lower end of the price scale, so it is a good option for those shopping on a budget. And again, with catalytic liners, it is an easy oven to keep clean.
It comes with a useful setting that turns itself off when your food is ready, which is a handy feature for those prone to "over-colouring" their food and/or setting the smoke alarm off!
A notable user gripe is that it would benefit from a drip tray from condensation on the inside of the door while in use.
4. Indesit Aria IDU6340IX Built-Under Electric Double Oven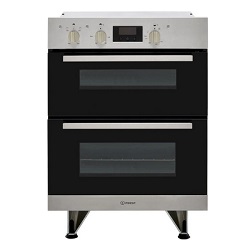 Dimensions: 88 x 59.7 x 57.8 cm
Main oven capacity: 59 litres
Energy rating: B/A
This stylish stainless steel Indesit Aria IDU6340IX features a nifty set of legs, which makes cleaning the area under and behind the oven easier than with other built-under cookers.
As it is in the lower price-range, it would suit first-time buyers, or those looking to kit out a property on a budget.
The second oven compartment doubles as a grill. Both oven compartments have enamel liners, which allows grease and spillages to be easily wiped away.
The key issue with this oven is that the main oven area only contains one shelf, meaning it might not be the best choice for larger households.
5. Bosch Serie 4 MBS533BS0B Built-In Electric Double Oven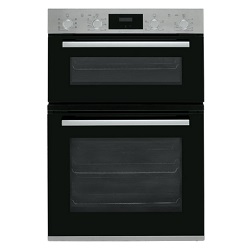 Dimensions: 88.8 x 59.4 x 55 cm
Main oven capacity: 71 litres
Energy rating: A/B
This Bosch Serie 4 built-in double oven comes with plenty of features, which more adventurous cooks will relish, and has a spacious lower oven compartment containing two shelves.
This oven is a little more expensive, and its energy rating is A/B, meaning your utility bills may be slightly higher than that of an oven with an A/A rating.
Most users consider this oven great value for money. A common gripe appears to be that the fan is rather noisy!
6. AEG DUB331110M Built Under Electric Double Oven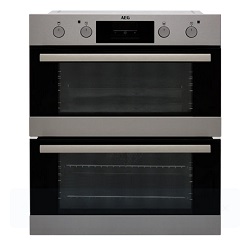 Dimensions: 71.5 x 59.4 x 56.8 cm
Main oven capacity: 45 litres
Energy rating: A/A
This is another multifunctional oven, so it's a great choice for those cooking multiple items at a time. This oven's energy rating is A/A, so it's very energy efficient.
It boasts a SurroundCook feature, which evenly circulates heat throughout, so your food will be cooked thoroughly, regardless of what level it's on.
The fan in the oven is relatively quiet.
A common gripe is that the timer is very quiet, and that the digits by the dials are small and hard to read.
Built-In vs Built-Under Double Ovens
Double ovens can either be built-in at eye level, or built-under your counter unit. Before purchasing either option, make sure you measure the width and depth space of your designated kitchen area. If you want your oven to be a part of your work space, you'll need to opt for a built-under.
Can You Use Both Ovens on a Double Oven at the Same Time?
Of course. This is the main selling point – that both compartments can be used at the same time, and at different temperatures; making it a nifty tool for those who are on Christmas dinner cooking patrol!
What Are the Advantages of a Double Oven?
Double ovens give you more flexibility when cooking meals with multiple components, and can be a great choice for those who regularly host. And because of the general evenness of heat distribution, they can be wonderful for cooking baked items, such as bread or cakes.
You can also use the bottom oven compartment as a hot-hold by keeping it at a low temperature to store recently-cooked food.
Double ovens can come in an option of built-in or built-under, so regardless of your kitchen layout, you will likely find one ideal for your home.
Conclusion
We've featured several great double ovens at different prices, including both built-in and built-under ovens.
If we had to choose our double oven of choice, we'd absolutely opt in for the Belling BI702FP Built-Under Electric Double Oven. It's super stylish, modern, boasts excellent heat distribution, and is great value for money.

Clara is a freelance writer and former chef. Though she may have hung up her apron, her love of food and cooking is still going strong! When she's not whipping up a verbal storm, she'll be in her kitchen sipping wine and whipping up a culinary storm.