You may think that a cheap oven is a basic oven. While this is true for some ovens, it doesn't always have to be the case. As we'll see below, there are some excellent ovens to choose from if you're on a budget.
Below, we have some brilliant budget ovens and some advice on buying a refurbished oven for your kitchen. Refurbished appliances get a bad rap sometimes, but we're here to set the record straight! If you're on a budget, a refurbished oven could just be the perfect one for you!
Cheapest Built-In Double Ovens in the UK
1. Refurbished electriQ EQDO1STEEL 60cm Double Built In Electric Oven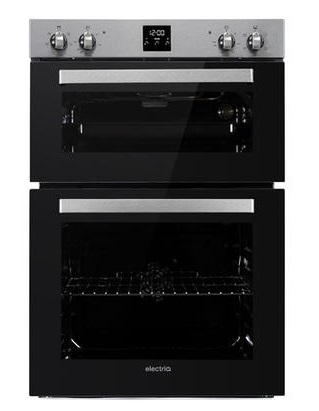 Main oven capacity: 73 litres
Dimensions: 60 cm wide x 89 cm high x 58 cm deep
Energy rating: AA
This is a brilliant oven for a large family. It has a 73-litre capacity in the main oven and a 37-litre capacity in the top oven (which also acts as a grill, of course). So, there is loads of cooking space for the largest of meals.
This built-in oven is also packed full of features to make cooking and cleaning it nice and easy. Firstly, there is a timer and a defrost setting, so you never need to worry about taking something out of the freezer again.
You have the option to turn the fan off and on in the main oven too. This is brilliant for bakers. Most bakers love a conventional oven, but it can be a bit of a drawback during everyday cooking.
The massive capacity of the main oven on this one does make it ideal for a larger family. However, if you are a couple or have a smaller family, it may be a bit overkill for your needs. The features are fantastic, though.
Of course, if you're after a simple oven, this isn't the one for you. However, for this price, the features are almost unbeatable.
2. Logik LBIDOX21 Double Electric Oven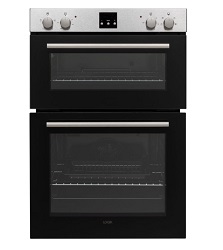 Main oven capacity: 74 litres
Dimensions: 59.5 cm wide x 89 cm high x 57.5 cm deep
Energy rating: A
With a 74-litre capacity on the main oven and 10 functions, this oven is perfect for cooking a big meal. The 10 functions really separate this oven from the crowd. It has plenty of power options to make cooking fast, slow or just right in the bottom oven.
Unlike many ovens in this price range, it even has a fan-assisted top oven that can be turned on and off. This feature can even be used while grilling!
Just like the oven above, this one can also be used as a conventional oven and a fan-assisted oven, whichever you prefer.
So, if you're a baker, you can switch from baking bread and cookies to roasting a chicken effortlessly. While this isn't the most stylish oven on this list, it certainly has some of the best functions.
3. Indesit IDD 6340 Electric Double Oven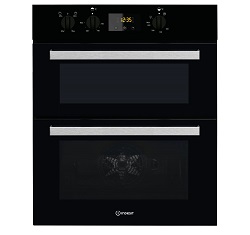 Main oven capacity: 74 litres
Dimensions: 59.7 cm wide x 88.7 cm high x 57.5 cm deep
Energy rating: A
The total combined capacity of these ovens is a whopping 116 litres. So, if you love cooking large meals for lots of people, this is probably the best oven on this list.
The main cavity is 74 litres, the top oven is 42 litres. The main oven has a fan to assist the air around the huge space. The top oven doesn't really need this feature as the heat is easily controlled in the smaller space.
The ovens have a few great features that make cooking easy too. There are defrost, slow cook, conventional and fan modes on the main oven. There is also a twin grill feature on the top oven too.
Many users of this oven love it and the features, while some aren't too fussed about the features and would prefer a simplifier operation.
Some users have also said that the grill is a bit underpowered, but this greatly depends on the power you are used to. Overall, we think the features are great for an oven at this price.
4. Indesit Aria IDD 6340 WH Electric Double Oven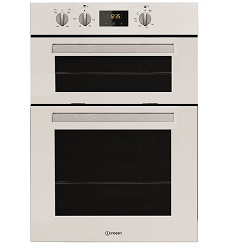 Main oven capacity: 74 litres
Dimensions: 59.7 cm wide x 87.7 cm high x 57.5 cm deep
Energy rating: A
This built-in double oven has a fan-assisted bottom oven and a conventional top oven that also acts as a grill. Both are nice and easy to control.
There is also a built-in timer and clock so you can keep track of your food and never burn a thing.
While many users of this oven get on with it really well, there are some design features that some users don't enjoy. The energy-saving grill is a big one, though.
During cooking, the grill turns off once it reaches a certain temperature and only turns back on when the cavity has cooled enough. This feature works great on an oven, but on the grill, it can be frustrating.
It also only comes with one shelf for both ovens, so if you're throwing away your old cooker, you may want to save some shelves from that for more space.
Why Buying a Refurbished Oven Is a Good Idea if You're on a Budget
Buying a refurbished oven makes a lot of sense. Firstly, thousands of ovens are removed from homes every year. Most of these ovens make it into landfill or go to other countries to be stripped down for their parts or left to rust.
This is a massive waste. After all, a lot of these ovens are perfectly fine, good working cookers that someone just didn't want. So, buying a refurbished oven helps the environment, which is awesome; well done you!
The second reason is you can get a fantastic oven for a fraction of the price you would have paid for it new. If you're on a budget buying your oven, consider a refurbished one. You can find an oven that has many features and modes that are comparable to higher-end models out of your price range.
Finally, most refurbished ovens come with a good warranty. We'll get into this more below. However, refurbished ovens from reputable companies have similar warranties to brand-new ovens.
Granted, a refurbished oven may have been in someone else's home, or it may have been a display model in a store for some time. However, refurbished ovens are cleaned thoroughly. Any parts that aren't working correctly are replaced, and everything is checked prior to sale.
Refurbished kitchen appliances are brilliant if you're on a budget or just want something with tonnes of features and don't want to spend a massive amount!
What to Look for When Buying a Refurbished Oven
While buying a refurbished oven can be a brilliant idea, there are some things to consider. Just like buying a new oven, these things will ensure you get the best cooker for your needs, and buy one that will last you years.
Features
Have a think about the size of the cavities that you'd like. You can see above that double ovens have varying sizes of cavities. A larger cavity is great for large meals, but remember, you'll need to heat it every day. It does take longer to heat up a large cavity.
Different cooking modes are also a great option. Many refurbished cookers have loads of cooking modes designed to make cooking easier and faster. However, to keep things simple, a cooker with the easiest controls is properly best. Plus, these are very well priced.
Warranty
While many refurbished cookers and ovens come with a good warranty, some don't at all. The ovens that we featured above come with a one-year warranty.
When buying a refurbished oven (or anything for that matter), make sure you buy it from a reputable company that provides a warranty.
Energy efficiency
Some refurbished ovens are a few years old. While any parts that aren't working correctly will have been replaced, these ovens may not have the best energy efficiency in the world.
The best new ovens nowadays have an energy rating of A; some refurbished ovens can have an energy rating of B or even C. This is going to affect how much it costs to run the cooker daily.
Grades
Any refurbished appliance will have a grade attached to it. This is how the company defines the condition of the appliance you are buying. Appliance Direct (where we found the ovens above) have a grading system of A1, A2 and A3:
A1 may have a few very minor blemishes and things, but other than that, the appliances are really good.
A2 could have a scuff or dent, but they are working perfectly.
A3 will have heavy scuff marks and/or dents but will be fully working. If you don't mind some marks and scratches, A3 ovens are fantastically well priced!
Conclusion
We hope you found a built-in oven above that is perfect for your kitchen. The cheapest on the list (at the time of writing) is the refurbished electriQ EQDO1STEEL.
Take a look at our other built-in oven articles to learn more about these awesome ovens. We also have plenty of other cooking articles right here on Chef's Pick for beginners, pros and everyone in between.

Scott is a writer and a passionate home chef. His passion for cooking began when he was 10 years old. Scott has been writing professionally for over five years now and loves to combine his passion for cooking with his day job.