Many of the most popular ovens sold in the UK in 2019 are built-under double ovens. This means that they are designed to fit neatly under your kitchen worksurface and have two oven cavities, allowing you to cook at two different temperatures at once.
Many double ovens feature a grill in one compartment, so you can grill something in one compartment while using the oven feature in the other.
This makes them quite versatile and good for cooking more complex dishes or preparing different food for different members of the family.
In this article we'll look at some of the most popular and highly rated built-under double ovens on the market right now, and explain more about what double ovens are, whether or not you should choose one and what to look for when making a purchase.
Best Built-Under Double Ovens
1. Hotpoint DU2540 Class 2 Built-Under Electric Double Oven
Capacity of cavities: 59L, 37L
Grill? Yes
Energy rating: B/B
This oven from Hotpoint is one of the most popular built-under double ovens on the market right now. It's a "Class 2" oven, which simply means it's one of Hotpoint's more budget-friendly options.
The Hotpoint DU2540 has lots of great features, including a Circulaire system in the main oven which circulates heat evenly to reduce cooking time and save electricity.
There's also a programmable timer so you can time things exactly, which is great for baking where you need to be precise.
It's also easy to clean thanks to the enamel lining, and has a triple-glazed door which stops heat from escaping and means the door doesn't get hot on the outside.
There's a handy oven light so you can check on your dishes without having to open the door.
Pros
Warms up quickly
Timer is easy to use
Useful oven light
Quiet fan
Cons
Grill sometimes switches off while cooking
Can be quite slow to cook
Controls are hard to read
Summary
This is a very good oven for the price. Most people find it to be easy to use, quick to heat up and quiet with the fan on. It looks stylish too, so it's easy to see why it's so popular.
2. Hoover HO48D42IN Built Under Double Oven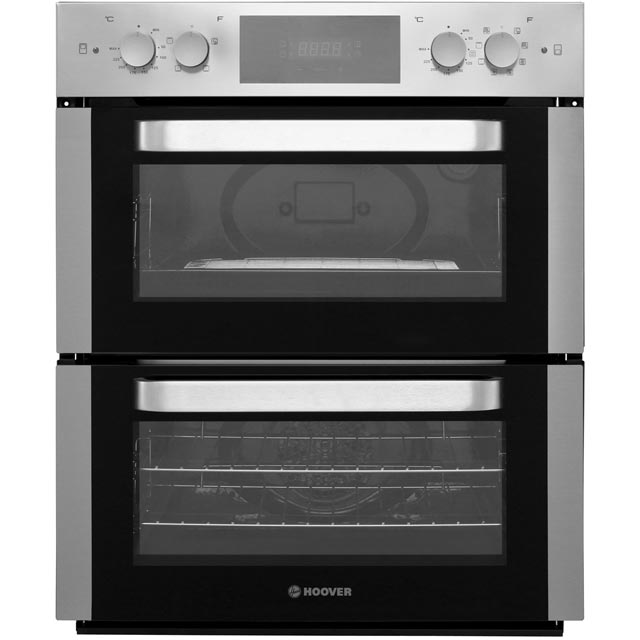 Capacity of cavities: 42L, 40L
Grill? Yes
Energy rating: A/A
This oven from Hoover has quite and impressive A/A energy efficiency rating, so you can save on energy bills while saving the planet.
The main cavity is fan assisted, while the second cavity is a conventional oven in which the heat rises. This makes it quite flexible, and gives you a choice of cooking styles. There's also a built-in electric grill in the second cavity.
The two ovens are a similar size (42 and 40 litres), which means you won't be able to cook anything very large in either of them.
The Hoover HO48D42IN has a useful programmable timer, and features an enamel lining, which makes it easy to clean.
Pros
Heats up quickly
Features a pizza setting
Handy steam cleaning feature for easy cleaning
Quiet
Cons
Both ovens are quite small
Only one shelf per oven included
Summary
If you don't need a lot of cooking space, the Hoover HO48D42IN is a great choice. It heats up quickly and cooks quietly and evenly. Bear in mind that you'll struggle to get a turkey or other large dish in the larger oven cavity.
3. Zanussi ZOF35802XK Electric Built-under Double Oven
Capacity of cavities: 46L, 39L
Grill? Yes
Energy rating: B/B
This oven from Zanussi offers some smart features and a smart-looking design that would look great in most kitchens.
Both cavities have a fan which helps to cook food evenly and ensure that the temperature is the same throughout the oven. They also both have a grill, which is useful when you need to grill a lot of food at once.
There's a useful timer function that lets you program the cooker to cook for an exact period of time. Once the set period of time is up, the oven will switch off and keep your food warm until you open the door.
This oven has catalytic liners which makes it easy to clean. These liners allow grease on the oven wall to burn off when the temperature is 220°C or above, so you don't have to scrub it clean.
Another nice feature is the defrost setting, which lets you defrost food quickly.
Pros
Cooks evenly
Heats up quickly
Sleek design
Easy to use
Both cavities have a grill
Cons
Both cavities are quite small
Slightly expensive
Summary
Some of the best things about this oven are the inclusion of two fans and two grills. It also has a sleek, minimalistic design and is easy to use. However, it's a bit more expensive than some of the other products reviewed here.
Things to Consider When Shopping for a Built-Under Double Oven
Here are some things to think about when purchasing a built-under double oven.
Do you definitely want a built-under oven?
Remember that a built-under oven isn't the same as a built-in oven. Built-under ovens go under your kitchen worksurface, whereas built-in ovens sit at eye level. This means that built-under ovens aren't a great choice if you have back problems and find it hard to bend down.
Is the main cavity big enough?
One of the main disadvantages of double ovens is that neither of the two cavities is as large as a single oven. If you need to cook large dishes such as roasts, look for a double oven with a large main cavity.
Do you have enough space?
Make sure you measure the space in your kitchen before ordering an oven. Built-under double ovens usually measure about 59.5 cm wide x 55 cm deep x 72 cm high, and fit in a standard kitchen appliance space.
Built-Under Double Oven FAQs
What is a double oven?
A double oven is simply an oven with two different cooking spaces, or cavities. Each cavity can be controlled independently, so you can cook things at different temperatures, or just use one of the cavities if you're cooking something small.
What is a built-under double oven?
"Built-under double oven" refers to double ovens designed to fit under your kitchen countertop. They usually measure slightly less than 60 cm wide by 60 cm deep, which is the standard size for kitchen appliances and means they will fit under the average kitchen worksurface. Built-under ovens are a type of integrated oven, in contrast to electric cookers that feature a hob as well.
Is a single or double oven better?
This all depends on your cooking habits. Here are a few things to think about.
Cooking large roasts? Then choose a single oven.
If you need to be able to cook large roasts, Christmas dinners and other dishes that require a large oven space, go for a single oven. Single ovens usually have a larger capacity than either of the cavities on a double oven. This makes single ovens better suited to large roasts where you need a lot of space.
Cooking for one? Then choose a double oven.
If you're cooking small dishes for one or two people, it will be quicker and more energy efficient to heat up one small oven cavity in a double oven.
Frequent grill user? Consider a double oven.
A common complaint among single oven owners who use the built-in grill frequently is that it smokes, since fat from the food you cook in the oven splashes onto the grill. Therefore, a double grill with a separate grill space can be a good option.
Are built-in ovens the same as built-under ovens?
No, built-in ovens are designed to be positioned at eye level, whereas built-under ovens go under the kitchen countertop.
Both are roughly 60 cm wide by 60 cm deep, but built-in ovens are slightly taller (about 85-90 cm), whereas built-under ovens are about 70-75 m high.
What's the difference between class 2 and class 4 ovens?
Ovens from Hotpoint have a class number, the most popular of which are 2 and 4.
This doesn't have anything to do with energy efficiency classes, which are denoted by letters and plus symbols, for example A+. It doesn't refer to the appliance class either, which is used to differentiate between what protective-earth connection different electrical devices need.
Instead, the classes appear to simply be a naming convention created by Hotpoint to refer to the quality of the product. The higher the class number, the higher the price. Therefore, a class 4 oven is one that Hotpoint believe to be higher quality than a class 2 oven, and it is therefore more expensive.
Conclusion
If we had to pick just one built-under double oven to recommend it would be the Hotpoint DU2540 Class 2. It's one of the most popular products on the market, and is highly rated by buyers. It's easy to use, stylish and offers good value for money.