Below, we're looking at the best self-cleaning ovens available in the UK right now. We also have more info about these ovens, like how the self-cleaning function works and how long it will take.
We've covered self-cleaning ovens in other articles, too, so you could say we have a complete guide to these ovens right here on Chef's Pick.
Before you head off to find out more about self-cleaning ovens, though, let's look at the very best in the UK, shall we?
Best Self-Cleaning Ovens in the UK
1. Hotpoint Class 6 SI6874SPIX Built In Electric Single Oven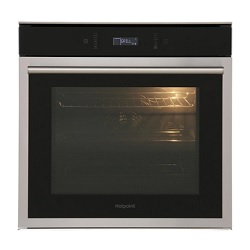 Dimensions: 59.5 cm high x 59.5 cm wide x 56.4 cm deep
Capacity: 73 litres
Energy rating: A+
This Hotpoint oven has taken what we love about fan-assisted ovens and improved upon it.
The Multi-Flow technology built in ensures that every corner of the oven heats up to the exact same temperature.
So, if you're looking for even bakes or want consistent results on all your food, this is a great option.
Along with the brilliant fan-assisted technology, there are lots of other features on this oven. For example, you can set the oven to turn off once your food is finished cooking, making mealtimes much less stressful.
You can also use the Pyrolytic programme to make cleaning nice and simple. This is the self-cleaning function, and it works a treat on all burnt-on grease and grime.
There is also a rotisserie function and loads more to make cooking your favourites easier than ever before.
This oven is has plenty of functions you'll actually enjoy using. It's nice and stylish, and perfect for a modern kitchen.
One potential downside is that the fan can stay on for some time after cooking, which can be frustrating in an open plan environment.
2. Zanussi SelfClean ZOPNX6X2 Electric Oven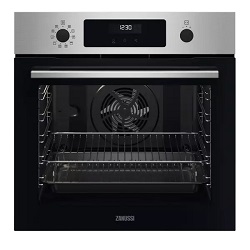 Dimensions: 58.9 cm high x 59.4 cm wide x 56.8 cm deep
Capacity: 72 litres
Energy rating: A+
We love how clean and stylish this oven is. It would look incredible in a modern kitchen and has plenty of features that make it a must in most homes.
One of the best features of this self-cleaning oven, though, has to be the quick heat-up time. Zanussi has made this oven for the busy family home, and as a result, it can heat up 40% quicker than most ovens.
All of the settings and features on this oven are easy to access thanks to the hexagonal control knobs and LED display too. Simply turn the dial to the setting, and you're cooking.
You can easily set temperatures, delay the start of cooking, or tell the cooker when to turn off. So, this oven has the speed, functions and design to make it perfect for the modern family kitchen.
One common complaint is that it only comes with one oven rack, though you can buy more separately or reuse your old ones.
3. Hoover H-OVEN 300 HOC3UB5858BI Built-In Electric Single Oven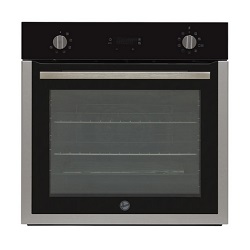 Dimensions: 59.5 cm high x 59.5 cm wide x 56.8 cm deep
Capacity: 70 litres
Energy rating: A
When Hoover called this a multifunctional oven, they really weren't kidding. This oven has bags of features that would be nearly impossible to tell you about here.
It has a pizza mode, defrost modes, fan grilling modes, pyrolytic self-cleaning and hydro self-cleaning too.
The hydro cleaning feature is really handy for keeping on top of cleaning your oven. Simply place some water in the bottom of the oven, switch the oven to the hydro-clean mode, and leave it.
The mode will turn the water to steam, and this will soften any food and grease residue on the sides, bottom and top of the oven.
All you have to do is wipe away the food afterwards. For any more stubborn burnt-on food, you can rely on the pyrolytic cleaning mode.
This oven is quiet, and has plenty of functions to make cooking more enjoyable. However, it takes a few minutes longer to heat up compared to some other ovens.
4. AEG BPS356020M Electric Oven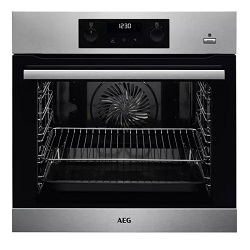 Dimensions: 59.4 cm high x 59.5 cm wide x 56.7 cm deep
Capacity: 71 litres
Energy rating: A+
The features of this oven are the jewels in its crown. Not only does this oven have standard modes that you'll be familiar with, but it also has clever cooking modes that allow you to do much more.
The SteamBake function is one of these amazing modes. You can use it to create lovely, moist cakes or to keep your Sunday roast nice and tender on the inside. Once you use this cooking mode, you'll wonder how you ever cooked without it.
There is also the SenseCook feature. This allows you to measure the precise temperature of the centre of the dish during cooking, so you can remove your dish at the perfect moment for great results.
All of the cooking features and modes on this oven are designed to make cooking easier and more enjoyable. However, it can take a bit of practice to learn how to make the most of them.
5. Bosch Serie 4 HBS573BS0B Electric Oven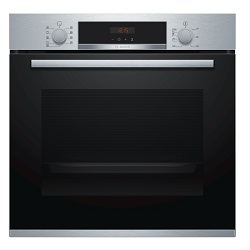 Dimensions: 59.5 cm high x 59.4 cm wide x 54.8 cm deep
Capacity: 71 litres
Energy rating: A
Bosch has really outdone itself with this oven. It makes cooking so easy but puts you in the pilot seat when you want it to as well.
With 10 presets for all your favourite meals, you can simply and quickly set this oven to cook meals perfectly.
You can also use any shelf in the oven, thanks to the 3D Hotair feature. This ensures every corner of the oven is heated to the exact same temperature, so you'll never struggle to fit everything on the top shelf again.
The stylish and modern features continue with the control panel too. The LED display is nice and clear and makes choosing a cooking function really simple.
The retractable control knobs put you in control but hide away for a very visually pleasing oven. The symbols on the controls are challenging to read if you place this oven under a counter, but perfectly fine at eye level.
This is one of the most stylish, modern and practical ovens on the market, with easy-to-use controls no matter how complex your meal is.
This oven is quick to heat up, and spreads heat perfectly throughout the oven cavity.
6. Smeg Classic DOSP6390X Built-In Electric Double Oven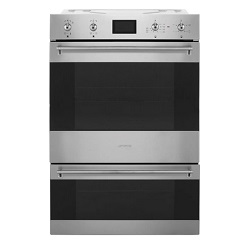 Dimensions: 88.4 cm high x 59.7 cm wide x 56.7 cm deep
Capacity: 70 litres (main oven), 35 litres (second oven)
Energy rating: A/A
This Smeg double oven has bags of style that will add a lovely touch to a modern kitchen, but we've come to expect this from Smeg.
We've also come to expect a lot of cooking technology from Smeg, and they haven't disappointed us with the features of this oven either.
There are several cleaning modes, including a steam cleaning mode and a pyrolytic mode. And just about every cooking mode you could ever want, along with standard modes that put you in control.
The cleverly designed grill is also a lovely feature. It is the bottom cavity and provides the perfect amount of space to grill anything you'd like.
The controls are slightly confusing at first, but once you master them, you'll love using it and have one of the most stylish ovens in the world that any visitors will want to talk about.
7. Neff N50 U2ACM7HH0B Built-in Double Electric Oven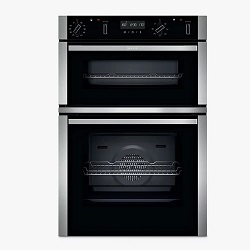 Dimensions: 87.5 cm high x 56 cm wide x 55 cm deep
Capacity: 71 litres (main oven), 34 litres (second oven)
Energy rating: A
With Neff leading the charge of cooking technology throughout the years, it is no surprise that they ended up on this self-cleaning oven list.
In fact, there are so many cooking features on this oven that the self-cleaning mode almost gets overlooked.
For example, you can connect this cooker to your smart device and control it. You can set timers, control the temperature, turn the oven on and off, and so much more.
So, if you want to get the oven warm before you get home from work, you can.
There are so many features on this oven that it is well worth checking out. If you love cooking gadgets that you'll actually use, this could be the ideal oven for you.
The Neff N50 U2ACM7HH0B's controls are much easier to use than those on some other ovens.
This product is the most expensive oven on this list, but it's worth the price for the build quality, functions and design.
What Is a Self-Cleaning Oven?
A self-cleaning oven uses heat to burn away burnt on food and grease. During the cleaning cycle, your oven will reach higher temperatures than usual, around 500 degrees Celsius.
This turns all of the food and grease to ash, and then you can simply wipe your oven, and it will be lovely and clean.
There are some models that also feature steam cleaning modes. With this self-cleaning function, you place some water in the bottom of the oven, set it to the cleaning mode, and the oven heats up the water to create steam. This softens the food and grime and makes it much easier to remove.
It's worth mentioning that while self-cleaning features on ovens are really handy, they don't need to be used all the time. In fact, most self-cleaning ovens have pyrolytic enamel liners.
Food and grease have trouble sticking to these liners, so if you stay on top of cleaning your oven (give it a quick wipe after use), you may never even need to use the self-cleaning feature.
However, if you skip a few sessions of oven cleaning, you always have the cleaning feature to fall back on whenever you need it.
How Long Do Self-Cleaning Programmes Take?
On average, a self-cleaning programme takes about three hours. Some ovens can complete a self-clean in about two, while other models take up to six hours to clean all of the food and grease.
During the cleaning cycle, the oven door will remain locked. This is because the process can create fumes, and the oven will be at much higher temperatures than normal. So, this is to protect you during the cycle.
Conclusion
We hope this look at self-cleaning ovens has helped you decide which oven is perfect for your kitchen. We love the Hotpoint SI6874SPIX Class 6 oven. It is very stylish with easy-to-use features.
However, it was the brilliant Multi-Flow Technology that speeds up cooking and distributes heat perfectly that made it our number one pick.
Don't forget, Chef's Pick has loads of self-cleaning oven articles. So, if you're new to this cooking technology and want to understand it more, this is the best place to be.

Scott is a writer and a passionate home chef. His passion for cooking began when he was 10 years old. Scott has been writing professionally for over five years now and loves to combine his passion for cooking with his day job.