Your extraction fan plays a fundamental role in maintaining the atmosphere of your kitchen, protecting the surrounding areas, removing cooking odours, and not setting off the smoke alarm – but they can also be something of a nuisance for the tall cook.
If you've ever found yourself wondering or desiring an increase in the distance between your hob and your extractor, this article investigates whether that's doable and if there is a maximum distance between the two.
The Short Answer
No, there isn't a maximum distance required between the hob and the extractor.
The Longer Answer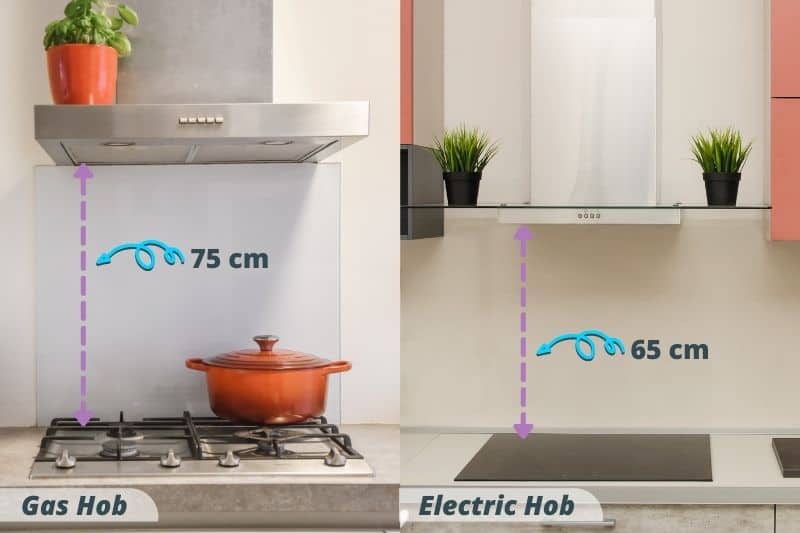 While there isn't a maximum distance between the hob and the extractor, there are guidelines, and there is a minimum distance.
Whether your extraction unit is a standard built-in hood above your hob, or a swanky custom-built downdraft extractor you had specially-made for your island cooktop, maintaining a sensible distance from hob to the extractor will ensure that it is doing its job correctly and steam, cooking fumes, and grease are all correctly removed during the cooking process.
If the extractor is a long way away from the hob, it won't work as effectively. If it's too close, this could be dangerous.
These are the recommended minimum distances between the hood and the hob:
Electric/Induction hobs: 650 mm (65 cm)
Gas hobs: 750 mm (75 cm)
Mixed fuel hobs (gas and electric together: 750 mm (75 cm)
Conclusion
If you require an accurate idea of the distance between your present hood and hob, your manual should contain this information. If you plan on building a custom kitchen, refer to the above information for both safety and practicality purposes.

Clara is a freelance writer and former chef. Though she may have hung up her apron, her love of food and cooking is still going strong! When she's not whipping up a verbal storm, she'll be in her kitchen sipping wine and whipping up a culinary storm.