Slide and hide ovens have featured on many different cooking shows on TV but rose to fame, at least for me, on The Great British Bake Off.
The moment I saw that oven door disappear, I knew I needed one in my kitchen.
If, like me, you've coveted these ovens for some time, but they have also been slightly out of your price bracket, we have the cheapest slide and hide oven below.
We also have loads of info about these ovens, and we discuss whether you should buy one too.
The Cheapest Slide and Hide Oven in the UK – The Neff N50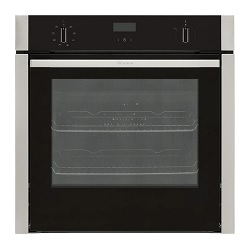 The cheapest slide and hide oven we could find in the UK is the Neff N50. It features the classic robustness of Neff cookers, hobs and ovens and comes with a two-year guarantee for further peace of mind.
The oven has a 71-litre capacity and is the standard 60 cm width, so it is suitable for replacing most ovens unless yours is bigger than 60 cm wide.
The N50 has an energy rating of A, and this is thanks, in large part, to the quadruple glazed door. This also makes the oven nice and quiet during use.
As this is a single oven model, it also features plenty of functions to ensure you aren't missing out on anything because you only have a single cavity.
So, there is a multifunctional grill, fan and top and bottom heating controls to dial in the perfect temperature.
Of course, the biggest feature of this oven is the slide and hide door, though. Whether you use this oven as a built-in or built-under, the slide and hide door will come in very handy.
It slides into the oven and is completely out of the way. This means you have full access inside the oven and won't trip over the oven door as you're moving around your kitchen.
You can buy the Neff N50 from several retailers, including those listed below:
What Is a Slide and Hide Oven?
A slide and hide oven has all the usual functions of a typical oven. The biggest difference is the door. The door pulls down and then slides into an opening in the bottom of the oven.
So, when you open the door of a slide and hide, it is completely out of the way. This gives you full access to the oven cavity without needing to bend over the door.
It also means that in a smaller kitchen, you aren't tripping over the door or hitting your ankles against it when it's open.
So, the functionality of the oven remains the same, but the addition of the slide and hide door allows you to have more access to the oven and keeps the oven door out of your way while it is open. Because of this, slide and hide ovens can be a fantastic addition to smaller kitchens.
Should You Buy a Slide and Hide Oven?
A slide and hide can be a brilliant way of saving space in a kitchen. My kitchen isn't the biggest, and when the oven door is open, it is nearly impossible to get past it without knocking into the door.
If we had a slide and hide oven, this wouldn't happen at all. Without the door projecting into the room, the person using the oven can stand closer, and anyone else in the kitchen can easily get past.
If you have a smaller kitchen or a big family that is always readily awaiting dinner, a slide and hide oven can be a fantastic addition to your kitchen. They can be used as built-ins and built-under ovens, and the door will never get in your family's way again.
You'll also have access to the entire cavity, so rearranging food, or taking out big roasting trays full of tasty food, is never an issue. If you have the budget for a slide and hide oven, and space or safety is an issue, we'd say go for it.
We hope this look at slide and hide ovens has been helpful. These ovens can be a brilliant addition to smaller kitchens, and they work great for people who want full access to the oven without the door getting in the way.
Why not explore Chef's Pick some more while you're here? We may just have the perfect cookware to use in your new slide and hide oven right here.

Scott is a writer and a passionate home chef. His passion for cooking began when he was 10 years old. Scott has been writing professionally for over five years now and loves to combine his passion for cooking with his day job.