We love range cookers. The build quality and styling are just awesome. They come in all shapes and sizes too. So, whether you live in a farmhouse or a modern apartment, there is a range cooker for you.
Plus, range cookers have a load of cooking tech inside to make cooking even more enjoyable. But you know this already.
So many of our readers are chomping at the bite to get a range cooker. I am sure that many of you have even read our range cooker company articles where we talk about SMEG, AGA, Rangemaster, Belling and more in detail.
Still, what are the best range cookers on the market right now? Well, let's find out, shall we?
Best Range Cookers in the UK
1. Stoves Richmond 110cm Dual Fuel Range Cooker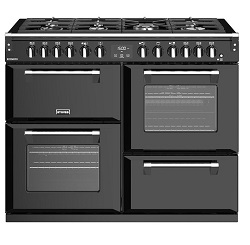 Features
7 burner hob
Energy rating – A
Keep-warm function
4 ovens
Already from the features of this range cooker from Stoves, you must be thinking this is a serious bit of kit. You'd be right. This range cooker has loads of features to make cooking every day a dream.
No longer will you compromise on cooking temperatures as you have four ovens to use. You can boil enough veg on this hob to make Bugs Bunny and every vegan in the UK happy.
Plus, it also has features like a safety shut off and loads more too. But to top all of the features and the cooking space off, you have a range cooker that has a lovely design.
It is modern, yet traditional, sleek (particularly in black) and yet it will be the stand out feature in your kitchen.
2. Leisure Cuisinemaster 110cm Dual Fuel Range Cooker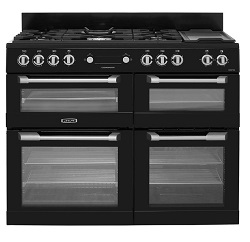 Features
Five burner hob
Energy rating – A
Automatic ignition
3 ovens
The Cuisinemaster from Leisure is one of the classic range cookers that have fuelled our love for these cookers for many years.
It has all the cooking features you need and plenty of style thrown in for good measure too. It has three ovens and a separate grill.
Five burners for plenty of space up top. Plus handy modes for all types of cooking. It has a pizza mode (that sold me straight away), a lasagne mode and much more.
The Cuisinemaster may have some lovely classic styling that we know and love. However, this is a range cooker that has been bought into the 21st century.
It has stay-clean liners, all of the cooking modes you could want, timers, fan assisted cooking and more. If you're serious about cooking, this range cooker should be a serious contender for you.
3. Fisher and Paykel Dual Fuel Range Cooker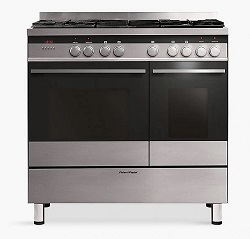 Features
5 gas burners
Energy rating – B
2 ovens
Triple glazed doors
This range cooker may look very industrial, but that is why we like it. This range cooker wouldn't look out of place in a restaurant kitchen, but would also make your home look extremely modern too. We know that this range cooker isn't for the traditional crowd, but that's fine. This happens to be one of the highest-rated range cookers in the UK.
Why? Well, because it's simple. This range cooker has safety features like automatic safety shut off and ignition for the burners.
However, that is about it. There are no cooking modes, nothing like that. It is you and the food with this range cooker. In a world of automatic cars and cookers, this cooker is putting you back in the driver's seat. Oh, and it looks incredible too.
4. Rangemaster Professional Deluxe 110 cm Induction Range Cooker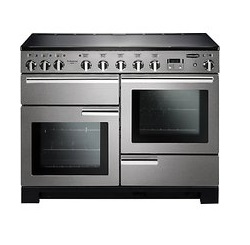 Features
Induction hob with 5 burners
Energy rating – A
2 ovens
A timeless design
Rangemaster has been in the range cooker game for a while. In fact, they pretty much invented the range cooker game and the rulebook. This means that Rangemaster can make an exceptional range cooker.
This is a professional cooker too. You could use this cooker in a restaurant kitchen and never bog it down. So, think about how long this Rangemaster will last in your kitchen?
Rangemaster has always been at the forefront of invention, and there is bag fulls of cooking tech in this cooker. But look at it?
The styling alone could've put this range on our list. Rangemaster has managed to squeeze every ounce of cooking knowledge they have learnt over the past 100 years into a beautifully elegant and modern range cooker that is going to last years!
5. Belling Sandringham 90cm Dual Fuel Range Cooker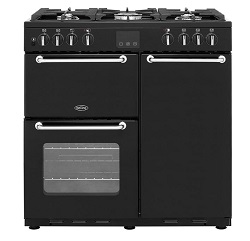 Features
5 burners
Energy Rating – A
Two ovens, one grill
Slow cook feature
We could've gone with so many Belling range cookers on this list. Belling has been making some of the best cookers in the world for decades.
So why the Sandringham? Well, we choose this model because it is smaller than the rest. We know that wanting a range cooker and having the space for a range cooker are two very different things. However, with this model, you can get a range cooker into your kitchen.
What's more, you can get a range cooker that functions, looks, and feels like one of the bigger models. There is no compromise, only cooking!
The Sandringham has a modern vibe about it, but could still look lovely in a farmhouse. Plus, it has a ton of features and makes cooking a dream!
Range Cooker FAQs
Are range cookers costly to run?
This is a question about range cookers that comes up a lot. Because of their size, many people think that range cookers must be very expensive to run.
However, while this might have been true a few years ago, range cookers have moved on a lot since then. For example, most of the range cookers on our list below have an energy rating of at least A.
This isn't uncommon either. Most range cookers on the market are just the same. Some of the bigger, pro range cookers drop down to a B rating.
Still, most range cookers on the market today don't cost that much to run. You likely won't notice any increase in your energy bill switching from a traditional gas or electric cooker to a range cooker.
How much does installation cost for a range cooker?
The installation cost for range cookers varies greatly. It depends on where you buy your range cooker, the type of fuel, whether you have the right fittings and many other things.
While we can't give you exact prices for all models of range cookers and situations, we can offer you this. If you are buying a range cooker from AO that uses a fuel type already set up in your home, it will cost £100 for installation (at the time of writing).
Can I install a range cooker myself?
No. At least, we would certainly do not recommend it. Range cookers are powerful and are far more complicated to install than simply plugging them in at the wall. To ensure that your range cooker is installed and works correctly, you must get the pros in.
Are there any major differences between range cookers?
Range cookers can differ when it comes to fuel types, size, number of ovens and hob rings and the size of the oven. Plus some range cookers have fancy features too.
Choosing the right range cooker can be tricky if you haven't owned one before. However, think about what frustrates you with your current oven.
Is the hob limiting? Do you wish you had more oven space, or just a bigger cooker altogether? Finding out what you don't enjoy about your current oven can help you choose a range cooker that will be perfect for you.
Conclusion
Well, there's our list of range cookers that you should check out right now. If we had to pick just one to recommend it would be the Stoves Richmond 110cm Dual Fuel Range Cooker. If you didn't find the range cooker that you desire on this list, never fear.
We have loads of other articles about range cookers on here, from different range cooker companies to their models and much more. We are the place to come for everything range cooker related!
If you're looking for something cheaper, check out our roundup of the best range cookers under £1,000.

Scott is a writer and a passionate home chef. His passion for cooking began when he was 10 years old. Scott has been writing professionally for over five years now and loves to combine his passion for cooking with his day job.