We all love range cookers. Whether we are professional chefs or amateur home cooks, we have an obsession with range cookers.
I am the same, and yet my experience using a range cooker is limited. Even still, I covet a range cooker. If my landlords let me, I would replace my electric oven in a heartbeat with a range cooker.
Why am talking about range cookers when this article is about Rangemaster cookers in particular? Simple really. Rangemaster started our love affair with range cookers, so it's all their fault!
In this article, we're going to find out when Rangemaster started, the most popular models, how much they cost and loads more.
If you have ever wanted a Rangemaster cooker and want to know more about this very interesting cooker company, then read on. Let's start with a history of Rangemaster cookers, shall we?
A Brief History of Rangemaster Cookers
To learn the history of Rangemaster cookers, we have to go back to Lemington Spa and 1803. This was when John Flavel moved to Lemington Spa and began the Rangemaster adventure.
It was John's son though that really kicked things off. In 1830, a new foundry was built that allowed John's son William to create the Kitchener range cooker.
This cooker could do it all. It used solid fuel to heat the cast iron frame and could be used for any cooking tasks. However, the Kitchener could also be used to heat your home, dry your clothes and much more.
If the Kitchener sounds similar to an AGA to you, then you have landed on an interesting mystery. You see, the AGA was invented over a hundred years after the Kitchener in Sweden.
The AGA ran on a different fuel, but the premise of both cookers was the same. Did the inventor of the AGA take a bit of inspiration from Rangemaster? I'll let you lovely lot to debate that!
The Kitchener was a huge success. Even royals from around Europe had Kitcheners. Granted, I doubt that Edward VII actually ever cooked anything with his. Still, as a result of him owning one, Rangemaster went from strength to strength.
It was actually the First World War that allowed the company to invent more cookers, though. After WW1, gas and electricity had massive developments and were in far more homes.
This meant that it was time for some new range cookers. Rangemaster got to work and started developing range cooker for this new, modern era. And they never really stopped.
The slightly older, but still exceptional design of the Kitchener was adopted by Rangemaster's sister company AGA. Ah, you see, AGA didn't actually steal anything from Rangemaster, it was a cunning test by me!
How Much Do Rangemaster Cookers Cost?
Rangemaster cookers range in price from about £1,000 to just over £2,000. It really depends on the model of range cooker that you are after.
Rangemaster has been able to make affordable range cookers and not compromise on the build quality at all. So, you can spend £1,000 on one of their range cookers or £2,000 and still enjoy a fantastic cooker for many years.
As we'll see in a bit, Rangemaster cookers vary in price because of their size and the technology that is built-in. The thing that doesn't vary, though, is how well all of them are made.
So, now you know the initial cost of a Rangemaster cooker, what about the running costs?
Are Rangemaster Cookers Expensive to Run?
Surely a range cooker must be very expensive to run? Well, no, actually. You see, one of the many areas of innovation that Rangemaster has been working on over the years is how energy efficient their range cookers are.
Right now, there isn't a Rangemaster cooker on the market that has an energy rating lower than an A. This even includes the updated version of the Kitchener that first went on sale in 1830.
Does Rangemaster Have a Good Reputation?
Something that I love about Rangemaster is that they have never stopped evolving their cookers. Sure AGA is still producing very traditional cookers, but Rangemaster is like their futuristic sister.
They are paving the way for new cooking technology. For example, they were the first cooker company to offer a double oven range cooker. They also introduced fold away grills and much, much more.
So, Rangemaster's innovation has always been second to none. This is largely down to Sidney Flavel, the grandson of John. Sidney believed that Rangemaster needed to be at the forefront of invention and this has carried on throughout the years.
However, the company has still kept the values that their cookers have to be built to the highest levels of detail too.
Rangemaster has one of the best reputations in the world. This is thanks to their continued innovation in the range cooker world. Each new model of cooker they bring out brings something new and exciting to your kitchen.
Rangemaster cookers are extremely well made, built to last and built to be enjoyed by passionate chefs and cooks. That is Rangemaster's reputation in a nutshell.
At the core of Rangemaster cookers is a very small company from Leamington Spa that has been making exceptional range cookers for two hundred years.
Sure, the look of the cookers and what they can do has changed massively. Still, the level of detail and the build quality of Rangemaster cookers hasn't changed at all.
To this day, Rangemaster is building some of the best range cookers in the world with some of the newest and most innovated cooking technology. So, which of the newest range of Rangemaster cookers are the most popular? Let's take a look, shall we?
Popular Rangemaster Cookers
There are way too many popular models of Rangemaster cookers to mention them all. We would be here all day. I can tell you about some of the most popular cookers in their range, though.
1. Rangemaster Kitchener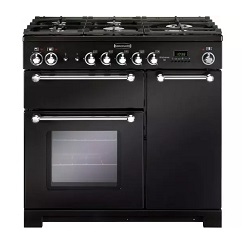 To start with, I have to tell you about the Kitchener. As I said, this model was first released in 1830. It has had quite the facelift since then, though.
The Kitchener set the standard for range cookers back in the day, and this new version is no exception. If you want to see the cooking technology that other range cookers will have in a few years, look at this model.
2. Rangemaster Classic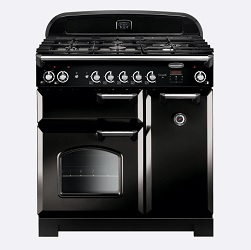 Another extremely popular cooker from Rangemaster is the 'Classic'. This is made in a handful of sizes and has a very elegant look. It has nods to the past and yet still looks beautiful in any modern kitchen.
There is also the 'Classic Deluxe' too. This is arguably the range cooker of all of our dreams. Again, very classic in design, but has some of the newest technology of any range cooker on the market.

As I said, these are just a few Rangemaster Cookers that are popular right now. I could talk about these range cookers all day. Whether they have a very classic range cooker style or a very modern style, the technology is just crazy.
Some models have warming drawers, some are self-cleaning, they make freestanding options and so much more.
If you want a range cooker, and if you've made it this far into this cooker article, you do want a range cooker! Rangemaster makes the best. They are built to bring joy to cooking.
You can enjoy all of the innovated engineering that Rangemaster has worked tirelessly on for two hundred years in a cooker that will last you years! One final question remains, should you buy a Rangemaster cooker?
Should You Buy a Rangemaster Cooker?
If you have the space for a Rangemaster cooker and have dreamt about owning one for years, do it. The very reason you want a Rangemaster is the reason why this cooker company has been around for so long.
They have an iconic design that looks incredible in any kitchen. Plus, they have an incredible build quality and one of the best reputations in the cooker industry. In fact, Rangemaster's reputation is equal to AGA's, and they own it!
There's an odd thing about Rangemaster cookers. My mum owns a Rangemaster, she used to have an AGA when I was a child, but she has moved houses now and has dreamt of owning a Rangemaster for years.
When she finally bit the bullet and got her Rangemaster, it lived up to every expectation she had. Every time I go and see my mum, she tells me how much she loves her cooker.
When a cooker can surpass all of your dreams that you've been having about that cooker for the past 20 years, you know that cooker is special. So take it from me (and my mum), if you have been dreaming about owning a Rangemaster for years, you won't regret buying one.
Thanks for reading this Rangemaster cooker article. I hope you found out some cool cooker stuff. If you want to learn even more cool cooker stuff, check out the other cooking and cooker articles on here. We're a one-stop-shop for cooker articles!

Scott is a writer and a passionate home chef. His passion for cooking began when he was 10 years old. Scott has been writing professionally for over five years now and loves to combine his passion for cooking with his day job.