Warming drawers have been around for many years in professional kitchens. They allow chefs to keep food warm until it is ready to serve. However, they can also help the home cook in the same way.
If you have ever cooked a roast for a lot of people, then you'll know the struggle and stress of making sure every part of the meal is ready at the same time. With a warming drawer, you can keep food warm as the rest of the meal is still cooking.
So, what are the best warming drawers on the market right now? We've researched the market and picked out some of the most popular and highly rated products below.
Best Warming Drawers in the UK
1. Bosch Serie 6 BIC510NS0B Built In Warming Drawer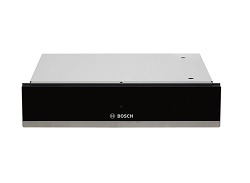 Height: 14 cm
Maximum load: 15 kg
This Bosch warming drawer is awesome. It can hold up to 15 kg, it is also 14 cm tall, so it can handle baking trays full of anything you can throw in it. You can also use this warming drawer to warm plates with a handy preset.
It is tall enough to tackle latte glasses for an after-dinner coffee, plus it also has a preset for dough proving.
This Bosch warming drawer is designed to fit in an eye-level cabinet. This, and it being a Bosch product, means that it is stylish, sleek and perfect for a modern kitchen. The controls are nicely hidden away but easily accessible too.
So, you are left with a beautiful looking exterior that looks wonderful in any modern kitchen.
2. NEFF N50 N1AHA01N0B Warming Drawer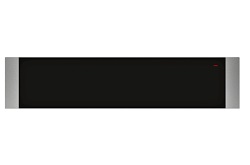 Height: 14 cm
Maximum load: 15 kg
The NEFF N50 warming drawer has a temperature range of between 40 and 80°C; perfect both for keeping the plates warm and proving dough.
At 60 cm wide and 14 cm tall, this warming drawer can hold up to 15 kg, and has enough space for 14 plates or multiple trays of your favourite bread dough.
This warming drawer has a sleek, stainless-steel finish and a handleless design that means it blends right into your kitchen.
The NEFF N50 has a choice of four standard functions, including plate warming, dough proving and a defrost function.
This warming drawer is easy to use and it heats up quickly too so it is ready to go whenever you need it.
One downside is that the on/off switch is positioned in quite an awkward place.
3. NEFF N90 N17HH20N0B Warming Drawer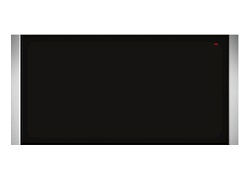 Height: 29 cm
Maximum load: 25 kg
At 60 cm wide and 29 cm tall, the NEFF N90 offers all the same features as the N50, but with even more space.
This NEFF warming drawer can hold up to 25 kg in weight, and has more than enough space for 40 plates, making it the ideal choice if you host a lot of dinner parties.
This warming drawer has five standard functions, including defrost, hold warm, plate warming and even a dedicated dough proving setting.
The dial controls are easy to use, and the stainless-steel finish will look right at home in a range of kitchen styles.
This warming drawer might be one of the more expensive choices on this list, but if you need a lot of space, whether it is for plates or for proving bread, it could be a good choice.
Some users have had issues with it no longer working properly after a few months or years of use, which you wouldn't expect from such a pricey product.
4. Cookology CWD14 22L Warming Drawer with Touch Control
Height: 14.1 cm
Maximum load: 25 kg
The Cookology warming drawer can hold up to 25 kg and has a range of standard functions, including bread proofing, defrost, and softening.
The temperature range is adjustable and is all controlled through a touch panel at the front.
The Cookology warming drawer has a choice of functions allowing you to use it for several tasks besides just keeping food warm.
These functions include bread proofing, defrost, softening and plate warming. However, some people find that it's too shallow for proving dough in a bowl.
This warming drawer has a handle-free push-to-open design that will look right at home in your kitchen.
It's easy to set up and use. It's cheaper than many warming drawers, but still quite expensive.
Warming Drawer FAQs
Are warming drawers any good?
Warming drawers are smaller than your oven, so they are a lot more efficient at keeping your food warm than an oven.
Of course, the best use for a warming drawer comes when you have other items to cook. You can store the already cooked food in the warming drawer, and you'll have your whole oven to continue cooking with.
Another great benefit to a warming drawer is that they keep the desired food consistency better than a microwave can. For example, baked food will remain lovely and moist.
So, if you have the space for a warming drawer and often find yourself needing extra room to keep food warm, a warming drawer can be a fantastic addition to your kitchen.
What temperature is a warming drawer?
A warming drawer typically caps out at about 200 degrees Fahrenheit, which is about 93 degrees Celsius.
Many warming drawers have different temperature settings that start at about 25°C, though. So, you can preset your warming drawer to proof, low, medium or high and dial in the temperature setting that is right for you.
Where do you put a warming drawer?
The beauty of a warming drawer is that they are entirely independent of your cooker; they don't need the heat from the oven to keep your food warm. So, you can put a warming drawer anywhere in your kitchen.
Most people tend to fit a warming drawer underneath or next to their oven, though. This is for convenience. However, another great place for a warming drawer could be an island in your kitchen.
When thinking about the placement of a warming drawer, it is best to think about where you might plate up food.
Having a warming plate underneath or near your oven is a great option too. Still, they can go anywhere in your kitchen, so think of the most convenient place for your cooking style.
Do warming drawers dry out food?
Warming drawers are a great way to keep food warm without drying it out. The lower temperature and more gentle heat source in a warming drawer is much better for food than the direct heat in an oven is.
If you need to keep food warm for a long period of time in a warming drawer, wrap or cover it in foil to trap the moisture in.
How long can I keep something in the warming drawer?
Once food has been thoroughly cooked, it can be safely kept in a warming drawer for a couple of hours.
However, some food, when left in a warming drawer for more than two to three hours might start to lose its freshness and dry out. The best course of action is to only keep it in the warming drawer as long as is absolutely necessary.
Does a warming drawer need ventilation?
As they are electric, the vast majority of warming drawers do not need any complicated ventilation, a space around the back of the drawer is usually sufficient.
This, coupled with the fact most warming drawers run on a standard 3-pin plug, is how they can be placed just about anywhere in a kitchen.
Just make sure that you follow the manufacturer's guidelines and leave a suitable space around the appliance if one is called for.
Can you defrost meat in a warming drawer?
If you forget to take the meat out of the freezer to defrost it every now and again, a warming drawer could save you the stress.
Many of the warming drawers on this list have a defrost function as standard, which can be used to safely speed up the process of defrosting many foods, including meat.
Is a baking drawer the same as a warming drawer?
Yes! Baking drawer, proving drawer and warming drawer are just three names for the same thing.
If you read a lot of baking books, you're most likely to see the appliance used to warm butter or prove dough, and so is often referred to as a baking or proving drawer.
However, warming drawers can also be used to keep food warm that you've taken out of the oven, to warm your plates before dinner, and to speed up the process of defrosting frozen food.
Warming Drawers Pros and Cons
Some people love the idea of a warming drawer at first, but then begin to think about whether they would actually use a warming drawer enough to make it worthwhile. Well, here are some pros and cons of warming drawers to help you make that decision.
Pros
Party pleaser – Perfect for entertaining. If your home is where all of the dinner parties are held, a warming drawer is perfect.
Late nights – If you, your spouse or your children often come home after dinner is ready, you can use a warming drawer to keep a meal warm.
Restaurant feel – You can use warming drawers to heat up plates
Baking – If you are a baker, you can use a warming drawer to allow dough to rise. You can also keep bread fresh and warm before serving it, a real treat for the whole family.
Cons
Space – If you have a smaller kitchen and none of the pros of warming drawers above screamed out at you, perhaps a warming drawer isn't the way to go. A warming drawer can take up valuable space in a small kitchen.
Tight budgets – Nowadays warming drawers are not that expensive as we'll see in a minute. However, they are a splurge appliance. If you have a tight budget and a small kitchen, perhaps it is worth investing in an oven and microwave that can do some of the jobs that a warming drawer can do.
We love warming drawers, and they are certainly a fantastic asset to the right home kitchen. If you love baking or love cooking for a crowd, a warming drawer can be the greatest appliance in a kitchen.
Do remember, though, a warming drawer shouldn't really be used for storage or anything like that. So, if you are concerned about the space, and that concern outweighs your needs for a warming drawer, have a think before you invest.
Conclusion
We hope this look at warming drawers has helped you find the perfect one for your kitchen. If we had to pick just one to recommend it would be the Bosch Serie 6 BIC510NS0B as it is sleekly designed, easy to use and has some really handy presets.
As we said, a warming drawer can be an excellent addition to any kitchen. It can open up your oven and allow you to be far more creative when cooking for even the largest family gatherings.
Please take a look at the other kitchen articles on here. We have loads of kitchen articles on our site that can help you make your kitchen the true heart of your home. Happy cooking!

Scott is a writer and a passionate home chef. His passion for cooking began when he was 10 years old. Scott has been writing professionally for over five years now and loves to combine his passion for cooking with his day job.