If you're shopping for a new cooker, you may be tempted by the cooker of your dreams. Belling certainly makes this type of cooker.
Belling has been around for longer than the Empire State Building. It has been creating some of the best cookers in the world for over a hundred years.
If you've had your eye on a Belling cooker for a while, you may want to know more about the cookers.
Belling has a very interesting history as you're about to find out. We will also have a chat about the cost of these cookers and how much they cost to run.
Finally, we'll explore some of Belling's most popular models and whether you should buy one. So, let's jump in, shall we?
A Brief History of Belling
Belling was started in 1912. Charles Reginald Belling founded the company with just £150! In a shed.
In that shed, Charles and one assistant created a cooker brand that would invent brand new cooking technology and a brand with one of the finest reputations in England.
Belling has created so much cooking tech that it would be impossible to discuss it all here. They made the first-ever domestic fan cooker. They created the first slot-in cooker. The first-ever range cooker and one of their most recent invention, the first induction oven.
Granted, a lot of these cooking inventions happened after Belling had moved out of the shed. Still, that shed was full of inventing juices that paved the way for cooking technology.
Belling is still making its cookers in the UK today. They are still advancing the cooking technology that we use in our homes. But most incredibly, Belling has never lost their reputation for making some of the best cookers in the world. Their cookers are exceptionally well made. Bellings are made for you to pass down to your kids!
Even now, Belling has a small team of people that build their ovens and cookers to the highest standards imaginable.
So, when you buy a Belling, it has probably been touched by five people, including yourself. Those other four people are master oven builders that have put the heart and soul of Belling into that cooker for you to enjoy for many years to come.
If Belling's achievements over the years have taught us anything, it's that this cooking company isn't afraid to try new things. They are not afraid of evolving their cooker range to suit modern life.
This is perfectly shown by the fact that Belling has just won the Which? 'Best brand overall' award in the freestanding cooker category. So, even after a hundred years of being one of the best cooker brands in the UK, Belling is still on top!
How Much Do Belling Cookers Cost?
Belling cookers and ovens range in price. They start from around £400 and go up to about £1,700.
Of course, the price of a Belling depends on the model. The Pro range cookers, for example, pretty much all exceed £1,500. The Farmhouse range cookers can be anywhere from £1000 to £1,500 depending on the type of stove you choose and the fuel type you'd like.
The cheaper ovens range from about £400 to £600. These are top-of-the-line ovens that most cooker companies cannot compete with. The build quality, the cooking technology, warranty, and so much more is just simply better with a Belling.
It's worth noting that buying a Belling, depending on the oven, can be a lifelong investment. When you buy a range cooker from Belling, for example, you are buying a cooker that could last 20 years with light to moderate use.
So, sure the cost may seem high, but it's going to be in your home for 10-20 years. But what is the cost of running a Belling? Let's find out.
Are Belling Cookers Costly to Run?
While other cooker companies have almost been forced to start creating more energy-efficient ovens, Belling basically invented the energy-efficient oven.
They then perfected that oven and carried on perfecting their entire range of ovens making each one even more energy efficient than the last.
Pretty much every Belling cooker on the market right now has an energy rating of A. So, whatever fuel type your cooker has, however many burners it has, it still won't be that costly to run.
For over a hundred years now, Belling has been changing the cooker game for the better. One of the best things that Belling has ever done is brought their models into this energy-efficient century. Belling cookers still have loads of amazing technology, but you aren't punished by it.
If you buy an induction Belling, the energy rating is an A. If you buy a Belling with their fantastic warming drawer, the energy rating is an A. And so on and so forth.
Belling ovens are fantastic pieces of kit and no more expensive to run than any other cooker on the market. In fact, Belling has one of the best average energy ratings of any cooker company in the world.
Does Belling Have a Good Reputation?
If you went back in time to Charles Belling's shed, you would likely not recognise the cookers that they were producing as Belling's. This is because the cookers have evolved so much since then.
Belling has always been at the forefront of cooking technology and has created a lot of it in the hundred years since they started.
If you were in that shed, though, you would instantly recognise the craftsmanship and build quality of a Belling cooker. This is because, even though Belling has constantly evolved and brought innovative new ideas to their cookers, there build quality has gone unchanged since 1912.

Belling's build quality, attention to detail, and therefore, their reputation has gone unchanged since the early days. Belling is, without question, at the forefront of cooker design, but their values can be traced straight back to that shed.
Belling is not only up there as having one of the best reputations of all of the cooker companies in the world, but they are also leading the way with new cooking tech too.
Even though they are creating cookers that are worlds apart from what the company created back in 1912, they have kept the important stuff like build quality. That is why Belling's reputation is still incredible!
Popular Belling Cookers
1. Farmhouse-110E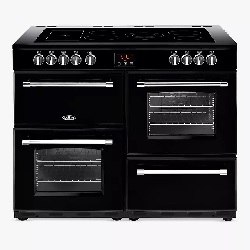 My favourite Belling models are those in the Farmhouse range, in particular the Farmhouse-110E. This is an induction range cooker with two ovens, a grill and a storage compartment.
It is a wonderful design too. It looks like a modern cooker that would go perfectly into the most modern kitchen. However, it would also look fantastic in a farmhouse.
2. Cookcentre-100G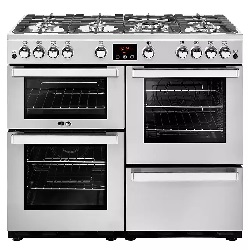 Another amazing and very popular Belling cooker is the Cookcentre-100G. This is a professional gas range cooker. It has seven burners, and all of the ovens you could ever want.
In stainless steel, this cooker would set off any kitchen perfectly. Of course, because it is a professional cooker too, it is built to last, like all Belling ovens!
3. Farmhouse-60DF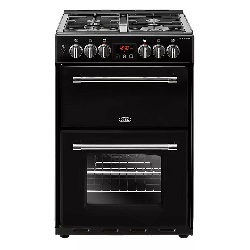 My last Belling, which is one of the most popular cookers but also one of my favourites, is the Farmhouse-60DF. This is a farmhouse cooker that is built for any home.
It has a classic look that is also modern somehow and all of the cooking power you could ever want. If you want a stunning range cooker but just do not have the space, check this Belling out!
Should You Buy a Belling Cooker?
I wrote about AGA cookers recently, and when I came to this section of that cooker article, I felt a bit weird about recommending that you buy an AGA. This is because all AGAs are pretty darn expensive. Of course, they are incredible ovens, but they are an investment.
With Belling, though, I don't feel weird at all. You see, this cooker company has prided itself on innovation and reputation since the beginning.
When you buy a Belling, you are buying a cooker that is built to last with the latest technology inside. Plus, no matter what your budget for an oven, Belling has you covered.
Sure, you are looking at the higher end of your budget in most cooker categories, but you'll get a stunning oven that looks and works great for many years.

So, should you buy a Belling? Yes! If you've dreamt of owning a Belling for years, you will not regret buying one. They are fantastic cookers, and there is a cooker in their range to suit every home and every style.

Thanks so much for reading this Belling article. I hope it helped you with your cooker questions about Belling and their range of cookers.
To find more about ovens and everything that goes along with them, check out the rest of our site. We have loads of cooker articles on here!

Scott is a writer and a passionate home chef. His passion for cooking began when he was 10 years old. Scott has been writing professionally for over five years now and loves to combine his passion for cooking with his day job.