Range cookers are a popular choice with homeowners with larger families or those who like to cook. A range cooker combines a hob and an oven in a single freestanding appliance.
Range cookers are typically larger than most standalone ovens. They're often 20% bigger than a standard 60cm integrated oven. They may have two ovens or separate features such as storage compartments or warming drawers.
When most of us think of a range cooker, we imagine traditional cast-iron AGA designs. These range cookers can be complicated and old-fashioned to use, and aren't particularly energy efficient. However, there are now a huge variety of modern range cookers on the market. This includes models with the latest induction hobs which are easy to clean, modern and energy efficient.
What is an induction hob?
Induction hobs are different to other hobs because they directly heat the pan you are cooking with rather than just heating the hob ring.
This fast and efficient method activates a magnetic field when the hob is switched on. When a pan is placed on the hob, the circuit is complete and the base of the pan is heated up.
Induction is the fastest cooking method available on the market today and is even quicker than gas. It's also as responsive and precise as gas, so you if you turn the heat up or down there is an almost immediate effect (unlike with old-fashioned electric hobs!).
Induction hobs are also extremely energy efficient, because you're taking a step out of the process of heating food by heating the pan and not the ring and everything around it. They're also easy to use and clean.
Things to consider before buying an induction range cooker
An induction range cooker is likely to cost more to buy initially and you may need an electrician to install it. However, the energy saved from using an induction hob will help you recover the extra cost if you use your cooker regularly.
You'll also need to use pans that are suitable for induction pans. These include iron, stainless steel, enamelled steel and some aluminium pans if they have a suitable ferromagnetic base.
Never use pans with a copper or glass base on an induction hob. If in doubt, check the manual for your cooker to see which pans are suitable.
Best Induction Range Cookers in the UK
1 Belling Farmhouse90Ei 90cm Electric Range Cooker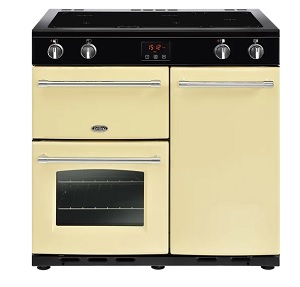 This Belling electric range cooker has plenty of style, as it is from Belling's Farmhouse range. Still, it also packs a nice punch in the cooking department too.
To start with, this range cooker has three separate ovens. The main oven has a capacity of 58-litres, perfect for roasting joints of meats. It is also a fan oven, so heat is consistently pushed around the oven cavity, making it nice and easy to use.
The top of this electric range cooker has an induction hob that is a joy to use. There are 5 heat zones that are all very responsive and controllable. The reason we love this electric range cooker though is that it works incredibly well, but it looks beautiful too.
You really get the best of both worlds with this range cooker. You get a timeless design that will work in any kitchen, but up-to-date, modern cooking controls and features that make this cooker energy efficient and a joy to use.
2. Rangemaster 100340 Elise 110 Electric Range Cooker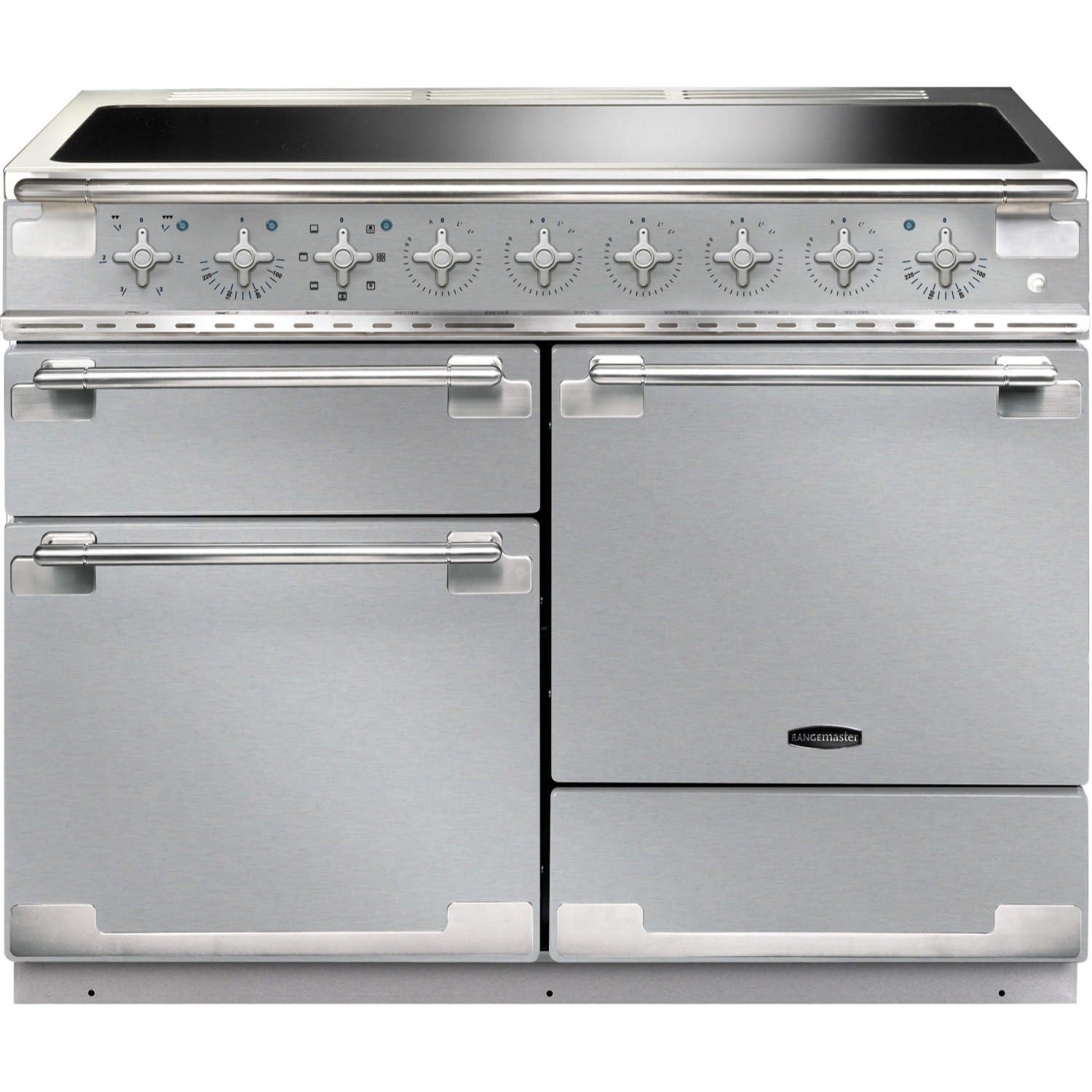 The award-winning Rangemaster 100340 Elise 110 Electric Range Cooker is perhaps one of the most high-spec electric range cookers on the market. Influenced by top European gourmet chefs, this French-inspired cooker won the Best Kitchen & Household product in 2013,
The oven has seven different built-in functions for cooking all kinds of meals, and a Handyrack storage drawer for baking trays.
The 5-zone induction hob is easy to control and has special features for simmering and child locks for safety.
The Elise 110 also has an A rating for energy and is recommended by the energy rating trust.
It's one of the more expensive induction range cookers on the market, but you will recover some of the initial cost over time by saving energy every time you cook.
3. Rangemaster Professional + 110 Induction Hob Range Cooker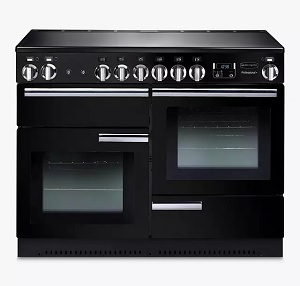 Rangemaster are Britain's No 1 range cooker brand, and their cookers offer quality and high performance along with superior features.
The Rangemaster Professional + 110 Induction Hob Range Cooker isn't the cheapest induction range cooker available, but with a wealth of features and a stylish design available in a variety of finishes and colours (black, cream, steel and cranberry) it's perfect for serious cooks.
With an appliance width of 110cm, a main oven capacity of 80 litres and a second oven capacity of 73 litres, this is one of the biggest induction range cookers on the market. That makes it ideal for larger families and those who love to cook for guests.
The 5-zone induction hob has hot hob indicators, and gives near-instant heat.
The only potential downside to this cooker is the grill, which is relatively small compared to the rest of the cooker, and can be difficult to use due to the slide out mechanism.
Overall, this is a professional, super-sized cooker that will make a stylish statement in any kitchen.
4. Belling 444444080 Cookcentre 90Ei 90cm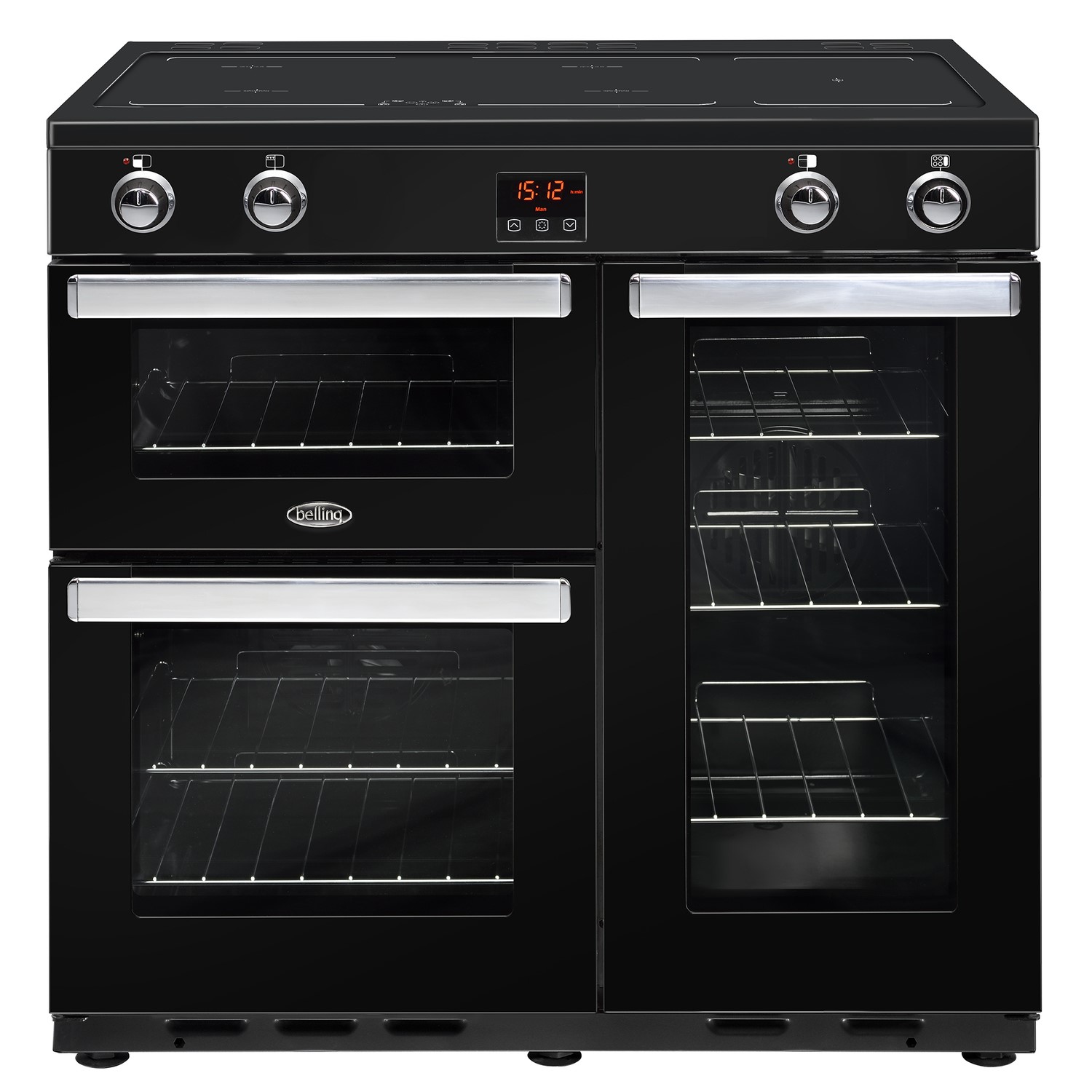 The Belling 444444080 Cookcentre 90Ei is a low to mid-range model from trusted brand Belling. This model has a 4-zone induction hob, which heats nearly twice as fast as a gas hob, and is controlled by Belling's Link+ cooking technology.
The 91-litre capacity oven has 25 shelf positions allowing multi-level cooking, and the cooker also boasts handy features such as defrost and slow cook functions.
Some users find the induction hob take a little getting used to on this model, but this stylish cooker offers good value for money, looks great and has some excellent features.
5. Rangemaster Professional+ 90 Induction Range Cooker
The Rangemaster Professional+ 90 Induction Range Cooker is a smaller version of the Rangemaster Professional + 110 Induction Hob Range Cooker. Even with a smaller width of 90cm, it still has a 5-zone induction hob and plenty of room in the spacious ovens.
Capable of holding up to 5 kg of meat, the main oven has a capacity of 69 litres. The hob is twice efficient as a gas hob, and is quick, safe and responsive.
With the same handy features as the larger model, such as catalytic liners which absorb splashes during cooking, this cooker is ideal if you want a high-performing, quality induction range cooker that needs to fit into a slightly smaller space.
Conclusion
If we had to pick just one induction range cooker to recommend to most people, it would be the Belling Farmhouse90Ei since it offers a great combination of a timeless design with precise modern controls.
If having an induction hob isn't so important to you, see our roundup of the best range cookers on the market.