Many home chefs covet range cookers. The charm, look, and style of these cookers can add a traditional twist to a modern kitchen. Not to mention the cooking power and versatility of these cookers are unmatched by almost any standard cooker.
Alas, many of us can only dream of owning a range cooker. Their large size makes range cookers a near impossibility for many of us with smaller kitchens.
Or does it? Do range cookers come in different sizes, and would one of these range cookers fit in your kitchen?
Well, we're looking at the different sizes that range cookers come in below. But first, we need to find out what a range cooker is. At least, the definition of a range cooker so that you can be sure you're buying the right cooker for your dream kitchen.
What Is a Range Cooker?
A range cooker is a wide freestanding cooker. They usually come with a selection of ovens (at least two, but sometimes three or four).
There can also be up to seven hob rings on range cookers, a grill and sometimes a warming oven/drawer, depending on the model.
When thinking of a range cooker, many will conjure up the idea of a cast-iron oven with heavy metal doors, like an AGA, for example. While these certainly are a range cooker, there are modern models as well.
Modern range cookers have an iconic style but sleek colours that suit any modern kitchen. They also have cooking features that bring them into the 21st century too.
Range cookers are designed to be extremely practical, with plenty of choices of ovens and hob rings to ensure that you always have the space and power to cook any meal or bake anything.
The drawback to most range cookers, though, is that they need to be large enough to accommodate these hobs and ovens, but how big are they?
What Sizes Do Range Cookers Come In?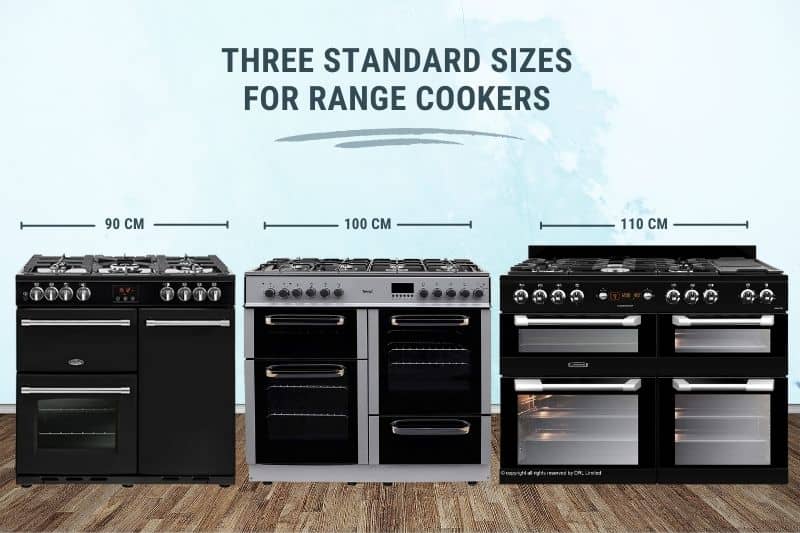 There are three standard sizes for range cookers: 90 cm, 100 cm and 110 cm. This refers to the width of the cooker. Range cookers have a standard height of 90 cm and depth of 60 cm regardless of the width.
The wider the cooker, the more hob rings and ovens you tend to get.
Even 90 cm range cookers can come with three ovens and five hob rings, so there is plenty of space to cook.
100 cm range cookers seem to be the best option for many, with plenty of hob rings and three-four ovens to ensure that you're never short of a hot place to stick a baking tray.
110 cm range cookers offer bags of room with up to seven hob burners and four ovens to tackle multiple cooking tasks in one go.
What Is a Mini Range Cooker?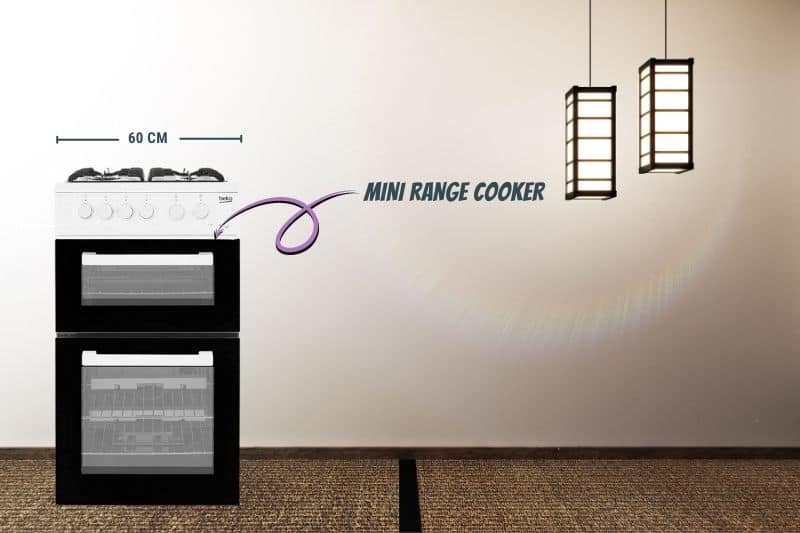 If you have a small kitchen, your dreams of owning a range cooker are not over just yet. Many range cooker brands including Leisure, Belling and Stoves, make mini range cookers.
These are 60 cm range cookers. 60 cm is the width of the largest standard cooker on the market.
So, if you already have a standard cooker in your kitchen, you might be able to install a mini range cooker without changing anything at all. Mini cookers are essentially standard cookers that look a bit like range cookers.
Mini range cookers have the iconic style of their big brothers but have the same practical uses and smaller size as a standard cooker.
Mini ranges have four burners and two ovens. So, while you aren't getting any more hob rings or ovens for your money, you are getting a beautiful, very well designed and made cooker for your money.
Mini range cookers are built to last just as the larger ones are. However, they don't have the cooking space that a larger range cooker does.
If you've always loved the iconic styling of range cookers but really do not have the space for a 90 cm, 100 cm or 110 cm range cooker, a mini range cooker is a perfect option.
You can still enjoy cooking and have a very practical cooker with plenty of cooking power, just without the additional hob rings and ovens.
We hope this look at range cooker sizes has been helpful. If you're now even more in love with range cookers than you were at the start of this article, we can't blame you!
We're huge fans of range cookers here at Chef's Pick and have plenty of articles about these excellent and iconic cookers that are well worth exploring while you're here.

Scott is a writer and a passionate home chef. His passion for cooking began when he was 10 years old. Scott has been writing professionally for over five years now and loves to combine his passion for cooking with his day job.