If you want to redesign your kitchen to suit you, you may be wondering about kitchen counter heights.
Is there a standard height? And if there is, why was this height chosen? After all, chefs come in all shapes and sizes, and sometimes, the height of a kitchen worktop can be restricting.
Today, we're exploring the standard height of worktops in the UK, why this is the standard height, and what you can do if you want to change things up.
The Standard Kitchen Counter Height in the UK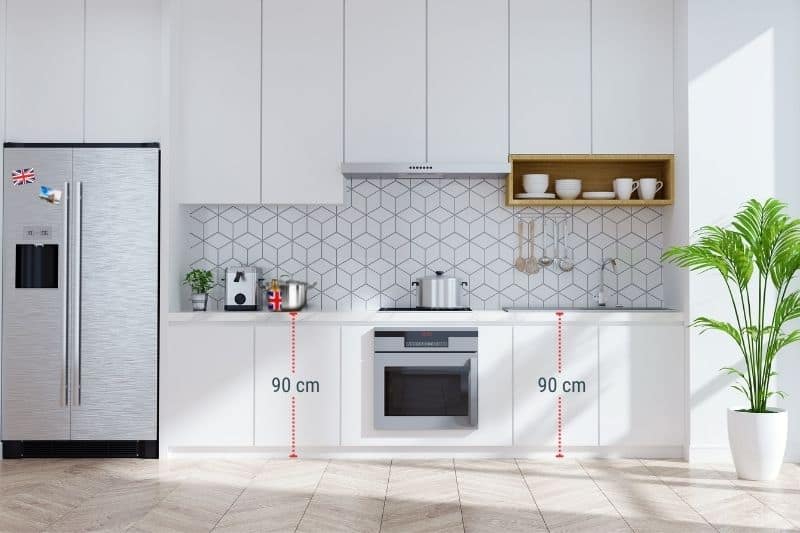 The standard height of worktops in kitchens in the UK is 900 mm or 90 cm.
So, if you're planning on buying a flatpack kitchen from one of the big hardware stores or kitchen suppliers, it will have a counter height of 900 mm.
Why is 900 mm the standard height?
The reason that 900 mm was chosen as the standard height for countertops is that it provides the average person with a good height to work at.
You can prepare food easily at this height, lift heavy bags of shopping comfortably to this height, and more.
One of the biggest reasons that countertops are this height, though, is because freestanding ovens are 90 cm tall. This means that your countertops are the exact same height as the hob.
This makes transferring pans to one or the other easier and also offers a pleasing look for the eye.
So, this standard height of 900 mm means you can safely work at the counter, and your kitchen will look great.
Can Kitchen Countertops Be Made Shorter or Taller?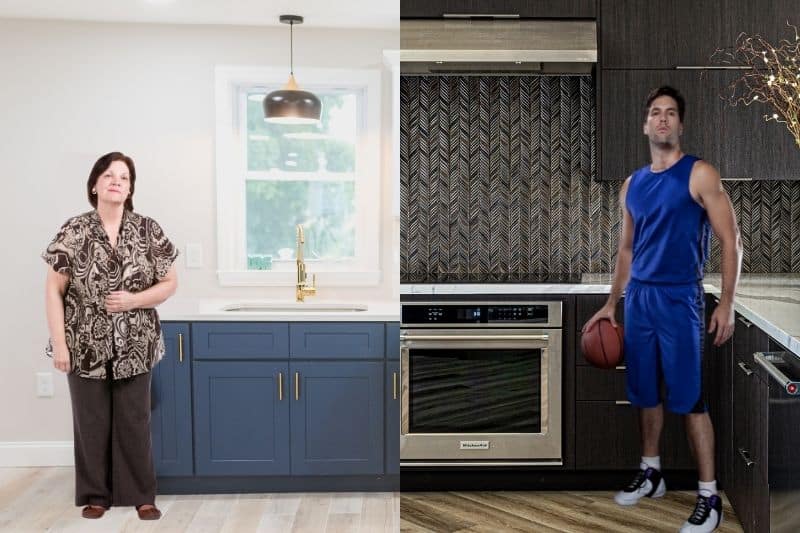 Most kitchen companies in the UK will restrict the height of your counter to this standard size because it is easier for them to manufacture. They can churn out cabinets at the same height rather than offering custom sizes.
However, bespoke kitchen designers will design any kitchen you want. So, if your family is on the shorter side, you can design a kitchen to accommodate you.
And if you're a family of basketball players, a bespoke kitchen designer can create a kitchen to suit you as well.
Some considerations will need to be made if you change the height of your worktops, though. For example, a freestanding oven may look out of place if the height of your counters change. However, a built-under or built-in oven with a hob inserted into the worktop will work perfectly.
So, if you're interested in changing the height of your worktops, just know that you may need to compromise on appliances, storage space and other design elements to ensure the kitchen looks right.
Should You Change the Height of Your Kitchen Counters?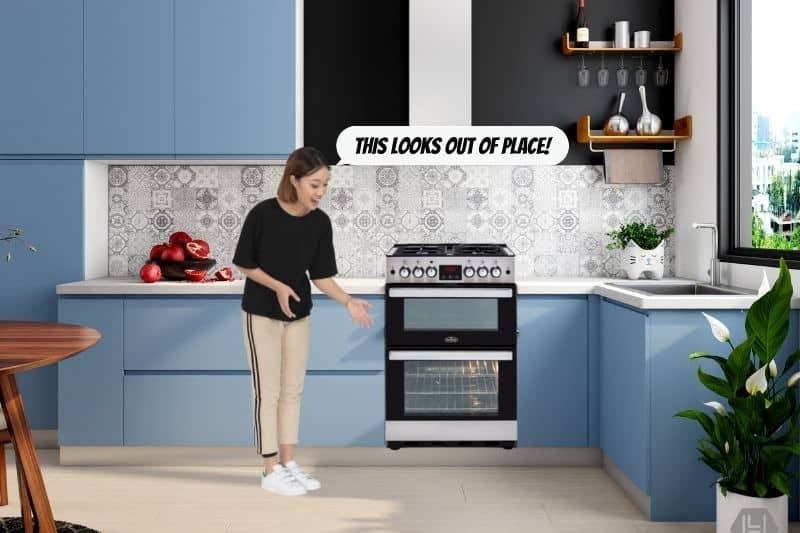 Bespoke kitchen companies can change the height of your countertops, but is it worth it? After all, changing the height of the counters in your kitchen does mean you can be restricted in which appliances you can have installed.
For example, if you have your countertops lowered, a freestanding range cooker may look very out of place in your kitchen.
Rather than offering a beautifully modern yet traditional element to your kitchen design, it could end up looking a bit daunting and as if it is always looming over you.
Of course, if you're having your counters lowered, there is likely a good reason, and a freestanding cooker may not suit your requirements either.
However, this is just an example of design elements and appliances you should take into account when looking at changing your kitchen.
If you do really struggle with the height of your countertops, we'd recommend speaking with a bespoke kitchen designer about your options.
It is also worth trying to prepare food on different surfaces in your home. Use the dining table, desk and an entryway table, for example.
These will all be at different heights, so you can find a suitable height that is comfortable when preparing food.
In Conclusion
There is a standard height for kitchen counters in the UK: 900 mm. And most kitchen companies abide by this standard height.
However, if you do feel you want to change the height of your counters, a bespoke kitchen manufacturer may be able to help.
We hope this look at counters has been helpful. For tips around the kitchen, as well as the very best cookware and appliances to have in your kitchen, please explore Chef's Pick further. We have the very best kitchen equipment for home chefs right here.

Scott is a writer and a passionate home chef. His passion for cooking began when he was 10 years old. Scott has been writing professionally for over five years now and loves to combine his passion for cooking with his day job.