There are so many different options for cookware it can be difficult to know which pots and pans to purchase.
Stainless steel cookware is a popular choice among professional chefs and home cooks alike. However, this metal comes in many different grades, some of which are food-safe and others that don't have a place in our kitchen.
Surgical steel is the metal used to make medical tools or metal implants used in surgical procedures. And you can now purchase cookware made from this same material!
Here we look at what surgical stainless steel cookware is in more detail and whether it's a good option for our kitchen.
What Is Stainless Steel Cookware?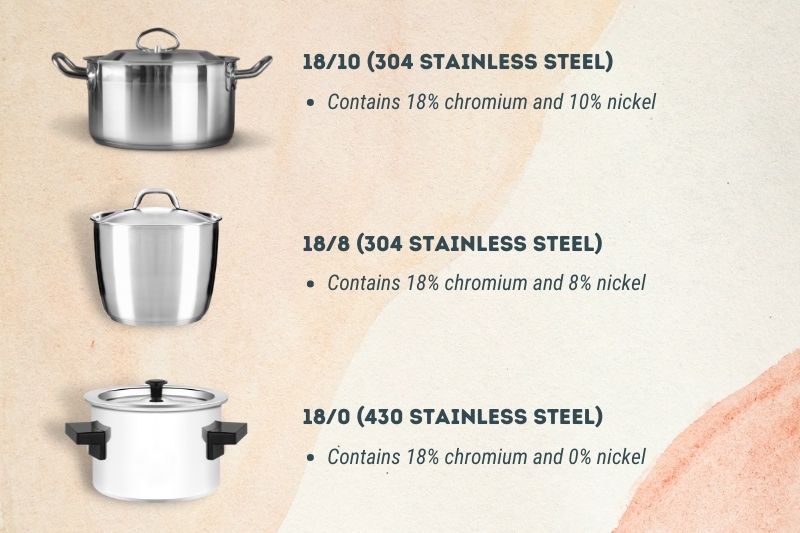 Stainless steel is the term we use to describe a metal alloy made predominantly from iron and chromium.
To be classified as this metal, it must contain at least 10.5% chromium and less than 1.2% carbon or other metal such as titanium, aluminium, nickel, and copper.
The percentage of chromium and other metals within the alloy allows us to grade stainless steel. For stainless steel to be considered safe for kitchen use, it must contain at least 16% chromium as this component is essential in preventing corrosion.
Therefore, the following stainless steel grades are the most widely accepted for use in cookware:
18/10 (304 stainless steel): Contains 18% chromium and 10% nickel

18/8 (304 stainless steel): Contains 18% chromium and 8% nickel

18/0 (430 stainless steel): Contains 18% chromium and 0% nickel
Is Surgical Stainless Steel the Same as Stainless Steel?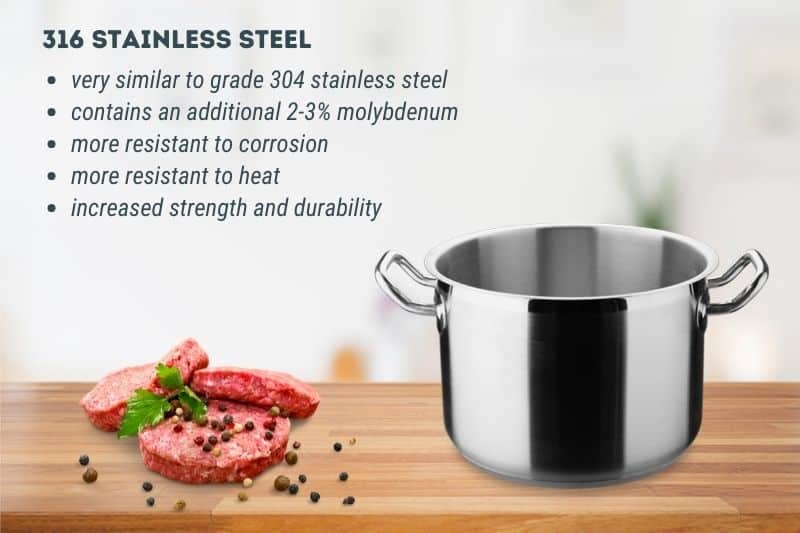 Surgical stainless steel is a type of stainless steel. However, not all stainless steel is surgical-grade!
Although there is no formal definition of surgical steel, it is generally considered grade 316 stainless steel.
Grade 316 stainless steel is very similar to grade 304 stainless steel commonly found in cookware, but it contains an additional 2-3% molybdenum.
The molybdenum content makes the metal more resistant to corrosion, hence its common application for surgical implants.
However, this compound also makes the metal more resistant to heat and increased the overall strength and durability of the metal.
What Is the Best Grade of Stainless Steel for Cookware?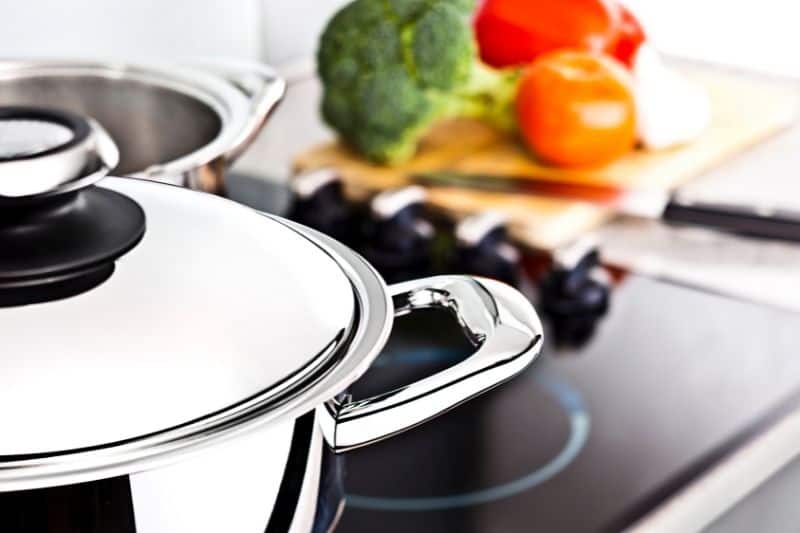 Both grade 304 and 316 stainless steel are excellent options for cookware. They're durable, easy to clean, are non-toxic.
Stainless steel is also a great conductor of heat, which allows for even heating and efficient cooking.
Grade 430 stainless steel is also a fantastic low-cost alternative for anyone wanting these benefits without a hefty price tag.
However, surgical stainless steel (grade 316 stainless steel) comes out on top for three main reasons, outlined below.
Benefits of Surgical Grade Stainless Steel in Cookware

1. Withstands high heat applications
Firstly, its ability to withstand extremely high means surgical steel cookware can be used for cooking at very high heat and is safe for use in the oven or under a grill.
You don't need to ever worry about the pan warping shape or becoming damaged through high heat applications. It is one of the strongest and most durable metals around.
2. Better for cooking acidic foods
Secondly, surgical stainless steel is more resistant to chemical damage and corrosion. This might not seem like a major concern in the kitchen, but acidic foods such as lemon or tomatoes can cause reactive metals to leach ions into your food.
These ions can change the taste of your dishes, giving them an unwanted metallic flavour.
3. Safer cookware option
Finally, nickel and chromium that leach from regular 304 stainless steel cookware can be problematic for people with allergic contact dermatitis (ACD).
Ingesting the metal ions in your food can exacerbate the condition. However, this isn't a risk when cooking with surgical-grade stainless steel pans. Their anti-corrosive and unreactive properties mean it is one of the safest cookware options around.

Hannah is a freelance content writer and self-proclaimed foodie. When Hannah isn't sitting tapping at her laptop, you'll probably find her in the kitchen. As an ex-chalet host, she's used to cooking four-course meals for 10+ people and loves feeding friends and family whenever possible.