If your Belling cooker has developed a fault, it's time to find the reason behind it.
Cooker faults can vary from not cooking your food at all to burning it to a crisp. Hopefully, you will find the cause and how to fix the problem below.
We do strongly recommend that any faults with a cooker are solved by either a qualified gas-safe or electrical engineer, though. This ensures that your cooker will perform safely and correctly.
The information about cooker faults and how to fix them below should only be used as a diagnostic tool.
Common Issues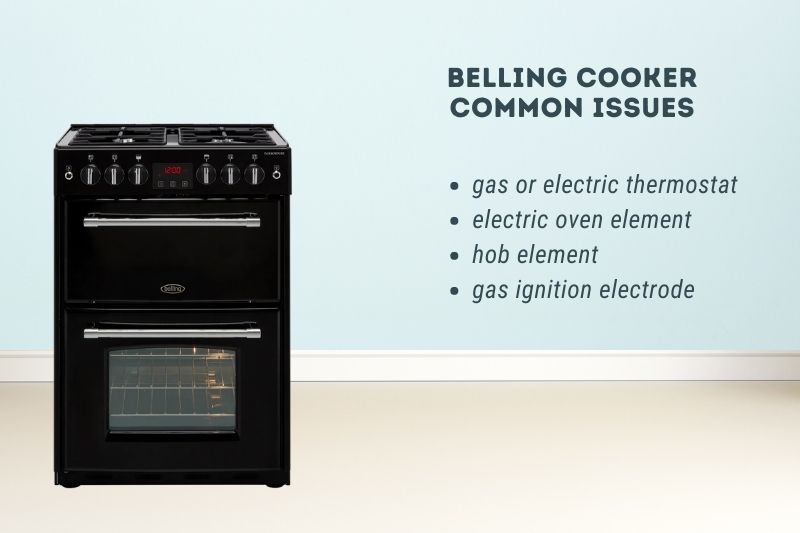 There isn't only one fault that may be the cause of your cooker not working correctly. So, we've listed a few of the common culprits below.
Gas or electric thermostat
Electric oven element
Hob element
Gas ignition electrode
What You'll Beed to Troubleshoot Issues
Owner's manual (this isn't critical, but handy if you have it).
Model and serial number – you can find this on the badge of your cooker.
Common Problems with Belling Cookers
Electric oven isn't heating up
To test whether your oven isn't heating up correctly, you can turn it on, leave it for 5-10 minutes and see if the oven cavity is hot. If it isn't, then chances are your heating element has broken.
Solution
The oven element is the device that is responsible for heating up the oven, so if this is broken, the oven won't work at all.
Thankfully, electric cooker elements are simple to install and are very reasonably priced, even if you have a Belling that is only a few years old. Replacing a broken heating element in a Belling oven can take an electrical engineer less than half an hour.
Oven is getting too hot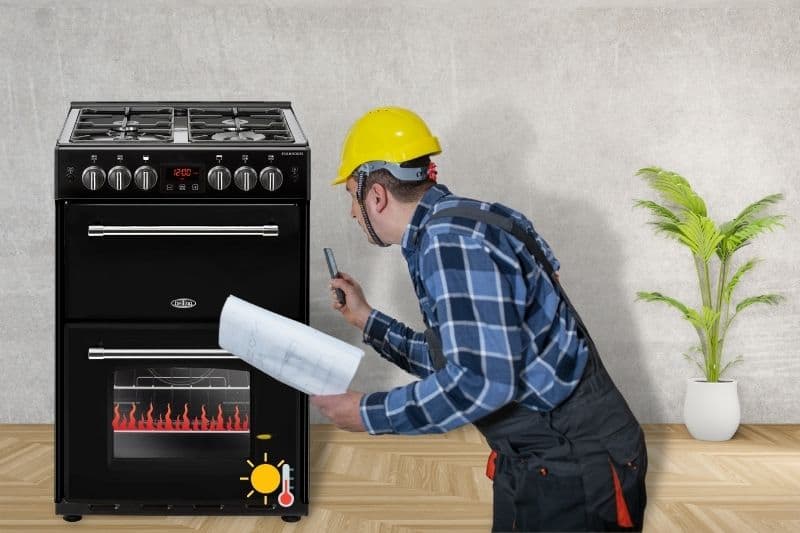 If your oven is burning everything you try and cook to a crisp, it is likely that your gas or electric thermostat is faulty. This is the part that ensures your oven doesn't get too hot. If it has a fault, your oven will just get hotter and hotter.
Solution
Thermostats are one of the trickiest parts of an oven to replace in gas or electric ovens. So, save yourself the potential of endangering your household and get a professional gas-safe engineer or electrical engineer to come in and replace it for you.
Hob isn't working
If you find that a hob ring isn't heating up at all, you likely have a faulty gas ignition electrode or a faulty hotplate element.
Solution
For an electric hob, you'll need a new element, just like the heating element in the oven we spoke about earlier.
These can be trickier to install on a hob, so an electrical engineer with experience will likely be required. You also need to get the correct heating element for the job you have.
There are differences between heating elements for ceramic, solid and induction hobs. While you could source the part yourself, it may be easier to tell the electrical engineer the fault and have them source it for you.
For gas hobs, it is likely that the ignition electrode is broken or the ignition system needs a good clean. If you can hear the clicking sound of the ignition system trying to ignite a flame, it is likely blocked and needs a clean. If you can't hear the clicking, the electrode is broken.
Cleaning your hob's ignition system isn't too difficult; it only takes a little bit of time. If the electrode has broken, though, you will need a gas-safe engineer to come out and replace it.
We hope this look at common faults with Belling gas cookers has been helpful. There is information for fixing these faults and replacing these parts available elsewhere. However, fixing these faults on a cooker can be tricky and dangerous.
So, if you don't feel comfortable fixing these faults yourself, please get a gas-safe or electrical engineer to do the work for you. While it will cost more, it will ensure your cooker is safe to use and repaired correctly. For more info about Belling cookers, please explore Chef's Pick further.

Scott is a writer and a passionate home chef. His passion for cooking began when he was 10 years old. Scott has been writing professionally for over five years now and loves to combine his passion for cooking with his day job.