Have you been thinking about upgrading your kitchenware and are wondering what the best option is?
Maybe you've heard about the pros of 18/10 stainless steel, but are unsure what it is and whether it's worth the investment…
If so, you've come to the right place. This article breaks down exactly what 18/10 stainless steel is and whether it's good for pots and pans.
What Is 18/10 Stainless Steel?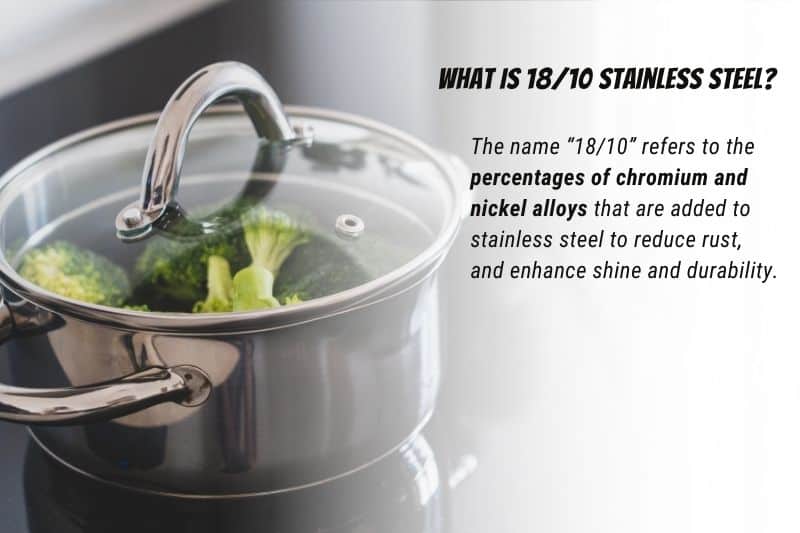 While stainless steel has many benefits for cooking use (it's robust, aesthetically-pleasing, and not prone to rusting), as metals go, it's not the best conductor of heat.
18/10 stainless steel is designed to cover all bases of your cooking needs, and is comprised of four main metal components: iron, carbon steel, chromium, and nickel.
Iron is a soft metal, so carbon is required to make it sturdy, and the carbon steel is what allows the pan to draw heat quickly.
The name "18/10" refers to the percentages of chromium and nickel alloys that are added to stainless steel to reduce rust, and enhance shine and durability. This combination makes it a great pan choice for your kitchen.
Is 18/10 Stainless Steel Good for Pots and Pans?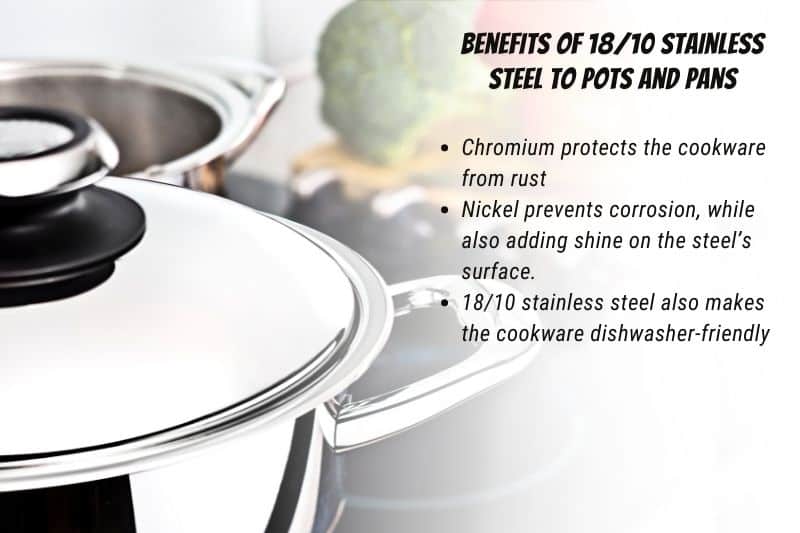 The percentages within these stainless-steel items are specifically designed to enhance your cooking experience and outcome so yes, they are good.
Chromium attaches to the stainless steel surface and protects it from rust caused by the acidity found in many types of food. Nickel prevents corrosion, while also adding shine on the steel's surface.
It's quite simply good chemistry that results in powerful heat conductivity, rust-resistance, and sturdiness that'll ensure your pan serves you well. It's usually dishwasher-friendly too.
What Are the Negatives of 18/10 Stainless Steel?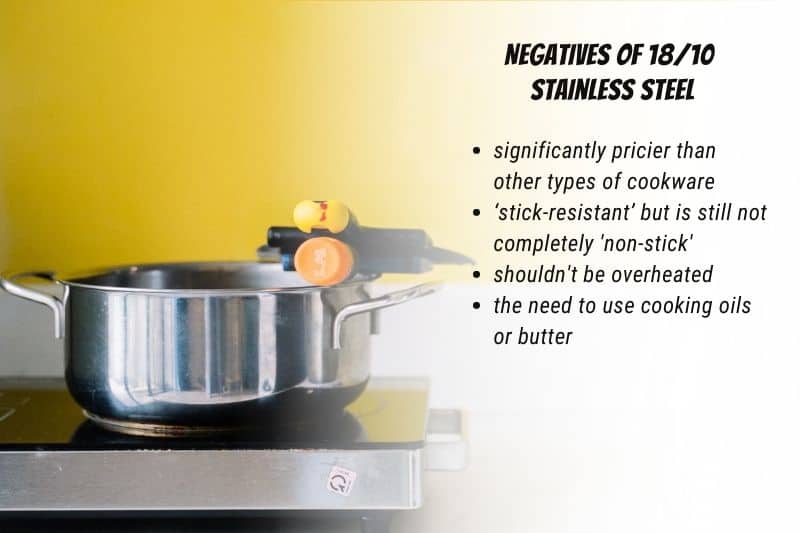 Like most things, 18/10 stainless steel isn't perfect and does come with a few disadvantages. The most common one being that it isn't always a cost-effective option. Stainless steel cookware is often significantly pricier than its non-stick, carbon steel, and cast iron cousins.
This is simply because it contains high-quality materials that ensure it's strong, resilient, and covers a multitude of other factors that make the cooking experience easier and more rewarding.
Also, the 'bonding' process of combining these materials is a complicated process that takes time and effort for manufacturers to achieve the desired result.
Also, while stainless steel is generally 'stick-resistant', this shouldn't be confused with 'non-stick'.
Foods, such as egg-based meals or pan-seared fish, run the risk of sticking to the inside of your pan. There are, of course, ways to avoid this, but these pans are notorious for often being a nuisance to clean.
It's important not to overheat your 18/10 stainless steel pan. You will need to use cooking oils or butter, too, which can be unappealing to those looking to lower their fat/dairy/oil content within their diets.
Conclusion
The combination of metals is why this type of pan ticks numerous boxes for many cooking enthusiasts, so if you have a keen interest in well-crafted food, these pans are a great addition to your kitchen.
Although you may have to shell out more for a 18/10 stainless steel cookware set than perhaps with other material types, it's worth the investment; and if well-maintained, your pans will reward you with years of loyal service.

Clara is a freelance writer and former chef. Though she may have hung up her apron, her love of food and cooking is still going strong! When she's not whipping up a verbal storm, she'll be in her kitchen sipping wine and whipping up a culinary storm.