Paella is a world-famous dish that evokes images of sunny seaside Spanish holidays for us here in the UK. The word paella is actually means pot or pan in Catalan and Valencian, indicating how important the pan itself is to the dish.
If you want to make authentic paellas, you need the right kit. We've researched the market and picked out the best paella pans in the UK. We've included traditional carbon steel pans as well as non-stick pans and options with lids.
Now, shall we look at the best paella pans in the UK right now?
The Best Paella Pans in the UK
1. INTIGNIS Professional Paella Pan with Oven Safe Lid
Diameter: 36 cm
Materials: Cast aluminium, non-stick coating
This 36 cm lightweight aluminium paella pan comes with a lid. We know that paella purest will be screaming at their screens right now, but there are some cooks that love to have a lid when cooking paella.
Plus, the addition of the lid means that this pan has a host of different uses. And the pan and the lid are both oven safe for even more uses.
The pan itself also has a ceramic non-stick coating. This is an ultra-tough coating that nothing will stick to. So, you'll use less oil while cooking and even use metal utensils with this pan.
This pan is made from cast aluminium, so it is thick but light and offers plenty of control over heat while cooking, a must when cooking paella.
2. Cadac Paella Pan
Diameter: 47 cm
Materials: Aluminium, non-stick coating
We love the simplistic look of this paella pan. It looks lovely and modern with its shiny black exterior and black non-stick coating in the pan itself.
It also has rounded stainless steel handles which are riveted nicely to the pan. These handles offer a lot of control while cooking, and they look great too.
This paella pan is made from stainless steel, which has excellent heat retention and distribution.
The pan heats up very quickly, and this heat spreads and covers the entire pan. This is crucial, of course, when cooking dishes like paella.
If you'd like a modern-looking paella pan that still works as perfectly as a traditional pan, this one should be right at the top of your list.
3. INTIGNIS Cast Aluminium Paella Pan
Diameter: 40 cm
Materials: Cast aluminium, non-stick coating
This paella pan is made from cast aluminium, so it's heavy and robust. It also means that this paella pan is perfect for any tasks that a cast iron skillet performs too.
We have opted for the 40 cm one here, but they have a few other sizes available too. The cast aluminium has a layer of non-stick marble coating to ensure that the food never sticks.
Plus, it is safe on all hob types including induction, although the base may not work on the smaller hob rings.
As this is cast aluminium, it heats up quickly and evenly, which is perfect for paella, but not great for your fingers.
Because of this, you get two detachable silicone handles with this pan. They are easy to attach while cooking, and you can remove them simply if you are transferring this pan to the oven too.
4. KitchenCraft World of Flavours Paella Pan
Diameter: 46 cm
Materials: Carbon steel, non-stick coating
This is a 46 cm paella pan, one of the biggest on our list. This can make paella for up to eight people, but it is lovely and light, so moving it around even when full of delicious paella is really easy.
A pan like this one is built to last. It is made using carbon steel which is a very traditional material for paella pans.
Carbon steel can be very thin without warping. This allows for very delicate temperature changes no matter what fuel source you're using.
Carbon steel is also really durable and tough, so this pan will likely last you years of paella parties.
This is a very traditional paella pan, but with modern advantages like a brilliant non-stick coating. It is one of the most responsive pans for temperature changes on the market and will be perfect for anyone serious about making paella.
5. La Valenciana Enamel Steel Paella Pan
Diameter: 34 cm
Materials: Enamelled steel
The paella pan that we are featuring here is 34 cm wide, and so it is perfect for six servings. However, La Valenciana makes varying sizes of this pan.
The pan itself is enamel steel. So, it heats up quickly and has some excellent non-stick properties too.
The company is based in Valencia, Spain, the home of paella. And they make their pans as traditionally as they can while using modern machinery and processes.
This paella pan, then, performs and looks just like the real thing because it is the real thing. It has two metal handles that are securely fastened to the body of the pan and an excellent non-stick coating to ensure the paella doesn't stick and that the pan is very easy to clean and maintain.
The best thing about this paella pan, though, is that it is very close to a traditional pan and very inexpensive too.
6. Victor CW805 Cast Iron Paella Pan
Diameter: 35 cm
Materials: Cast iron
Finally, we have a cast-iron paella pan, probably the most traditional paella pan on this list.
Once again, you'll need to season this pan. There is only one size of pan for this one, and that is 34 cm. So, it will be perfect for 6 servings.
As long as you keep this paella pan seasoned, this will be with you for many years of paella parties. You can use it in the oven, on the BBQ, in a pizza oven or over a fire pit if you like.
Just take care of the seasoning, and the paella will take care of you!
Also, apparently, it is perfect for cooking pizza in the oven, but that has to be some sort of cooking faux pas, right? So, forget I said anything about that!
7. John Lewis & Partners Classic Speciality Non-Stick Paella Pan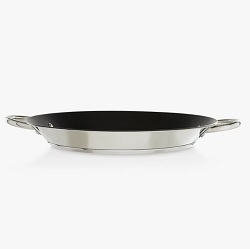 Diameter: 36 cm
Materials: Stainless steel, non-stick coating
Next up, we have this beautiful stainless-steel paella pan from John Lewis. This is a 36cm paella pan, which is perfect for up to four people.
This pan has a lovely weight to it. It isn't too heavy, but you certainly know you're carrying it when you're taking it to the table full of paella.
It has a thick stainless-steel base which lends itself nicely to cooking other dishes in this pan, not just paella.
So, any one-pot dishes are achievable in this pan. Plus, you can use this paella pan on any hob type, including induction.
Although the pan may be too big for most induction hobs with single zones, it will work great on hobs with linked zones.
The style of this paella pan really won us over, though. It is excellent to use, and it looks fantastic when presented on the table.
What Can You Do With a Paella Pan?
Paella pans are much more versatile than most people think. Many think that paella pans are simply for making paella and that the pan is named after the dish.
However, the dish is actually named after the type of pan it is made in. So, a paella pan is actually really just a particular type of frying pan.
Granted, it is a big frying pan, but it can be used for anything that a frying pan would be used for. So, frying steaks, bacon and eggs. Making pancakes even. A paella pan is just as useful as a regular frying pan.
You see, a paella pan is designed to evaporate as much liquid as possible, this is what gives paella its beautiful golden-brown colour. It achieves this because it has a very wide, flat base and shallow sides. Also, the reason that a paella pan is so wide is so the rice can cook in one even layer that isn't too thick.
Oh, and there's one more thing about paella pans that make them awesome too! Most paella pans are made entirely out of metal without any plastic handles. This means that a paella pan can also be transferred from the hob to the oven.
So, you can use a paella pan as a roasting tray if you wish. Or for making some fantastic one-pot meals by searing your meat on the hob and then popping the whole pan in the oven.
In short, paella pans are very versatile, but which size should you buy?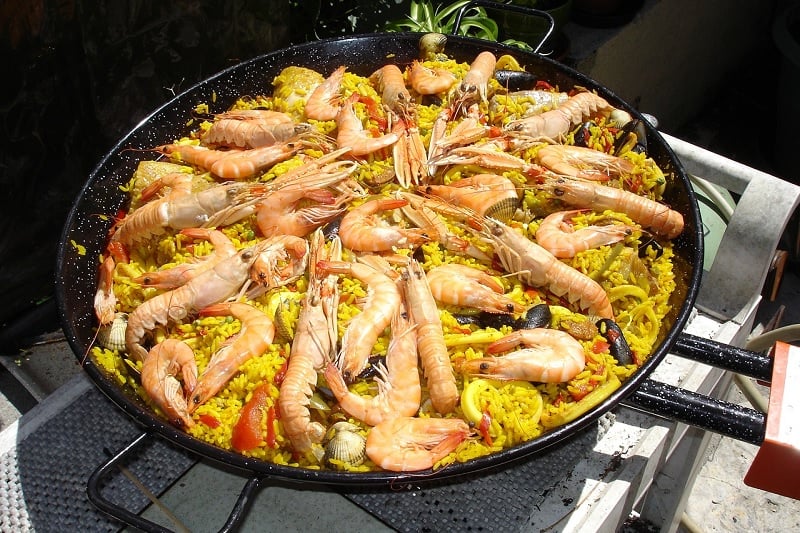 What Size Paella Pan Should I Buy?
The biggest paella pans that are widely available are around 150 cm wide. These make enough paella to feed about 300 people (that isn't a joke). So, for most of home chefs, we probably won't need that one!
Still, when you are choosing a paella pan, think about how many people you're going to cook for regularly. Or if you want a paella pan for parties, think about how many people you normally invite.
Here is a size guide for paella pans to help you choose:
2 servings – 26 cm
4 to 6 servings – 30 to 40 cm
8 to 12 servings – 38 to 46 cm
These are the sizes of paella pans for more general use.
We hope you find the perfect size for your paella pan.
What Cookware Material Is Best for Paella Pans?
Carbon steel is the material used in all traditional paella pans. This is because carbon steel heats up extremely fast but responds to temperature changes very quickly as well.
So, if your paella is starting to burn, you can turn the temperature down, and carbon steel will respond almost instantly.
The other great thing about carbon steel is that it's extremely tough and durable. So, over really high heat, it won't warp at all.
The only downside to carbon steel paella pans (not all but most) is that they need to be seasoned, and you need to keep on top of the seasoning to ensure your rice isn't sticking to it.
This is why some paella pan makers use things like stainless steel and aluminium combined with a non-stick coating instead. These pans aren't as responsive as carbon steel when it comes to temperature changes but still do a brilliant job with paella and other dishes.
So, carbon steel is the traditional material used for a paella pan, and most paella professionals say it's the best.
However, if you don't want to deal with seasoning it, a stainless-steel paella pan is your next best choice. It is nice and responsive, durable and will last just as long as carbon steel too.
How Thick Should a Paella Pan Be?
A paella pan shouldn't be made of very thick material. Even cast-iron paella pans are thinner than a cast iron skillet, for example.
This is because if a pan is made from thick metal, the metal will hold onto the heat during cooking.
With paella, though, you need a pan that responds quickly to temperature changes so that you can quickly heat it up and cool it down when needed.
When looking for a paella pan, we also wouldn't recommend a very thin pan either. Thin pans can warp with heat and become unusable over time. So, a paella pan should ideally be somewhere in the middle.
Not so thin that you can bend it with your hands, but not so thick that it doesn't respond to changes in temperatures.
Should a Paella Pan Have a Lid?
Paellas are traditionally cooked uncovered, so no, paella pans don't need a lid, and most don't come with a lid.
However, there are some chefs that prefer to have a lid for their paella pans, which is why we've included a pan that does come with a lid above.
Now, paella purists may judge you for using a lid, but if that's the way you like to cook them, we say go for it.
Plus, a paella pan with a lid may offer some versatility for other dishes too. So, buying one with a lid may be a better option if you're concerned about not using the paella pan enough to justify buying it in the first place.
Conclusion
Well, there is our list of amazing paella pans and some information about paella pans for those that didn't know.
The INTIGNIS Professional Paella Pan is a great choice if you want something that is compact and inexpensive, while the KitchenCraft World of Flavours Paella Pan is ideal if you something more traditional as it's made from carbon steel.
For more information about paella pans, do explore our website further. In fact, if you'd like more information about any cookware, we have it all right here for you to enjoy.

Scott is a writer and a passionate home chef. His passion for cooking began when he was 10 years old. Scott has been writing professionally for over five years now and loves to combine his passion for cooking with his day job.