British consumer goods brand JML produces a range of "copper stone" cookware. But what is "copper stone"? Does it actually contain copper? Does it contain stones?! Read on to find out.
JML copper stone pans generally have a three-layer construction, consisting of a non-stick, scratch-resistant top, a forged aluminium core and a stainless-steel base.
The stone-effect non-stick surface offers a modern approach to cooking in comparison to the more traditional frying pans, such as chunky, dish-soap-hating cast-iron products. They are also super stylish looking, and offer a cosy, rustic look.
What Are They Actually Made Of?
JML copper stone pans are comprised of a forged aluminium core, a stainless-steel base, a triple-layered non-stick surface, with rustic-looking wooden handles, and a copper-effect finish. They don't actually contain copper; they are just copper coloured.
The non-stick coating is free from PTFE and PFOA.
The combination of the aluminium and stainless steel ensures an even distribution of heat throughout the pan.
What Are the Benefits of Copper Stone Pans?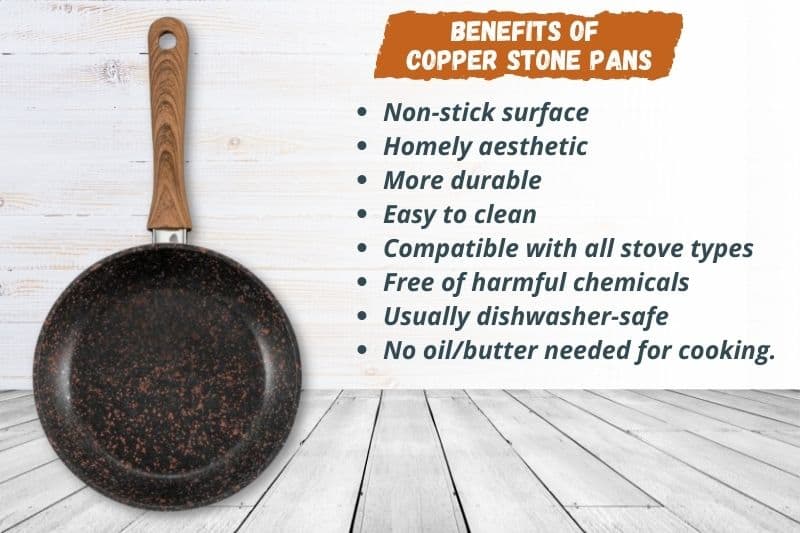 Non-stick surface.

Cosy, homely aesthetic. The warm look and wooden handle add some personality to your kitchen.

More durable and robust than standard non-stick pans.

Easy to clean.

Compatible with all stove types, including induction.

Free of harmful chemicals often used in non-stick pan coatings.

Usually dishwasher-safe, but worth always double-checking the manufacturer guidelines.

No oil/butter needed for cooking.

Clara is a freelance writer and former chef. Though she may have hung up her apron, her love of food and cooking is still going strong! When she's not whipping up a verbal storm, she'll be in her kitchen sipping wine and whipping up a culinary storm.