Trifle is a classic British dessert and a crowd-pleaser at summer parties and BBQs.
Made by layering sponge cake, fresh fruit, whipped cream, and a thick layer of custard, it is easy to assemble and doesn't take much time. And despite the little effort entailed, the result is always light and delicious, sure to go down a treat.
To simplify the process, many trifle recipes call for ready-made custard. It's a great time saver and an easier alternative to making custard from scratch.
However, shop-bought custard is often too runny and sloppy for trifles. It ruins the beautiful layers of fruit, custard, and cream that you're trying to create.
How Do You Thicken Ready-Made Custard?
Thankfully, there is an easy fix for runny ready-made custard: flour.
Knowing how to thicken ready-made custard for trifle with flour is a must-know kitchen hack.
It ensures you create a perfect trifle every time, and it's also extremely easy to do! S
imply follow the steps below to transform your sloppy shop-bought custard into a luxuriously thick layer for your trifle.
How to thicken ready-made custard with flour
Pour the ready-made supermarket custard into a pan and place it over a medium heat
In a separate bowl, mix 2 tbsp of flour with 4 tbsp of cold water until it forms a paste
Whisk this flour and water mixture into the custard as it heats on the stove
Let the custard cool down and place it in the fridge to further promote thickening
This method works as flour acts as a thickening agent. When flour is added to the liquid, the starches expand. This makes the custard thicken and become more viscous. What's more, you can use this method to thicken all kinds of sauces and gravies, not just custard.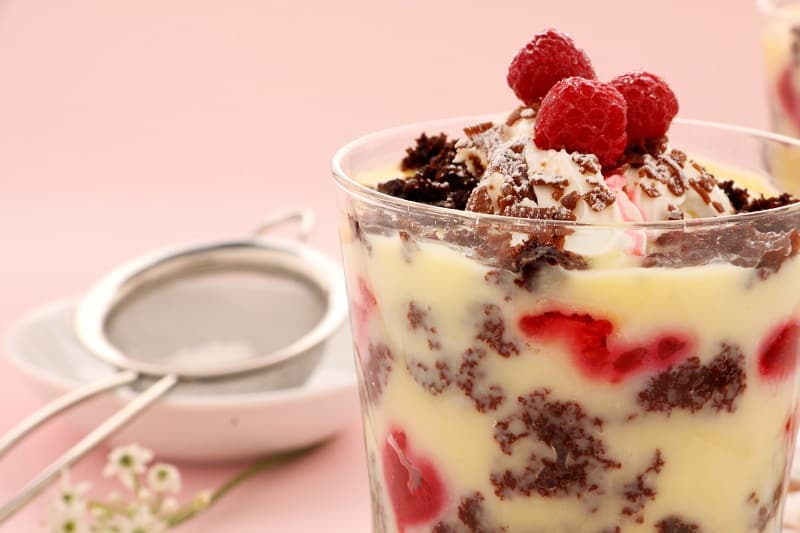 Other options for thickening custard
Flour is one of the best options for thickening ready-made custard for trifles as it is readily available in most kitchens. However, isn't the only thickening agent you might have to hand.
Cornstarch and tapioca are two great alternatives.
If using cornstarch, mix 1tbsp with equal parts of cold water before adding this mixture to the warming custard.
On the other hand, 1 tsp of tapioca can be added directly to your custard as it warms to make it nice and thick.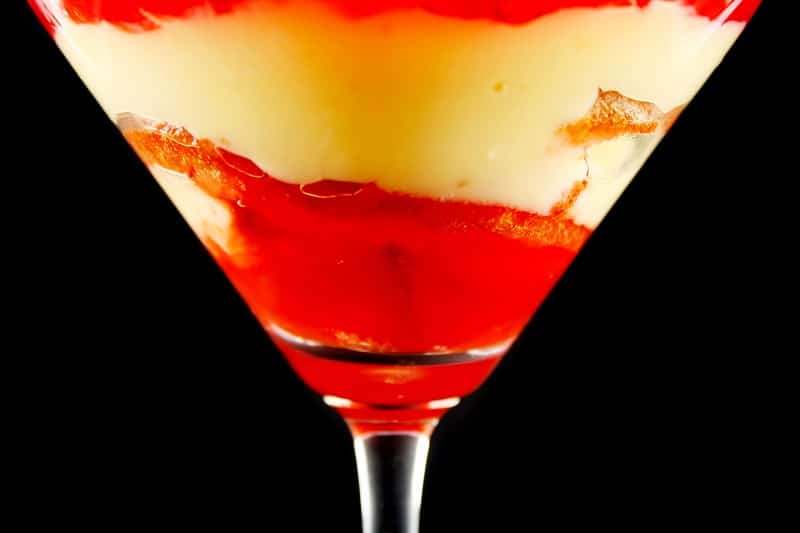 How Do You Thicken Bird's Custard for Trifle?
A compromise between ready-made custard and making custard from scratching is to use custard powder.
Bird's custard is the best-known brand of custard powder in the UK and another good option for trifles. However, if you don't make it correctly the custard might not reach the right consistency.
Here are our top tips on ensuring your Bird's custard doesn't come out too runny:
1. Use more custard powder
When making thick custard for a trifle, you should use double the amount of custard powder for the same amount of milk that is recommended on the packet.
You can add even more powder if you want an even thicker consistency. When adding more power, stir in extra sugar or vanilla to keep the sweetness.
2. Mix with cold milk first
Always mix the custard powder with a small amount of cold milk first. This helps to ensure all the power gets saturated in the liquid and avoids lumps from forming.
You can then heat the remaining milk on the stove and slowly pour the custard powder mixture into the pan. Whisk as you do so, and only allow the mixture to boil for a couple of minutes.
3. Use whole cow's milk
When using custard powder to make trifle custard, use whole cow's milk where possible. At a minimum, use 2% milk.
The added fat in the milk will give the custard a thicker consistency, besides making it tastier. Plant-based milk doesn't work as well and you may struggle to thicken your custard when using a dairy-free alternative.

Hannah is a freelance content writer and self-proclaimed foodie. When Hannah isn't sitting tapping at her laptop, you'll probably find her in the kitchen. As an ex-chalet host, she's used to cooking four-course meals for 10+ people and loves feeding friends and family whenever possible.