Today, we're looking at the best dual fuel cookers in the UK right now. We'll also be answering some questions about dual fuel cookers, like whether or not they cost more to run.
So, if you're interested in adding a dual fuel cooker to your kitchen, this is the perfect article for you.
Let's start by looking at the best cookers available in the UK right now, shall we?
Best Dual Cookers in the UK
1. Stoves Sterling STERLING600DF 60cm Dual Fuel Cooker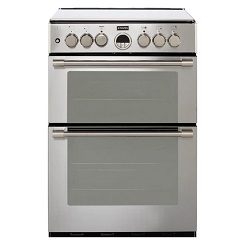 Main oven capacity: 65 litres
Energy rating: AA
Stoves have been a quality name in kitchen appliances for many years. This latest dual fuel cooker ensures that its name continues to be associated with quality in the kitchen.
The cooker is extremely stylish, making it perfect for just about any kitchen. However, it also has all of the power you need to cook great meals too. The main oven is fan assisted, and the second oven is conventional. So, bakers and chefs will enjoy using the oven.
The hob has four gas rings that are protected by a glass top when not in use. This makes the hob nice and safe but also offers you a bit more working area when preparing dinner.
The large cavities and the additional working surface really make this cooker wonderful for a family home or a home that cooks large meals a lot.
2. Hotpoint HDM67G9C2CB Double Oven Dual Fuel Cooker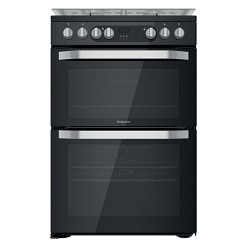 Main oven capacity: 72 litres
Energy rating: A/A
Thanks to the amazing responsiveness of the gas hob and the 72-litre capacity of the electric oven on this cooker, cooking large meals at home has never been easier.
With the powerful hob, you'll have your veg boiling in no time. However, the fine controls also ensure complete control when searing steak or salmon.
The cooking versatility that this cooker provides really is lovely, but so is the easy cleaning. The liners in the oven absorb grease.
So, to keep the oven clean, you only need to wipe the surfaces. This means that for a busy family home, cooking and cleaning are fast!
The simplistic yet modern design of this cooker also means that it will look excellent in any kitchen.
And the glass cover for the hob means that you have extra counter space when the hob isn't in use.
3. Beko Pro KDDF653W 60 cm Dual Fuel Cooker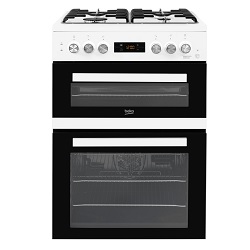 Main oven capacity: 69 litres
Energy rating: AA
This Beko dual fuel cooker has all of the cooking power anyone could ever need. The main oven has a fan, so it keeps the cavity nice and warm throughout.
The second oven is a conventional oven that also acts as a grill. Both ovens are electric, while the hob is gas. The gas hob really allows you to dial in the temperature just as you'd like it. There are also four burners, so plenty of cooking space.
This cooker is white, so you may need to up your cleaning game to keep it looking fresh. However, it does add a lot of style to your kitchen and can breathe life into even the most modern of kitchens.
Overall, this dual-fuel pro cooker from Beko is really enjoyable to use. It is responsive and doesn't have too many functions to make cooking complicated. You're in control of this powerful and stylish cooker.
4. Smeg SUK61MBL9 60 cm Dual Fuel Cooker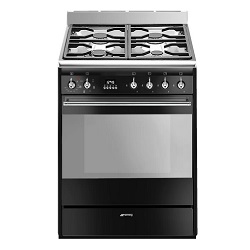 Main oven capacity: 70 litres
Energy rating: A
Smeg is known for making very stylish kitchen appliances, and this oven is certainly no exception to this rule. It packs bags of style into a brilliant cooker.
The four gas burners up top have a real professional feel about them. The control knobs are really well made as well. You can really the quality when you use them.
There is only one oven on this Smeg model, which may put a few people off. In fact, that is why this Smeg dual fuel came in second on our list.
While the oven does a fantastic job and many chefs will love it, if you're used to having two ovens like us, you may find having only one is a bit restrictive.
If you enjoy having a single oven and a good amount of space, then this cooker will be a powerhouse in your home.
5. Belling Cookcentre 60DF Dual Fuel Cooker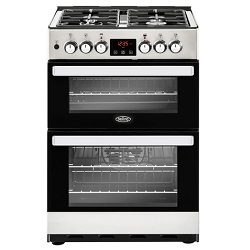 Main oven capacity: 65 litres
Energy rating: A/A
Belling make some of the finest cookers available in the UK, and this dual-fuel cooker is no exception to this.
The stainless-steel design lends itself perfectly to a modern kitchen, but it will also look lovely in a traditional kitchen too. Yet, the controls are ultra-modern and easy to use.
The gas hob has very easy-to-use controls that can be finely adjusted for the perfect heat setting.
The ovens are controlled by a touch control screen that offers ideal settings for certain dishes and complete control of temperatures.
The wok-burner on the stove is fantastic for Asian-inspired dishes, but thanks to its power, it can also be used to boil water impressively fast.
So, whether you are in the mood for Italian, Asian or good old fashion mash, the wok burner will be a go-to!
While this cooker is a bit pricer than some on our list, the functionality, practicality and design ensure that you'll love using this cooker every day!
What Is a Dual Fuel Cooker?
We hope that list of dual fuel cookers has made you fall in love with your next cooker. However, some of you may be wondering what a dual fuel cooker is.
Well, a dual fuel cooker gives you the best of different types of fuel. The examples above all have gas hobs and electric ovens. Some dual-fuel cookers have gas ovens and induction hobs, though.
Basically, a dual fuel offers you control while cooking. The gas hob, for example, allows you to dial in the exact temperature you want. The electric ovens offer a steady and consistent heat to make cooking easy.
So dual fuels really offer you the best of all cooking technology in one, usually very stylish, package.
Do Dual Fuel Cookers Cost More to Run?
You may think that dual fuels cost more to run because they use two fuels. However, the hob uses one type of fuel, and the ovens use a second type of fuel. This means that there is no extra cost to using one of these cookers. In fact, depending on the energy rating of the cooker you are replacing, you may find that a dual fuel cooker is actually saving you money.
All of the cookers we showed you above have an energy rating of A. If your old cooker has a lower energy rating, you could actually see some savings.
Are Dual Fuel Cookers Complicated to Install?
This is probably the biggest drawback to dual fuel cookers: installing them. You see, most kitchens are set up to have one type of cooker, either electric or gas. So, installing a dual fuel can become a bit more complicated.
While many of the big kitchen appliance shops offer installation on dual fuels, they do state that they will take your old cooker away and install your new one. This is their way of saying that you need to actually already have a dual fuel cooker, so they can simply swap out your old one for your new one.
Most dual fuel cookers need to be hard-wired into a circuit. This is a separate circuit for your cooker that stops it from overloading. They also need a gas connection.
If you already have a dual fuel cooker, then you're already set up for all of this, and installation will be easy. If you don't have an electrical circuit dedicated to your cooker, or you don't have a gas connection for a cooker, installation does get complicated.
In this case, you'll need to have the missing connection installed either by a qualified electrician or a gas-safe engineer.
The prices for both can vary wildly, and it really depends on how complicated the job will be. If you don't have one of these connections in your kitchen, it is worth getting a quote from a qualified electrician or gas engineer before investing in your new cooker.
What Does my Kitchen Need for a Dual Fuel Cooker?
If you are replacing a dual fuel cooker, then your kitchen probably already has everything you need. Installing your new dual kitchen will be very simple.
However, if this is your first dual fuel cooker, chances are you won't have all of the connections you need to make the cooker function.
Most homes in the UK are set up to run either gas or electric cookers. So, you'll have one connection ready, but you'll need to have the other connection installed correctly.
If you already have a gas oven, for example, you will need to have a 32-amp cooker circuit installed. The price of this circuit varies greatly depending on where you live and even which local electrician you choose.
The same goes for the gas connection. So, do shop around to find the best local tradesperson to install the connection for you.
A rough ballpark figure for these connections is £100-£200 each. You will likely only need one, though, unless, for some reason, your home has never had a cooker in it before.
Is Dual Fuel Better than Just Gas?
Many bakers and cooks love dual fuel cookers as they offer the speed and control of gas on the hob rings but the constant and steady temperature of electric in the ovens.
Gas ovens are not the most stable; the temperature can fluctuate by 20 degrees or more throughout the cooking process.
A good electric oven doesn't have this issue and can usually stay within 10 degrees of the set temperature for most of the cooking time.
If you make a lot of sauces or jams, for example, a gas hob is almost vital. You can really dial in the temperature on a gas hob. As you're controlling a flame rather than a red ring of hotness, what you do to the control knob has a direct impact on the pot or pan you're cooking with.
If you do a lot of baking, though, an electric oven is perfect. They keep a very constant temperature, so baking cakes is so much easier. So, it's as if dual fuel cookers were built for making a Victoria sponge with homemade jam!
Should I Install a Dual Fuel Cooker Myself?
You can hook up the gas of a dual cooker yourself, but you must get that connection checked by a gas safe registered engineer before you start using it.
You also can't connect an electric cooker to its circuit by yourself. You need a trained electrician to do this part for you.
So, while you could connect the gas, there really isn't much point. You might as well have your dual fuel cooker installed by the pros.
Most of the big retailers do offer installation on most types of cookers and will send a qualified engineer out to install it at the same time as delivery.
However, during our research, we couldn't find a clear answer from AO, Appliance Direct or Currys, for example, as to whether they will install a dual fuel cooker when they deliver it.
We know that they can't unless you have all connections in place already, but whether they will provide a gas-safe engineer and an electrician to safely install your dual fuel cooker is unclear.
Conclusion
We hope this look at dual fuel cookers has been helpful and that you found the perfect cooker above for your kitchen.
While we love all of the cookers above, we would have to go with the Stoves Sterling STERLING600DF, which is very stylish and highly rated. However, it's quite pricey, so if you want something more affordable we'd recommend the Beko Pro KDDF653W.
To find more cookers to fall in love with, please explore Chef's Pick further. We have the latest and greatest cookers right here that can make your kitchen the heart of your home.

Scott is a writer and a passionate home chef. His passion for cooking began when he was 10 years old. Scott has been writing professionally for over five years now and loves to combine his passion for cooking with his day job.