If you are looking for a great griddle pan, then you'll know that you have loads of options.
Griddle pans come in loads of sizes, they are made from different materials, some are non-stick, others need to be seasoned. Which are best?
Best Griddle Pans in the UK
1. ZWILLING Forte Aluminium Titanium Non-Stick Grill Pan
Size: 28 cm
Materials: Aluminium, stainless steel
This grill pan is made in Italy, and the name comes the word forte, which is Italian for 'strong'.
These pans have and incredibly strong non-stick coating. It's called Ti-X, an abrasion-resistant, anti-scratch, titanium reinforced coating that is basically indestructible.
However, it isn't just the non-stick coating that is robust. ZWILLING has designed one of the best grill pans on the market here.
It has a solid forged aluminium core and a stainless-steel handle securely riveted onto the lightweight body. It has classic ridges for searing meat and veg and pour lips on both sides to help with plating up.
The griddle pan can also be used in the oven so you can finish off the cooking process, and it's also dishwasher safe and suitable for all hob types.
This is a grill pan that will last years and be a joy to use each and every day.
2. The Whatever Pan Cast Aluminum Griddle Pan
Size: 10.6 inches (27 cm)
Materials: Aluminium
The Whatever Pan is made by kitchenware brand Jean Patrique and is designed to do whatever cooking task you need it to.
It is made from die-cast aluminium, so it's nice and heavy, making it feel like a cast iron skillet in use.
The ridges lend themselves perfectly to searing veg and meat, and the addition of the lid means that pretty much any cooking task can be achieved with this pan.
The best thing about this die-cast aluminium griddle pan is that it can be used on just about everything.
It's suitable for all hob types, can go in the oven up to 250 degrees Celsius (the lid is only oven safe up to 180 degrees), and you can use it on open flames too.
So, it is as versatile as a pan can be in so many ways.
We should really mention the design of this pan. Instead of a traditional griddle pan handle, this has two D-shaped handles, more like a large stock pot. This makes transferring from the hob to the oven or the oven to the table really easy.
It looks good enough to be the centrepiece of a very fancy dinner too. The Whatever Pan can be used for whatever you want, and comes at an incredible price.
3. AIGLEFEU 28cm Griddle Pan
Size: 28 cm
Materials: Cast aluminium
This solid cast aluminium griddle pan is designed to offer what a cast iron skillet does without the need to season it.
Thanks to the Whitford Xylan non-stick coating, you can cook meat, fish and veg in this griddle pan all day long, and nothing will stick.
The bottom of this pan is also nice and thick, just like a cast iron skillet. It is 4.5mm thick and has a combination of metals inside. This not only ensures this pan can be used on all hob types, but it also retains heat really well.
In fact, the heavy bottom and sides perform very similarly to cast iron, but again, there is no need to season this pan.
The only true downside to this pan is the pouring spouts. For some reason, the spouts are more like cut-outs. They do their job okay, and you can certainly direct meat juices to where they need to go, but it takes a while to get used to them.
4. Savisto 28cm Premium Cast Aluminium Non-Stick Griddle Pan

Size: 28 cm
Materials: Cast aluminium
For the price, this is an incredibly impressive griddle pan.
It is made from solid aluminium but has an induction base. This makes the base thicker and ensures good heat retention and distribution while making the pan suitable for all hob types.
It also has a detachable handle. A lot of pans are restricted to how long they can go in the oven because of the handle material.
But with this pan, you can pop it in the oven, remove the handle, and then put the handle back on when you're ready to take the pan out.
This really adds a hassle-free experience and offers a lot more cooking versatility to this already impressive pan.
The pan also features a good-quality non-stick coating that will last an impressive amount of time.
If you want a griddle pan at a very affordable price, this is arguably one of the best and can easily outperform pans in higher price brackets.
5. Home Icon Non Stick Griddle Pan
Size: 28 cm
Materials: Aluminium
Home Icon has added the amazingly durable Whitford Xylan non-stick coating to this griddle pan to make it one of the most hard-wearing pans in this price bracket.
The copper/granite effect non-stick coating looks fantastic but performs better than most on the market, and not just in this price range.
The thick bottom of this pan and the sides lend themselves perfectly to brilliant heat retention and distribution.
The base also includes a layer of induction-ready metal, so all hob types can be used with this pan, but it is also so robust that you could use this on the BBQ or over a naked flame.
Along with all the other excellent design features, this pan has a removable handle, draining spouts and classic ridges for the best sear of your life.
6. Tefal Aroma Griddle Pan 26cm
Size: 26 cm
Materials: Cast aluminium
This Tefal griddle pan is made from heavy, cast aluminium. It is nice and thick which allows the pan to heat up nice and evenly and distribute this heat evenly too.
This cast aluminium is nicely complemented by a titanium interior. This means that the pan is non-stick and a bit lighter than other griddle pans without compromising on heat retention.
This griddle pan can sizzle a steak on all hob types and can be used in the oven too. It has the Tefal Thermo-spot also making it simple to tell when this pan is ready to go. Plus, it has a classic look and a pouring spout.
Overall, this griddle pan is very well built, easy to use and nice and versatile. It is a fantastic addition to your kitchen arsenal.
About Griddle Pans
What is a griddle pan?
A griddle pan is a heavy and robust frying pan, basically. These are designed to hold a lot of heat, so they are brilliant for searing meats.
A griddle pan holds a lot of heat because of how thick the metal is. The thicker the bottom and the sides of a pan are, the more heat it will hold throughout the cooking process.
When you are searing meat, heat is vital. When you throw a steak into a pan, the pan will instantly cool down if it is thin.
If the pan is nice and thick, like a cast iron griddle pan, for example, the pan can push through this change of temperature and start sizzling your steak straight away.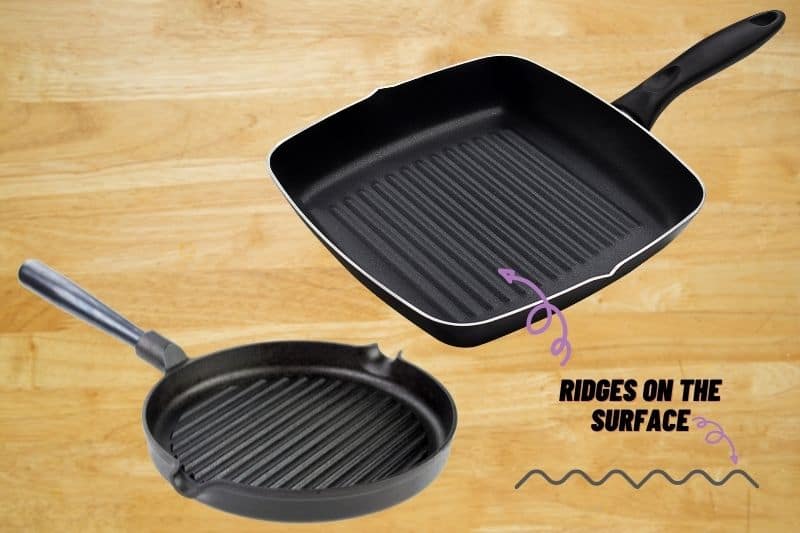 Is a griddle pan essential?
No! A griddle pan isn't essential, but it's a great bit of kit to have in your kitchen. If you love cooking meat, a griddle pan is awesome.
You see, a griddle pan cooks meat quickly, evenly and easily. They are a joy to use and offer amazingly tasty results. For years, my partner and I got by with a standard frying pan, but then we got a griddle pan, and our lives changed instantly.
If your household doesn't eat too much meat, a griddle pan may also still be a valid purchase. While griddle pans are excellent for cooking meat, you can also use them for cooking veg. You can get beautiful sear marks on asparagus, for example, and so much more.
If you love cooking, a griddle pan makes your dishes look more professional. Plus, they provide a lot of versatility but are a joy to use with meats. So, a griddle pan isn't essential, but once you use one, you'll wonder how you ever enjoyed cooking without one.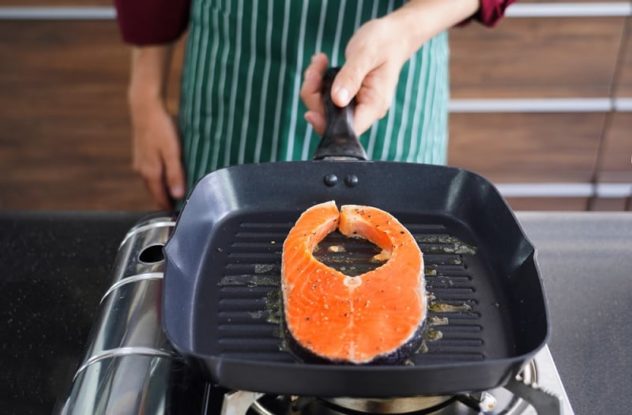 Does a griddle pan need to be cast iron?
Cast iron griddle pans are fantastic, we have included a cast iron griddle pan on our list below, actually. However, a griddle pan doesn't need to be cast iron.
The reason that many cooks favour a cast iron griddle pan is that they are heavy and hold heat very well. However, there are plenty of griddle pans that do the same job.
Many people are slightly put off by griddle pans because a lot of them are cast iron, and cast iron needs to be seasoned.
However, as our list of the best griddle pans shows, there are loads of fantastic griddle pans on the market that are non-stick and robust that will offer everything that a cast iron griddle pan will.
Are griddle pans healthy?
Yes, griddle pans are generally healthier than frying pans. The reason that griddle pans are considered to be healthy is because of the ridges on the cooking surface.
These ridges lift what you are cooking off of the bottom of the pan. This means that the natural fats in meats can drip into the bottom of the pan away from the meat.
It also means that any oil used during cooking will flow away as well.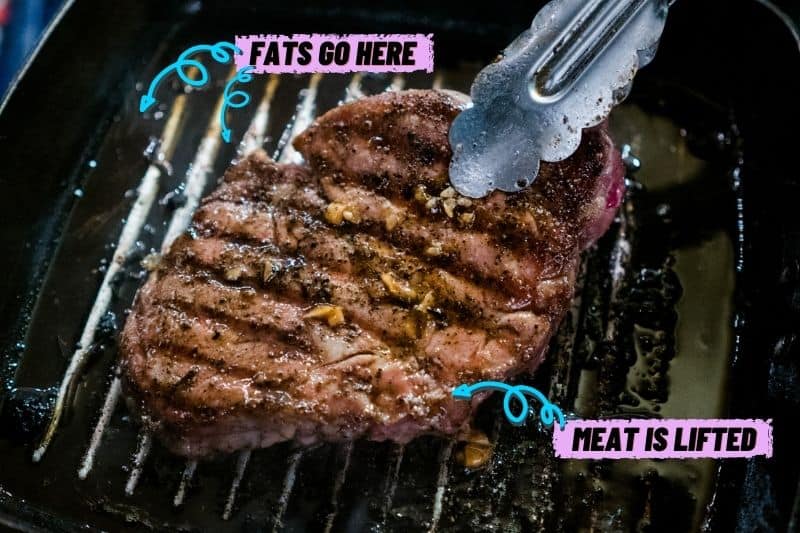 If you've used a frying pan for searing meat, you'll know that the meat is surrounded by fat and oil throughout the cooking process. And when you serve the meat up, the oil and the fat will end up on the plate.
With a griddle pan, you can remove the meat from the pan, and the juices stay behind.
Is meat cooked in griddle pans tasty?
Meat cooked in a griddle pan is extremely tasty, and it is many people's go-to for cooking steaks indoors.
The key is to get the cast iron griddle up to temperature before you put your steaks in. If you do, the pan will seal the surface of the steak almost instantly and trap all of the goodness and tenderness inside the steak.
Just because griddles keep the meat away from the oil and the fat, this doesn't mean the meat isn't tasty. In fact, cooking on a griddle can make the meat even tastier!
The Pros of Griddles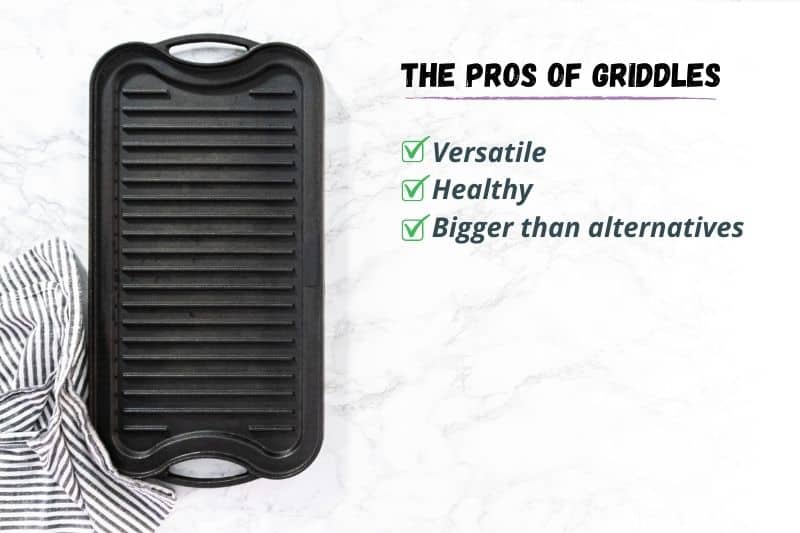 1. Versatile
Griddles are extremely versatile. Not only can they be used on the barbecue and the hob, but they can also go in the oven.
However, there's more. Griddles can be used to sear and fry just about anything.
Steaks, fish, veg, chicken breasts, burgers, and so much more. Plus, you can achieve those awesome sear marks too, which is cool!
2. Healthy
Griddles are also a healthy way to cook. Much like some cast iron skillets, griddles have ridges on the cooking surface. These ridges give you cool sear marks, but they also keep the food raised above the bottom of the pan.
This means the fat and grease are out the way, and when you remove your food from the pan, you aren't bringing that fat with you. So, griddles can cook tasting but healthy food!
3. Bigger than alternatives
You can buy large cast-iron skillets, but nothing as big as a rectangular griddle. These things are designed to fit over the top of two hob rings. So, they are huge and allow you to cook a lot of food at once.
So, if you have a big family (or like cooking massive steaks), a griddle is a really good choice. They are also lighter than large cast-iron skillets.
The Cons of Griddles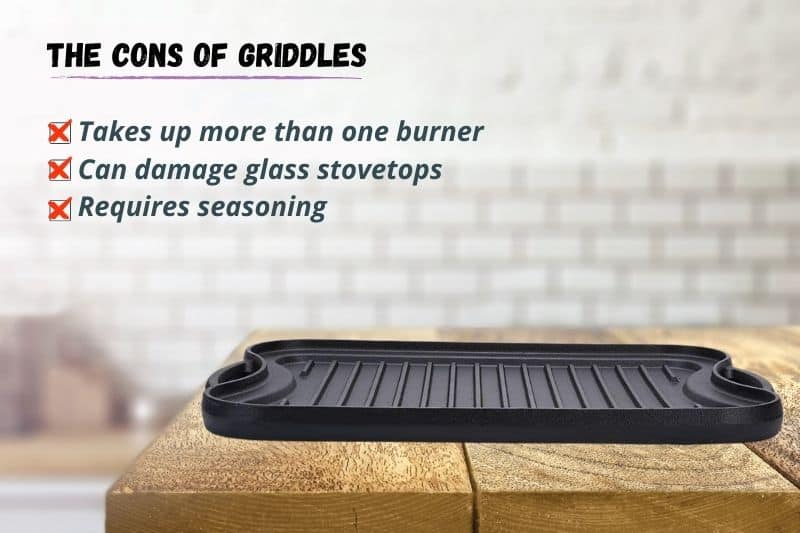 1. Takes up more than one burner
The fact that griddles are bigger is a pro and a con at the same time. While you get more cooking space on your griddle, you lose a burner on your hob. If you're cooking a large meal, this burner could come in extremely handy.
2. Can damage glass stovetops
Most griddle adverts you see show them on gas hobs or barbecues. This is because griddles are quite prone to scratching glass topped hobs.
These are really heavy (perhaps another con), and the urge to slide them off of the hob once you've finished using them is hard to resist.
If you slide a griddle off of a glass hob, you will damage it! Cast iron skillets are also prone to damaging glass hobs, but they are usually smaller and easier to wield.
3. Requires seasoning
When you buy a cast-iron skillet nowadays, most companies season it for you out of the factory.
You'll need to top up the seasoning, but it is off to a flying start for you. Griddles, though, often don't come pre-seasoned, so this is something you'll have to do.
Seasoning a griddle isn't tricky; we have a seasoning article for cast iron skillets that will work wonders. However, if you don't want this extra step before cooking, this is a consideration.
Conclusion
We hope you have found the perfect searing partner for your next steak in our list of griddle pans. Remember, griddle pans are a game-changer for cooking steaks, but they offer so much more and are a fantastic bit of kit to have in your kitchen arsenal.
If we had to pick just one griddle pan to recommend it would be the ZWILLING Forte Pan. It's strong yet lightweight, and features an almost indestructible non-stick coating! It heats up nicely and produces beautifully seared meats and chargrilled vegetables.
Don't forget to check out our other pan articles. We have the best pots, pans and more on here. So, come and kit out your kitchen with us and take your enjoyment of cooking to the next level.

Scott is a writer and a passionate home chef. His passion for cooking began when he was 10 years old. Scott has been writing professionally for over five years now and loves to combine his passion for cooking with his day job.