If you are looking for a great griddle pan, then you'll know that you have loads of options.
Griddle pans come in loads of sizes, they are made from different materials, some are non-stick, others need to be seasoned. Which are best?
Well, griddle pans, like so many other pieces of kitchen equipment, are a hotly debated subject online. So, before we get to our favourite griddle pans, let's first look at a few griddle misconceptions and whether a griddle pan should be made from a certain material or not, shall we?
About Griddle Pans
What is a griddle pan?
A griddle pan is a heavy and robust frying pan, basically. These are designed to hold a lot of heat, so they are brilliant for searing meats. A griddle pan holds a lot of heat because of how thick the metal is. The thicker the bottom and the sides of a pan are, the more heat it will hold throughout the cooking process.
When you are searing meat, heat is vital. When you throw a steak into a pan, the pan will instantly cool down if it is thin. If the pan is nice and thick, like a cast iron griddle pan, for example, the pan can push through this change of temperature and start sizzling your steak straight away.
Is a griddle pan essential?
No! A griddle pan isn't essential, but it's a great bit of kit to have in your kitchen. If you love cooking meat, a griddle pan is awesome.
You see, a griddle pan cooks meat quickly, evenly and easily. They are a joy to use and offer amazingly tasty results. For years, my partner and I got by with a standard frying pan, but then we got a griddle pan, and our lives changed instantly.
If your household doesn't eat too much meat, a griddle pan may also still be a valid purchase. While griddle pans are excellent for cooking meat, you can also use them for cooking veg. You can get beautiful sear marks on asparagus, for example, and so much more.
If you love cooking, a griddle pan makes your dishes look more professional. Plus, they provide a lot of versatility but are a joy to use with meats. So, a griddle pan isn't essential, but once you use one, you'll wonder how you ever enjoyed cooking without one.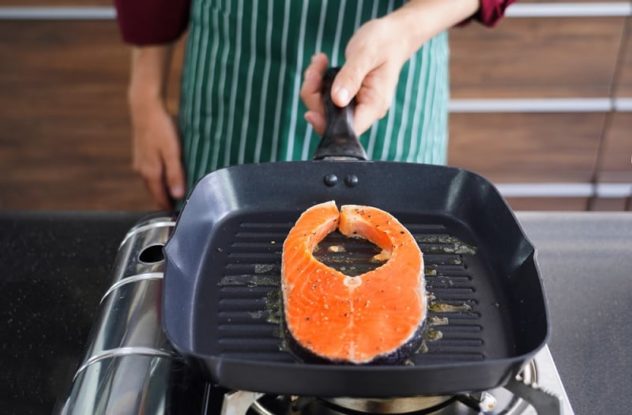 Does a griddle pan need to be cast iron?
Cast iron griddle pans are fantastic, we have included a cast iron griddle pan on our list below, actually. However, a griddle pan doesn't need to be cast iron.
The reason that many cooks favour a cast iron griddle pan is that they are heavy and hold heat very well. However, there are plenty of griddle pans that do the same job.
Many people are slightly put off by griddle pans because a lot of them are cast iron, and cast iron needs to be seasoned. However, as our list of the best griddle pans shows, there are loads of fantastic griddle pans on the market that are non-stick and robust that will offer everything that a cast iron griddle pan will.
So, let's take a look at these griddle pans now, shall we? If you have a steak in the fridge that is waiting for the perfect searing partner, you'll find it below!
Best Griddle Pans in the UK
1. ProCook Cast Iron Griddle Plate
We're starting this list of griddle pans off with a slight curveball. This cast iron griddle plate can be used on solid plate hobs, gas hobs and the BBQ. It's also oven safe up to 260 degrees Celsius too. It also has deep ridges that provide lovely searing marks and allow the meat and veg to sit above any fat. So, combine this with the 46cm of cooking area, and you can cook loads of meat and veg at the same time.
We know that a griddle plate may not be suitable for every home cook, particularly cooks that haven't used a griddle pan before.
Still, for home chefs that love cooking and want a dedicated griddle that will heat up nicely and produce some beautifully seared meats, this ProCook griddle plate is hard to beat.
2. Tefal Aroma Griddle pan Pan 26cm
This Tefal griddle pan is made from heavy, cast aluminium. It is nice and thick which allows the pan to heat up nice and evenly and distribute this heat evenly too.
This cast aluminium is nicely complemented by a titanium interior. This means that the pan is non-stick and a bit lighter than other griddle pans without compromising on heat retention.
This griddle pan can sizzle a steak on all hob types and can be used in the oven too. It has the Tefal Thermo-spot also making it simple to tell when this pan is ready to go. Plus, it has a classic look and a pouring spout.
Overall, this griddle pan is very well built, easy to use and nice and versatile. It is a fantastic addition to your kitchen arsenal.
3. ProCook Granite Non-stick Griddle Pan
Here we have another cast aluminium griddle pan. This one from Procook though has a triple layer non-stick Granite coating to ensure that your meat, fish or veg never sticks. This 28cm pan offers all of the space you'll need to cook for up to three people. Plus, thanks to the robust build, the heat will be retained nicely even with three chicken breasts, for example, searing away.
This ProCook griddle pan has a heat-resistant handle, but you can still use this pan in the oven up to 180 degrees. Also, this pan has a piece of stainless steel bonded to the bottom of the pan. This provides even more heat distribution and makes this pan suitable for all hob types, including induction.
Overall, this ProCook non-stick griddle pan works incredibly, it does lack the classic styling but brings so much to your kitchen.
4. GreenPan Venice Pro Ceramic Non-stick Griddle Pan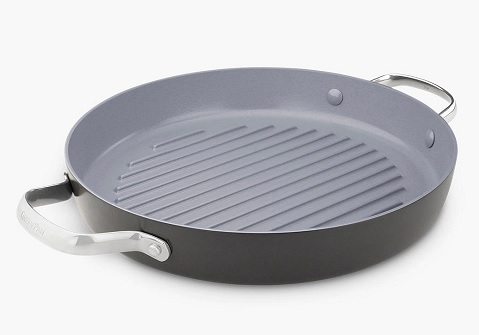 This non-stick griddle pan from GreenPan made this list on looks alone. We love the styling of this griddle pan, but it offers so much cooking power too.
This pan, once again, is made from aluminium. However, it has a non-stick ceramic interior and an ultra-tough anodised exterior. Plus, it also has fancy technology that means that the pan is suitable for all hob types too.
You'll notice that this griddle pan has riveted stainless steel handles. So, you can also use this pan in the oven and transferring it from the hob to the oven is nice and simple.
If you cook a lot of meat in the pan and finish it off in the oven, this griddle pan is the best on this list. Still, this griddle pan is wonderful to use solely on the hob too.
5. Sky Light 28cm Non-Stick Griddle Pan
This Sky Light griddle pan is, once again made from aluminium. It is constructed from cast aluminium because of the fantastic heat holding capabilities. Plus, Sky Light opted for cast aluminium due to its strength when die cast. So this griddle pan will likely be the last one you ever buy.
This griddle pan also has a great heat-resistant handle that is made from metal that is covered with ABS plastic. The metal portion of the handle is riveted to the pan in such a way that they become one, but the handle will not heat up even if you use this griddle pan on the BBQ.
Plus, you can easily remove the plastic handle, making it the best griddle pan to take on a camping adventure too. This Sky Light griddle pan is exceptionally well made and works a treat!
Conclusion
We hope you have found the perfect searing partner for your next steak in our list of griddle pans. Remember, griddle pans are a game-changer for cooking steaks, but they offer so much more and are a fantastic bit of kit to have in your kitchen arsenal.
If we had to pick just one griddle pan to recommend it would be the ProCook Cast Iron Griddle Plate. It heats up nicely and produces beautifully seared meats and chargrilled vegetables.
Don't forget to check out our other pan articles. We have the best pots, pans and more on here. So, come and kit out your kitchen with us and take your enjoyment of cooking to the next level.
Related posts

Scott is a writer and a passionate home chef. His passion for cooking began when he was 10 years old. Scott has been writing professionally for over five years now and loves to combine his passion for cooking with his day job.