Omelette pans are a fantastic addition to any kitchen, even if you don't cook that many omelettes.
An omelette pan looks exactly the same as a frying pan, pretty much. The main difference between an omelette pan and a conventional saucepan is the sides.
The sides of an omelette pan are the same height as those a normal frying pan. However, they are more flared.
The flared sides mean that you can easily roll omelettes in the pan. They also help you slide the omelette out of the pan when it's finished cooking.
Omelette pans come in many sizes too. So, whether you want to cook an omelette for one or six, there is a pan to suit your needs.
But where can you find the best omelette pans in the UK? Well, we have the best omelette pans just below.
The Best Omelette Pans in the UK
1. De Buyer Omelette Pan 24 cm

Diameter: 24 cm
Materials: Carbon steel
This omelette pan from French cookware brand De Buyer is part of the brand's Mineral B range of carbon steel pans with a beeswax finish. The steel is made from 99% iron and 1% carbon
The cooking service measures 6.3 inches (16 cm) across and there is a French-style riveted handle. The shape of the pan makes it easy to turn your omelette and slide it onto a plate.
This pan is free from artificial non-stick coatings such as PTFE. It will have natural non-stick properties if you season it before the first use and re-season it as required.
This requires a bit of thought, but makes the pan safer to use than regular non-stick pans. It will also last much longer, as the surface won't deteriorate over time like the surface on a regular non-stick pan would.
This pan should last a lifetime if it's looked after well, making it excellent value for money.
De Buyer's omelette pan is suitable for all hob types, including induction. It can be used in the oven briefly, but the handle is coated, so it shouldn't be used in the oven for extended periods of time.
2. TECHEF Frittata and Omelette Pan

Diameter: 24 cm
Materials: Aluminium, Teflon Select non-stick coating
This omelette pan from TECHEF has an unusual design.
It's split into two halves, and can be folded over to create a symmetrical folded omelette. This is a nice idea, though it can take a bit of practice to fold the pan without bits of your omelette falling over the side.
The pan's cooking area measures 9.5 by 10.5 inches (24.13 x 25.4 cm), making it big enough for four eggs. If you're cooking just for yourself, it might be a bit big, unless you have a big appetite of course!
The surface of the pan uses a Teflon Select PFOA-free non-stick coating.
It's important to note that this pan isn't induction-compatible, so you can't use it with an induction hob.
3. Zuofeng Non-stick 20cm Omelette Pan
Diameter: 20 cm
Materials: Aluminium, Teflon Select non-stick coating
Next up, we have a fantastic omelette pan that looks as great as it cooks. This is the 20 cm pan, but 24 and 28 cm pans are also available depending on how big of an omelette you like.
This pan has a granite non-stick coating that means none of your omelettes will stick to the bottom of it. It also has a beautiful wooden handle that doesn't heat up as you cook.
We know that cookware looking great isn't the most important thing. However, this pan looks wonderful and does its job just as well.
It heats quickly and evenly, it can be used on induction hobs, and it has a PFOA-free non-stick coating too. All this for a very reasonable price, you'll love making omelettes in this pan!
4. TECHEF Tamagoyaki Japanese Omelette Pan
Size: 8.5 x 8.5 inches (Large) or 7.5 x 5.5 inches (Medium)
Materials: Aluminium, stainless steel, Teflon non-stick coating
This Japanese omelette pan brings a lot of style to your kitchen. Still, it is a pan that is designed to bring you years of joy in the kitchen too. It has a excellent design that allows you to easily flip your eggs or omelettes.
Plus, it has stainless steel embedded in the base, meaning it is heavy and induction-ready too.
The walls of this pan are made from heavy-gauge aluminium. So, it heats up quickly and stays warm for ages.
This omelette pan also has a fantastic non-stick coating that is PFOA-free and a lovely handle to make controlling this pan very easy.
While this is the number one choice for Japanese omelette and egg dishes, it works just as well for English omelettes and most other cooking tasks too. Plus, its rectangular shape is really modern and stylish too.
5. Le Creuset Stainless Steel 20cm Non-stick Omelette Pan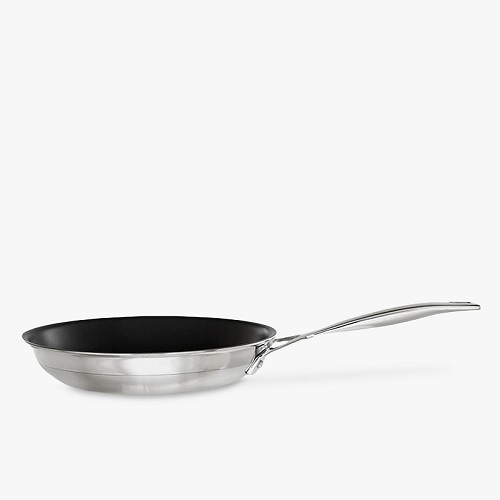 Size: 20 cm
Materials: Stainless steel, aluminium, non-stick coating
If you're a passionate home chef and want the best omelette pan that money can buy, here you go!
This Le Creuset omelette pan is just as lovely to use as their other cookware. It is a stainless-steel omelette pan with a metal utensil safe non-stick coating on the inside. The exterior of this pan has a mirror polish, and so it looks wonderful in your kitchen.
The thing we love about this omelette pan, though, is its construction. Of course, this pan looks pretty, but gosh it heats up nicely! This is thanks to the two layers of stainless-steel sandwiching an interior layer of aluminium.
This also gives this omelette pan a nice weight as well as spreading heat quickly and evenly.
Oh, and this omelette pan is also oven safe, suitable for all hob types and dishwasher safe all, while looking beautiful.
Omelette Pan FAQs
What is the difference between a frying pan and an omelette pan?
Frying pans and omelette pans are very similar, and in most cases a regular frying pan will work fine for cooking omelettes. However, there are a few subtle differences:
Sides – Frying pans have straighter sides. Omelette pans usually have flared, sloping sides, allowing you to easily flip and slide omelettes. The exception to this is Japanese omelette pans, or tamagoyaki pans, which have steep, straight sides.
Handle – Frying pans often have short handles. Omelette pans usually have longer handles, giving you more control and helping you to flip the omelette.
Base – Omelette pans often have a thicker, flatter bottom, which helps you to cook an omelette without burning it.
Are omelette pans worth it?
This really depends on how much you love omelettes! If you regularly cook omelettes and want to take your cooking to the next level, an omelette pan is definitely worth it.
Even if you don't make omelettes too often, if you already have a large collection of cookware, an omelette pan is a good addition. They aren't particularly expensive, and really do make a difference if you want to make the perfect omelette.
However, if you only cook omelettes occasionally and aren't too fussy about them, there's no need to invest in a specialist pan—a regular frying pan should be fine.
What size should an omelette pan be?
We've covered this topic in detail in our guide on the best pan size for omelettes. Here's a quick summary:
20 cm (8 inches) – Two eggs. This is a good size if you're cooking for one person.
25 cm (10 inches) – Three eggs. This is probably the most popular size. It's good if you're cooking for two.
30 cm (12 inches) – Four eggs. This is a good size if you're cooking an omelette to share.
Do omelette pans have other uses?
Of course, if you eat an omelette every day of the week, having a pan that can only be used for omelettes sounds great. But what if you only eat omelettes occasionally?
Do omelette pans have any other uses? Well, yes. You can use an omelette pan for anything you can use a normal frying pan for.
In fact, if you are looking to replace your current frying pan, you could replace it with an omelette pan of the same size and enjoy all of the benefits of both.
Of course, what you can use an omelette pan for depends on the size of the pan you buy. For example, my omelette pan is 12 cm. This is great for omelettes, although me and my partner really only use it for frying eggs. Still, a 12 cm omelette pan isn't really suitable for much else, unless you want to cook the smallest steak of all time!
So, while you can use bigger omelette pans for anything you can use a frying pan for, the smaller pans are a bit restrictive.
Still, a small omelette pan doesn't take up much room, so even if you can't use it for loads of things, it won't be in the way.
Conclusion
We hope you found the perfect omelette pan for your needs above. We love an omelette pan, and as we have learnt, they can do a lot more than just cook the perfect omelette.
If we had to recommend just one to recommend to most people, it would be the De Buyer Omelette Pan. It's a serious pan made for serious omelettes, and should last a lifetime. It's also not expensive at all.
For more brilliant cookware, please explore our website further. We got the best cookware in the UK right here so you can kit out your kitchen with the best pans and pots for your needs and find out more about every type of pot and pan ever made right here.

Scott is a writer and a passionate home chef. His passion for cooking began when he was 10 years old. Scott has been writing professionally for over five years now and loves to combine his passion for cooking with his day job.