The humble potato masher might seem like a straightforward product, but it can still be difficult to find a good one. Many mashers are flimsily built and will break after just a few months of use. Others are heavy and uncomfortable to use. We've researched the market and picked out 5 of the best potato mashers available in the UK in 2018. Read our reviews below.
Best Potato Mashers in the UK (2018)
1. OXO Good Grips Smooth Potato Masher
This potato masher from OXO has a large, comfy non-slip acrylic handle and a stainless steel head that measures 12 x 16 cm. The large head makes this masher useful for mashing large quantities of potato.
One of the unusual things about this masher is that the handle is horizontal rather than vertical. This masher is very comfortable and easy to use and is a good choice if you find other potato mashers uncomfortable. The OXO Good Grips Smooth Potato Masher is also dishwasher safe so it's very easy to clean.
2. Jamie Oliver JB8500 Potato Masher
This potato masher from Jamie Oliver has a more standard design, with a vertical handle. The masher is mainly made out of stainless steel, though the handle also uses plastic for added comfort.
The head has large holes on the outside and smaller holes on the inside, which helps create a smooth mash without any lumps.
One of the unusual things about this masher is that it has a side scraper which you can use to dislodge mash stuck to the side of the bowl, so none of it is wasted.
Like the OXO masher reviewed above, the Jamie Oliver JB8500 Potato Masher is dishwasher safe so it's straightforward and easy to clean.
This masher is comfortable to use and effective, though some buyers have found that the handle and silicone parts came loose after a few weeks or months of use.
3. KitchenCraft Ergonomic Stainless Steel Potato Masher
This masher has a different design to the two reviewed above. Instead of using a sort of grid with holes to mash potato, this masher has nine blades parallel to one another with gaps in between. According to the manufacturer, this makes mashing potato quicker and easier.
The blades are made from stainless steel, and the whole thing is dishwasher safe so it's easy to clean. If you don't have a dishwasher, the blades are easier to clean in the sink than a more conventional masher head would be.
The KitchenCraft Ergonomic Stainless Steel Potato Masher is nice and light and has a soft ergonomic handle, so it's a good choice if you find other mashers difficult to use.
4. TedGem Masher
This masher has a similar design to the OXO Good Grips one reviewed above. The head has two different sized holes (6 and 9 mm), which are distributed evenly to give a smooth mash.
Like the other mashers reviewed here, the TedGem Masher is dishwasher safe and can also be cleaned easily in the sink. This masher is made from stainless steel with a polypropylene (PP) handle.
There's not much to say about this masher. It's straightforward, inexpensive, and it works!
5. Wilko Kitchen Potato Masher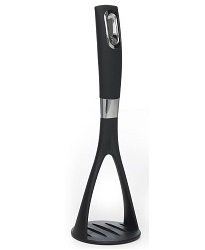 If you want something really cheap, consider getting this potato masher from Wilko. Despite the low price it's fairly sturdy and works well. The masher head measures 7.9 cm across, so it's quite small and isn't as suitable to mashing large amounts of potato as something like the OXO Good Grips masher reviewed above.
This masher uses narrow strips rather than holes or blades to mash potato, which might not be as effective if you want a really smooth and consistent mash. However, for the price it's a great buy.
Potato Masher vs. Ricer
You're probably aware that there's more than one way to mash a potato! You could use a fork, a potato masher, or a potato ricer. A potato ricer is a bit like a large garlic press that turns boiled potato into small grains of mashed potato with a rice-like consistency. If you use a ricer you won't get any lumps—all of the potato will be very finely riced. However, it takes longer to use a ricer than a potato masher. Ultimately which you prefer is a matter of personal preference. Below is a summary of the pros and cons of each.
Potato masher: Quicker to use but harder to get a fine and consistent mash. Can be uncomfortable to use.
Potato ricer: Creates a finer mash but is more time-consuming to use. More comfortable to use.
If you think you'd prefer to use a potato ricer, check out our reviews of the best potato ricers in the UK.