A health grill is a fantastic addition to your kitchen. Whether you want to cook healthy meals or you want to speed up cooking times, these grills are awesome.
We'll cover why these grills can add a lot to your kitchen in just a bit. First, though, we need to look at the best grills available with removable plates in the UK right now.
Why are removable plates so important with a grill like this? We cover that below too!
The Best Grills with Removable Plates in the UK
1. Tefal OptiGrill XL GC722D40 Health Grill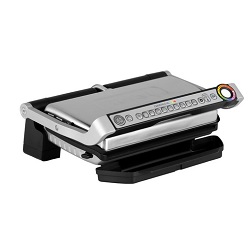 Power: 2000 watts
This Tefal health grill has so many programmable features that it's tough to know where to start.
It has four temperature settings and three programmes to make cooking fish, chicken, veg, steak and more really easy. You can cook low-calorie burgers, delicate fish, delicious chick breast, and so much more at the touch of a button with this grill.
The powerful 2000-watt grill offers an 800cm squared cooking surface too. So, there is plenty of space for a family meal.
Plus, the plates are removable to make cleaning up a breeze. Not that there will be much stuck to the grill plates anyway.
All of the grease and fat drips into a tray, and the plates are non-stick. This grill makes healthy cooking easy and cleaning a dream.
2. George Foreman Medium Grill 24330
Power: 1400 watts
If you know anything about health grills, you'll know that the George Foreman grill was always going to make an appearance on this list.
It was one of the first health grills on the market and has continued to innovate grills ever since.
This is the George Foreman grill that we all know and love, with the floating hinge that adjusts to the height of anything you put in it and the triple non-stick coating on the grill plate to make sure the fat and grease run into the drip tray.
Still, with the addition of the removable plates, it is now even easier to clean. You can pop the grill plates in the sink to soak, or stick them in the dishwasher after use.
So, healthy meals are now even easier to achieve without the messy clean-up afterwards.
3. De'Longhi CGH1012D Multigrill
Power: 2000 watts
If you've always loved grills like this but have often wanted more control over the cooking process, this Multigrill is the way to go. Firstly, it has six cooking functions, and you can control both sides of the grill.
So, you can use a single side of the grill for really delicate cooking tasks or use both for the usual health grill cooking treatment.
You can also adjust the cooking temperatures of each grill plate separately for even more cooking options.
This multi-grill really takes healthy grilling to a whole new level. The cooking surface is also huge, so it's the ideal grill for families with varied diets that needs a grill that can keep up with them.
It even comes with a recipe book full of amazing meals that make the most of this adjustable grill.
4. Tefal Ultracompact 3-in-1 GC308840 Health Grill
Power: 2000 watts
One of the biggest complaints of most cooks when it comes to health grills is the size of them. These grills can take up a huge amount of cupboard space and counter space.
Well, Tefal has thought of this, and the Ultracompact health grill is here to help. This has a small form factor but can still cook up to 6 portions at a time.
It is also nice and adjustable to suit what you are cooking. There are three cooking modes with handy pictures that tell you what the setting is suitable for. Plus, you can open this grill up flat and use it as a standard grill if you fancy a BBQ inside.
Once again, the removable plates are also dishwasher-safe so cleaning with this brilliant grill is just as easy as cooking with it.
5. Cuisinart 2-in-1 Grill and Sandwich Maker GRSM4U
While cooking a panini in a health grill is all well and good, they are never as nice as the classic sandwich made with the always-awesome toastie maker. That's why Cuisinart has included additional toastie maker plates with this health grill.
So, you can have the healthiest meals around in the easy-to-use health grill. And then when the mood takes you, you can add the sandwich plates to the grill and cook up the best cheese toastie ever created.
Switching out the grill plates in this grill is really easy to do, and the variable heat settings offer fine control of everything you are cooking.
There is also a built-in drip tray, so there is no unsightly grease on the counter, and the tray is easy to remove, just like the grill plates.
If you love healthy cooking with a side of cheese toasties, this grill should be high up on your list of appliances for your kitchen.
Why Using a Grill Can Be Good for You
I have used health grills for as long as I can remember. My mum had one of the first George Foreman grills and used it for years.
Even my dad, who isn't much into healthy living, has a health grill and loves how easy it is to use. These grills can be great for you and your family, and here's why.
Easy
All of the grills on the market right now have very easy-to-use controls, which I feel is really important.
At the touch of the button, you can have the perfect setting for the meat you are cooking, and you can cook straight away.
Most George Foreman grills don't even have any settings, so you can simply plug it in and get cooking once it reaches the cooking temperature.
If you want an easy way of cooking healthy meals, a grill like this comes in very handy. Plus, a health grill with removable plates is also very easy to clean. You can stick the grill plates in the dishwasher or leave them to soak in the sink.
Healthy
One of the reasons that these grills are so popular is because they really do make healthy food. As the grilling surface is angled, all of the grease, fat and nasty stuff drips out while you are cooking.
It allows you to eat things like burgers, sausages and bacon without feeling guilty about the fat and grease. Plus, healthy cuts of meats are even healthier.
Tasty
Now, there is sometimes a trade-off between healthy food and tasty food, but not in the case of health grills.
As this is a grill, it seals in the flavour of the meat or veg almost instantly. So, hardly any of the flavour is lost in the fat and grease.
In fact, using a grill like this can actually increase the flavour profile you can taste simply because the fat and grease have been removed during the cooking process.
Quick
Grills cook quickly; even the grill in your oven cooks very quickly. You'll know this if you've ever left toast unattended in your grill for over 10 seconds.
So, a health grill cooks much faster than your oven. It does this by closely surrounding the meat with heat. This also locks in the flavour of the meat, of course, so quick, tasty meals are really easy to achieve with grills like this.
Are Health Grills Worth It?
Having a grill like this makes cooking so much easier. Not only does it speed up cooking times, but it also makes a lot of unhealthy stuff a bit more healthy and really healthy stuff even more nutritious.
It also locks in the flavour of whatever it is you are cooking, too, so everything is still really tasty. Plus, buying a grill with removable plates also means that clean-up is simple.
If you aren't into healthy living, a grill like this is still worth having because of the speed and ease. If you are into healthy eating, though, a grill like this is worth its weight in gold.
With more grills on the market, there are more options for you than ever. You can choose a grill with different settings to make the most of our meals or choose the easiest options of a plug-and-play grill.
We do feel that the removable grill plates are a must, though, as they make clean-up so much easier.
In Conclusion
While all of the grills on this list have awesome features, we love the Tefal OptiGrill XL. It has a spacious cooking surface and loads of easy-to-use cooking controls that make using it even easier and more enjoyable.
We hope this look at grills with removable grill plates has been helpful. For more handy kitchen appliances, please explore Chef's Pick some more. We have all the appliances and cookware you need to make the most of your time in the kitchen.

Scott is a writer and a passionate home chef. His passion for cooking began when he was 10 years old. Scott has been writing professionally for over five years now and loves to combine his passion for cooking with his day job.