It is very easy to accidentally make too much or too little with loose ingredients such as rice and pasta.
When you think you've cooked enough, you haven't. And when you think you haven't cooked enough, you've accidentally made enough to feed your entire postcode!
I'm going to make things super simple for you.
Here's how many mugs of rice you should do per person, including daily recommend amounts from dieticians and medical experts, plus a few instances when you might want to increase or decrease that amount…
What Is the Right Amount of Rice Per Person?
In some ways, this is down to personal preference. Some people like more rice, others prefer less rice. But how much is the 'right' amount per person?
It actually depends on the type of rice you use, the kind of dish you're putting together, and whether or not the rice part of the dish is a main meal or a starter/accompaniment.
Expert recommendations
According to the British Dietetic Association, also known as the BDA, the 'correct' portion size of rice is 150 grams in cooked weight, or 50 grams in uncooked weight.
This is approximately two to three tablespoons of uncooked rice, or one-quarter of a cup per person.
The average coffee mug will hold approximately 280 to 300 grams of rice, so you would need one-sixth of a coffee mug's worth of rice per person.
Grain type
Long grains absorb a lot of water, which makes them considerably heavier and bulkier when they are cooked.
Shorter grains absorb water also, but in not quite the quantity that long-grain does. Short grain rice is less heavy and bulky when cooked.
Take jasmine or basmati rice as two examples. They are known to absorb fluids well, which means that the individual grains swell and the entire rice load bulks up.
Long grain rice tends to absorb and bulk out during the cooking process, so you will need a little less of it than you would other varieties, such as shorter or medium grain lengths.
As a general rule, you will end up with roughly double the size of the rice once it absorbs the fluid it has been cooked in.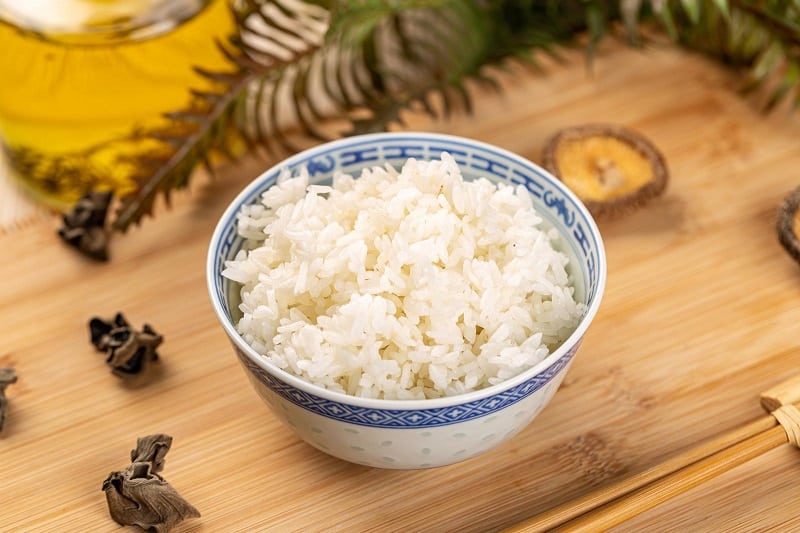 Dish type
If the rice is a main dish, you will require more of it to make up the bulk than if you were using rice in a side dish, appetiser, etc.
A side dish would only call for approximately one-quarter to one-third of a cup of rice, whereas a main dish, rice being the majority of it, would call for two-thirds to a full cup of rice.

Kim is a writer with more than a decade of experience, and a food enthusiast. When she's not spending her time writing about her favourite dishes, you can find her in the cake aisle of her local supermarket, or making a mess in the kitchen.