If you're buying a new cooker or washing machine, you may notice that some models look very similar. In fact, there are some cooker models that, other than the brand name printed on the front, look like they could be twins.
A few people have noticed that Beko and Indesit have very similar-looking washing machines, cookers, and a few other appliances. So much so that these people are convinced that they are the same company.
But are they? Are Beko and Indesit the same company?
Well, if you tried to research these two appliance companies to find out, you'll know that you can end up starting to make a family tree for your cooker.
A single company can own 30 different brands that we know and love. But are these two cooker brands connected in some way?
Are Beko and Indesit the Same Company?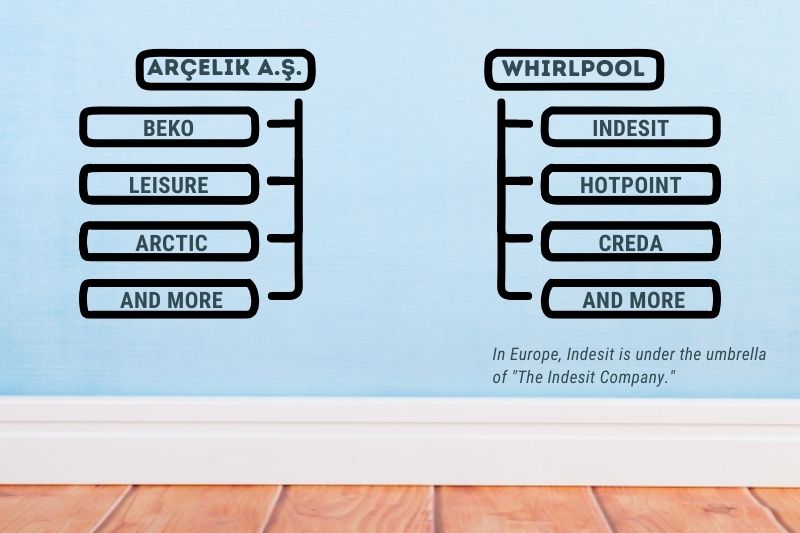 Beko and Indesit are not the same company. Beko is owned by Turkish company Arçelik A.Ş., which was established in 1955. It's one of the largest appliance manufacturers in Europe, with over 40,000 people working for them.
Yet, chances are, you've never heard of them. This is because they own such popular brands as Leisure, Arctic, Elektra Bregenz, Beko, and more. So, you may have appliances in your homemade by this group, but not know it until now.
Indesit, on the other hand, has been owned by American company Whirlpool Corporation since 2014. In Europe, Indesit is under the umbrella of The Indesit Company, which also owns Hotpoint, Creda, Ariston, and a great deal more. However, all of these companies are run and owned by Whirlpool, an American company.
Why Are Beko and Indesit Appliances Similar?
You could argue that there are only a few ways of making a washing machine or a cooker. So, most cookers and washing machines do have a similar look, even a family resemblance.
However, appliances from different brands can look very similar because they are made in the same factory, and different brands can lend their manufacturing capacity to each other.
Most of Indesit's manufacturing is outsourced to other companies in Europe, including to Beko's owners Arçelik.
Indesit's parent company Whirlpool sold a Turkish factory to Beko's owners Arçelik in 2021. Part of the agreement is that Arçelik (who own Beko) will export appliances from the factory to Whirlpool (who own Indesit) in Europe for the next three years.
This means that both Indesit and Beko appliances will be produced in this factory at the same time.
However, Arçelik aren't Whirlpool's only supplier. They also outsource production to another big Turkish company, Vestel.
Vestel don't sell appliances in their own name, which is why you have probably never heard of them. Instead, they make white label products for a range of appliance brands including Bush, Sharp, Currys Essentials and Russell Hobbs. If you have an appliance from one of these brands that is made in Turkey, it was probably made by Vestel.
Indesit manufacture some of their own products from a factory in Poland, but a lot of their products are made by Arçelik and Vestel in Turkey.
Here's a quick guide to help you work out who manufactured your appliance:
Beko appliance made in Turkey – Probably made by Beko (Arçelik).
Indesit appliance made in Turkey – Probably made by Beko (Arçelik) or Vestel. If it is a Vestel fridge, it will have a barcode on the inside door next to the seal and a temperature control slider on the salad box.
Indesit appliance made in Poland – Probably made by Indesit.
Why Do Appliance Companies Make Similar Appliances Under Different Names?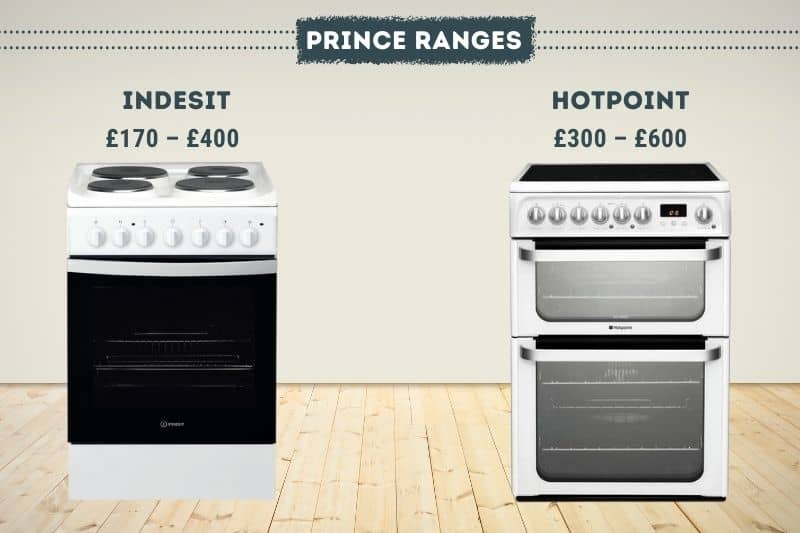 Let's look at some of the kitchen appliance brands above a little closer. The Indesit Company (Whirlpool) owns Hotpoint and Indesit. A quick search for cookers from these brands tells us a lot of info. And gives us a clue why these companies build cookers for different brands.
Here's a rough breakdown of the prices for these brands of cooker that came up from a quick search in Google:
Indesit: £170 – £400
Hotpoint: £300 – £600
As you can see, the cooker prices above are interesting. Indesit's cookers seem to stop at the price where Hotpoint's cookers start in price. Or very closely anyway.
Hotpoint makes some very solid kitchen appliances, and people know this, so they will happily spend more money on a quality cooker.
Indesit makes pretty good cookers and other kitchen appliances, but its name isn't as trusted as Hotpoint. So, it mostly makes cookers that are very well priced for those of us looking for a budget, good quality cooker.
So, what's going on?
The price points above are no mistake. These brands are marketed to different people. Those that have some money to spend and want quality will look toward Hotpoint. And those that need a simple cooker that will work well and are on a tight budget will go for Indesit.
It is simply a marketing tool that these companies can use. After all, if Hotpoint started making budget cookers, we would all start to question whether its cookers have gone downhill.
We'd also question why Indesit would make a range cooker when they have only ever made budget cookers.
So, rather than ruin the reputation of one brand or try and grow another into master builders of quality kitchen appliances, they create (or usually buy) different companies and then market them suitably.
By the way, this doesn't mean that if you buy an Indesit cooker, you are actually buying a Hotpoint or vice versa. Even though they are under the same corporation's umbrella, they are not the same company and likely have separate design divisions.
In Conclusion
Beko and Indesit are not the same company and are not even owned by the same corporation. However, Beko's parent company Arcelik make some of Indesit's appliances in its Manisa factory in Turkey.
We hope this trip down the family tree of kitchen appliances has been interesting and helpful. For more insight into cookers, cookware and more, please explore Chef's Pick further. We've got everything a chef needs to create their perfect kitchen right here.

Scott is a writer and a passionate home chef. His passion for cooking began when he was 10 years old. Scott has been writing professionally for over five years now and loves to combine his passion for cooking with his day job.