Every country has its own particular culinary delights, some can easily be found in other places, but others less so.
Pudding mix is a well-established cupboard ingredient in the US and is used in homes all around the country.
There is no "vanilla pudding mix" product available on UK shelves, but we do have an equivalent. Here's what you need to know.
What Is the UK Equivalent of Pudding Mix?
In the US, pudding mix is available in many different flavours and vanilla is one of the most popular. You won't be able to find "vanilla pudding mix" sold in the same way in the UK but we do have dessert items which are very similar.
To clarify: US vanilla pudding mix is a very soft mousse-like texture and comprises milk, gelatine, sugar, corn starch and flavourings. It doesn't require cooking and can be made instantly.
In the UK, the most similar product is Angel Delight, sharing the same list of ingredients and offering the same texture and taste.
Is Custard Powder the Same as Pudding Mix?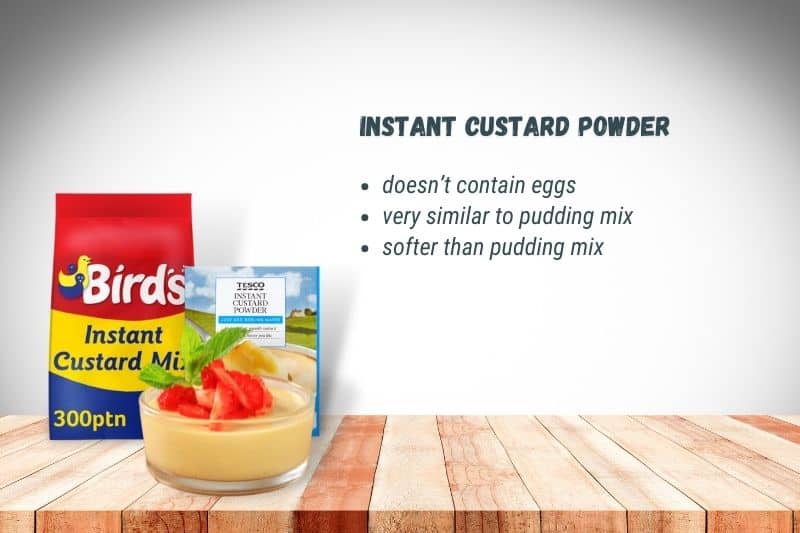 There have been some suggestions that instant custard powder could be considered as the same product as pudding mix. The short answer is that they're similar but not exactly the same.
Unlike real custard, instant custard powder doesn't contain eggs, so the list of ingredients and the final consistency is very similar to pudding mix.
The ingredients in custard powder and pudding mix are slightly different so the custard won't set and will remain softer.
However, if you're including the custard powder in another recipe, such as a cake, this slight difference in texture shouldn't matter.
What Can I Substitute for Pudding Mix in Recipes?
Unlike Angel Delight, vanilla pudding mix is very often used as an ingredient in other recipes rather than just a standalone dessert. It's particularly common to use pudding mix as part of a cake box recipe to add flavour and moisture.
If you don't have pudding mix available to you, there are a number of different options you could choose as a substitute.
Angel Delight would be the first choice, followed by instant custard powder. Alternative products which could also be substituted despite not being identical include blancmange and creme caramel mix.
The other option is to add the individual ingredients yourself, rather than relying on a boxed product.
Pudding mix only contains corn starch, salt, sugar, milk and vanilla flavouring so it's very possible to add the ingredients separately to achieve the same result.
If you choose to add the ingredients yourself, it's two parts sugar to one part corn starch, a pinch of salt, with vanilla essence and milk added to achieve the desired flavour and consistency.
For a bit of variety – and maybe to enrich different types of cakes – you can leave out the vanilla and add alternative flavourings.
This would enable you to create fruity or even chocolate pudding to add to your favourite recipes. If this sounds like a lot of work, there are other pudding mixes, and instant dessert mixes available in other flavours, in addition to vanilla.

Chef's Pick is your guide to the best kitchen equipment and appliances in the UK.
We help you understand the confusing world of cookers, ovens and cookware so you can get the most out of your kitchen.