Chestnuts are the most notorious of the nut family for needing specific requirements to ensure they stay fresh.
The good news is, however, there are multiple options of chestnut-storing to take your pick from.
So, if you're wondering how long do chestnuts last – stay tuned!
Keeping Chestnuts Fresh
When kept inside their shells, chestnuts will last in the fridge for up to a month, providing that they're wrapped, and the fridge temperature doesn't exceed three degrees Celsius.
If you've boiled your chestnuts, once cooled they should either be placed in the freezer or kept in an airtight package in the fridge.
Vacuum-packing is the best choice here, as this will ensure no air meets the chestnuts. Once opened, consume within three to five days.
Roasting chestnuts over the fire is a beloved activity that signifies the oncoming of Christmastime festivities.
So, if this is a practice you'd like to indulge in this coming holiday season, make sure your chestnuts are wrapped and refrigerated once cool (if you haven't gobbled them all, that is) and eat within three to five days. It is also fine to freeze roasted chestnuts.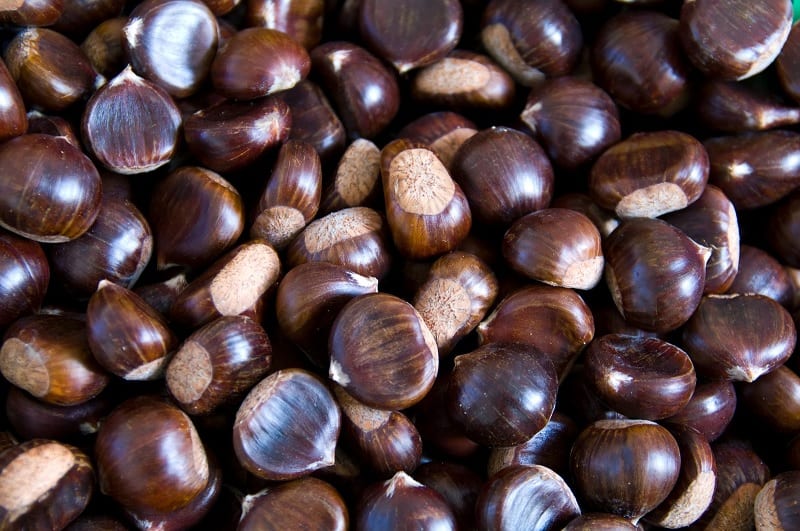 Other Ways to Store/Preserve Chestnuts
Dehydrated chestnuts
Shelled chestnuts can be dehydrated in a temperature of 40 Celsius or 105 Fahrenheit for up to three days. This will preserve them for a period of up to three months (if stored properly).
Preserving chestnuts in alcohol
Alcohol can be a great addition to your chestnuts, in terms of both conservation and flavour.
When it comes to the longevity of your chestnuts, alcohol will make them last longer than all other storage methods, providing the concoction is stored in an airtight container.
Storing chestnuts in sand
Yes, you read that right. This old-school method involves storing your fresh chestnuts in a sanitised wooden container and burying them in sand, which will keep them preserved for several months.
The sand will need to be dry, and the location will need to be cool in order to prevent decomposition.
Can You Freeze Peeled Raw Chestnuts?
You can, indeed. You can freeze them for up to six months, providing they're stored in the correct packaging type, such as a freezer bag or unopened vacuum pack.
Can You Freeze Cooked Chestnuts?
You can. Make sure they have cooled to at least room temperature before wrapping them in freezer-friendly packaging and freezing them (consume within three months of freezing).
Once thawed, freshly rewrap them, store them in the fridge, and eat within three to five days. Do not refreeze them.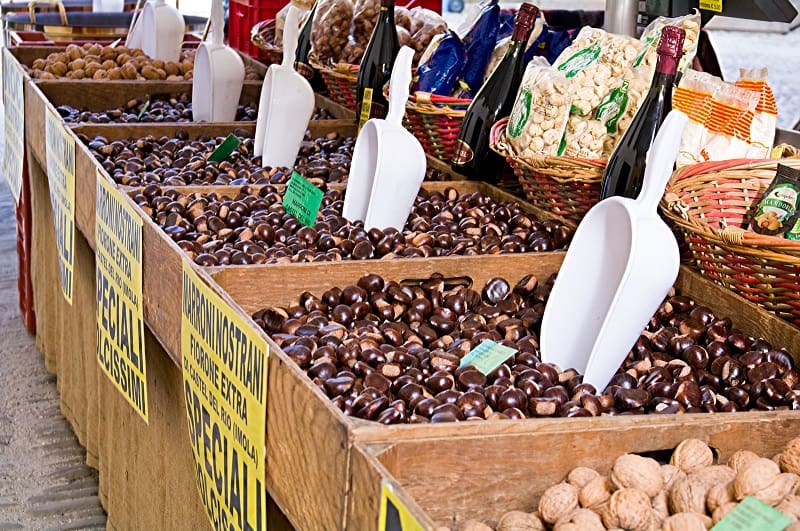 How Long Do Unpeeled Chestnuts Last?
Even unpeeled chestnuts have a fairly short lifespan. They will be fine in a room-temperature environment for a period of one week only, so your best bet is to refrigerate them.
You'll need to keep them in hygienic packaging with limited air exposure, and then they will keep well in the fridge for up to two months.
Are Chestnuts Seasonal?
They are indeed. Generally, they are a colder-month product, and are typically harvested mid-September through to November.
If you want to gather your own, wait for the chestnuts to fall to the ground to be at their ripest and most delicious.

Clara is a freelance writer and former chef. Though she may have hung up her apron, her love of food and cooking is still going strong! When she's not whipping up a verbal storm, she'll be in her kitchen sipping wine and whipping up a culinary storm.