Mauviel makes some of the most expensive cookware in the world. A three-piece saucepan set can cost as much as a good quality cooker. A 10-piece cookware set from Mauviel can cost as much as a high-end range cooker.
So, are Mauviel pans worth this sort of money? Or are you just paying for the name?
Below, we're going to explore Mauviel pans, how they are made, and the materials these pans are made from. We'll also compare these pans to much cheaper pans.
Hopefully, this will help you decide whether these pans are worth investing in or not.
Mauviel M'200B Pans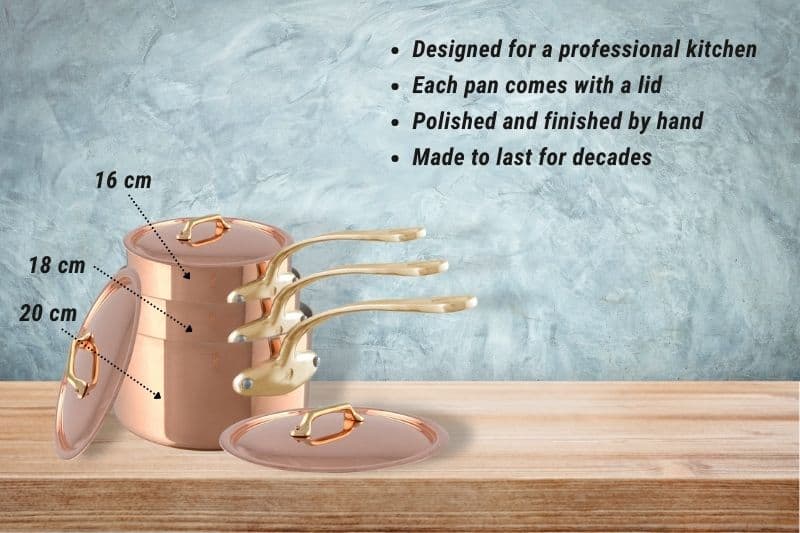 For this breakdown of Mauviel pans, we're going to focus on this set of copper pans. Now, these are designed for a professional kitchen, so they should be fantastically well designed and built to survive a lot of cooking.
This is a three-piece set, and you get a 16 cm, 18 cm and 20 cm saucepan. All of them come with a lid, and you also get some copper cleaner thrown in for good measure.
90% of these saucepans is made from copper. It has a 2 mm layer of copper on the outside of the pan which takes advantage of the amazing heat-conducting properties of this metal. The inside of the pan (the other 10%) is made from stainless steel.
Commonly, copper pans are lined with tin, but using stainless steel makes them a lot more hard-wearing while keeping the non-stick properties high. These pans also have beautiful, solid bronze handles for a gold finish.
We have to say that these pots do look beautiful, and they certainly seem to have been made to last decades. Mauviel even states that these pots are polished and finished by hand and that they are built for heavy use and can still be passed down to the kids.
Proware Tri-Ply Saucepan Set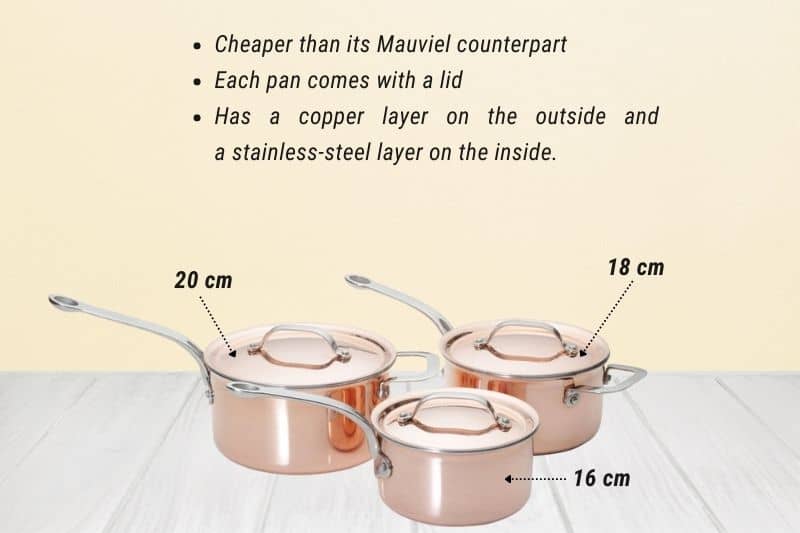 Let's compare the Mauviel set above with this alternative, the Proware Tri-Ply Saucepan Set. This far cheaper saucepan set comes with the same sized saucepans as the one above (16 cm, 18 cm and 20 cm), and each comes with a lid as well.
Each pan has a copper layer on the outside and a stainless-steel layer on the inside. These sandwich an additional layer of another metal (there's no info stating what this metal is). Finally, there are stainless steel handles that are securely riveted onto all of the pans.
From a quick look, you may struggle to tell the difference between these pans. The Mauviel pans do have bronze handles, which do offer a slightly more pleasing visual but doesn't add anything to the cooking capabilities of their pans.
Neither set can be used on induction hobs, but both also come with a lifetime warranty on manufacturing defects.
The only difference between these sets of saucepans (from a quick glance) is the price. The Proware set is nearly four times cheaper than the Mauviel set.
Are Mauviel Pans Really Worth It?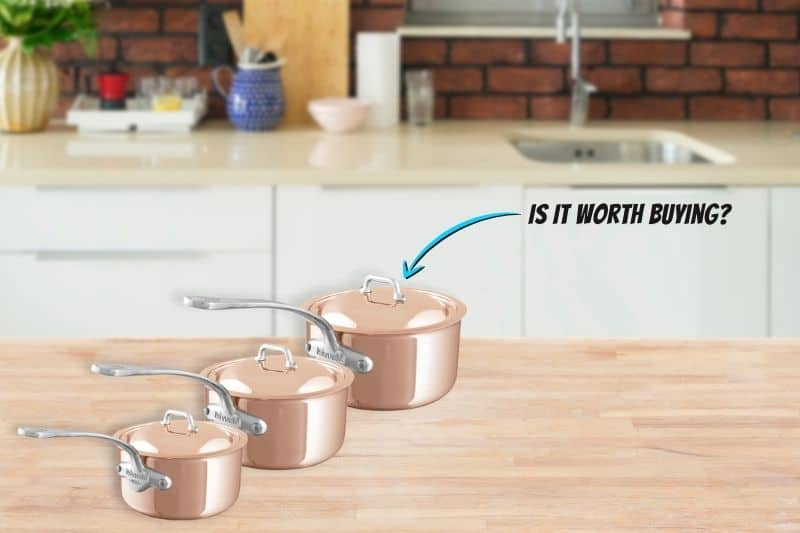 The Proware saucepan set above likely doesn't contain as much copper as the Mauviel set. This means that the Mauviel pans will likely heat up quicker and have better heat distribution than the Proware set.
However, we don't feel that these pans offer four times the performance over the cheaper ones. So, why are these pans so much more expensive?
Mauviel is a huge name in the restaurant industry and does make exceptional cookware that can stand the abuse of a professional kitchen.
So, if you buy Mauviel for a home kitchen, it will easily outlive your needs, even if you bought it when you were a teenager.
There is no question that Mauviel makes some of the finest restaurant-quality pots and pans in the world. And the Mauviel example saucepan set above is probably better than the Proware example.
It is extremely well made, has a fit and finish that is first-rate and looks and feels wonderful.
But it's four times the price! Four times the price for a saucepan set that most home chefs will never push to its limits.
If we gave a home chef a saucepan from Proware and Mauviel, they probably wouldn't notice a difference. They are both very well made and will be a joy to use in the kitchen.
Conclusion
So, are Mauviel pans worth it? If you have always coveted Mauviel pans and can justify the price, then, by all means, buy as many of their amazing pots and pans as you like. You will be buying a truly good quality pan that will last for decades.
However, there are many, many pots and pans out there that will last just as long for a fraction of the price.
So, don't feel like you must spend that amount of money to get amazing cookware. There are loads of cookware manufacturers without the high-end name that produce fantastic quality cookware.
We have examples of these cookware creators all over Chef's Pick, so please explore further. While Mauviel certainly makes some very high-end pots and pans, and they are coveted by professional and home chefs alike.
They are extremely expensive, and there are cheaper alternatives that most home chefs will still love using for decades.

Scott is a writer and a passionate home chef. His passion for cooking began when he was 10 years old. Scott has been writing professionally for over five years now and loves to combine his passion for cooking with his day job.