Below, we're looking at the best 60 cm cookers available in the UK. We have cookers for all budgets, and for those that love features that speed up cooking, and for those that just want a simple cooker.
We also have a guide to choosing the right cooker for your home too. But first, here are the best cookers in the UK.
The Best 60 cm Electric Cookers in the UK
1. Beko KTC611K 60cm Electric Cooker with Ceramic Hob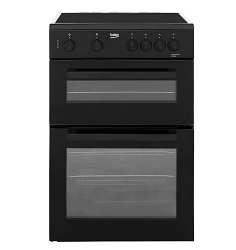 This Beko 60 cm cooker has a 69-litre capacity, making it perfect for a large family. It also has a really sleek, black design, which would be ideal for a modern family home.
The main oven is also fan assisted, which speeds up cooking and ensures that every shelf gets the same amount of heat.
The ceramic hob features a Rapidlite zone, which speeds up boiling veg and pasta too. So, this cooker is great for a busy family home that needs to cook meals quickly.
A lot of users of this cooker are very impressed with the build quality. They also love the Rapidlite hob ring, which makes cooking extremely fast. This hob ring is designed for boiling water quickly, though, so don't be tempted to fry steaks or something on it; they will likely burn!
Overall, this Beko has some really good features that make it a great addition to your kitchen!
2. Electra TCR60W 60cm Electric Cooker with Ceramic Hob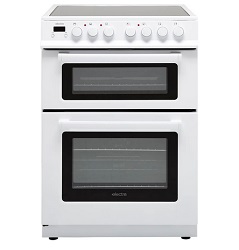 This Electra cooker is great for bakers and cooks alike because it is a conventional oven (it doesn't have a fan). Instead, it heats up using elements on the top and the bottom of the oven.
Thanks to the two elements, this cooker heats up nice and quickly. It also has enamel liners in the oven. These prevent food from sticking to the sides and the bottom of the oven, so keeping it clean is nice and simple.
The capacity of the main oven is 56 litres. While this is a perfect size for a small family or couple, a large family may struggle with this size.
Also, this oven is white in colour and does look really smart. However, modern kitchens are leaning towards blacks and darker colours.
This is a brilliant oven with a grill, conventional oven, and a timer; it is also a brilliant price and will last years.
3. Amica 608CE2TAXX 60cm Electric Cooker with Ceramic Hob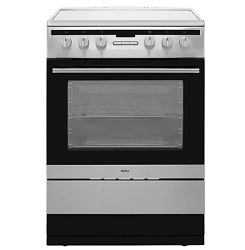 This cooker has a lot of features packed into a very reasonably priced package. The ovens have eight modes to make cooking nice and easy. There is a grill, rapid preheat, defrost, conventional and fan-assisted modes. So, any cooking challenge you want to throw at this cooker, it can do it easily.
It comes with a built-in timer and a 4-zone hob. Combine the hob with the 65-litre capacity main oven, and you have a great cooker for a family here.
Many users really enjoy the look of the cooker, but others say that the door of the oven is a bit flimsy. It also has sharp corners, which can catch you out.
While most users love the features of this oven, a few people have said that they make using the cooker a bit confusing.
We think the features of this oven are what sets this cooker apart from everything in this price range, though.
4. Hotpoint HAE60KS 60cm Double Oven Electric Cooker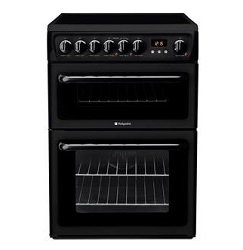 This Hotpoint cooker has a lot of features that allow you to cook quickly and evenly. Firstly, it has a dual hob ring that lets you boil water fast. It also has a fast preheat for the ovens, so you'll be cooking in no time.
The oven also has a slow-cook feature, so you can delicately make stews and tender meat easily. Combine all of this with its sleek, modern design, and you have a brilliant cooker suitable for even the most modern kitchen.
The main oven capacity is 71 litres, which large families are huge fans of. You can easily cook huge meals in this, perfect for Sunday roasts or Christmas dinner.
With all the rapid cooking technology in this oven, Hotpoint neglected to include a grill that heats up quickly. However, the grill is comparable to most other grills on the market.
5. Indesit ID60C2W 60cm Double Oven Electric Cooker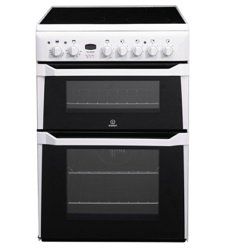 This cooker from Indesit is probably the easiest to use on this list. There are no special features, just a very simple and sleek looking cooker. And you know what? This cooker is great because of it!
While the features of the other cookers on this list were all really nice, a simple to use and operate cooker is ideal for some people.
The controls on this cooker make it even easier to use as well. All of the knobs have a picture above it clearly explaining what the knob does.
There is also a powerful dual-action grill that is great for a couple of slices of cheese on toast or cheese on toast for the whole family. The main oven also has a 65-litre capacity, so there is plenty of room to cook for the family with room to spare.
How to Choose an Electric Cooker
While we can tell you about the best cooker in the UK at the moment based on other people's experiences with them, we can't help you choose your cooker. Choosing a good cooker for your home is a personal thing. However, we can offer some help when choosing your cooker.
Price
We all want the best price we can find, but buying a cheap cooker may not be the best idea. When researching cookers, it is best to choose one that is comfortably within your budget but one that is going to perform well for you.
Buying a cooker that is at the higher end of your budget may just save you money in the future as you won't need to replace it as quickly.
Size
Cookers come in three sizes – 50 cm, 55 cm and 60 cm. All of the cookers we've shown above are 60 cm.
If you aren't sure which size cooker you need, measure the gap your old cooker took up or measure your old cooker. If you are getting your kitchen redone, now could be a great time to downsize or upsize your cooker too.
Heating type
Electric cookers have two options for heating types for the ovens: conventional and fan assisted.
Conventional ovens only use heating elements heat up the cavity.
Fan-assisted ovens also have these heating elements, but they also use a fan to circulate the heat around the oven.
For a lot of cooking tasks, fan-assisted ovens are the easier of the two. Food takes less time to cook in them, and it is cooked more evenly. However, many bakers prefer conventional electric ovens because they can control the heat more.
Colour
Most cookers come in either white or black at the moment, with a few grey ones on offer too. Your cooker takes up a lot of space in your kitchen, and so it is also a focal point.
While the colour of your cooker doesn't matter to its performance, it does matter when it comes to how your kitchen looks.
If your kitchen is modern, black is a very good option to go for. If you have a traditional kitchen, white will work brilliantly.
Features
A lot of the cookers we showed above had some brilliant features that helped your speed up cooking or change the way the ovens performed for different ways of cooking.
Have a think about these features. Do you do a lot of boiling on the hob? If so, having a rapid boil hob ring will be excellent for you.
If you love to slow cook, having an oven that has a slow cook feature will be ideal for you. And if you really don't think you'll use any of these features, save yourself a bit of money and buy an electric cooker without any of it.
Energy efficiency
A cooker being energy efficient is great for the environment, but it is also fantastic for your wallet. You'll be using your cooker every day of the week, so having a good quality one that is very energy efficient will save you some money on your electricity bills.
Conclusion
If we had to choose one of the brilliant cookers above, we would go with the Beko KTC611K. It has a large capacity and some great features to speed up cooking.
It also looks fantastic, which is perfect for a modern kitchen, and it is built to last. Do check out the rest of Chef's Pick; we have all the best cookware and kitchen appliances in the UK right here.

Scott is a writer and a passionate home chef. His passion for cooking began when he was 10 years old. Scott has been writing professionally for over five years now and loves to combine his passion for cooking with his day job.