Hooking yourself up with a decent electric cooker while on a tightish budget can be something of a challenge. We get it. Cookers aren't cheap, and often with electrical products, you get what you pay for. However, this is a challenge we'd like to help you with!
We have compiled a list of the five best cheap electric cookers under £200 to help you on your way to cooking up a storm without breaking the bank!
The Best Cheap Electric Cookers Under £200
1. Electra SE50B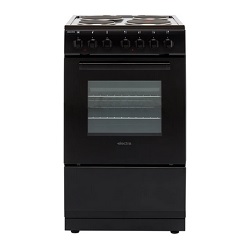 Key features:
Rated A for energy efficiency
Main electric oven features a handy grill setting
Standard 4 zone hob
Sturdy solid plate hob – great for boiling and frying
Dimensions (cm) – H90 x W50 x D60
This stylish black electric cooker is the epitome of simplicity, and with its energy rating it'll save on your monthly resource expenditure! It's easy to use, easy to keep clean, and its black, chic design will suit any style of kitchen. It'll also fit well into smaller, more compact kitchens.
It should cost around the £180 mark (depending on the retailer and time of year) and is a simple, effective cooker for first-time renters/buyers, or anyone on a budget.
It also comes with a nifty storage drawer below the main oven compartment—ideal for pan protection/storage and plate-warming!
It's a popular oven and is selling fast. It's only complaint from previous buyers is that it is sans a fan.
2. Currys Essentials CFSEWH18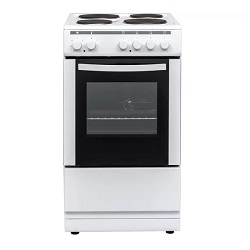 Key features:
Rated A for energy efficiency
Standard 4 hob zone
Includes light
Dimensions (cm) – 900 x 500 x 600 mm (H x W x D)
This white Currys Essentials electric cooker offers your average 4-burner hob, a grill, and an oven space with the option of five shelf positions.
It's easy to keep clean and comes with a double-glazing window. Naturally, as it's electric, it takes a little longer to heat up than a gas cooker would.
It's online reviews are generally favourable, however, there are a few grumbles about the cooker's lack of clock and storage drawer. But for a cheap, cheerful, and basic oven, it is perfect for those on a smaller budget.
3. Beko KS530W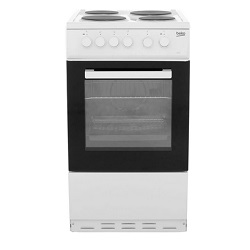 Key features:
Rated A for energy efficiency
Main electric oven features a handy grill setting
60 litre capacity – great for medium-sized households
Rapidlite solid plate zones provide fast heating
Dimensions (cm) – H90 x W50 x D60
Ideal for small-to-medium households, this Beko oven boasts an ability to heat up quickly (contrary to most electric cookers). Its 'rapidzone' hob is designed for quick heat too (and are different sizes for different size pans). It's easy to clean, which includes a removable glass oven door.
Since it's a basic cooker at a lower price, it doesn't come with certain useful attributes, such as a fan, a clock/timer, and/or a storage drawer. It also comes with only one oven shelf, which can be a hindrance for bigger households.
4. electriQ EQEC50W2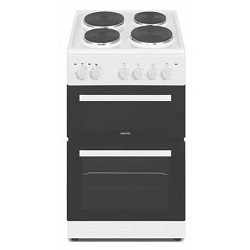 Key features:
Rated A for energy efficiency
Separate oven and grill area
Oven capacity: 48L
Grill capacity: 30L
Dimensions: W50 x D60 x H90 cm
Nothing fancy about this cooker, it just gets on with the job! It has a separate grill area from the main conventional oven compartment and four simple-to-clean hob rings.
It's slightly unique in that it has a built-in thermostat, which contributes to the evenness of your cooking.
It comes with one shelf and a grill pan and yes, it has an interior light (in the oven, at least.)
A few of the downsides noted by prior users are that the cooker doesn't come with an installation cable and that the grill pan can be tricky to remove.
5. Indesit IS5E4KHW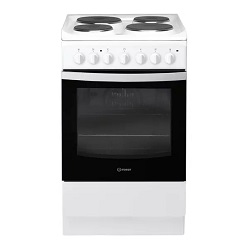 Key features:
Rated A for energy efficiency
Comes with Assisted cleaning / Steam
Capacity: 61 litres
4 hob zone
Dimensions (cm) 950 x 570 x 690 mm (H x W x D)
A self-cleaning oven? Such a wonder actually exists and is one of this cooker's key selling features. It also comes with an oven light, which isn't always the case with cookers in the lower price region.
The same goes with a storage drawer, which this cooker also has. You can store pans out of the way and keep your plates warm prior to serving food, which has left users raving!
A few of the product grumbles include the numbers on the dial being small and hard to read and that it doesn't come with a fan installed to encourage even cooking.
Many users have stated that although this cooker is electric (thus tending to be slightly more costly to use in terms of utilities), the cooker heats up quickly and comes with an eco-friendly steam cleaning cycle that requires no detergent or harmful chemicals.
Overall, this is a simple, well-priced cooker (plus grill) that cleans itself. Winner!
Things to Consider Before Buying an Electric Cooker
When choosing a new cooker, it can be a tough shout between purchasing an electric cooker over a gas cooker. They both seem to have an equal number of pros and cons.
So, with this in mind, here are some things to consider before buying an electric cooker:
You will need to make sure you hire a qualified electrician to install your cooker safely.
Take note of the size of the cooker in comparison with the size of your kitchen.
Bear in mind that generally electric cookers are more expensive to run.
Also, electric cookers take longer to heat up (but also contain heat much better than gas cookers)
Consider your needs (and if you have more than one mouth to feed) and base your decision around that.
Should You Buy a Built-In or Freestanding Cooker?
Naturally, this depends almost exclusively on your home/kitchen layout. Freestanding cookers are a great overall package with oven space and a hob on top, and they also have the added benefit of fitting into an existing gap in your kitchen. They are also a more flexible option if you plan on moving house in the future.
Built-in ovens seamlessly integrate into your kitchen units for a stylish, modern finish, and can be useful if space is an issue.
As far as performance goes, neither a built-in nor freestanding cooker has superiority over the other.
Can't Make Up Your Mind Between a Gas or Electric Cooker?
We get it. Both have their perks that can make it difficult to decide which option to choose. This is where the wonder of dual-fuel comes in.
A dual-fuel cooker will deliver the benefits of both a gas hob (even distribution of heat at the base of your pan), and an electric fan oven (which ensures food is cooked at the same temperature throughout), all in one appliance. They are typically enamel-lined with wipe-clean glass inner panels, meaning cleaning is much easier.
A dual fuel cooker is usually larger (in width) than your typical cooker, so this needs to be taken into consideration if you're thinking of purchasing one.
Conclusion
Purchasing an electric cooker can be a great addition to your kitchen. They're typically easier to clean than most gas cookers (owing to their burners being free of gas) and of course, they don't pose the threats that come with gas cookers, such as a potential gas leak.
They also keep your kitchen cooler during the cooking process, which is rarely the case when cooking with gas.
They do, however, typically take longer to heat up and are generally a bit more costly in the utility bill department.
It is very difficult to say which is better, gas or electric, as they both have equal pros and cons. This conclusion is often up to the individual cook's personal preference.
However, if you're in the market specifically for an electric cooker and you were to ask us here at Chef's Pick which of the above cookers we'd opt for, we would go for option number one: the Electra SE50B.
It is simply a great little electric cooker, which is really reasonably priced. It is simple to use, looks stylish in all kitchen designs, and even comes with a useful storage drawer to pop all your pans and plates prior to cooking. We call that a winner!

Clara is a freelance writer and former chef. Though she may have hung up her apron, her love of food and cooking is still going strong! When she's not whipping up a verbal storm, she'll be in her kitchen sipping wine and whipping up a culinary storm.