If you're redesigning your kitchen and want to move your built-in oven underneath your worktop, you may be wondering if it's possible.
Can you move these ovens lower to the ground, or do you have to buy a brand-new oven to solve this issue?
We've covered a lot of built-in oven questions recently, but today, we're looking at whether a built-in oven can sit on the floor.
Can a Built-In Oven Stand on the Floor?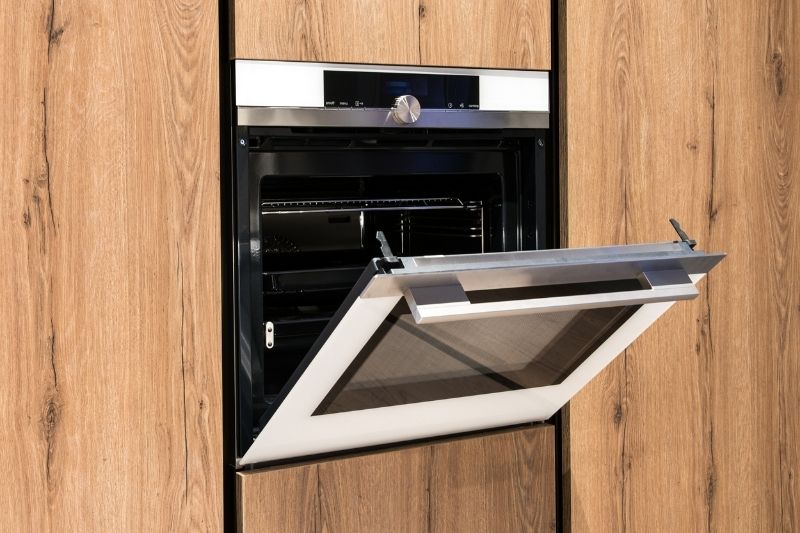 A built-in oven cannot sit directly on the floor, but you can install a built-in oven underneath your worktop. You can reuse the housing unit the oven is already in. A built-in is secured in place in a housing unit, so you can remove the oven and the housing unit and fit both underneath the counter.
It will look just like a built-under oven once you're finished, and no one will be able to tell the difference.
Installing a Built-In Oven Under Your Worktop
You can install a built-in oven under your counter, but it must be installed correctly. You can use the original housing unit supplied with your built-in oven and replace an under-counter cabinet with this unit.
To secure this unit, you must find some feet to attach to the bottom of it. These feet are widely available from all hardware stores in the UK. They are usually plastic and are secured to the unit with screws.
The feet can be levelled using the threads, and then the entire unit can be secured in place. You can choose to secure the housing unit to the wall, existing cabinets and worktop or both.
The most robust connection is where the housing unit is attached to the wall and the cabinets.
From there, you can install your oven. By reusing the old housing unit, you can be sure that your oven will look great and fit perfectly into the gap. You may need to buy some new trim pieces depending on if the new gap around the oven has changed from the older gap.
If you do need new trim, you may be able to find this in hardware shops too. However, if your kitchen is made with uncommon materials, for example, it is worth speaking with the company that designed your kitchen. They may be able to get you some more trim to install around your oven.
Can I Move my Oven Myself?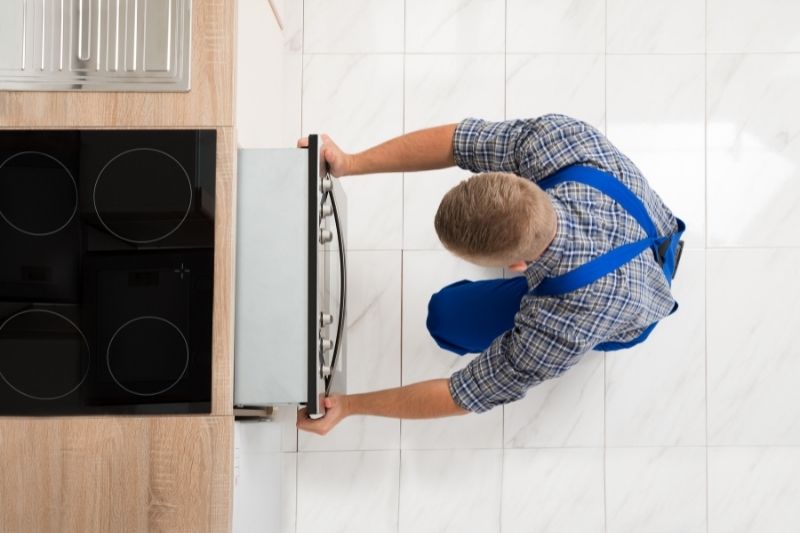 If you are looking to move a built-in oven underneath your worktop, you may need professional help.
You see, a built-in oven will be wired in, so the wires will need to be removed so that you can safely move it to its new position. This should be done by a qualified electrician.
You may want to hire someone to move your oven altogether, though. As you'll need a professional to remove the oven and then rewire it again, it might save you time to have them do the full job.
In Conclusion
While a built-in oven cannot sit directly on the floor, you can still use one as a built-under oven. You just need to use the housing unit supplied with the oven and buy some additional legs for added support. You may also need to buy more trim to install it in the new location.
We hope this look at built-in ovens has been helpful. We have loads of info about built-in ovens available on Chef's Pick.
So, if you're considering buying one of these ovens or already have one and have some questions, we're here to help.

Scott is a writer and a passionate home chef. His passion for cooking began when he was 10 years old. Scott has been writing professionally for over five years now and loves to combine his passion for cooking with his day job.