Today, we're exploring the cheapest freestanding cookers in the UK. Below, there are some fantastic freestanding cookers at some very low prices that are perfect if you're on a tight budget.
Of course, as these are the cheapest freestanding cookers around right now, there are a few compromises that might have to be made.
Still, let's take a look at these cookers. We will then explore some questions about cookers, installing them and more.
Cheapest Freestanding Electric Cookers in the UK
1. electriQ EQEC50W1 50cm Electric Cooker with Sealed Plate Hob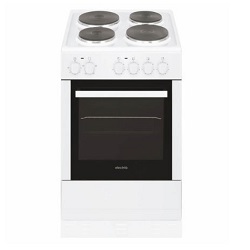 Main oven capacity: 48 litres
Dimensions: W50 x D60 x H90
Energy rating: A
This electriQ electric cooker features a clean and simple design that looks good and offers simple control while cooking. The conventional oven has four functions, including a grill setting.
You can also choose to heat the whole oven or just the top or bottom, which can save you some money on electricity.
The energy rating for this cooker is also an A, so it uses electricity in a way that won't upset your wallet even if you are heating the whole oven.
The solid plate hob on this cooker offers controllable heating of sauces and for boiling water, although it does date the design of this cooker a bit. This is a very solid cooker for the price. We'd love it if it had a bigger oven, but for a couple or a single person, this cooker will provide all the cooking power you need.
2. Currys Essentials CFSEWH18 50 cm Electric Solid Plate Cooker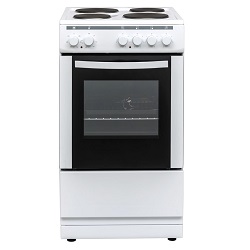 Main oven capacity: 55 litres
Dimensions: H90 x W50 x D60
Energy rating: A
This Currys Essentials cooker is a great budget cooker for those needing something to cook with that doesn't cost the earth.
The 55-litre oven comes with a grill pan and a shelf. There is only one shelf supplied, but there are five shelf positions.
The oven doesn't have a fan but can be used as a grill as well as an oven. Plus, you can heat the top, bottom and the whole oven, which does provide some versatility.
We like that the door of this oven is double glazed, as it holds heat in nicely. We also like the solid plate design on this oven. They have designed the hotplates in such a way that they are low profile and look nice and neat. This is a simple freestanding cooker with some good functions and a fantastic price.
3. electriQ 50cm Electric Cooker With Twin Cavity and Solid Hotplate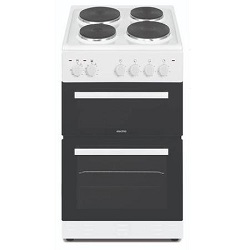 Main oven capacity: 48 litres
Dimensions: W50 x D60 x H90cm
Energy rating: A
We've included this refurbished freestanding electric cooker to show that buying a refurbished cooker is a brilliant idea.
For the price of one of the new cookers on this list, you get way more for your money here. You get two ovens, and the top oven can also be used as a grill. More shelves in both ovens and a sleek and lovely design.
Overall, you get 78 litres of cooking space in this oven, which is massive compared to the new ovens on this list. If you want to find a bargain cooker, refurbished models are the way to go.
Appliances Direct offer warranties on all their refurbished cookers, too, so you can grab a cooker that would usually cost a lot more and know if it goes wrong, you're covered.
4. Indesit IS5E4KHW 50 cm Electric Solid Plate Cooker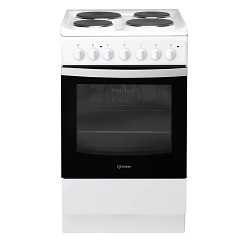 Main oven capacity: 61 litres
Dimensions: H85 x W50 x D60
Energy rating: A
This Indesit freestanding electric cooker has the largest oven on this list so far. At 61 litres, this oven has plenty of space to cook in.
It does sadly only come with one shelf, so it is difficult to take advantage of this space. The oven does also act as a grill, though, and you do get a grill pan with the cooker.
There is also has the four-zone hob up top, which is sunken into the top to offer a low-profile design.
We really like the look of this cooker. The gloss white finish looks great, but it is also easy to clean too. So, if you have a modern kitchen, this will fit right in. In fact, this cooker will look right at home in any kitchen.
If you're replacing a cooker, keep your old shelves, then you can take advantage of all the space this cooker has too.
5. electriQ EQEC60W1 60cm Single Oven Electric Cooker with Sealed Plate Hob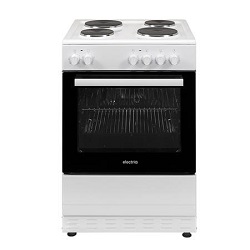 Main oven capacity: 66 litres
Dimensions: W60 x D60 x H90
Energy rating: A
Some clever design aspects about this cooker really make it one of the best on this list. Firstly, it has a 66-litre oven which is much bigger than some on this list.
It also comes with one shelf but a full-size grill pan that fits into the shelf supports. So, the grill pan can be used as a second shelf! Plus, you can use the other shelf while using the grill. You'll have more freedom to cook whatever you like with this oven.
This cooker has a very minimalist design, which adds a nice modern feel to it, but also means there aren't too many controls. We know that many cooks like to keep controls simple and just focus on cooking. Well, with this cooker, you can do just that.
Can I Install an Electric Cooker Myself?
Most cookers must be hardwired into a dedicated cooker circuit, and this must be done by a qualified electrician. There are some cookers and ovens that can be plugged directly into a normal plug socket, but these are very rare. They also aren't very powerful.
It's important to factor in the installation cost into the price you are paying. Most retailers do provide an installation service at an additional cost, and many will remove your old cooker for you as well. Again, for an additional fee.
For cookers in the price range above, you'll need to add between £60 and £120 for the installation cost. The price varies from retailer to retailer, and some of them don't offer installation services on some cookers.
If the cooker you choose doesn't come with installation options, you can use a qualified local electrician instead.
Can You Buy Separate Shelves for Cookers?
You may have noticed that shelving space in most cookers is hard to come by. Most of the cookers above come with one shelf. In fact, most cookers across all budgets only come with one or two shelves nowadays. So, even if you buy a big oven, you still can't use all of the space.
Thankfully, though, most cooker manufacturers make additional shelves that you can buy separately. They don't cost too much, £15 to £30, depending on the cooker and the manufacturer.
This is really worth doing if you have some of your cooker budget left over. Having a second shelf or two can provide loads more space in your oven to cook bigger meals.
Do You Need Space Around a Freestanding Cooker?
Yes, you do. You need at least 2 cm of space between the sides of your cupboards and your cooker. You also need 2 cm at the back of the cooker too.
This is to ensure your cupboards don't get too warm while the oven is working. You can buy specialist trim to cover this gap, though. Many cooks find the gap a bit frustrating as food can easily make its way down there.
How Much Space Do You Need Above a Freestanding Hob?
If you're planning on adding cupboards or a cooker hood above your cooker, you'll need to have at least a 60 cm gap between the hob and whatever you plan to install above. Again, this is to stop it from heating up too much when the stove is on.
What Can I Put Behind my Cooker?
If you're worried about your wall getting dirty from food on the stove, you can add a backsplash behind your cooker. There are some lovely stainless-steel backsplashes available that add a lot of style to your home.
You can also tile behind your cooker or use a paint designed to be cleaned regularly. If you do use paint behind your cooker, make sure it states that it is safe to do so, though. Some paints don't react to heat well, so you could make the situation worse by using some types of paints.
Conclusion
We hope this look at the cheapest freestanding cookers in the UK has helped you find your new cooker. The cheapest we could find is the electriQ 50 cm electric cooker. As the oven is small, it doesn't take too much time to heat up. Plus, if you're only cooking for a few people, you still have room to make wonderful meals.
We have some brilliant cookers and cookware on Chef's Pick to suit any budget and style of kitchen, so please explore more while you're here.

Scott is a writer and a passionate home chef. His passion for cooking began when he was 10 years old. Scott has been writing professionally for over five years now and loves to combine his passion for cooking with his day job.