Slide away ovens are becoming increasingly popular in the homes of passionate cooks.
Slide away oven doors offer you great access to your oven and have a wonderful design that suits a beautiful modern kitchen.
In this article, we'll tell you about some of the best slide away door ovens on the market. But first, let's look at what a slide away door on an oven is and why it's so practical.
What Are Slide Away Doors?
A slide away (or sliding) door on an oven provides easy access to the oven. These doors open just like a typical oven door but then slide underneath the oven giving you complete access to the oven.
Now, these sliding doors are extremely clever. In one smooth motion, the oven door slides and hides away and provides you with complete access to the cavity of the oven. This is awesome!
For so long, oven doors have been really restrictive, make accessing dishes and things in the oven very awkward and can take up quite a lot of precious space in a small kitchen.
Let's take a look at why slide and hide oven doors are just so practical that you should seriously consider getting one!
Benefits of Slide Away Doors
Complete access
Having complete access to your oven is a must for any passionate cook. You can add ingredients to dishes as they are cooking without needing to remove them from the oven. And they make monitoring dishes easy too.
You can also maximise cooking space too without any risk of coming in contact with a hot oven door, but more on safety later.
Space-saving
Slide away oven doors are perfect for small kitchens. Many large ovens (particularly ovens with a capacity of 70 litres or more like some slide away door ovens on the market) have pretty big doors that extend into valuable space in a small kitchen. This can mean that suddenly a tiny kitchen is impossible to move in.
This, of course, is dangerous and makes cooking for any sized family difficult. However, with a slide away door oven, you can enjoy having a lovely sized oven, perfect for a family, but still enjoy having space to cook. In fact, you'll have more space with a large slide away door oven than a small traditional oven.
So, if you have a smaller kitchen but a large family, a slide away door oven provides the perfect balance between a large oven with the capacity to cook meals for your family while still providing you with access to worktops during cooking.
Safety
Of course, one of the biggest advantages to slide away door ovens is that they are really safe. The door of an oven gets incredibly hot during use, so the fact that the door can be hidden away whenever it is open is perfect for those wanting to keep a kitchen safe for their family.
A slide away door oven allows you to safely remove dishes from the oven without the risk of burning yourself.
It means that you can cook with the kids or at least have them in the kitchen with you, without any risk to them and you have complete access to the oven so you can always get a firm grip on dishes as you remove them.
Slide away door ovens are fantastic for small kitchens, people seeking a very sleek and modern design for a kitchen and those looking for a safer way of enjoying cooking big family meals. These ovens are fantastic and really bring a whole new dimension to the styling of your kitchen and your cooking!
Is Neff the Only Brand that Makes Slide Away Door Ovens?
During my research for this article, Neff was the only brand that I could find that currently makes slide away door ovens.
Now, this isn't a bad thing, far from it, actually. Neff makes extremely good ovens and has done for many years.
Neff's current range of ovens are very stylish, and they make a wonderful range to suit any modern home.
Neff has worked on some amazing features for their ovens, including their pyrolytic self-cleaning function that is on a large range of their cookers and ovens, including the slide and hide models.
So, Neff may be your only choice for a slide away door oven, but it is a great choice!
Best Slide Away Ovens
The best slide away ovens on the market right now come from Neff because they are currently the only people that make slide away door ovens.
However, you still have plenty of options with these ovens, and we are going to give you a brief run-through of the features of all of these slide away door ovens below.
1. N50 Slide&Hide B3ACE4HN0B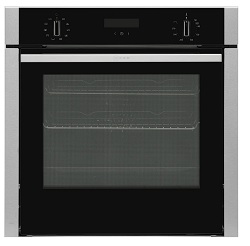 The N50 Slide&Hide B3ACE4HN0B has a 71-litre capacity and provides fast cooking that doesn't mix up any flavours and has a ceramic coating making cleaning a breeze.
This is one of the most affordable slide away cookers in Neff's range. It has a really modern design with fantastic looking controls, though, so it's perfect for a modern kitchen where simplicity is key.
2. Neff N70 Slide&Hide B47CR32N0B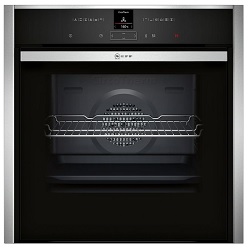 The N70 has one of the highest user ratings of any ovens on the internet. It's far more than a gimmicky oven with a fancy door.
This model has the same capacity as the N50 but loads more features.
Firstly, you have loads of different cooking modes on the N70, making things like defrosting with this oven nice and easy.
Plus, this oven has the amazing CircoTherm tech built-in. This keeps the hot air circulating evenly throughout the oven but doesn't mix up flavours in your food.
You then have the EcoClean feature too. As this oven is designed to either fit at eye-level or under worktops, this cleaning feature makes the oven really easy to clean and so it will always look great when guests visit.
3. Neff N90 Slide&Hide B57CS24H0B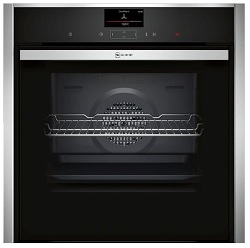 The N90 has the exact same capacity as the other Neff ovens above, but loads more features than even the N70, which is jam-packed with them!
The N90 has the fantastic CircoTherm tech in it, but it also has pyrolytic cleaning, which makes it a self-cleaning oven and so easy to maintain.
Plus, the N90 can be connected to your phone and so you can control cooking times and heats directly from your phone sitting on the sofa with a lovely glass of wine.
The N90 is the latest and most stylish of all the slide away ovens and the perfect choice for a passionate cook who wants a beautiful yet highly functional oven.
Conclusion
So, those are the best slide away door ovens available right now plus a little bit of info about why slide away door ovens are a great addition to any kitchen.
Whether you have a small kitchen or a big modern kitchen, a slide away door oven can offer great spacing saving potential without compromising your ability to cook great meals.
Plus, they are stunning looking ovens that add loads to the styling of your kitchen and can be one of the best kitchen tools too.

Chef's Pick is your guide to the best kitchen equipment and appliances in the UK.
We help you understand the confusing world of cookers, ovens and cookware so you can get the most out of your kitchen.