If you're looking for a new freestanding cooker, the choices available may seem vast and endless.
When we start looking for a new appliance, most of us will consider the amount of space we have in our kitchen, the style of cooking we enjoy and our available budget, then start to do some research online or in stores.
With so much choice available, it might seem easy to buy a freestanding cooker that meets your exact requirements. However, some cooker features can be more difficult to find than you may think.
Many of us prefer cookers with drop-down doors, as it's often easier to get food in and out of the oven without the door being in the way at the side. It's also safer, with less chance of burning yourself.
Most fitted cookers come with drop-down doors, but most freestanding models have doors which open at one of the sides (usually the left, although this can sometimes be changed to the right).
However, you can get a freestanding cooker with drop-down doors. Read on for some tips on finding one, as well as some product recommendations.
How to Find a Freestanding Cooker with Drop-Down Doors
If you're specifically looking for a freestanding cooker with drop-down doors, a quick internet search might suggest that there are plenty of suitable models available.
However, the images of these cookers can be misleading, and many freestanding cookers that appear to have drop-down doors actually open at one side rather than having a hinge at the bottom.
Of course, if you're shopping in a store it's easy to check which way the oven doors open, but it can be much trickier when purchasing a freestanding cooker online.
If in doubt, you can often download the manufacturer's instructions to check, or search for an online demonstration video which shows how the doors on that particular model will open.
Double ovens
Usually on cookers that have a double oven, the top oven has a drop-down door while the bottom oven opens to the side. It's hard to find freestanding double ovens with drop-down doors. We couldn't find any while researching this article, but that doesn't mean they don't exist.
Single ovens
Usually on cookers that have a single oven, the door is a drop down. The easiest way to find a freestanding cooker with a drop-down door is to look for one that has a single oven cavity.
Freestanding Cookers with Drop-Down Doors
There are several models of electric freestanding cookers available both online and in high street shops. Here are a few examples.
1. Currys Essentials CFSEWH18
The Currys Essentials CFSEWH18 50 cm Electric Solid Plate Cooker is a good choice of freestanding cooker if you're on a budget.
The drop-down door is double-glazed to keep the heat inside the oven during cooking, and you see easily through the glass to check on your food while it cooks. The cooker comes in either white or black to suit the design of your kitchen.
2. Amica 608CE2TAW 60cm Electric Cooker with Ceramic Hob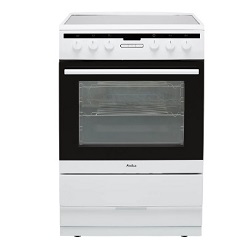 This cooker from Amica is straightforward and reasonably priced. It features a single oven with a large 67-litre capacity—easily enough for a roast chicken! It has a ceramic glass hob with four cooking zones. It's quite energy efficient, with an A rating.
3. Rangemaster Professional Plus FX PROP90FXEISS/C 90cm Electric Range Cooker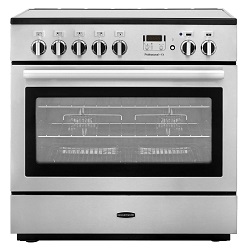 There are several range cookers with drop down doors on the market, including those from the Rangemaster Professional Plus FX range.
This 90 cm range cooker has a huge single oven with a 114-litre capacity. The PROP90FXEISS/C also boasts a sleek induction hob with five cooking zones.
4. Rangemaster Professional Plus FX PROPL100FXDFFSSC 100cm Dual Fuel Range Cooker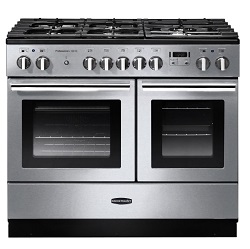 This range cooker is similar to the PROP90FXEISS/C but is slightly wider at 100 cm. It's a dual fuel appliance with two electric ovens and a five-burner gas hob. Both oven doors are drop-downs.

Chef's Pick is your guide to the best kitchen equipment and appliances in the UK.
We help you understand the confusing world of cookers, ovens and cookware so you can get the most out of your kitchen.