A big part of cooking a great meal is making sure it's made using quality, well-maintained equipment, and that includes your cooker.
Some cookers have a drawer space at the bottom. This is simply a storage drawer designed to store your cookware items. It can keep things like cast iron cookware warm before you cook with it, and keep it rust-free. It is also a great place to pop your plates before serving to warm them up.
If you're in the market for a gas cooker and you simply MUST have one with a storage drawer, allow us to do some digging to see what's available (and what's top-notch!).
The Best Gas Cookers with a Storage Drawer in the UK
1. Electra SG50W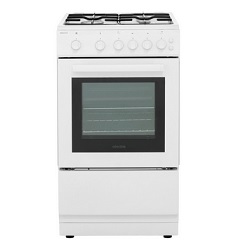 Key features:
Rated A for energy efficiency
Main gas oven features a handy grill setting
Standard 4-burner gas hob
Sturdy enamel pan supports are easy to clean
Dimensions (cm) – H90 x W50 x D60
This oven comes in an option of white, black, or silver, and is well-liked by many of its users for its good quality, ease of use and value for money. It's on the lower end of the price spectrum.
It's a "no bells and whistles"-type cooker, meaning it is simple and easy to use for all levels of cooking prowess, and it comes with a large, deep drawer to pop all your pans in.
Reviews on this product are largely favourable, with users singing its praises on its simplicity and how easy it is to clean (even for a gas hob). The only general complaint is that foods towards the back of the oven tend to cook quicker, meaning there is a possibility for uneven cooking or partial burning.
Overall, the cooker is ideal for people whose cooking needs are simple, and for those kitting out a home on a smaller budget.
2. Bush AG56SB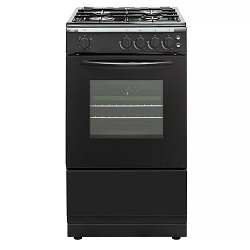 Key Features:
Rated A for energy efficiency
Conventional oven cavity with 2 shelves
4 gas burners.
Easy-clean enamel & interior
Dimensions (cm) – H90, W50, D60
You can hook yourself up with a Bush AG56SB in a colour choice of either black or white, both of which are chic and modern-looking. This oven is on the petite side, so it's ideal for small households/families, or users with limited kitchen space.
It offers a decent sized main oven capacity with a sizeable storage drawer, meaning the main oven area is practical in height and a nifty choice for senior citizens who aren't keen on bending!
Like the Electra SG50W, the Bush AG56SB is a basic cooker for basic needs. It has a two-shelf oven compartment and four gas burners, so if simplicity is your goal with cooking, an oven like this would be well-suited to you.
It's also in a similar price range as the Electra. It has one benefit over the Electra, however, in that it was built with safety in mind and comes with an auto shut-off if the pilot light isn't ignited after the gas is switched on.
In short, if you have big cooking goals (or multiple mouths to feed), this isn't your oven. However, as a solo occupant, property first-timer, or a landlord kitting out a flat, this little cooker will serve you well.
A potential pitfall is a possibility of knobs coming loose and needing to be reattached/fixed.
3. Beko KA52NES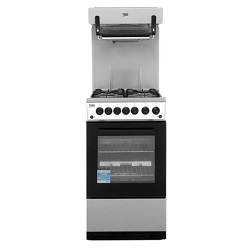 Key Features:
Rated A for energy efficiency
Thermostatically controlled 62L main gas oven
Highly efficient gas burner for up to 25% faster cooking
Easy clean enamel oven interior with variable shelf positions
Dimensions (cm) H146, W50, D60
This silver Beko cooker is a modern take on the more traditional oven style, and comes with an oven back feature that is attached to a separate eye-level grill, so buyers will need to be mindful of space.
The oven was designed to be easy to clean and with safety in mind, with the hob's built-in flame safety device that will automatically cut off the gas supply if the flame goes out.
The product is reasonably-priced (a little higher than the latter two cookers, likely owing to the eye-level grill feature) and generally has rave reviews online. The only complaint generally is that it is a flat-packed item, so you will need the tools (and time) to construct it.
Overall, an ideal cooker for lovers of grilled cheese delights and for elderly folks who are looking to save their backs by not bending so much!
4. New World NWLS50SGB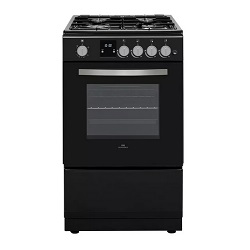 Key Features:
Main cavity energy efficiency rating A
Suitable for use with LPG (liquified petroleum gas) – adaptor kit included
Grill tray included (no handle)
Easy clean enamel & interior
Dimensions (cm) H90, W50, D60
This modern-looking New World cooker comes in an option of black or white, and is well-suited for most sizes of kitchen. It even comes with a handy LED digital clock and minute minder; ideal for those who love cooking right down to the last minute!
The oven comes with a grill tray (minus a handle), and like most modern cookers, is easy to keep clean.
It's well-priced and its reviews speak highly of its simplicity to use and that it heats up quickly. Its only fault appears to be the knobs being somewhat flawed in design.
5. Amica 608GG5MSXX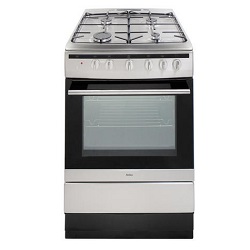 Key Features:
Energy Rating A for efficiency
Four burner gas hob with auto-ignition
Flame failure device cuts off gas when not in use
Includes a wire shelf and two non-stick roasting trays
Dimensions (cm) H90, W60, D60
The Amica is a stainless-steel chrome-coloured ultra-modern cooker, ideal for kitchens of a contemporary design and is well-priced, meaning it is an affordable option for first-time buyers and those shopping on a budget.
It has a safety installation and will cut the gas off when not ignited. It's easy to clean, though because of its colour, it may show up dirt or general wear and tear easier than a cooker in another colour might.
Its efficiency as a cooking appliance has very mixed reviews online, which may be worth bearing in mind.
What to Look for When Buying a Gas Cooker
As with any product, service, or appliance, it is always worth doing a spot of research before committing.
Online reviews are always brutally honest on the efficiency and reliability of a product (as well as the brand's customer team, the delivery, and everything in between!) People don't hold back!
It is also worth making sure your kitchen space is compatible with the cooker you have in mind. This includes height as well as width. If your mobility is compromised in any way, purchasing a cooker with an eye-level grill could be a wise move.
Also, if you're purchasing a gas cooker, make sure your gas supply is connected and installed by a professional.
Gas Cookers vs Electric Cookers
Both types of cookers have their pros and cons. Gas cookers tend to heat up quicker than an electric cooker, but the downside of this is it can often mean your kitchen can get rather toasty when cooking something over the course of a few hours (such as a brisket or a large poultry dish).
Generally gas cookers are cheaper on your monthly outgoings but can provide less-even temperatures while cooking, which can naturally result in uneven cooking.
With a similar number of pros and cons, it is down to personal situation and preference as to which to go with.
What Is a Dual-Fuel Cooker?
A dual-fuel cooker is a combined freestanding cooker that provides the best features of both gas and electric cookers. It tends to be considerably wider than your average cooker, which needs to be taken into consideration if you're limited on kitchen space.
While dual-fuel cookers tend to be more costly to purchase, they can be more energy-efficient – and will provide you with perfect even cooking per an electric cooker, but without the hefty leccy bill.
More information on dual-fuel cookers can be found here.
Conclusion
If we had to pick just one gas cooker with a storage drawer to recommend to most people, it would be the Electra SG50W. It offers excellent value for money, is simple to use, easy to keep clean, and comes with a deep, spacious storage drawer, which is ideal for storing your pans (and keeping plates warm prior to cooking).

Clara is a freelance writer and former chef. Though she may have hung up her apron, her love of food and cooking is still going strong! When she's not whipping up a verbal storm, she'll be in her kitchen sipping wine and whipping up a culinary storm.